Cook's Top 5: 1993 Wrestling Memories
Steve Cook's look back at his years as a wrestling fan hits 1993, with his Top 5 memories!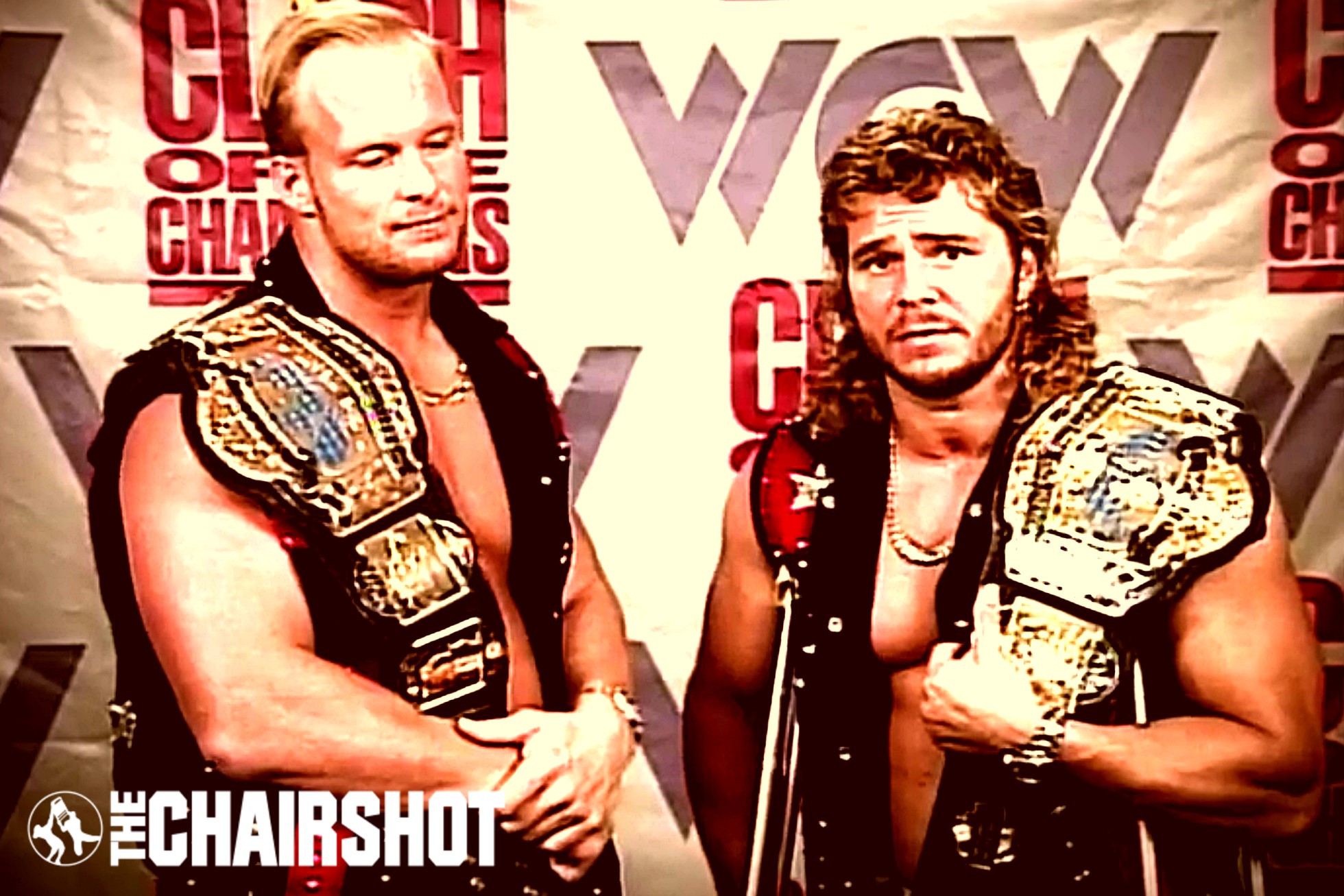 Steve Cook's look back at his years as a wrestling fan hits 1993, with his Top 5 memories!
Hi, hello & welcome to my continuing celebration of thirty years as a wrestling fan! We're up to 1993 now, which isn't exactly a year that most old school wrestling fans will hold in regard. Nobody was doing killer business. I didn't care about business as a nine year old. I wasn't worried about ratings or demos. I was just looking for entertaining stuff.
This is what I found in 1993.
5. The Lex Express
I think the "Made In The USA" Lex Luger push could have worked. WWF really wanted him to be the next Hulk Hogan. He had the tools. Good physique. Solid in the ring. Good body. Had Lex been pushed at the right time as a hero it could have worked.
There were a couple of things working against it. For one thing, he had been pushed as a Narcissist, and we were given no time for a transition. There was no hint Lex would turn good until July 4th. Nothing on TV, not even any subtle hints. We were expected to accept this right away. Kinda awkward. Then he got the big win at SummerSlam…by countout! And people celebrated like he had done something, though we all know that the title didn't change hands via countout. So awkward.
4. The Power Bomb Heard Around The World
Cactus Jack & Vader had already had a badass match on WCW Main Event, where Cactus got a countout victory. They took it to WCW Saturday Night on April 24, and things got kicked up a notch. Vader & Harley Race decided they needed to power bomb Cactus on concrete, and everybody involved in the situation acted like it was a big deal. Not to sound like Jim Cornette, but when everybody involved acts like it was a big deal, people treat it like a big deal. So Cactus getting power bombed on concrete and everybody breaking character, including Jesse Ventura riding in the ambulance with Cactus, made it seem like a big deal.
Then we had the "Lost in Cleveland" segments with Cactus having amnesia, which weren't so great. But the beginning of the angle was fantastic.
3. A Brush With Greatness
I was always a Flyin' Brian supporter. Even after he turned heel, he was still a former Cincinnati Bengal and from the area, so I was inclined to buy whatever he was selling. I saw some talent in Steve Austin previously, but once he was teaming with Brian I was 100% on board. The Hollywood Blondes were one of my favorite tag teams for the relatively brief time they existed as a tag team. Pillman & Austin had great chemistry together.
Once the Blondes got over together, WCW needed to break them up. Bad times. Steve Austin wasn't big on the pairing at the beginning, but he eventually figured out that he & Pillman were a good team. It didn't last long once certain people realized it was getting over. A shame on some level, but it was part of that Stone Cold story, so it might have been for the best in the long run. Austin didn't want the tag team when he was pitched it, but it ended up being the best thing that could have happened to him. It's just a shame that Austin & Pillman weren't able to fully capitalize on it in the WWF due to Pillman's limitations at that point. As somebody that loved the Blondes, I would have been on board with that feud.
2. Yokozuna & Vader Dominate As Champions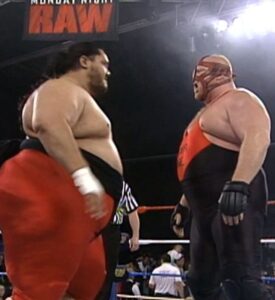 When I think of 1993, I think of the two heavyweight champions that reigned supreme over their companies for most of the year. Looking back at each man's career, 1993 was their peak as box office attractions in North America.
Big Van Vader dropped the first two names and simply became Vader in 1993. With the exception of a week in Europe (which actually was mentioned on television), he held the WCW World Championship from the beginning of 1993 until Starrcade, where he lost it to Ric Flair in a Title vs. Career match. In between, he was downright unstoppable. Just a complete force of nature. He had the size, he had the power, and he could do a freaking moonsault! You had to be on your A+ game to have a shot at beating Vader in 1993.
Over in the WWF, we had Yokozuna. A monster of a man that won a Royal Rumble via the most hilarious ending to a Royal Rumble I've ever seen. Listen to me lose my shit when I finally see the match twenty years later. Simply amazing. Nevertheless, Yoko went on to WrestleMania, beat Bret Hart, then lost to Hulk Hogan because Mr. Fuji was an idiot and booked a match right after Yoko won the title. Yoko killed Hulkamania at the King of the Ring (never came back) and kicked ass the rest of the year. He had his weight at a good level in 1993 where he could still do some things and not look completely immobile. That happened in later years. As a youngster in 1993, he looked unbeatable, as did Vader.
1. THE SHOCKMASTER!
Whenever WCW had a Clash of the Champions, it was must see television for me. If I wasn't home I would make sure to set the VCR for that show. I was home for this one, and I got to see the debut of one of WCW's…honestly, I have no proper phrase to describe this gentleman. There's a lot of things going on here, so it deserves a series of points.
-This was Sting & Davey Boy Smith's ace in the hole for the upcoming War Games match at Fall Brawl.
-We were expected to believe it was going to be a big deal.
-It was Fred Ottman. No disrespect to Uncle Fred, who seems like an awesome guy based off his appearance on the Dino Bravo episode of Dark Side of the Ring After Dark. Gotta say it though…he was never going to be a true main eventer in any promotion that wanted to be national.
-The Shockmaster gimmick may have had some potential with the right person doing it.
-Then again, maybe not. It was a big dude wearing a bedazzled Stormtrooper mask & a sleeveless vest. There was probably a limited shelf-life even in the best case scenario.
-In any event, dude fell out of a hole in a wall and his mask fell off, and most of the people on stage lost their minds.
-"HE FELL ON HIS FOOKIN ARSE" – Davey Boy Smith
-Sid really tried to put that over. God bless him for that. That man tried to make all of this nonsense work. It was a lost cause, but like most Southerners with lost causes, that didn't stop Sid.
-WCW had a lot of bad segments, as every wrestling promotion has. But does anything get worse than this? You're introducing a character that you want to be on the main event level, but one second into the debut it's a shitshow. There's no recovering from that first impression. Shockmaster was always going to be a joke to the fans no matter how much WCW tried to push it afterwards. Dead On Arrival.
But hey, we're still talking about it in 2020. So there's that.
King's WrestleMania Rewind: Stone Cold VS. Scott Hall (WrestleMania X8)
Chris King is back with another WrestleMania Rewind, looking at the NWO's Scott Hall battling Stone Cold Steve Austin at WWE WrestleMania X8 from Toronto!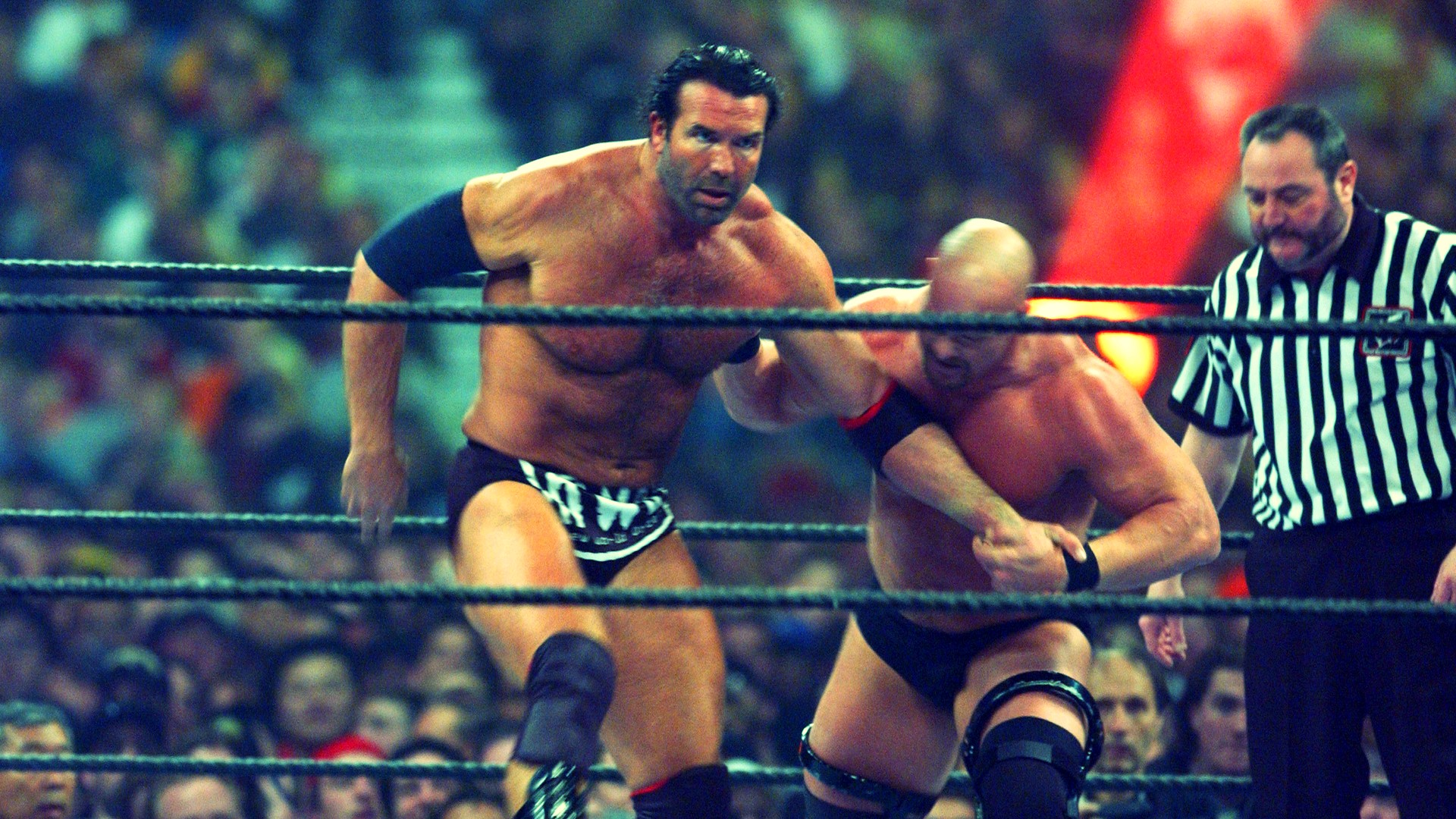 Chris King is back with another WrestleMania Rewind, looking at the NWO's Scott Hall battling Stone Cold Steve Austin at WWE WrestleMania X8 from Toronto!
Chris King is back this week with another edition of WrestleMania Rewind, where he is rewatching all the past Mania matches and feuds. This week you're in for a treat as we look back at 'Stone Cold' Steve Austin vs. Scott Hall at WrestleMania X8.
In late 2001, Vince McMahon bought out his competition WCW and acquired the rights to a plethora of talent including Booker T, Eddie Guerrero, Chris Benoit, and the iconic trio known as NWO. Hulk Hogan; Kevin Nash, and Scott Hall were hell raisers, and what better way to make a name for yourself than take out the two top superstars in the WWE The Rock, and Stone Cold?
The NWO cost Austin his chance at becoming the Undisputed Champion at No Way Out during his match with Chris Jericho. Adding insult to injury, the NWO spray-painted 'The Texas Rattlesnake' with their brand logo just like they did in WCW. As you can imagine, Austin was pissed and out for revenge against the group and primarily Scott Hall.
Hall would challenge Stone Cold to a match at WrestleMania 18. Both superstars beat the living hell out of each other leading up to this highly-anticipated match for who runs the WWE.
The glass broke and Stone Cold made his iconic entrance, and black and white NWO covered Halls' entrance alongside Kevin Nash. With the odds stacked against 'The Toughest S.O.B' could Austin or NWO prove their dominance? Sadly the NWO  broke up that very night when Hulk Hogan came to the aid of his adversary The Rock after their 'iconic' dream match. Stone Cold would ensure the victory with the Stunner. Hall would perform an Oscar-worthy sell over the finisher.
What a time to be a wrestling fan in the 2000s when nothing was impossible for WWE. Who would've thought WCW would go out of business and Hogan would make his long-awaited return to WWE?
King's WrestleMania Rewind: Seth Rollins vs. Kevin Owens (WWE WrestleMania 36)
Chris King takes a look at the most underrated WWE WrestleMania matches, and starts off with Seth Rollins battling Kevin Owens at WrestleMania 36!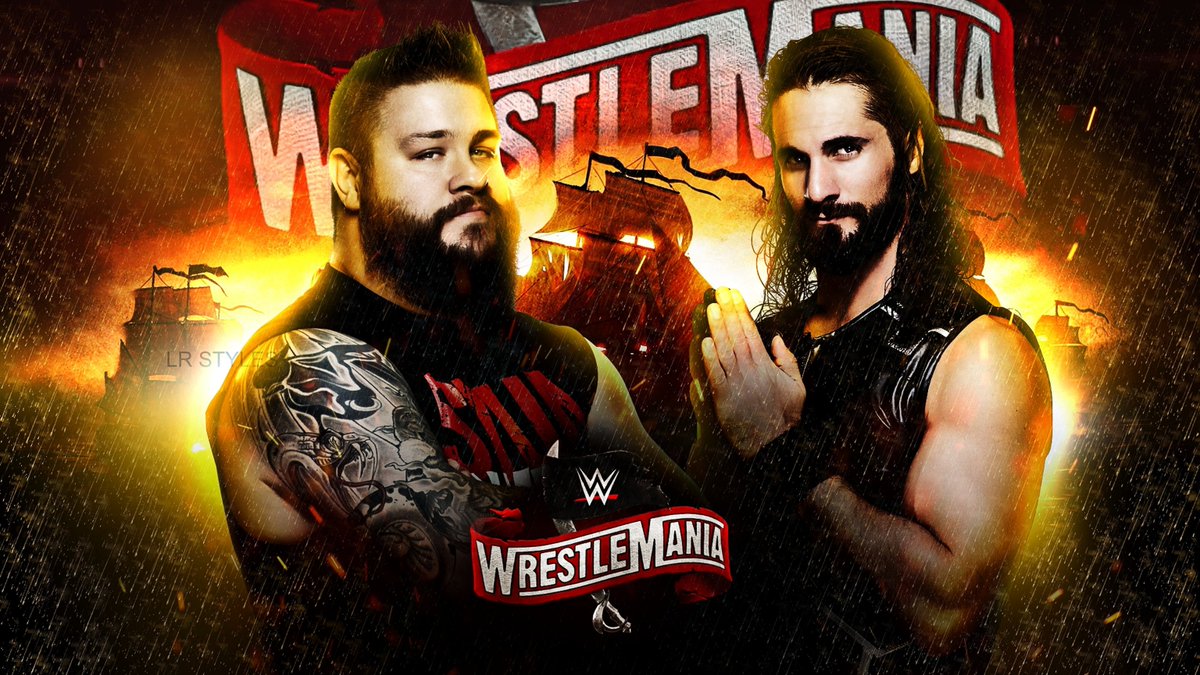 Chris King takes a look at the most underrated WWE WrestleMania matches, and starts off with Seth Rollins battling Kevin Owens in the WWE Performance Center at WrestleMania 36!
Chris King is starting a new series heading into WrestleMania season dubbed WrestleMania Rewind. Each week he'll be going back and sharing his insight over underrated matches at the Show of Shows. First up, is Kevin Owens vs. "The Monday Night Messiah" Seth Rollins at WrestleMania 36.
At the 2019 edition of Survivor Series, Rollins sacrificed himself during the men's traditional match allowing SmackDown to ultimately gain the victory. The following night the self-proclaimed Messiah, berated the whole roster but KO was not having any part of it. Owens quickly became a huge barrier in Rollins' cause for the greater good. The Authors of Pain attacked Owens with Rollins' character in question.
Owens finally had enough of his rival's mind games and torment and challenged Rollins to a match on the Grandest Stage Of Them All. Rollins mockingly accepted his challenge and the match was made official for night one of WrestleMania. Owens came out of the gate beating the holy hell out of the Monday Night Messiah trying to achieve his long-awaited moment at Mania but, Rollins tried to steal a disqualification victory by using the ring bell.
Owens hellbent on revenge provoked Rollins into turning their encounter into a no-disqualification contest where the fight could be taken all over the empty arena. The highlight of the match, was when KO used the WrestleMania sign to deliver a thunderous senton bomb through the announce table. Owens would secure the victory with a Stunner in an incredible match. Despite having no crowd during the pandemic era, both KO and Rollins put on an intense performance under the brightest lights.
In my personal opinion, this was a great feud that helped both superstars in their transformation as compelling characters for years to come.