JKJ's AEW Double Or Nothing 2020 Preview & Predictions
JKJ reps the Thirteen | 10 brand with some AEW Double Or Nothing 2020 predictions!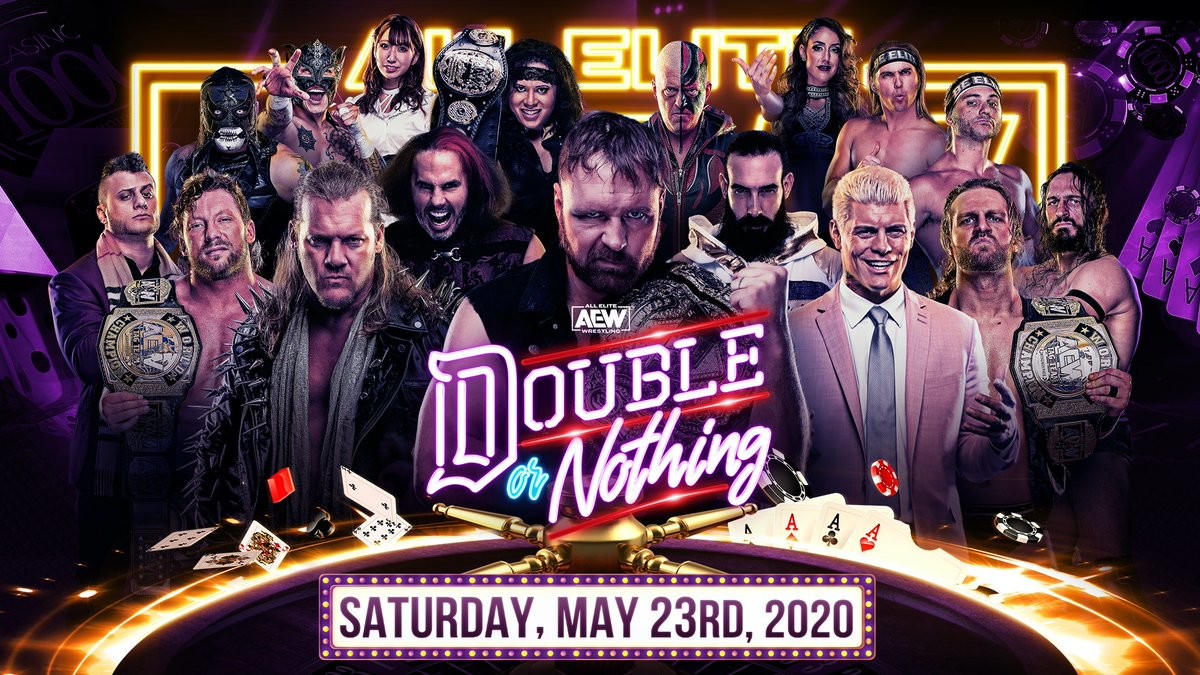 JKJ reps the Thirteen | 10 brand with some AEW Double Or Nothing 2020 predictions!
Well, it's that time again. AEW come to us live for their first live PPV during COVID19 which ultimately means that no fans will be in attendance for this show. How will AEW produce this? AEW have done a terrific job up to now as they recorded a large batch of weekly shows, using talent at ringside to create an atmosphere. Will this still be the case especially as the majority of 'ringside' talent will be performing live. It will be very interesting indeed and I am sure that the team will smash it just like they have week in and week it since day one.
On to my preview and predictions. No specific match order.
---
---
Pre-Show: Private Party vs Best Friends – Number 1 contenders match.
This is where the AEW ranking system really works favourably, these 2 teams are ranked 1 & 2 next to the champions and rightfully so this match should happen, has there been much build? Absolutely not! Is the build needed for the top 2 ranked teams? Nope!
I would say that the best friends have the biggest momentum going in, simply based on TV time, but they are so over right now and thats why I think that Private Party will score somewhat of an upset here. A little more spotlight on private party would be great and who doesn't want to see Omega & Page vs Private Party?!
Winners: Private Party
Shawn Spears vs Dustin Rhodes
A late addition to the card and a welcome addition! 2 top talented individuals here. Dustin has had a MOTY candidate with Cody in the past 12 months and Spears had a very high profile match vs Cody last August. This is a match that both can sink their teeth in too. Spears could do with a few more high profile wins and thats why I'm picking him to win here. I can see a shock QT Marshall heel turn cost Dustin the match and join an allegiance with Spears and Tully. QT has been great as he has been visiting DDP, learning about what he needs to do and that is become a badass! That will happen here.
Winner: Shawn Spears
MJF vs Jungle Boy
Under the assumption that Luchasaurus will not be at ringside either due to the casino ladder match opening the show or being later leaves me assuming that Marko Stunt will be at ringside as will Wardlow. This will be another showcase for Jungle Boy who Is very exciting and won't lose momentum with defeat but lets make no mistake in saying that MJF is a star! He is money on the mic and owns the squared circle. Wardlow will be involved meaning that a screwy finish will hand MJF the win and Jungle Boy will continue to grow. This will be an exciting match. Enjoy!
Winner: MJF
Casino Ladder Match: Darby Allin vs Colt Cabana vs Orange Cassidy vs Rey Fenix vs Scorpio Sky vs Kip Sabian vs Frankie Kazarian vs Luchasaurus vs TBA
WOW! Here is one of those ladder matches that when you just see the participants, you just know that the word 'Epic' will be used by everyone throughout the social media world and thats without the added surprise ninth entrant? Who will It be? The wrestling world is discussing either Miro (Rusev) or EC3…. It could be any number of people. I'm going to pick Miro. I did want to see PAC but flights in and out of the UK are just not happening so I'm sticking my neck on the line and am predicting that AEW have scooped a huge star and fair play, he deserves to shine. Will Miro walk out with a no1 contenders opportunity? Yes, yes indeed he will.
Expect a crazy spot fest which we can all relax and enjoy!
Winner: Miro
Dr. Britt Baker vs Kris Statlander
For me this match is the toughest match on the card to call because both are high in the female rankings and both are thriving. Who has more to lose?! Statlander for sure, Britt has had a best selling tee and is kicking ass in this heel role plus if Shida wins the title later in the night I don't want to see Britt vs Shida just yet as that match is serious money and could easily wait a few months longer. Expect Statlander to escape the mandible claw with some freaky alien-like stuff but its super cool either way!
Winner: Kris Statlander
AEW Womans Championship: Nyla Rose (c) vs Hikaru Shida
Nyla Rose is a fantastic choice for woman's champion, but Shida is the star that they need to elevate this title more than it has been. Shida is great on her social media platforms and will get more of the Japanese eyes on the product. Rose is beatable which we have seen in the past and she will be dethroned here. Plenty of near falls and its no DQ which usually can give the heel an advantage but Shida will find a way to use select weapons to win this hard hitting title match.
Winner: New Champion Hikaru Shida
Tournament Final, AEW TNT Championship: Cody (w/Arn Anderson & Brandi Rhodes) vs Lance Archer (w/ Jake Roberts)
This match, along with the Stadium Stampede match have had the biggest build and this is my most anticipated match. Lance Archer has come from a dominant end to his NJPW days (very strong G1 last year) and has not stopped since going AEW. Jake Roberts has voiced some fantastic recorded segments which have added to the build of this match. Regardless of the winner, this could easily steal the show. I think lance Archer comes out on top with Cody set to take a little bit of time off after this match as he has featured in some high profile matches since AEW debuted. This will only be until crowds can slowly return or until September comes around for All Out.
Winner: Lance Archer
Stadium Stampede: The Elite & Matt Hardy vs The Inner Circle
How can you sum up the word crazy? This is the match that will define that word for you. This is going to go everywhere and bodies will be destroyed. Jake Hager is the individual that will make the difference here and hopefully with a standout performance from Ortiz & Santana, who for me, need to show a little more, but of course, no rush. I think that there will be multiple camera angles and teams divided all across…enter….THE REVOLT who will brutally attack the Young bucks, taking them out of the equation, thus leaving The Elite handicapped along The Inner Circle to win and continue dominance. There will be an ELITE revenge one day, but for now, The Heels win.
Winners: The Inner Circle
AEW World Heavyweight Championship: Jon Moxley (c) vs Mr Brodie Lee
Another really tough call here, Mr Brodie Lee is the number one contender after squashing 'enhancement' talent and then the attack on Moxley. It is no doubt that The Dark Order has grown in stature since his arrival but is he seen as the 'face' of the company yet? For me not yet. Moxley is a fighter and a warrior and will not go down fighting. Im not a huge fan of DQs in main event title matches (this might not main event) but this may be a match where Moxley gets DQd for using a weapon on Dark order members and swinging at Brodie. Moxley retains and Brodie doesn't loose any steam. An exciting match is on the cards that's for sure.
Winner: Brodie Lee via DQ, Moxley retains