Mishal's Top 5 WWE Matches Of The New Millennium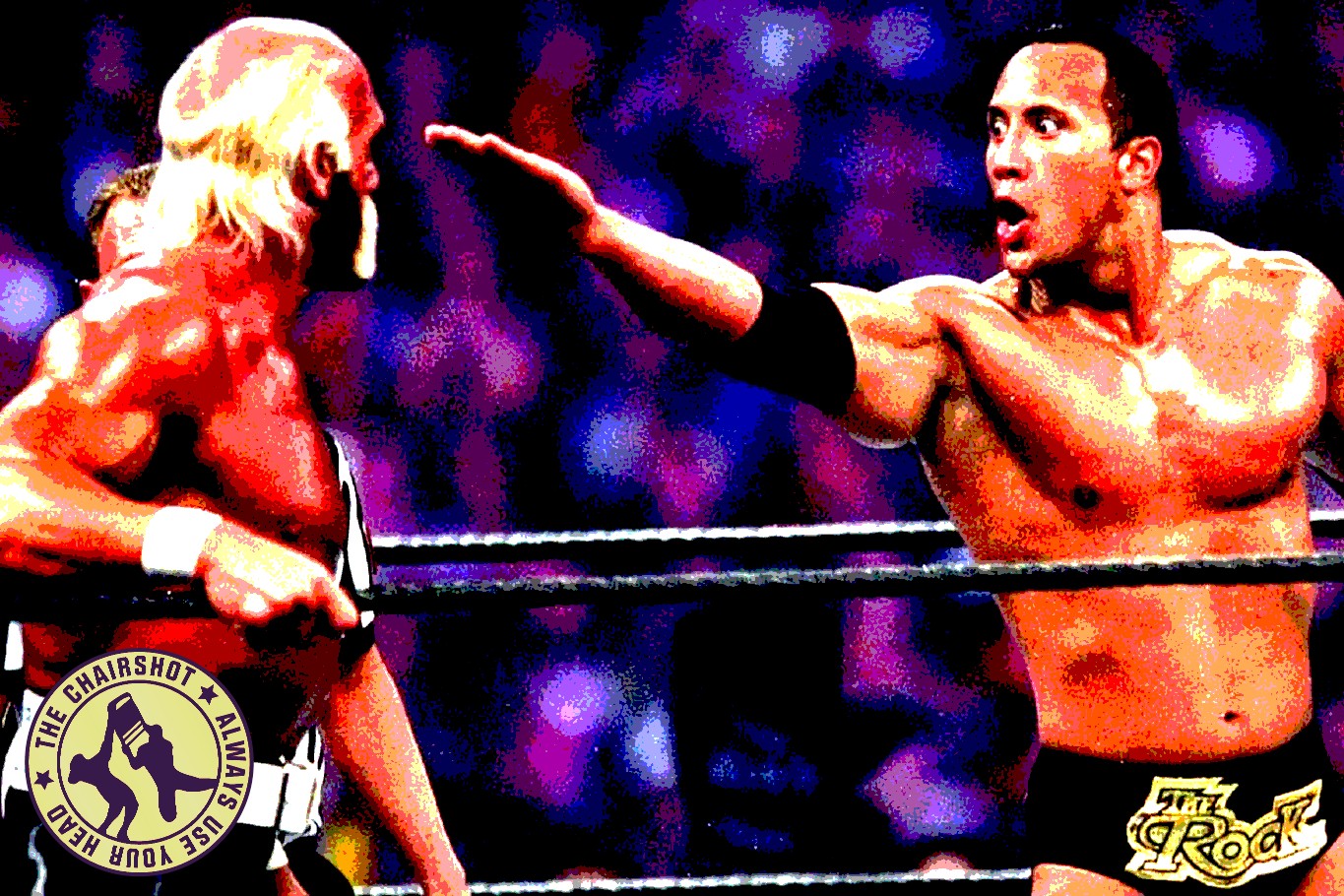 So WWE is once again up to their same old marketing tricks to sell their next big show (Backlash) to us the audience. Almost every major show of theirs has a selling point of some kind, be it a special stipulation, a big match featuring highly valued competitors, the return of a big name or a 'Once in a Lifetime' contest that we may never see again (but based on the track record, likely will), the company always has a tendency to try and buff up each of their respectful cards.
The strategy surrounding Backlash this year is one I personally fail to understand & find equally hilarious at the same time.
Backlash will mark the official in-ring return of Edge to a WWE ring after almost a decade away in retirement. Granted his Last Man Standing match at WrestleMania is considered to be his big comeback, that match was more of a widespread brawl as opposed to a test of the man's abilities in the squared circle for me. Edge will have a lot to prove here, going up against one of the very best this generation has to offer in Randy Orton, a rematch that tones down the personal vendetta the two had for one another in their initial bout & instead, making this a test of who's simply the better bell to bell.
I, like most, have no issue with this necessarily, even though there are a dozen other opponents I'd rather see 'The Rated R Superstar' face-off against, the quarrel really comes in with the tagline this match carries; 'The Greatest Wrestling Match Ever'.
WWE has been known for absurdity in their marketing, their recent string of shows in Saudi Arabia is a solid example of this, the biggest possible sell of a match (or series of matches) so over-the-top that they always fail to live up to the hype. Look at the 'Best in the world' tournament won by Shane McMahon, 'The Greatest Royal Rumble', the unnecessary reunion of DX against the Brothers of Destruction or even the company quite literally naming a show 'Great Balls of Fire' back in 2017. The track record isn't exactly non-existent, they've always pushed the boundaries in selling their product to be the grandest it can be, only this time it feels almost too forced to buy into.
As neat as the concept of an Edge vs Randy Orton wrestling match may or may not be to some, this is a hard sell, an impossible one to almost live up to because the reality is, the bar for the 'greatest' of anything in the wrestling industry is an insurmountable task to climb & match up to. In a way the marketing for this match is almost comical because of how odd the placement of this tagline is considering there's been no audience to react to any of it, instead it's making this whole debacle feel like an incredibly desperate attempt to push a sub-par rematch.
A lot of this has got me thinking, that this opportunity is an ideal time to spotlight the matches that, at least in my opinion, fit the mold of truly being 'The Greatest Wrestling Match Ever'.
For this list, I decided to stick to matches taking place under the WWE banner since the new Millennium rather than all of history since there are simply too many matches I'd want to list from a span of time that wide. Each match on here can hold the mantle of being the 'greatest', whether that be from an in-ring standpoint, storytelling standpoint or the influence that it's had on the business since. There are a plethora of NJPW, ROH & TNA matches I'd love to be on here, but that's for a later date.
Honourable Mentions
Chris Benoit vs Triple H vs Shawn Michaels – Wrestlemania XX
Everything a main event level match should be. Not a single moment wasted, it combines multiple storylines perfectly & resulted in one of the most genuine, emotional moments in wrestling history to close off a show.
Sami Zayn vs Shinsuke Nakamura – NXT Takeover: Dallas
Arguably the best in-ring debut of the last two decades. Not just the perfect sendoff for Sami Zayn at the end of his NXT run, but the ideal match and environment to debut an international superstar in.
'Stone Cold' Steve Austin vs The Rock – WrestleMania X-Seven
The best bell-to-bell Championship Match in WrestleMania history. It's wild, brutal, showcased at a ridiculous pace & contains one of the most controversial endings to a show in history.
Brock Lesnar vs Eddie Guerrero – No Way Out 2004
The ultimate feel-good match, the perfect underdog story & to this day one of the most incredible crowd reactions to a match I've ever seen that cemented both Brock Lesnar & Eddie Guerrero as legends.
The Undertaker vs Triple H – WrestleMania XXVIII
I can't think of a better way to cap off the end of an era than this match. It embodies the product at the height of the industry, the action is physically punishing, it follows the previous year's events perfectly & the storytelling is off the charts. If the match doesn't make you cry, the post-match embrace will.
5. Sasha Banks vs Bayley – NXT Takeover: Brooklyn
Women's wrestling has always had a bad reputation behind it until fairly recently. The WWE had long treated women as 'inferior' to some extent, resulting in less in-ring time, subpar storylines, a focus on looks over talent & nothing of true substance to get them to that next level they so deserve.
And then comes NXT Takeover: Brooklyn, where the reputation and focus of the division shifted almost entirely on its head in one single evening. The atmosphere in Brooklyn that evening is unlike any we'd seen from two female talents up to that point, as Sasha Banks defended her title against Bayley, arguably the hottest star in the company at that point in a match that to me, is the defining women's match of this generation. Both women were polar opposites on a character level and being two of the Four Horsewomen made this encounter all the more special.
It features everything wrestling fans want, incredible action, fantastic storytelling, insane high-spots which will stand the test of time & most importantly, Bayley finally finding her way to the top of the mountain in NXT with every fan in the arena on their feet. There's always quality in wrestling, but to see an entire sold-out arena on their feet in unison for a match isn't as common as you'd think, because there wasn't a single fan who wasn't screaming at the top of their lungs by the matches end. To see the women reach the heights they're at right now is a genuine relief to anyone who values their talents, but it'll be a long time until something topples this absolute masterpiece.
4. 'Hollywood' Hulk Hogan vs The Rock – WrestleMania X-8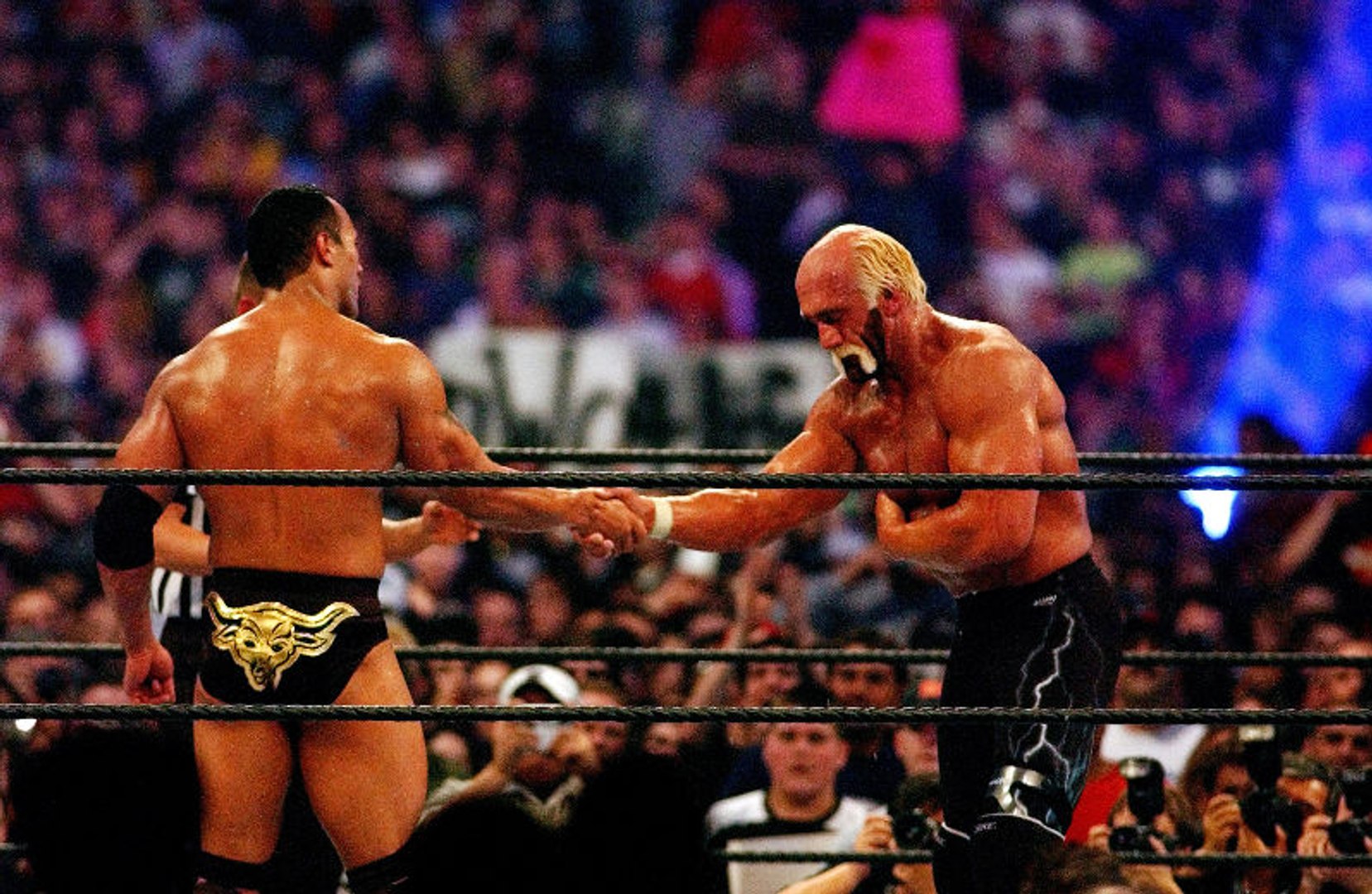 There's loud, there's wild, there's insane & then, there's The Rock vs 'Hollywood' Hulk Hogan at WrestleMania X-8.
In terms of dream matches, you'd be hard-pressed to find one with a bigger fight feel or cross-generational appeal that has the scope behind it that both Rock & Hogan brought to their match at WrestleMania X-8. It's everything a dream match should be in my eyes, and in its execution ended up being even better than I'd hope it would be. Being live as part of the audience for this encounter must have been the most surreal experience a wrestling fan could have had at that point in time, there isn't a single moment of this match that isn't deafening to the ears, not a moment that doesn't feel like this isn't the biggest event that sport had ever put on for its fans.
Stylistically none of this would be considered a 'mat classic' by any means, all of it was about one thing, the characters. WWE never intended this match to be a showcase of in-ring ability, this was two of the biggest draws from the biggest generations in both company & sports history colliding in a fight to decide who truly stood out as the very best. It was more of a brawl in its execution, both Rock & Hogan delivered everything that made their characters so memorable & their finishing moves have never felt larger than they did on this evening in Toronto. Taking two of the most charismatic individuals to step into a ring at that point and have them do battle was only something we could imagine would be as great as we wanted it to be in our heads, this was one of those rare occasions when our expectations weren't just met, but surpassed.
How this wasn't the headline match is a decision that to this day baffles my brain.
3. CM Punk vs John Cena – Money In The Bank 2011
Money in the Bank 2011 will always hold a special place in my heart. I remember waking up at 3 am to watch this show, not having to go to school the next day because my parents were actually letting me sleep in that morning & watch what is widely considered one of the best shows of the last two decades. And despite it being a phenomenal show in its own right, much of the praise hinges on the main event, which is an example of how good WWE can be when it allows itself to be.
John Cena vs CM Punk was positioned as the 'authority' vs the rebel, the outsider & the dawning of a new generation on the industry. Punk, to me, represented a modern-day take on Steve Austin (albeit, without the copious amounts of consumed alcohol) taking on the establishment who wanted to hold someone like a John Cena in his position (whom you could replace with an early 2000's Triple H, I guess) for the well-being of the product. All of this was only fueled by CM Punk publicly announcing his deal with the company was coming to an end and he fully intended to walk out with Cena's prized WWE Championship in his hands, in his own hometown no less.
The match was the boiling point at the end of a red-hot night of wrestling, packed with fantastic matches, perfect storytelling & one of the rare times where the momentum of a WWE show never halted, not even once. Cena vs Punk capping off the night made it all the better, with the Chicago crowd ferociously supporting their hometown anti-hero. From an in-ring perspective, it's difficult to deny this as arguably both Cena & Punk's best across the board since neither of them missed a beat. Their in-ring chemistry was on display in full force, and with Cena's style not fully expanding itself out yet having an in-ring talent as intelligent as Punk was the perfect counterbalance, resulting in the best non-WrestleMania main event the main roster has arguably put on since the 2000s rang in.
From the action to the unhinged crowd, to the performances of both men & the involvement of Vince McMahon, this was wrestling at its finest & a match that to this day holds up against the plethora of excellent work we get on an almost weekly basis now.
2. The Dudley Boyz vs Edge & Christian vs The Hardy Boyz – WrestleMania 2000
Easily, and without question the most innovative, defining match on this list in my opinion.
There isn't much I can say about the first-ever Triangle Ladder Match that hasn't already been said by every other fan that's ever uttered a word about it. It's one of this generations defining matches, from its unique style & risk-taking offence that left our jaws on the floor, to the ability of six young men to all at once wedge their names in the history books with a match that is still talked about to this very day.
At the time tag team wrestling certainly had taken some risks & routes to be more ingenious, none compared to what occurred here. Every moment of this contest was a thrill to behold, every move garnered a reaction, the use of all three weapons brought a different element out of each team which they went on to implement throughout their careers afterwards & each distinct trait of the team's arsenal brought something unique to the table. None of the teams aimed to win through simply climbing the ladder, there was always a sense of them doing what they know best as opposed to following a set formula, and it makes the pacing & intrigue of this match so difficult to critique.
Regardless of how relevant tag teams are in current-day WWE, this is proof of how, when given the freedom, this style of wrestling can tear the house down & even define a generation.
1. The Undertaker vs Shawn Michaels – WrestleMania XXV
Picking between both their WrestleMania XXV & XXVI matches is a near-impossible task because both carry a legacy behind them that I can't for the life of me select a favourite out of without feeling some sense of guilt. Both matches stand as not just my favourite WrestleMania matches, but my favourites of all-time.
Undertaker & Shawn Michaels are two of the best storytellers the business has ever seen, period. Without them, WrestleMania just wouldn't be what it is, they've turned in some of the best storylines & performances on the 'Grandest Stage of Them All' & having them collide at the 25th Anniversary of the event was poetic, almost perfect to experience as a fan. It was the story of two men who couldn't be more different yet possessed in-ring chemistry so incredible it drops my jaw to the floor every time I re-visit these incredible spectacles.
For myself, I list their WrestleMania XXV match on here just because it's the first of the two, and because of the need it gave fans to see the two icons go at it so badly one more time it would result in a rematch a year later, in the final match of Shawn Michaels storied career. Their initial encounter, however, was the equivalent of a young fan smashing his dolls together for 30-minutes on end, just with the very best example of how to use a character to tell a timeless story.  It was the collision of the two oldest warriors in the game, two gun-slingers & two icons that built the very ring they fought in, and it delivered on every ounce of hype behind it, with so much more to offer.
The action started slow for the opening moments but surges into a world of its own. Packed with gigantic moves from out of nowhere, a moonsault that looked like it broke Michaels' knee, a suicide dive that should have in-fact killed someone, a superkick so loud it could be heard in the rafters, a Tombstone Piledriver kickout that still gives me chills & Jim Ross providing some of the most memorable lines of commentary I've ever heard. Undertaker & Shawn Michaels didn't just create the best match in the history of WrestleMania, they defined what the show represents on the evening we were witnessing its celebration. Michaels may have lost this, and the subsequent encounter the year following in heartbreaking fashion, but he eventually ended his career on the highest note a wrestler could ever imagine, crafting one of the greatest spectacles in the sport, with the greatest player in it that will stand the test of time for decades to come.
I know I started off this list saying it was impossible to name 'The Greatest Wrestling Match Ever', Undertaker vs Shawn Michaels from either WrestleMania is the strongest contender I can think of to carry that mantle on its own. Without a doubt my all-time favourite series of matches & a true standard-bearer for how we define the 'greatest' when it comes to matches in this industry.