Mitchell's WWE Backstage Report! (5/12/20)
CM Punk goes Backstage, again!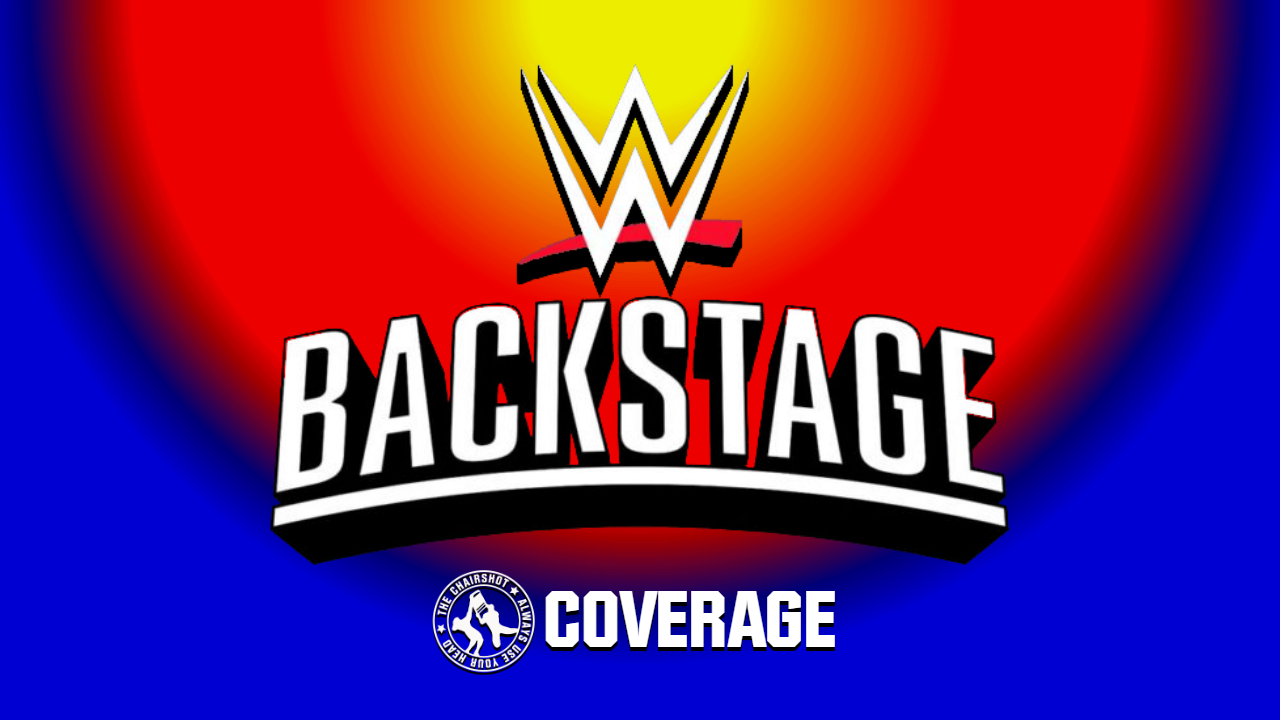 Look in my eyes~! What do you see~?
CM Punk returns to WWE Backstage! What will he have to say about Money in the Bank's Corporate Ladder, and the accusations that HE is the hacker?
Renee Young welcomes us Backstage!
She, Booker T and Christian are still buzzing from watching Fox Sports 1 play WrestleMania III, but who is that in the hoodie facing away from the camera? You may think that's the SmackDown hacker, aka "The Messenger," but turn off the rumor mill. It's just CM Punk with sunglasses. What was he doing? Just stuff. Christian goes to the conspiracy theorists and says that CM Punk can't be The Messenger, because The Messenger's hand doesn't have tattoos on the fingers. That's called make-up, according to Renee. But there will be many more going on for this special episode, as Ricky "The Dragon" Steamboat will join to talk all about that WM3 mat classic with the Macho Man! And fresh off becoming Mr. Money in the Bank, Otis Dozovic will be Backstage, too!
But back to WM3, 93+ THOUSAND in the Pontiac Silverdome and many more watching at home over 30 years ago. How did that PPV influence wrestling for them? Booker T says he got in the business in 1990, but he didn't grow up watching WWE/WWF in Houston. He eventually ran across that event somehow, someway. And it all made Booker feel a certain way about watching pro-wrestling. Booker said then and there he wanted to do this just like the Macho Man and the Dragon! He and Stevie Ray wanted to duplicate that match, but that arm-drag is trickier than it looks. Punk says he saw the results of WM3 be broadcast on local Chicago news. He watched TV and seeing Hulk Hogan scoop slam and defeat Andre the Giant. Being a kid, not knowing if it was real or not, seeing it on the news was a big deal. And of course, the bar was raised by Steamboat VS Savage, perhaps the greatest match of all time.
Christian remembers Kazarny, who owned a gym just outside Toronto. Kazarny was nice enough to let Christian, Edge and others watch on satellite in the gym. As for what it meant for sports entertainment, WM3 was the first to really give pro-wrestling the feel of the spectacle that is has become. Aretha Franklin singing the National Anthem alone was huge. And looking back at how WrestleMania has grown, with stars from other genres and that many people packed in, Renee feels it is just crazy to see the widespread impact. Booker agrees with Punk on that "is it real or not?" feeling, Steamboat VS Savage is a must-see for young wrestlers. The walk to the ring alone made it feel real, and Booker gets goosebumps every time. Savage and Steamboat raised the bar so high, so many wrestlers are still trying to match that match.
Moving to the most unique Money in the Bank and the fallout to follow, here's…
Just the Highlights!
From MITB: Even with the SUPER SPANISH FLY, Morrison hitting Starship Pain and The Forgotten Sons' Steve Cutler surviving the Afternoon Delight (double stomp powerbomb), The New Day found a win to stay your eight time W, W, E, World, Tag, Team, CHAMPIONS~! Similarly, despite all the Monday Night Messiah's talk of destiny, and all that he gave the Scottish Stud in that match, Seth Rollins could not become WWE World Champion. Drew McIntyre kept the title and even showed Rollins respect with a handshake. Bayley had her best friend, Sasha Banks, cheering her own as she retained the title, continuing her "dominant" reign. Bray Wyatt tried to get into the mind of the Monster Among Men, but the Black Sheep is gone for good as the Strowman Express rolls on. And the Corporate Ladder match was utter chaos! Asuka's shrewd strategy gave her a head start, and a food fight made quite the mess, and in the end, The Empress of Tomorrow and Otis Dozovic took the briefcases home as Ms. & Mr. MITB!
On Raw: There was no hunting of The Viper as Randy Orton got in Edge's face about the Last Man Standing match meaning nothing towards the Rated R Return! Will Edge be able to prove he's truly back in a wrestling match? The Man revealed to the world that the Ms. MITB match wasn't what we thought it was. Asuka is already the NEW Raw Women's Champion, because Becky Lynch is moving on to be a new MOTHER!
Backstage shares Charlotte Flair's tweet congratulating "NS Bex." The Queen is beyond happy for her best frenemy and The Man's Man. Nikki & Brie Bella also tweeted, welcoming Becky to "The Mommy Club." Brie is sure Becky will be an amazing mother, just like Becky was an amazing champion. Sasha Banks simply tweeted triple heart emojis to share her love with her fellow WWE Four Horsewoman. Paige congratulated Becky and Seth on the announcement, and said Becky's segment gave her chills. Paige also makes sure to congratulate Asuka on becoming Raw Women's Champion, adding clapping emojis, a heart emoji and a fire emoji.
The panel discusses Becky's major mommy announcement!
Arguably THE top star in the WWE is stepping away, how do they feel it was all handled last night? Firstly, Christian offers his own congratulations, as "there's no title as prestigious or more meaningful than the title of being a mom." But the handling was done well. Becky's promo was real, and those are the best kind of promos. You could feel the emotion as one chapter ended and one began. Becky broke down barriers, main-evented Mania and became the face of the company. But now she starts a new phase as a mom. Renee was live in the Performance Center, and seeing all the women and their true emotions, being a woman in an industry like pro-wrestling is hard because of the balance between professional and personal lives. Becky knocking down barriers for over a year and being at the top, being a champion for so long, and now becoming a mother, it is so great to see the juggling work.
But what does this mean for the rest of the division? Booker says Becky is DONE. But all kidding aside, congratulations are in order. And again, it was a moment missed in a way as Asuka doesn't even get to have a cash-in. Cash-ins are always so great, even though Booker never won one. If Booker were to cash-in, he'd love to have cashed in on Christian when he was down on his back. Booker wouldn't need a cash-in to beat Christian. As for Punk, this change in the Raw Women's Division means there's a void. Someone needs to step up and that environment is always great. Punk agrees on the missed moment, but mostly that Asuka should've given Becky one last mist blast as a good-bye. Punk's a Heel at heart, but hey. But that's just it, a void is filled when you get an evil monster on top and Faces want revenge for Becky as well as the title for themselves. It's about stopping Asuka, but nobody's ready for Asuka! Renee is definitely excited to see what Asuka does and where the roster goes as a whole.
1987, WrestleMania III, Savage VS Steamboat: A True Mat Classic.
The Macho Man and The Dragon battled for then WWF Intercontinental Championship. Shawn Michaels has even said this is the one match he always goes back to. Sting agrees, that match was just incredible. It is a great tool for coaching an teaching wrestlers. It stands the test of time. Sting says it is seamless, like dancing. So complex, so good, from the moves to the storytelling. It was top notch, ahead of its time, and the Dragon himself is here to talk about the night he became Intercontinental Champion! Ricky Steamboat joins Renee and Punk Backstage, and Punk jokes that he's just here to ask questions. No need to chop or arm-drag him around.
But how does it feel for Savage VS Steamboat to still be talked about even 30 years later? Steamboat does appearances every now and then, here and there, like ComicCon or something, and every time that match is brought up. Even an 8, 9, 10 year old fan. That is the marvel of the WWE Network. The dads of those kids are also fans and they were watching that match when they were about that age. It really does amaze Steamboat that 33 years later, people still love that night. Punk doesn't see it as amazing, because that was the "perfect match." When Punk and Chris Jericho had a WrestleMania match against each other, they wanted to be the Steamboat VS Savage of that year. Sure there was the headliner match of The Rock VS John Cena, but Steamboat and Savage had Hogan VS Andre on theirs. It was like being on another planet, because they wanted to be the wrestling match of the night. HBK even just said that Steamboat VS Savage is the match he shows his wrestling students!
Does Steamboat remember the day leading up to that? Because Steamboat stole the show! Steamboat remembers how he and Savage started in December. For the next three months they built the story, which they could do back then. Nowadays, there's a PPV every month so that makes it harder for longer booking. The story of Savage and Steamboat started in December, Mania was in March, so those three months were used building it up and working it out. When Steamboat has the time to say this, this match was a one-off. Vince told Steamboat he'd be making his in-ring debut at WrestleMania. There were no tune-up matches, there were no interactions between Steamboat and Savage. A month out, they finally sat down and figured out the story they'd want to tell. Using their gut feeling and brainstorming, it turned out the way it did.
The numbers came in, all the way up to 93 thousand, that was wild. So Savage and Steamboat decided to put on the match of the night. It wasn't about "stealing the show," it was just having the best match. And as Punk said, the big names were in the main event with Hogan and Andre, they were the bulk of the buy rate. But Steamboat and Savage took advantage of that and put on the best match possible. A lot of young wrestlers ask is, "What do you think made that match so different?" All the false finishes. Back then, you maybe had six to ten false finishes in a big match. Steamboat VS Savage had around twenty. And then, the stressful part was trying to remember the order of all 20. That's what's fascinating to Punk. There are two schools of thought in wrestling: let the crowd dictate the flow and don't talk; or as Steamboat alluded to, plotting it all out.
Steamboat and Savage didn't have the luxury of working it all out in the build, but Steamboat worked a lot with Ric Flair in the Carolinas. Steamboat and Flair had millions of times to work it out before their three televised matches, but that wasn't the case with Savage. So it was definitely necessary to talk it out with Savage before putting on the match, and yet it is "absolutely flawless." It is the road map for many who got in the business so Punk thanks Steamboat for that. And Punk would be remiss if he didn't ask about later on, working with Punk and others in ROH. What was it like to work with a young legend like Punk? Well if Punk himself remembers, Steamboat was the special guest referee for a match between CM Punk and Bryan Danielson (Daniel Bryan). Punk loves the tan he has in the picture Backstage has of it. Steamboat asks about the one hour match, and Punk says that was him and Samoa Joe.
Steamboat knows being the third person in the ring as special guest ref but hearing Punk be the ring general, coming up with things throughout the night, Steamboat said to himself, "This kid's got it." Well, Punk was a kid back then, but still. The timing, the know-how, for an hour! How many hour matches Punk had before? A few, but Punk was a student of the business and realized no one was doing that. He had a bit of an ego thinking he could do like what Flair and Harley Race and others did. Steamboat thinks back and figures he had about 100 one-hour matches, his first one being against Harley. Punk wishes he could see that stuff. Steamboat remembers it was in Raleigh, NC. Harley was world champion, Steamboat was United States Champion, and George Scott told Steamboat to go one hour. He'd be alright, just as long as he listens to Harley. Punk agrees, you're never ready until you try it.
Steamboat says you try to pace yourself but you don't know how. Everyone saves gas for the last few minutes, even though you're trying to get the fans fired up. Burning up all that fuel and you kick it into fifth gear for the finish, you may not think that you can do it, but you can. Punk remembers Harley telling him about the one-hour matches. "Kid, it's just like working four 15-minute matches." Well, true, but that still sounds awful. Renee and Punk ask about the "Dragon's Den." Steamboat starts the little tour with his Hall of Fame Wall. Pro-Wrestling Hall of Fame plaque, Lifetime Achievement Award certificate, a picture of his WWE Hall of Fame induction and its plaque. A few other hall of fame award. In all, Steamboat is in three different Halls of Fame, but being WWE Class of 2009 is great. On the other wall is "Mid-Atlantic Memories," as the poster says. He and Jay Youngblood as a team, then him and Harley Race with that one-hour draw.
The third wall is what he won while in Japan. World tag team championships with Youngblood, and then some wrestling caricatures fans drew for him. Phil Ortiz of the Simpsons even did one. Then there's bodybuilding trophies, a lesser known part of Steamboat's career. He and Flair went 60 minutes practically daily, but Steamboat admits Flair carried him. Punk begs to differ but that was a great feud. Steamboat even has a picture of Flair, as well as him and Flair together. Then down the way is his section for Randy Savage, and even a chair back from the Silverdome! Fittingly, seat 3 for WrestleMania 3, with "The Silverdome, March 29th 1987, World Record Attendance 93,173" written on it. Steamboat thanks Renee, Punk, the WWE Universe and the "Fox guys" for bringing The Dragon Backstage.
Mr. Money in the Bank is Backstage!
"Yo, Mandy! I did it!" Otis Dozovic joins Renee, Booker and Punk, and gets to be here in person sorta since Renee is at the PC. Otis has his MITB briefcase in hand and a smile on his face. "In the flesh, baby." Renee says Otis has an MITB glow. Yes, Otis never thought he'd get the 2020 briefcase with its green and yellow, Go Pack Go colors. Uh oh, not something to say around the Chicago born Punk. Punk was looking forward to talking to Otis and turns out he's a cheese head. Born and raised in Green Bay, Wisconsin, doncha know. Punk feels sorry for Otis but it's okay. Renee asks how that day shooting the truly unprecedented MITB match was. Some people had only been to WWE HQ the one time, such as Otis. His strategy as far as being the heaviest man, not as fast as the others, was to always look for the nearest exit door and just slow the others down. The cafeteria was very hectic, poor ol' Paul Heyman got a face full, and then they went to the roof.
That was Otis' favorite place, actually, because it helped him get over his fear of heights. The ring and the ladders were there, and the rungs break because they just weren't strong enough. But NFL rules, the fumble brought the ball to him, he wins! Did Otis celebrate after? Of course! He couldn't hit the town, obviously, but it was a nice hotel room party. Booker asks Otis some questions. First: Otis is Mr. MITB and has had a lot of success in singles competition, is this the beginning of a big singles run? Otis isn't sure yet. It looks that way, but brig brother Tucky is helpful in guiding Otis. When things get "juicy," Otis starts losing his cool, but Tucker is there to bring him back. Heavy Machinery can still go full tilt, but Tucker is fully supportive of Otis right now, as is Otis' "sweet peach" Mandy Rose. Otis will represent Blue Collar Solid all the way. Winning the briefcase made for a great Mother's Day present for Mama Dozovic, though.
Renee says those Mother's Day pictures Otis shared were wonderful. Otis says his mama raised him tough. Back in the day, working three jobs and going to college just to support her baby boy, that's a great mom. Renee says Otis was very successful in amateur wrestling before going into pro-wrestling, what was the transition like? Well the transition was just getting even more naked. The main difference is that the opponent's parents would be there calling you names. Now, in front of a big audience, well not right now but y'know what he means, it's great. Gerald Brisco even told Otis stories of being used to little to no crowd. But Brisco noted Otis' style isn't really any style. He just wrestled hard and went headfirst. The Dozer just goes straight forward.
As a former MITB winner, Punk's advice is "don't trust anybody." Otis already made a cardinal mistake bringing up Tucker. You never know, Tucker might try to take that briefcase for his own. Mandy, too, actually, so kick her to the curb. Not his sweet peach! But Otis needs to keep his eyes open and back to the wall because you don't know who to trust. Booker can't believe Punk gave that advice about Mandy. Renee says Mandy is stunning! Dime a dozen to Punk! But Otis is Mr. MITB! He could get a dozen Mandies! Get real! Booker asks Otis if he saw this ever happening. Was this the master plan for Otis? Otis admits he doesn't really think too far ahead, he just focuses on what's next. The vision of having the briefcase was still surreal, because of the climbing and all that. It wasn't in his favor being such a big man. But even his win over Dolph Ziggler at Mania, Otis' first real major singles victory, that and the smooch from Mandy. Very juicy.
But momentum plays a big factor. Otis is a juggernaut that can't be stopped, and hopefully… Well, Otis will just say he's not a patient man, he might cash in sooner than later, but you never know. Renee asks what the ultimate goal is for Otis. Yes, he got his singles win at Mania, but what was the goal when he first signed with the WWE? Otis says it was really just getting here. That's the goal when you're a little kid growing up watching it all. He didn't think it was possible, but his old training pal, Chad Gable, made it so Otis thought, "Maybe it is possible." Otis and Tucker made an impact, and they love doing that. July will mark four years Otis and Tucker, two guys who didn't know each other, being a tag team and having a great time. But now, who knows what to expect. Otis is taking whatever opportunities there are and running with them.
Renee notes how the previous guests on Backstage, Aleister Black and Rey Mysterio, didn't win MITB. In fact, they got thrown off the main roof! To fortunately land on a secondary one. Otis watches Rey and "Allie" go off the edge. Allie is in the darkness! Otis says Corbin needs to be arrested for attempt at murder. Booker jokes that that's just what kings do: get rid of peasants. But the sky's the limit for Otis, when will Otis decide to cash that briefcase in?
WrestleMania III: The Irresistible Force VS The Immovable Object!
Hulk Hogan and Andre the Giant, the marquee match of the night, with the scoop slam heard around the world. Hulkamania hit a new level, changing the world of wrestling. Hogan recalls not knowing what the ending of this match would even be. All day long, Hogan asked Andre what would happen, and all he'd get was, "Don't worry!" Hogan kept asking and asking, but Andre kept telling him not to worry. And then when the match began and the two stared down, Andre was a genius for not telling Hogan because otherwise, Hogan wouldn't have been as invested in the match as he was. Andre scoop slammed Hogan, and Hogan felt like he was in the fight of his life. Then as things hit the peak, Andre told Hogan, "SLAM!" Hogan used everything he had for THE scoop slam that changed the business forever. Hogan still can't believe Andre was so gracious as to let Hogan look as big and strong as him. This is when pro-wrestling truly started to become sports entertainment.
The panel discusses Hogan VS Andre.
What is everyone's lasting memory of this Mania match? Christian says Andre being the beloved figure but turning Heel on Hogan during Piper's Pit. Christian was shocked, and then seeing his favorite, Hogan, be the underdog going against Heel Giant. The story of Hogan not being able to slam Andre until the very end, those moments are what people remember forever. Then later, getting into the business, Christian understanding the inner workings, knowing how respected Andre was by his peers where nothing happened without his approval, that was wild. And Andre being smart enough to know Hogan's best will come out when he's a bit fearful, that adrenaline pumping, that all helped Hogan shoot to the stars. Andre was truly one of the best. Renee agrees, especially hearing from the Hulkster himself just there.
WWE Backstage has BREAKING NEWS!
As reported by WWE themselves, the WWE Intercontinental Champion, Sami Zayn, has been ruled unable to compete. That means the WWE Intercontinental Championship is VACATED, and a tournament will begin this week on SmackDown! Booker says this will already be GOODT. Who will be in the bracket? And who will go all the way to become the new champion?
WWE Backstage focuses on Money in the Bank.
We know Otis and Asuka won their respective briefcases, but what did everyone think about the unique concurrent nature of the MITB matches? Punk says we are living in strange times during lockdown and no audiences. This year's MITB was another great way to get creative. Punk loved the Boneyard match, so doing this for MITB was a great use of circumstances. Dana Brooke stole the show, to be honest, with the legit laugh-out-loud moment of getting hit with Carmella's picture and then running around with it around her neck. The cameos were great, too, such as Vince in jeans. The WWE is working within the parameters they have, and Punk likes that. Punk likes new, creative things, so surprisingly, he didn't hate it. The right people won to freshen things up. It was silly but silly can be good because pro-wrestling can be silly. There are times for seriousness, but also times for silliness.
Booker feels there were some things that didn't fly with him. No pun intended, Mysterio and Aleister. But the main thing was he expected something different. That might just be his not having an open mind. He wanted Game of Death with the obstacles to overcome to get to the next floor, but we didn't really get that. Renee says he wanted it to be super serious with no comedy. Yes, he wanted there to be an edge. There was a moment to be captured, especially without fans around. Booker thought the WWE could've done something different. Of course this was a different match, but not the different Booker expected. But Booker keeps up with the internet and the internet seemed to be positive about it. As for Christian, he says Booker doesn't know ladder matches anyway. But we saw a serious ladder match at WrestleMania with the SmackDown Tag titles, so the MITB needed to be different.
Christian says the goal of a ladder match is the winner(s) should look better coming out than going in. It was important here for everyone to look better coming out of it, and everyone did from a character standpoint. Punk touched on it with Dana stealing the show, but Christian also thinks Mella did great. Those two didn't win but they came out the better for it. He does agree that there could've been more edge, more action on the roof, more jocking for position. Booker wants Christian to admit that if Christian was in this match, he'd ask for amazing ladder spots. Edge invades Renee's feed and wants Christian to admit it, too. Christian can't ever get the spotlight, can he? Nope. Edge will always be here. He is Christian's wrestling goiter. But is that a yes or a no on doing big ladder spots?
CM Punk relives his list of demands.
All these years later, the WWE finally brought back the ice cream bars. What does he think of them? Punk has a box of them, but there's only three superstars on the cover. Becky, Macho Man and a blank space, weirdly. (It's John Cena) But in the spirit of The Man, he'll go for that bar. Unwrapping before our eyes, and the plastic is not good. But leave the past behind, because these aren't the old school bars. These are straight-up ice cream sandwiches. Ice cream is ice cream, like pizza is pizza. Nom nom. Well it's a good ice cream sandwich, but it's not an ice cream bar where it's coated in chocolate with the cookie inside. This is a 4/10 for Punk. But because it's Becky and Becky's an expecting mother, Punk raises the bar by having pickles with it. That's a wrap for this week, make sure to check in next time for more news and discussion Backstage!
---
My Thoughts:
A real fun episode, and now it makes sense why FS1 played WrestleMania III at all. They wanted to have a tie-in to having Steamboat and Hogan on tonight's episode! I remember hearing the story behind Hogan and Andre, where the finish was kept even from Hogan until the very last moment. That really is true brilliance, and it's not something you really see anymore. Hearing from Steamboat was great, too, and I really need to go and see Savage VS Steamboat for myself. Because no, I did not have the time to watch FS1 playing the PPV. I'm honestly surprised it hasn't been part of WWE 205 Live's "The Matches That Made Me," but for all we know, the next superstar for that series is going to pick it this week. Having Otis on was great, because he and the others were basically in character for the interview. And I finally realized that Otis has the Wisconsin accent.
Another big thing was the news of the WWE Intercontinental Championship being vacated. I suppose Sami Zayn being "unable to compete" is just their way of saying the COVID concerns are still strong for some and that Sami just can't be at the PC right now, as he clearly hasn't after Mania. Tournaments are always fun, so I can't wait to see who gets in, who goes to the finals, and who more than likely wins that title at Backlash.