News From Cook's Corner 5.4.20: No Sale
Our buddy Cook is back in the news kitchen! He works over some of the more interesting topics of the week that was.
Hi, hello & welcome to News From Cook's Corner!
We're three weeks into this experiment, and I've always known that three out of four of my columns are good. This has been the case as far back as I can remember. Even now in this Chairshot experiment with my writing four columns a week. Three are good, one is total nonsense. I feel like this is the one News column in the cycle that will be bad, because I'm being given nothing to write about. Which might be an indictment on the sites that present wrestling news, if I would like to pass the buck.
It's not like "The Buck Stops Here" is a motto for anybody these days.
Everybody in the world is about passing the buck. That's a good way to avoid mental health issues. If you act like your actions have no impact, which most baby boomers (including my parents) do, that alleviates a lot of stress. Younger folks like me think we have more of an impact (even if it's not as much as my parents who refuse to think they have an impact actually do). It's a catch-22 scenario. In pro wrestling, the people who have the most power are part of that baby-boomer generation that has ruined the planet, and has also ruined the wrestling business.
Did you watch the most recent episode of Dark Side of the Ring? There was a lot of BS going on from all the parties talking, but the lesson I learned was pretty simple. David Schultz was trying to protect the business. As dumb as he was in the process of protecting the business, that's what he was taught. That business he tried to protect was outed by his boss (who allegedly told him to rough up that reporter) a couple of years later. Basically, Dr. D was wasting his time. There was no reason for him to try & prove the "realness" of the business when his boss was going to expose it to avoid paying taxes.
I believe that Schultz would have done something else to get blackballed. Dude was a bit of a loose cannon. That Mr. T business ended up being the final straw. Everything would have ended up the same way eventually. However, if Dr. D was in fact directed to shut people up by Vincent Kennedy McMahon (who would never admit such a thing because he's just a good honest Christian fella), Vince deserves some of the blame for that nonsense.
All of the people associated with this business are evil. I've said this before, and it's part of why I have no friends in the business, but I haven't been proven wrong yet. So let's get on with the fake news!
WWE News
Dutch Mantell created a bit of a stir last week when he stated that Vince McMahon was planning on selling WWE. Here's what he tweeted.
HUGE NEWS: Any truth to this. Overheard directly out of @WWE Stamford is that a deal is being negotiated to sell WWE & the network to @ESPN and @FOX by as early as Mid May. @mattkoonmusic

— 𝔻𝕣. 𝔻𝕦𝕥𝕔𝕙 (@DirtyDMantell) April 28, 2020
I'm really not sure why this story took off the way it did. I assume it was a combination of two factors:
1. Dutch Mantell is a respected person within the wrestling world. Its not like somebody like me with no credibility tweeting out speculation.
2. We were bored.
In any event, WWE denies any reporting concerning the potential sale of the company. From where I sit, Vince selling WWE is one of those things I can't imagine happening. I have assumed as long as that man has a pulse, he won't give the company up. He loves sports entertainment and constantly working just as much as he loves money.
However, I have assumed a lot of things wouldn't happen over the years. Many of them ended up happening. Wrestling truly is a "never say never" business. Vince selling out seems unlikely, but there has been smoke here the last couple of years. Enough smoke to make one wonder.
Jimmy Uso will reportedly be out six to nine months with a knee injury suffered during the triple threat ladder match at WrestleMania. This certainly sheds more light on Naomi's loss against Dana Brooke in a Money in the Bank qualifying match. Better she be at home with her husband than at Titan Tower climbing the corporate ladder. Last thing we need is both of them out due to crazy ladder stunts.
Kevin Owens also says he injured his knee at WrestleMania, but he doesn't seem too concerned about it. Us fat guys are used to our knees hurting due to our excess weight so I see where he's coming from.
Becky Lynch hasn't been very active in the ring lately, but she's still doing big things. Lynch appeared on Showtime's Billions on Sunday night, and Kris Tapley tweeted that Becky would be in an upcoming Marvel movie. I can't say I would have predicted that Becky would be the next WWE Superstar to break into the movie scene, but it seems like a good career move to me. She's taking acting lessons now and if I remember correctly she was taking them during her hiatus from the wrestling business as well. She's getting pointers from The Rock & John Cena too, who would be the obvious people to ask. More power to her if she gets it done. I've never been one of those people that got mad at wrestlers for going Hollywood. Always seemed like the next step to me.
Speaking of Becky, there was a tidbit she dropped during a recent interview I'd love to hear more details on. Apparently, Vince McMahon was recently demonstrating how to properly fall off of a tower. This leads to many different questions. I know there are people that do that kind of a thing for a living, but is it something Vince should be doing at 98 years old? Was he actually taking bumps onto a gigantic pad? If so, should we be concerned that an elderly gentleman going through a ton of stress is jumping off of high places? Should we be concerned that this is the guy Wall Street puts so much faith in?
Also, since Vince now wants his workers to be glorified stuntmen, doesn't that mean that Mick Foley came along 20 years too soon like Superstar Billy Graham did?
Other Wrestling News
Ring of Honor has cancelled their events through June, meaning they currently have no events on their calendar. On the bright side, Sinclair Broadcasting isn't making their wrestlers travel across the country to work events in front of zero fans. However, as a natural-born cynic, I can't help but notice that this illustrates the lack of importance of ROH to Sinclair's business. Is there an easier place for them to cut costs than their wrestling company? The longer ROH remains on the shelf, the more likely it is that it'll stay there.
Hopefully I'm wrong, and once the pandemic is over Ring of Honor returns stronger than ever. It just seems to me that Sinclair has higher priorities on their mind than ROH, and it wouldn't shock me when it all ends if they realize "Do we really need to open that part of the business back up?". After all, getting Donald Trump re-elected is vastly more important to Sinclair's business than running wrestling shows.
We mentioned a random Dutch Mantell tweet getting a lot of traction earlier, so I wanted to mention another one here:
Just ran across this match. Brutal. Samoa Joe and Necro Butcher , a bloodbath on Necro's end. There's 3 spots in here that could have legitimately ended Necro's career/health or life. 4 min, 8 min and 10 minute mark. Comments?? https://t.co/6JUWV6ziVo

— 𝔻𝕣. 𝔻𝕦𝕥𝕔𝕙 (@DirtyDMantell) May 3, 2020
This is my way of saying if you're reading this and haven't seen Samoa Joe vs. Necro Butcher before, you should get on that. You have no excuse, as I assume you aren't writing at least 4 columns a week and aren't on at least two podcasts a week, while working an essential job 4 days a week. Watch that shit!
Plugs!
I looked at the Top 5 Relationships Between Wrestlers and Announcers.
I also looked at the Top 5 Curtis Axel Moments
Then I wrote about how AEW Can't Hire All Of Their Friends. You know, just in case somebody there read that Axel article and got some ideas.
Thanks for reading! Stay safe, and put on a mask and gloves whenever you can.
NXT Minus 6: I Agree With Ciampa
From Ciampa & Thatcher to Kushida, from Joe to… Imperium? This week's NXT Minus 6 has it all. So read it. And enjoy!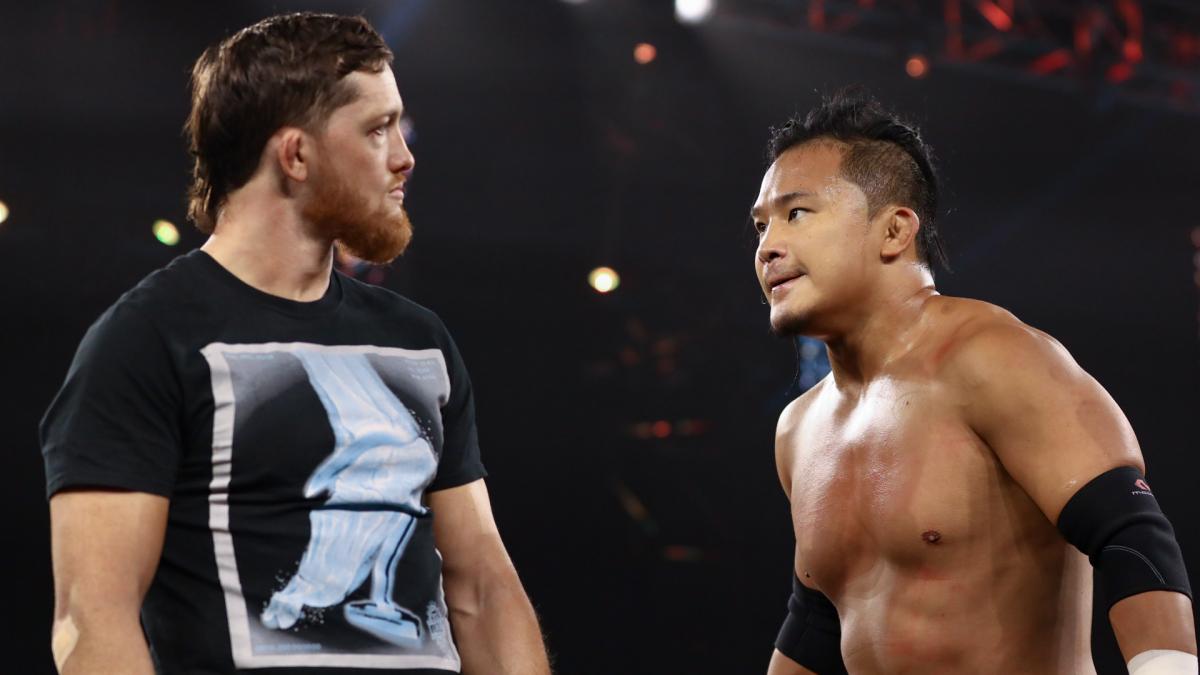 From Ciampa & Thatcher to Kushida, from Joe to… Imperium? This week's NXT Minus 6 has it all. So read it. And enjoy!
Leave it to Old Man Ciampa to say what we're all thinking.

6. I'm really hoping Samoa Joe is eventually cleared for an in-ring return. If he isn't, then teasing matches with everybody from Pete Dunne to Johnny Gargano is cruel and unusual punishment. Don't get me wrong. His start as William Regal's enforcer was great, but that's not why he came back. It's not Joe Will Threaten You And Make You Leave The Room. Joe…Will…Kill…You.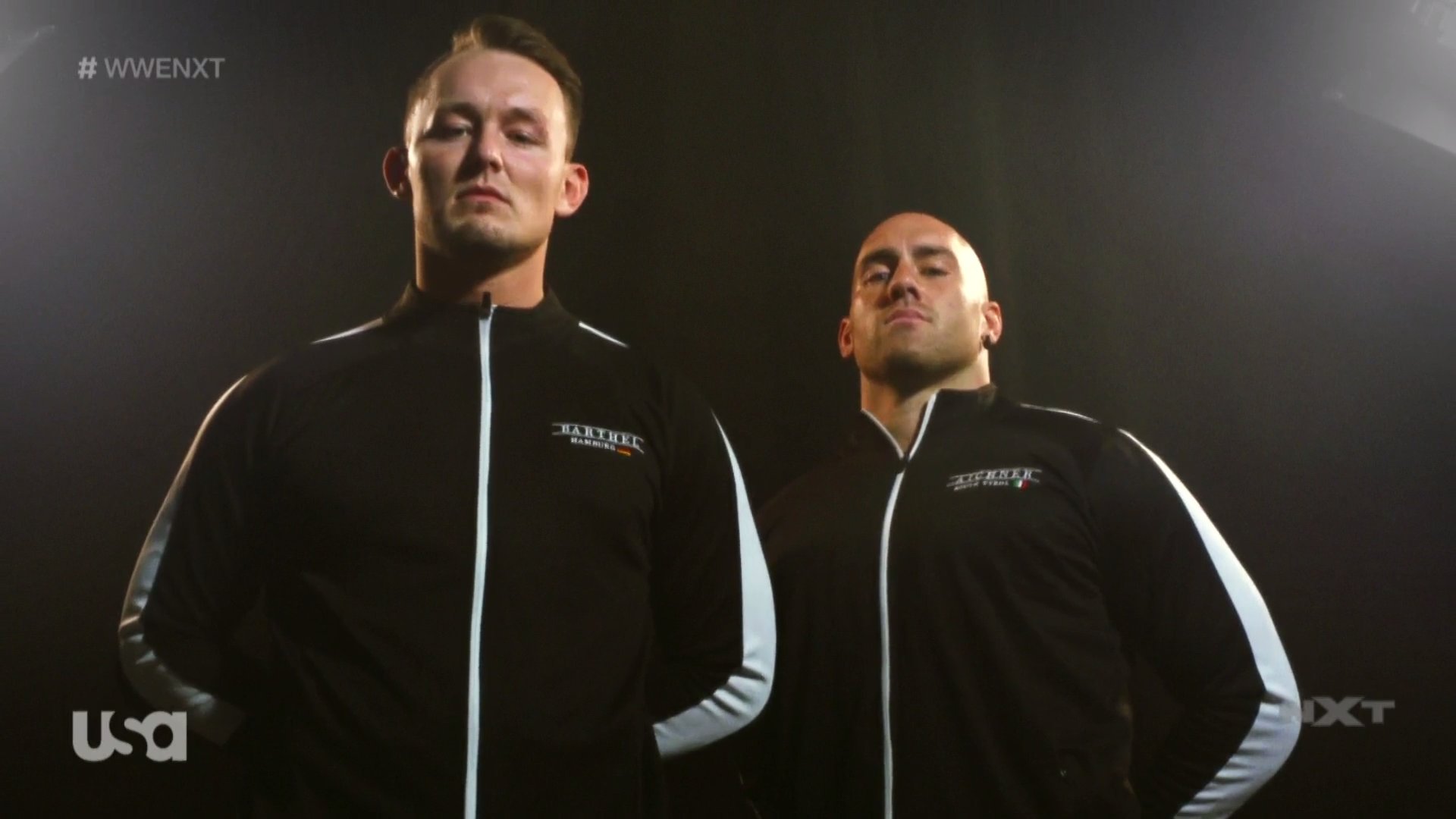 5. Is anybody else upset that Imperium is stuck in tag team no man's land? They are such a non-factor right now it feels like they are on the edge of a breakup. That would make me sad. I'm a big fan of Fabian Aichner and Marcel Barthel. I think they would do fine as individuals, but as a team they still have a lot to accomplish. 
4. Dear MSK, I've booked your July. You say tag team wrestling is the best division in NXT and the best tag team division anywhere, and you are going to prove it. Each week in July, you put the belts on the line against a different team. But wait…There's more. After you defeat everybody, those four teams get to compete in a fatal 4-way, winner gets a rematch at Takeover.   
3. After Tommaso Ciampa and Timothy Thatcher put the boots (more on that in a minute) to Grizzled Young Veterans, Ciampa looked at the camera and growled "This was my Takeover." I agree. That match was my Takeover, too. It was better than anything In Your House. Just a crazy, brutal match that I'm giving 4.7 stars. But it doesn't stop here. There's only one way to end this feud…the first ever tag team match in the Fight Pit.
2. Now about those boots. One of my biggest wrestling peeves is when a tag team doesn't have a proper name. It's clear that Thatcher & Ciampa are not a passing fad. They deserve a name. None of this half assed Thatcher-Ciampa Connection. I've always wanted to name a team The Boots, as in "We are going to put the boots to you boys." Honorable mention goes to Pit Boss. If you have something better, drop it in the comment section. 
1. This week's That's Why I Love Wrestling goes to…KUSHIDA! Specifically, KUSHIDA's floatover. I'm a big fan of any wrestler who can elevate a basic move into something special. KUSHIDA's floatover is a helicopter propeller. He looks like he could spin on his opponent's back until the end of the show. Mastery of the little things turns good to great. That is exactly why KUSHIDA is one of the greats. 
WWE Hell In A Cell: The End Of Main Event Bob?
Could WWE Hell In The Cell signify the end of Bobby Lashley's main event run? Read on to see if the odds are in Bob's favor.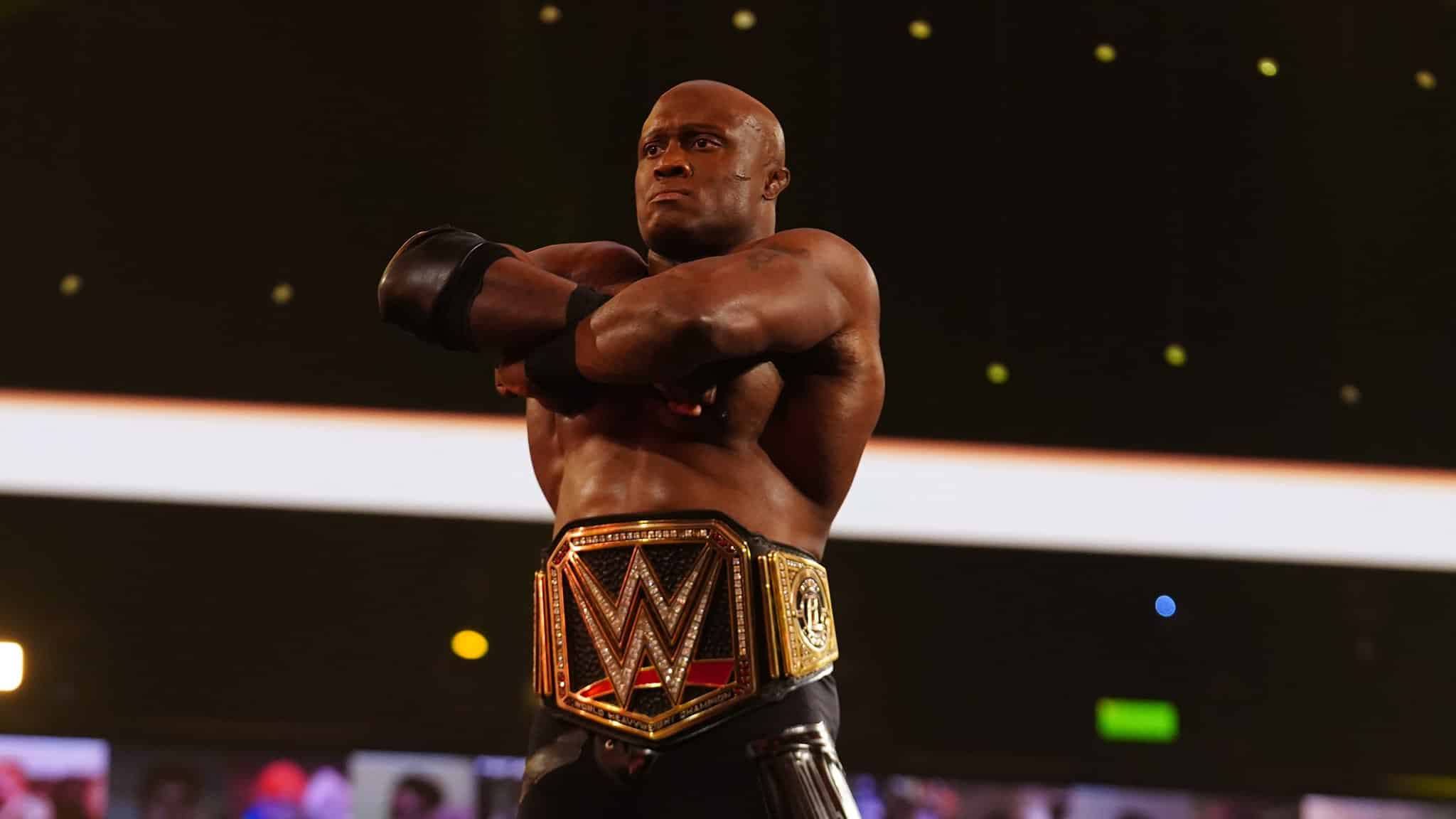 Could WWE Hell In The Cell signify the end of Bobby Lashley's main event run?
WWE Hell In A Cell takes place this Sunday on NBC Universal's Peacock, the former WWE Network (in the US), and on pay-per-view and other outlets all over the globe.
One of the highlighted matches features Bobby Lashley defending his WWE Championship against Drew McIntyre inside the demonic Hell In A Cell structure, keeping Drew within the WWE Championship picture for eighteen straight months now, a fact that isn't lost on most fans or even Drew himself.
But the looming question in my mind doesn't deal with Drew, but the reigning titleholder himself, Bobby Lashley.
Bobby Lashley's ascension to the top of the WWE comes at what is obviously the tail end of a 20-year wrestling career that has seen this phenomenal athlete compete for WWE itself, Impact Wrestling, AAA, even MMA sprints including Bellator, and ultimately WWE once again. His most recent run included feuds with Sami Zayn, Rusev and Lana, and a stint being managed by the now retired Lio Rush that are most remembered for all the wrong reasons. Before WrestleMania 37, where Lashley basically beat Drew McIntyre clean, he was essentially quashed by Finn Balor's Demon at WrestleMania 35 and lost to the since released Aleister Black at WrestleMania 36 (held in the WWE Performance Center, not the home of the Capitol Wrestling Center).
But at the start of the global pandemic, MVP entered the picture and created The Hurt Business, a vehicle that—at the time—helped the careers of Lashley, Shelton Benjamin, and Cedric Alexander. The Hurt Business was on top of the proverbial world, holding mid-card championships and being involved in high profile storylines. But it wasn't until the end of the Elimination Chamber build where The Miz "made a deal with the devil" to set Drew McIntyre up for his Money In The Bank cash-in. Months and years of hard work finally paid off—Bobby Lashley was WWE Champion.
After taking the Fastlane pay-per-view off, Lashley was headed to the WrestleMania 37 showdown with the main who carried the WWE back at the start of the pandemic. Drew McIntyre won the title from Brock Lesnar in front of no one at WrestleMania 36, leading many to believe that Drew could emerge victorious in Tampa Bay as a "make good" for his push not culminating in front of a WrestleMania stadium crowd. Many, including myself, were pleasantly surprised when Bobby Lashley left WrestleMania 37 as champion, doing so in relatively clean fashion.
Hell In A Cell is now the blow-off point for McIntyre and Lashley, with the rule that if Bobby Lashley loses, Drew McIntyre cannot challenge Lashley for the WWE Championship again. That begs a bigger question: Is this the end of the road for Bobby Lashley as a top guy in WWE?
According to the odds from SportsBettingDime, Bobby Lashley (-250) is expected to retain his championship in his match against Drew McIntyre. And I personally hope they're right!
I said it on this week's Babyface/Heel Podcast, I fully expect the loser of this match to end up on Smackdown after the next WWE Draft and be used as an opponent for Roman Reigns. Drew McIntyre is the most logical choice based on the hero/villain alignment, and him feeling like he has "unfinished business" with Roman after the 2020 Survivor Series.
Personally, I'd be betting on the side of the odds, with Lashley retaining. WWE has two full time brands, and Lashley fits at the top of the card. Despite his age (44) I think Bobby has another 2-3 good years left, and he is peaking as a character in a character driven environment. Raw is the perfect environment for Bobby Lashley to build babyface challengers and still walk out champion. Much like Roman Reigns, the best scenario is for Bobby to walk into WrestleMania 38 the same way he walked into WrestleMania 37—as WWE Champion.