The Streak Epilogue: You Can't Kill What Won't Die
Tiffany takes a look back at The Streak, as The Undertaker's ride continues through WrestleMania 36's Boneyard Match!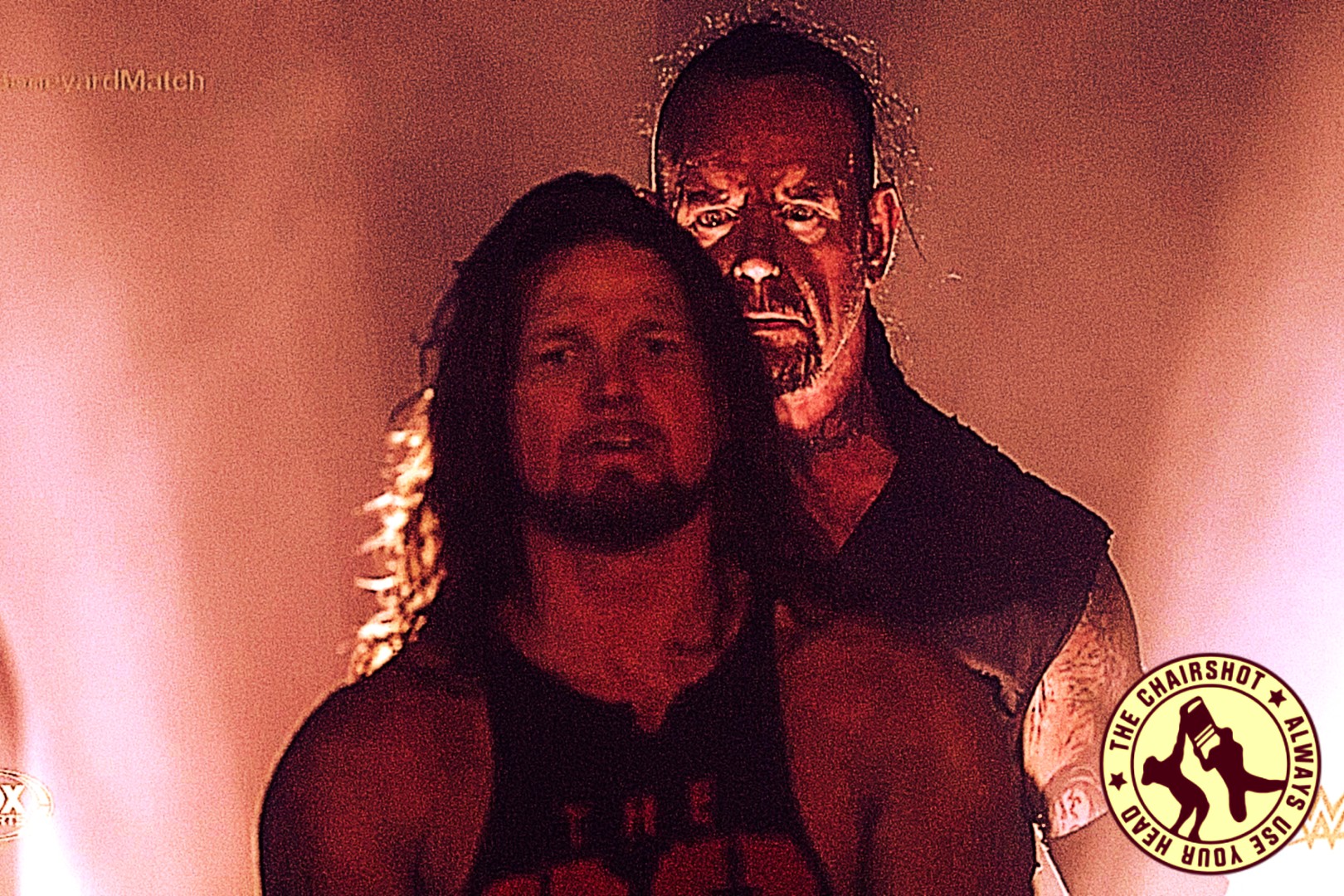 Tiffany takes a look back at The Streak, as The Undertaker's ride continues through WrestleMania 36's Boneyard Match!
Well, as happens so many times, the Undertaker made liars of us all. In 2019, as I was wrapping up my series on the Undertaker's unprecedented Streak, it looked like the Deadman was done. For the first time in almost twenty years there was no match scheduled for the Deadman at WrestleMania. However, that wasn't to say the Deadman didn't make his presence known, he just didn't do it at WrestleMania 35. However, the Deadman would return to the Show of Shows and take on a fellow Phenom and his club in the strangest, yet most Undertaker, of matches
The Raw After WrestleMania 35 – The Day the Music Died
So, there isn't a whole lot of story to this, it wasn't even a match, but it was a fun little finale to something that had happened at WrestleMania 34, when Elias tricked John Cena, and the fans, into believing the Undertaker was arriving for the match with Cena. Needless to say neither Cena, nor the fans, were all that amused by Elias' prank, not that Elias cared, but it seems that someone else didn't appreciate the wanna be music star's attempt to steal his spotlight.
Elias was in the ring, complaining about his concert being interrupted by John Cena, in his Doctor of Thuganomics gimmick, and also about getting his butt kicked by said Doctor. He was going to put on his concert, by gumm, and the next person would, and I quote, 'a deadman'. Well, wish granted. The gong hit and we got Elias' 'Oh, SHIT!' moment in real time.
The Deadman Cometh. Undertaker emerged from the smoke of the past and headed for the ring. Elias, doing the first smart thing he'd done in ages, nearly decided to run for it, but then, as happened so many times with people who had second thoughts once they'd drawn the ire of the Deadman, Elias thought he was ready. Elias thought that he could handle the Reaper of Souls.
He wasn't.
The end was quick, but not easy or merciful. Elias, stupidly, charged at the Deadman and ate a Big Boot for his impertiance. While he recovered, Taker divested himself of his hat and coat and it was time to put the would be minstrel away. A chokeslam and a Tombstone later, Elias became an unofficial member of the most exclusive club in Professional Wrestling: The Men Who Faced the Undertaker at WrestleMania…or at least during WrestleMania Weekend.
Thoughts: This wasn't a match, even if the crowd did the three count for Taker, however, it gave the crowd what it wanted and was a nice bookend to what had happened in New Orleans the year before. It's a little too bad Elias vs Taker couldn't have been an official match, but it was fun.
WrestleMania 36 – Phenom vs Phenomenal
This story actually started at Super Showdown in Saudi Arabia. AJ Styles was entered into a Gauntlet Match and got his buddies, Luke Gallows and Karl Anderson, to help him by taking out his final opponent, Rey Mysterio. However, Styles' arrogance wasn't going to go unchallenged. Gallows and Anderson were found backstage, clutching their throats…and a long, black, trenchcoat came into view. Styles was furious, but no one was going to tell Taker he couldn't join the Gauntlet match. Needless to say, Styles was beat.
Enraged, Styles called out the Undertaker, insulting not only the Deadman, but also Michelle McCool, Taker's wife. Never a smart move. It was time for the Phenomenal AJ Styles to face the Phenom of WWE in a Boneyard Match.
This match started out with a hearse pulling into a graveyard. The druids come out and it looks like the Deadman has arrived, but there's only two druids and it's AJ Styles, in a show of sheer audacity. Styles looks ready, seems to think he's ready, but then, they always THINK they're ready. In the distance, we hear the ominous roar of a motorcycle. It is time.
The Deadman Cometh, but instead of the hearse, Undertaker pulls up on his trademark motorcycle. Styles is actually delighted to see him, claiming he's dug his grave for him, amused at the other man's arrogance, corrects him by saying he's dug his own grave. AJ isn't convinced, it's time to get it on.
I don't think it's right to call this a match. There was no ref that I could see, it was two guys fighting in a graveyard. It was also EXTREMELY close to being a shot for shot ripoff of Matt Hardy's 'Final Deletion' match. Of course, Gallows and Anderson, still smarting from their drumming at Super Showdown tried to stick their two cents in, and SEEMED to get the druids on side. However, you should always fear the old man in a business where young men don't last.
I will say that this match was much better than I thought it was going to be when I heard about it. Ripping off Matt Hardy aside, these two beat the unholy hell out of each other and worked really well together. It's kind of a shame that they had to put on such a gimmick match.
It doesn't take a rocket science, or a woman who failed almost every math class except basic math (that would be me) to know how this was going to end.  Taker chokeslammed Styles off the roof of a barn, after throwing Gallows off of it and tombstoning Anderson. AJ tried to get away with his pride intact, even hugging the Deadman, but a Big Boot knocked him into the grave he'd dug, just like Taker promised, before LITERALLY being buried.
Winner: Since there was no ref, there wasn't an official winner, but Taker was the last man standing, so he wins. We watch him ride off into the sunset on his motorcycle as the gate to the cemetery closed behind him.
Thoughts: That was a a MUCH better match than I was expecting. Again, I wish they hadn't had to gimmick it, but that was REALLY good. If that was Taker's last match, it was a great one.
King's WrestleMania Rewind: Charlotte Flair vs. Asuka from WrestleMania 34
Chris king is back with one of the most underrated matches in WrestleMania history–Charlotte Flair vs. Asuka!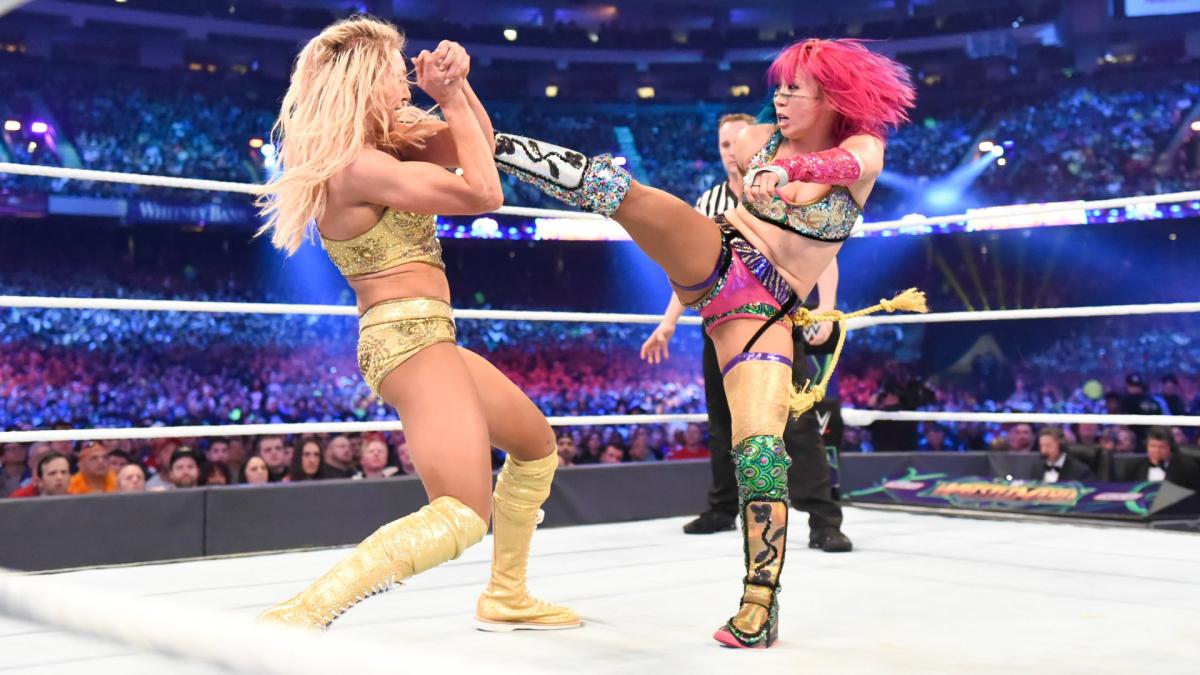 Chris king is back with one of the most underrated matches in WrestleMania history–Charlotte Flair vs. Asuka!
We look back at Charlotte Flair vs. Asuka at WWE WrestleMania 34. 'The Empress of Tomorrow' put her unprecedented and historic undefeated streak of 914 days on the line against 'The Queen's' SmackDown Women's Championship.
For years, this was considered a dream match while Asuka dominated the roster in NXT, while Flair won numerous championships on the main roster on both Raw and SmackDown. The Empress made her long-awaited debut on the September 11th episode of Raw and began to tear through the competition.
Asuka outlasted all twenty-nine other women in the historic first-ever Women's Royal Rumble match to challenge for the title of her choosing. At Fastlane, she made her choice.
The WWE Universe was so excited for this match myself included. Both superstars delivered a fantastic performance on the Grandest Stage of Them All executing counter after counter. Asuka showed off some nasty-looking kicks to her opponent, and Flair hit a thunderous Spanish Fly off the top rope. Flair was seconds away from defeat at the hands of The Empress but she locked in Figure Eight and Asuka was forced to tap out.
I can't even begin to explain how shocked I was at this outcome, as nearly everyone expected The Empress to continue her undefeated streak and walk away with the women's title. This controversial decision was the downfall of Asuka's momentum. She would ultimately win the SmackDown Women's Championship at the 2018 TLC pay-per-view in the triple-threat ladder match.
Fast forward to this year when Asuka has recently returned with her Japanese-inspired persona Kana. Kana is dangerous and ruthless and is heading into a championship with Bianca Belair at WrestleMania 39. The Empress has regained all her momentum and is highly favored to walk away with the Raw Women's Championship. Let's hope that Asuka and Belair can tear the house down and deliver an A+ grade match both women are fully capable of.
King: Dominik Mysterio Needs To Do This At WrestleMania
Chris King is here with what WWE should do with Dominik Mysterio at WrestleMania in his long-awaited match against his father Rey Mysterio Jr.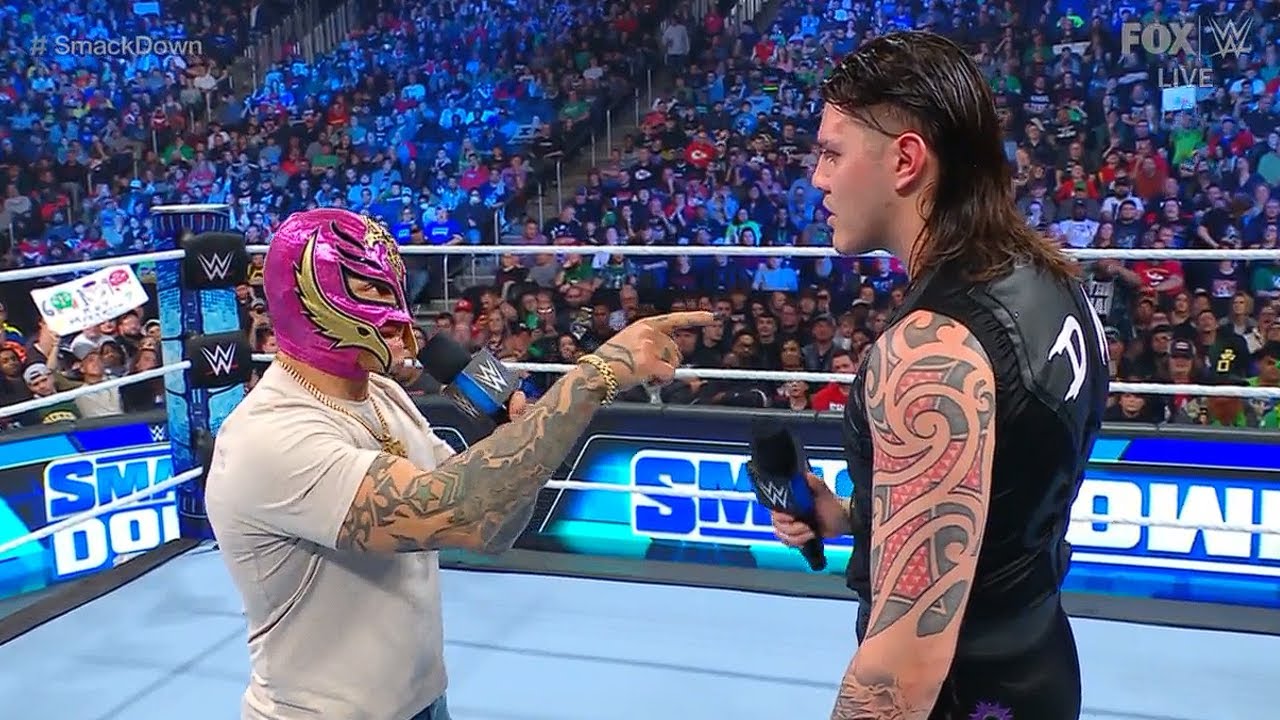 Chris King is here with what WWE should do with Dominik Mysterio at WrestleMania in his long-awaited match against his father Rey Mysterio Jr. 
On this week's episode of Friday Night SmackDown, Rey Mysterio finally snapped and beat some sense into his disrespectful punk-ass kid Dominik. The member of the Judgement Day came out to push his father again for a match on the Grandest Stage of Them All, this time with his mother and sister at ringside. The ungrateful punk told his mom to "Shut Up," as a father even I wanted to jump through the screen and whoop his ass.
Back in October of last year, Mysterio made the emotional decision to possibly quit the company but, instead, Triple H persuaded the Lucha libre superstar to move over to SmackDown to avoid his son. This came after Dominik shockingly turned on his father at Clash at the Castle. Mysterio did everything he could to refuse his despicable son's challenge for Mania but, a man can only be pushed so far. Mysterio will be inducted into the 2023 WWE Hall of Fame and I expect Dominik to embarrass his father during his speech to further this personal feud.
Yes, the WWE Universe hates Dominik and wants to see him get the ever-loving crap kicked out of him but, this feud is missing a special ingredient to capitalize on the biggest heat possible. Throughout this feud, Dominik has made mention of the legendary Eddie Guerrero on several occasions going back to the "iconic" 2005 feud.
I know WWE might not want to go this route but, Dominik MUST come out to Eddie Guerrero's theme at Mania. The disrespectful punk needs to come out in a lowrider to garner nuclear heat. It doesn't matter if The Judgement Day comes out and causes interference for Dominik to get the win, all that matters is that both superstars get the biggest payoff of this nearly year-long feud. Just imagine the Roman Reigns heat after he defeated The Undertaker and multiply that by ten. Dominik portrays the perfect heel and he truly is the missing ingredient that The Judgement Day needed to grow and evolve into a top faction.