The Throwback Slant: Jinder Mahal, WWE Champion
Chad Aaron takes a look at Jinder Mahal as WWE Champion, and compares him to champions of the past in the latest Throwback Slant!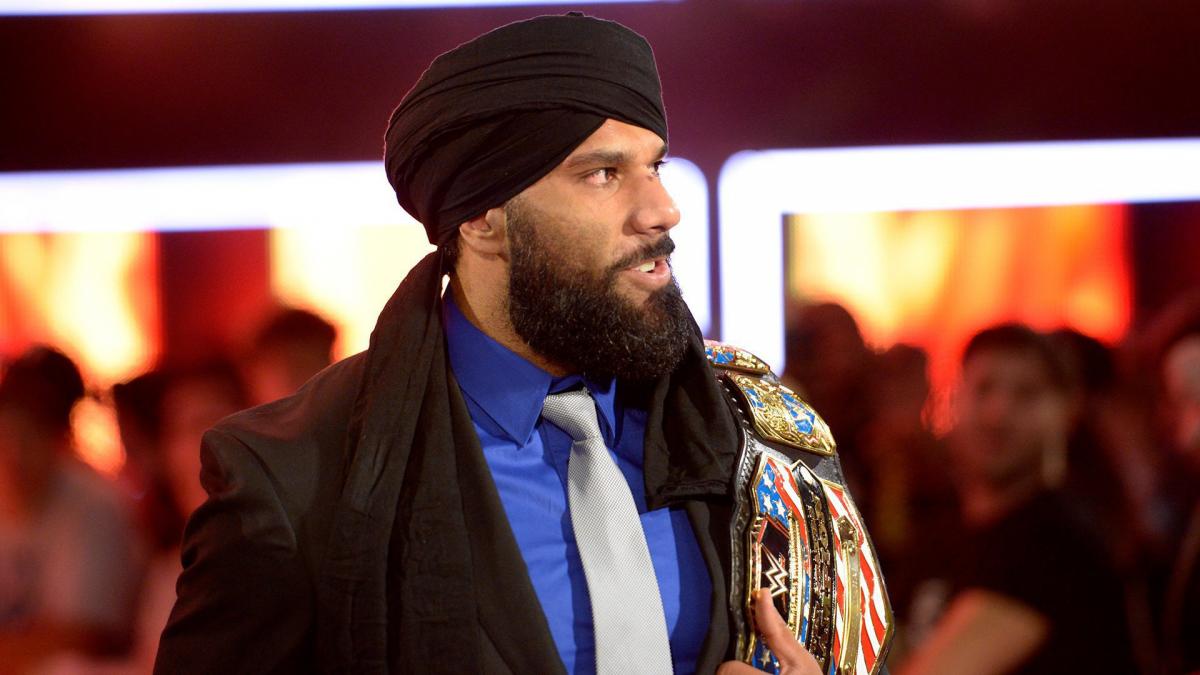 Chad Aaron takes a look at Jinder Mahal as WWE Champion, and compares him to champions of the past in the latest Throwback Slant!
The recent return to Raw of Jinder Mahal got me thinking about his 2017 WWE Championship reign. The Modern Day Maharaja came up pretty much out of nowhere in 2017 to take the WWE's top prize. He had only returned to the company a couple of months earlier, to little fanfare after a forgettable first go-round in the WWE. He came back with an all-new physique and aggressiveness. I recall he had a handful of better-then-expected matches with and against Rusev. He was then placed in a relatively high-profile spot, getting physically involved with Rob Gronkowski at Wrestlemania 33, finishing as the runner up to Mojo Rawley in the Andre The Giant Memorial Battle Royal. He would go on to shock Randy Orton to win the WWE title in May and hold it for approximately six months.
Now, co-incidentally, the WWE was making some in-roads into India at the time, even planning a series of live events that winter. India is home to approximately 125 million English speakers. And while that number is a low percentage of their overall population, it still represents a huge untapped market for wrestling. It was pretty plain to most of us how having a champion of Indian heritage would help the company appeal to that populace.
Domestically, Mahal was an unpopular champion overall, and his reign did not feature any real highlights. He had the Singh Brothers constantly involved in his matches, needed help from The Great Khali of all people to escape the Punjabi Prison, and had a cringeworthy program with Shinsuke Nakamura. Mahal mocked his broken English and made racially insensitive remarks. There was not a single defining moment in his six months on top. AJ Styles took the WWE title off Jinder in November, and Jinder slid back into the undercard.
Now, most of you know all this already, even if you had tried to push those memories out of your brain. I needed to set the stage. An undercard performer suddenly thrust into the main event. A title win that might have taken casual observers off guard, and excited almost no one. The champion carrying his championship through an underwhelming and ill-received title run, and all for a backstage reason that most smart fans could see right through. This scenario sounds very familiar to an older fan like myself.
30 years earlier, in 1987, we had a multi-time NWA World Champion in "Nature Boy" Ric Flair. The biggest show of the year, Starrcade, was coming up, and this time was going head to head on pay-per-view with the WWF's newest invention, the Survivor Series. Promoter Jim Crockett thought it would be a better draw to have Flair win the title at Starrcade rather than simply defend it. That meant, of course, Flair had to lose the belt to someone. But who?
The top two choices would seem to have been Dusty Rhodes and Nikita Koloff. However, both men were already slated for title matches on the show. Dusty in an extended program with young and upcoming star Lex Luger; and Koloff in an NWA vs UWF, TV Title vs TV Title program with Terry Taylor. Not to mention, between Rhodes and Koloff, they had main evented the previous three Starrcade shows against Flair. The next viable option would seem to have been Barry Windham. Urban legend has it that the still-young Windham balked at the idea of winning the title only to drop it so soon back to Flair. They then found a career mid-card guy who was more than happy to take such a short stroll at the top of the card. Enter "The Hands of Stone" Ron Garvin.
Now, unlike Mahal, Ronnie Garvin had already carved out a solid career as an underneath wrestler. He had held the Mid-Atlantic and US Tag Team titles with the company and was widely regarded as a respected, tough, and dependable member of the roster. He was 42 years old at the time, so this would likely be his one and final shot at such an honor. He was a regular on Crockett's television properties, often positioned in the television main event of those shows, so the audience was accustomed to seeing him. The hope was that familiarity would translate to the live audiences accepting him as a top draw.
Garvin took the title from Flair in September and held it for around six weeks. During this time frame, Garvin made sporadic appearances on TV, as the World Champion often would do. He only defended the title on a handful of live shows. While the TV audience might have accepted him, the live crowds were not used to Garvin in main events and his lack of drawing power suddenly stood out at the box office. On TV he was given a 45-day hiatus from defending the title so he could train for the rematch with Flair. This gave the promotion the cover to not have the World Champion at some of the major cards in the run up to Starrcade.
Flair reclaimed the title in November, and Garvin slid back into his former spot on the card. He was positioned at times as a former champion, but for the most part, that part of his career was forgotten. Garvin never again attained the level of success. Within a year or two, he was off to the WWF for a minor push to all but wrap up his wrestling career.
Now Jinder's return could well mark his return to main event status. And with former fellow 3 Man Band alumnus Drew McIntyre holding the WWE title, it would be an easy assumption that the two are likely to work a title program together in the near future. But for now, Mahal remains one of the most unexpected former world champions in history, one whose situation brings to mind another unlikely world champion from the past.
Until next time, watch some wrestling this week, stay safe, and never forget to #UseYourHead.