Tiffany's Takes: May 4-10, 2020
From the WOW to the WTF; Tiffany breaks out all of her thoughts regarding WWE and AEW!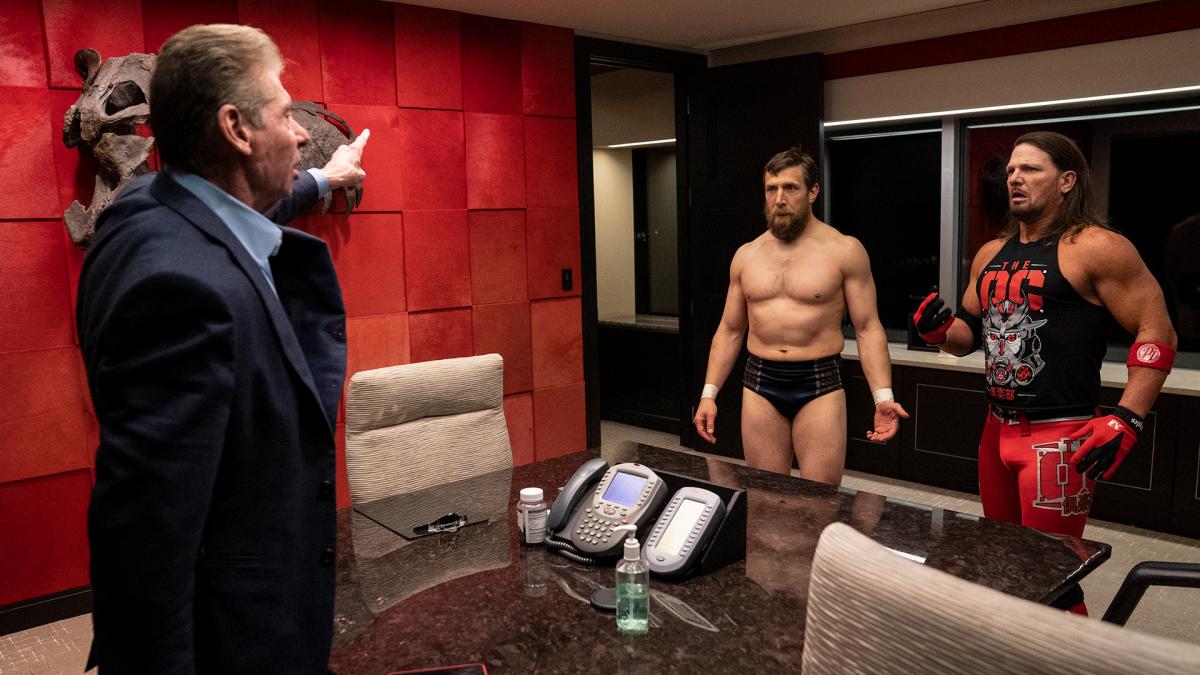 From the WOW to the WTF; Tiffany breaks out all of her thoughts regarding WWE and AEW!
WWE
For all my thoughts on the constant WTF of WWE
So, Kevin Owens is injured in his Mania match and Seth gets blamed, even though no one is quite sure where in the match Owens hurt his ankle.
Jimmy Uso being out for injury SUCKS!
I find it odd that with all the 'Best of WWE' stuff, there's nothing on The Rock or Undertaker. It can't be just that it's the 'Best of the Past Decade' when they've got Austin, Triple H, and Shawn Michaels in there.
If you haven't had the chance to see Carmella's Superstar impersonations, I HIGHLY recommend them.
The series about the Undertaker looks REALLY good.
Johnny Gargano and Candice LeRae vs Seth Rollins and Becky Lynch is something I could go for.
Disney buying any part of WWE would be a 'Turner buys WCW' level disaster.
I'm still not big on them doing two MitB matches at once.
WWE edits Roman out of the Seth Rollins cash-in to make Seth look strong by implying that he pinned Lesnar, but then feature that match in the 'Best of Roman Reigns' where it'll be revealed as a lie.
I don't think Seth Rollins is so much a problematic person as he is someone people almost wait on to say something so they can complain about what a whiny person he is.
Last Ride is SUCH a good show.
Raw
MVP is always nice to see.
A VIP Lounge with Asuka, Baszler, and Jax is enough to make me change the channel. Or click Fast Forward.
Okay, Baszler and Asuka taking out Jax was cool. Still don't like any of them.
I'm really disappointed that Shelton Benjamin didn't get to advance in the Gauntlet match.
WWE really wants us to like Humberto Carrillo, but he has no grab. He's got the skills, says the right things, but there's nothing interesting about him.
Okay, so all that build for Lashley to get DQ'd?
Styles was resurrected with a mean streak.
Styles being in the MitB is a good idea.
Styles not accepting defeat possibly keeps the feud with Taker open.
Nope, still hate this gimmick.
MVP as a manager is interesting.
We're getting more Edge vs Orton.
I'm not thrilled Alexander and Ricochet were beaten. Hopefully, it won't hurt them long term.
Viking Raiders vs Street Profits was REALLY good. I'm a little surprised that it wasn't for the title.
Liv Morgan vs Charlotte Flair? I'm down.
Charlotte wins, the Women's Division loses.
NXT
If all Kross and Bordeaux have to offer is the entrance, they're not going to last long.
Flair vs Shirai – No shock. Ripley wanting her rematch – no shock.
Cole retaining due to UE interference – no shock.
Gargano as a heel is annoying. Candice needs to stand on her own.
Green vs Li was really good.
SmackDown
Mandy needs to find someone to do her roots.
Kudos to Mandy for selling the injury that is supposedly fake.
Mandy vs Sonya was REALLY good.
I'm intrigued by Jeff Hardy vs Sheamus
Boss-Hug vs Tamina/Evans was REALLY good.
If the Hacker isn't Mustafa Ali, I'm going to be pissed.
Money in the Bank 2020
Jeff Hardy, no matter how many times he messes up, will always be great and be my inner teenager's crush.
Hardy vs Cesaro was REALLY good!
Not a fan of New Day still being tag champs. We need the Usos.
Lashley vs Truth stunk. Why was this on the main card, but Hardy vs Cesaro was the kickoff show match?
Bayley vs Tamina was really good. I like that Bayley won sneaky.
Well, that Strowman/Wyatt match gave me a headache.
McIntyre vs Rollins was good, but there's no path forward for Rollins now.
They should've found a way for Sasha Banks to enter the Women's Money in the Bank. Not here for more overrated Asuka nonsense.
They aren't serious, right? They aren't really going to have Otis win a Heavyweight championship, right?
AEW
Here are my AEW musings, especially since they'll be LIVE this week!
Cody continuing to swear that he won't challenge for the AEW Title doesn't make sense.
If the TNT Championship isn't a TV Title, then what is it?
The Dynamite card is: Cody Rhodes vs Joey Janela, Kenny Omega and Matt Hardy teaming up against the Inner Circle, and Jon Moxley vs Frankie Kazarian. Good card.
Fuck Chris Cruise. AEW now has to pay $10k over the Moxley/Omega match because he decided to complain to the Maryland State Athletic Commission. Fuck that guy.
I'm intrigued by the AEW Casino Ladder match.
Darby Allin as the first entrant isn't a surprise. I want him vs Mox II
Jericho's assertion that he's the Best in the World is both on brand for his character and the God's honest truth.
Dark
Ryan Pyles vs Random Dark Order Goon. I could've sworn it was supposed to be Kip Sabian.
Okay, the Twitter tells me that RDOG is Preston Vance. Good to know.
Haven't seen anyone win off a spinebuster for a long time.
Shawn Dean vs Sammy Guevara.
Guevara has improved so much.
Guevara vs Dean was REALLY good. Hope Dean sticks around after things get back to normal.
Kip Sabian vs Colt Cabana. Yawn.
Colt Cabana is a goof. And I don't mean that in a nice way.
Good match, glad Sabian won, by hook or crook.
Dynamite
Rhodes vs Allin was magnificent.
Give me AEW's 'Wrestlers in the crowd' over the empty Performance Center.
Janela's hair is a choice. Not a good one, but a choice.
Not sure who the guy in the suit in the crowd was, but he's awesome!
Janela is SUCH a great talent who should be used more.
Why does Nyla lick her hand? That grosses me out.
Nyla might be the champ, but Britt Baker is the STAR of the AEW Women's Division.
MJF and Spears are so full of BS.
Not a fan of Mox being on early as champ, but I'm guessing the big tag match is going to go long.
Mox and Kazarian needs to happen every week. Thanks
Brandi Rhodes is my hero. Get him, girl!
I think the only reason the snake spot didn't freak me out is that I've watched Roberts do that for thirty years and am confident that it wouldn't have been cleared if he hadn't promised to keep Brandi safe. Plus, it was a small python.
Tag Team Street fight was FANTASTIC!
Kenny Omega getting to do Poetry in Motion with Matt must've been a big fanboy moment.
This shit is fucking WILD! Love Hardcore Wrestling.
Matt Hardy went through all his personalities in this match, plus a clothes change in an ice cooler.
Le Sex Gods pinned Omega.
Next Week's Card: Jungle Express vs Best Friends, Women's Match, Jericho in action, Brodie Lee vs Chris Daniels, Lance Archer and Jake Roberts. Looks good!
Misc.
These are my thoughts and opinions that don't fit in any other category
 People who hate on a wrestler's spouse just because they are with the wrestler, are assholes.
The Twitter wrestling community is either really toxic or really wonderful, there seems to be no in-between.
The 'comedian' who called wrestling fans a very insensitive name, is a fucking fool.
Alberto Del Rio is a piece of shit. End of discussion.