Top 5 Matches In WWE Backlash History
Mishal takes a look back at WWE Backlash and ranks his Top 5 matches from this underappreciated event.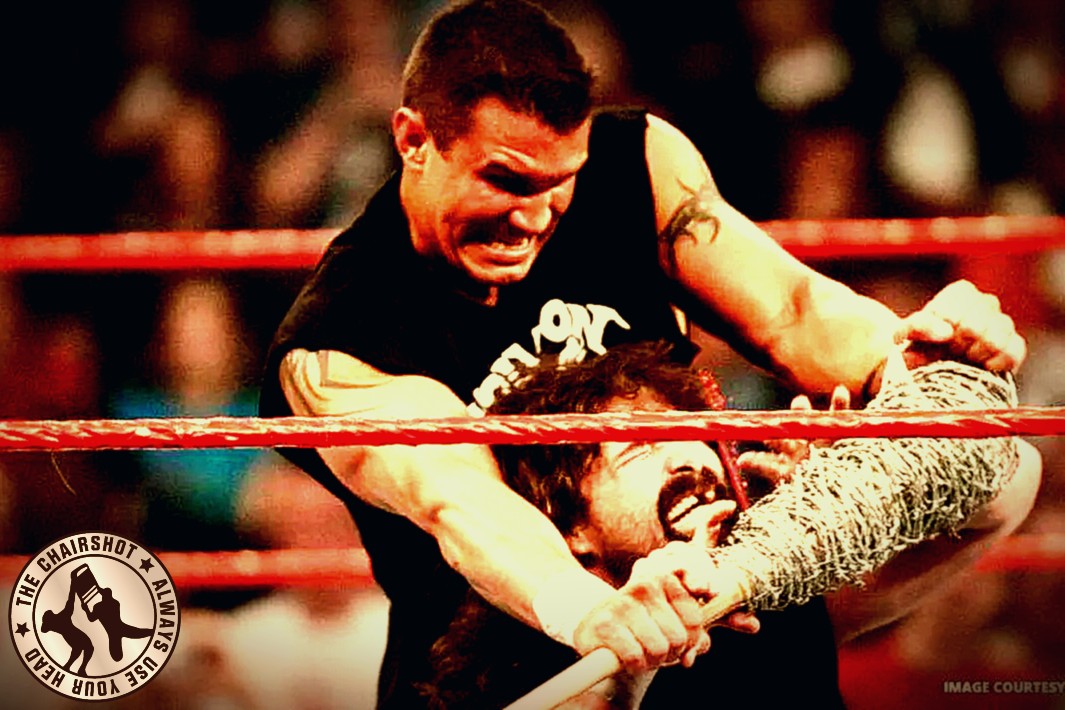 Mishal takes a look back at WWE Backlash and ranks his Top 5 matches from this underappreciated event.
Backlash, to me, is an unsung hero when it comes to WWE pay-per-views.
With its first show taking place back in 1999 right before the turn of the millennium it has built up quite the reputation over the years for those who have followed the product for quite some time. It's generally been the show that follows the annual WrestleMania event each year until it was (for some reason or another) replaced by the likes of Extreme Rules or most recently, Money in the Bank.
Backlash, however, above all the other shows that replaced it had a solid reputation in my mind of being the show that followed up all the key feuds from the company's biggest show or used its platform to present new or returning talent in a favourable light to then position as key players in future major storylines. It's built up quite the reputation over the years and since this year's Backlash event is fast approaching, I thought I'd take a look at some of the best matches the show has put on for us over the last two decades.
As with any list, these are my own personal preferences and any suggestions or disagreements are always open!
WWE Backlash Honorable Mentions
Shawn Michaels vs Batista (Backlash 2008)
John Cena vs Edge vs Triple H – WWE Championship Match (Backlash 2006)
Dean Malenko vs Scotty 2 Hotty – Light Heavyweight Championship Match (Backlash 2000)
John Cena vs Shawn Michaels vs Edge vs Randy Orton – WWE Championship Match (Backlash 2007)
Dean Ambrose vs AJ Styles – WWE Championship Match (Backlash 2016)
5. Edge vs Kurt Angle (Backlash 2002)
Whenever we glance back at the career of Edge, certain moments always stand out amongst the sea of classics he's conjured up over the years. Take his epic clashes with John Cena, personal blood-feud with Matt Hardy, the 2008 rivalry with The Undertaker or his early days on the tag team scene in WWE against the likes of The Dudleyz or The Hardy Brothers. For this fan personally, his 2002 feud with Kurt Angle is a consistent standout.
Not only was the feud a ton of fun to be had, but it resulted in so many overlooked matches, with this being the first of them following Edge's big coming home ceremony at WrestleMania X8. Backlash 2002 was one of the first times Edge had arrived as a star in the WWE, and doing it against one of their biggest & most consistently excellent performers was a statement to be made on an evening like this. Kurt Angle was the perfect opponent for the man to become 'The Rated-R Superstar', their opposing styles meshed beautifully, the action was crisp & Angle is such a brilliant, obnoxious heel that stood as the perfect opposition to Edge's more 'edgy' persona.
I'll admit that some of the matches in the honorable mentions may equal this in quality, but it's a match that I feel more people should know about. If there's one thing Edge & Angle succeeded in delivering in spades, it was high-octane, non-stop action in each of their matches and this is the perfect example of that delivery.
4. Seth Rollins vs The Miz – Intercontinental Championship Match (Backlash 2018)
Let's all be honest, Backlash 2018 was a dumpster fire of a show. Its reputation is mauled by dreadful booking decisions, awkward pacing, a strange structure to the overall card with the wrong headlining match & following a WrestleMania that left many underwhelmed did this no favors either. With it being marketed as the big connecting branch to put an end to brand-exclusive monthly shows was really no way to start of a new phase in the WWE's latest 'brand split'.
However, there was one glimmer of hope shoved into all this mess, that being Seth Rollins & The Miz who put on an absolute clinic in the shows very first outing.
Following up a similar, very good opening contest at the WrestleMania event prior to this show, Rollins & Miz displayed their natural in-ring chemistry to perfection in a match that went far longer than I'd imagined it would have. For 20-minutes the two tore the house down in a match that was everything you'd want out of Championship match in professional wrestling. There was great psychology on display, action from bell to bell, the crowd was red hot for everything they did, Miz played his heel persona to perfection & Rollins continued to establish himself as one of this generation very best in-ring performers, a reputation he'd build up quite strongly over the course of the next year. The Miz gets a lot of slack from 'critics' for not being one who can stand toe-to-toe with the very best on a wrestling basis, he silenced everyone of those critics with this underrated classic.
On an evening where nothing seemed to stand out, this is the one shining light in a one-match show.
3. The Rock vs Triple H – WWE Championship Match (Backlash 2000)
I recently spoke about how WrestleMania 2000 really wasn't the event it should be, it was odd, didn't feel like a WrestleMania & much of that lays on the shoulders of the main event which failed to deliver the satisfying ending fans should have expected.
Backlash 2000, however, was the perfect evening to undoing many of the woes we may have had with that show & delivered the main event that was everything Wrestlemania 2000 should have been originally. The Rock & Triple H were at their very best here and put on an incredible fight in the main event. This was the attitude era personified in all its glory, from the style of wrestling on display to the structure of the match itself, it was more of a brawl than an actual wrestling match, blending in multiple storylines and having the fans make this more than anything. To boot you had the appearance of 'Stone Cold' Steve Austin which to this day, is one of the loudest things I've ever heard watching wrestling, whether live or at home.
In terms of 'feel good' matches or moments, this ranks up there with the very best of them across the business as a whole. It's a prime example of how overbooking can work when the scenario is set up right & one of the very best things I can think of when I ponder the days of the attitude era. If anything, it's the WWE at its very peak of quality storytelling
2. Randy Orton vs Mick Foley – Intercontinental Championship Match (Backlash 2004)
As a fan of the original ECW, there are very few things better than a good bloodbath or a good hardcore match. When told with the right story, crowd & characters they can be enthralling to witness. At Backlash 2004, Randy Orton & Mick Foley set out to close off a bitter feud between new & old school, as the rise of the then 'Legend Killer' showed no signs of stopping. Orton was fresh off a victory with Evolution over Foley & his partner The Rock at Wrestlemania XX, so the score was to be settled in a Hardcore Match with Orton's Intercontinental Championship on the line.
The match itself was everything you'd want in a closing chapter to a feud & a star-making performance at the exact same time. It was the match & evening that Randy Orton had arrived as the future of the company, taking one of the very founders of Hardcore wrestling to the very edge in a match made for him to dominate in. Regardless of if it was steel chairs, barbed-wire objects, buckets of blood or the magnificent story of a seasoned veteran testing the up & coming young stud in his own house, it was essentially a perfect professional wrestling story.
There are so many spots & moments to talk about, so many little callbacks to their feud that made this a perfect package in how to tell a story & make both competitors look strong on their way to the finish itself. Randy Orton was made into a star on this night, no matter how he was booked for the remainder of 2004 & it goes down as one of the pinnacle performances in the career of Mick Foley. If you've skipped over this match, you're missing out, big time.
1. Chris Benoit vs Triple H vs Shawn Michaels – World Heavyweight Championship Match (Backlash 2004)
Sadly due to the nature of one of the competitors involved, this isn't likely to be a match that's ever recognized in mainstream WWE for the very foreseeable future, and likely ever if we're being honest with ourselves. But that by no means should result in one of wrestling's greatest sequels being brushed under the carpet entirely because this deserves the praise it gets to those who've read about or seen it.
Benoit, Michaels & Triple H put on what is widely regarded as the best World Championship match in WrestleMania history in 2004. The three put on a match that embodied the story of the underdog while lumping it right into the middle of one of the most brutal, heated feuds in the history of the business between two best friends in Triple H & Shawn Michaels. At WrestleMania XX it was Chris Benoit who against all odds achieved a nearly two-decade journey to earning one of the businesses highest prizes, and with a rematch set just six weeks after the event between the original competitors they had an incredible task in topping a masterpiece that they delivered in Madison Square Garden.
And while it may be controversial, their rematch is dare I say, as good as the initial encounter in every single way. Nothing about it was all that similar to the original match which made it all the more unique in how the story was told. Benoit was once again the underdog in this contest against two bitter rivals, however, they were in his home turf of Edmonton, Canada, a crowd that wanted nothing more than to see their hometown hero come out on top.
Wisely enough they fed off the new environment to perfection and considering the history someone like Shawn Michaels had in Canada at the time made for some of the smartest storytelling I can remember in a match like this, using the Montreal Screwjob, the hometown crowd & Bret Hart of all people to their advantage & created a match that might be the standard-bearer to sequels in the business. Nothing about it ever bored you, the action never broke pace and it was just as physical as their first match at WrestleMania XX but never tried to replicate what that match did to the story.
In today's wrestling landscape this is a match that is bound to be buried to some degree but it's worth every minute of your time should you give it a chance. A 5-star classic in every aspect.