Top 5 Matches: Week Ending 5.24.20
This was a rough week for the wrestling community. Hopefully some of these matches took your minds off the tragedy.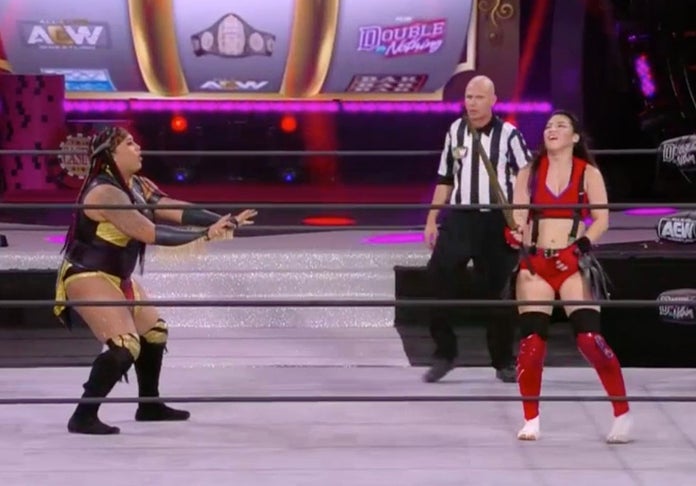 Well this certainly was a roller coaster of a week for the wrestling world. The tragedy of Shad Gaspard, followed up shortly thereafter with Hana Kimura. Companies tried to take our minds off the negative, bringing us a measure of distraction. Valiant effort generally speaking, how much of it made the list though?
Let's address last week's vote though! AJPW Broadcast #3 2020: World Junior Heavyweight Championship: Susumu Yokosuka (c) vs Hikaru Sato, was the run away match choice. This happened last month as well, where some of the companies that get over looked, tend to have some more vocal support.
Anyway, let's see what's going on this week!
Quick Top 5:
AEW Double or Nothing: Inaugural TNT Championship: Cody Rhodes vs Lance Archer
Rating: *** 3/4
AJPW #4 Broadcast: Shotaro Ashino & Kuma Arashi vs Kento Miyahara & Francesco Akira
Rating: *** 1/2
IMPACT!: #1 Contender Tournament: Sami Callihan vs Michael Elgin
Rating: *** 1/2
AEW Double or Nothing: AEW Women's World Championship: NO DQ: Nyla Rose (c) vs Hikaru Shida
Rating: *** 1/2
WWE SmackDown: Shinsuke Nakamura vs AJ Styles
Rating: *** 1/4
AEW Double or Nothing: MJF  vs Jungle Boy
Rating: *** 1/4
Honorable Mentions:
IMPACT!: TNA World Heavyweight Championship: Moose (c) vs Suicide
Rating: ***
AJPW #4 Broadcast: Jake Lee vs Yoshi Tatsu
Rating: ***
AEW Double or Nothing: AEW World Heavyweight Championship: Jon Moxley (c) vs Brodie Lee
Rating: ***
WWE SmackDown: Bayley vs Charlotte Flair
Rating: ***
AEW Dynamite: Orange Cassidy vs Fenix
Rating: ***
IMPACT!: #1 Contender Tournament: Ace Austin vs Rhino
Rating: ***
AEW Double or Nothing: Stadium Stampede Match: Inner Circle vs The Elite w/ Matt Hardy
Rating: ***
NXT: Kushida vs Drake Maverick
Rating: ***
IMPACT!: XXXL (Acey Romero & Larry D) vs TJP & Fallah Bahh
Rating: ***
5t. AEW Double or Nothing: MJF  vs Jungle Boy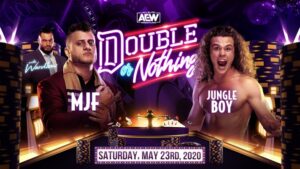 This match allowed both men plenty of opportunity to show themselves. MJF used a multitude of heel tactics, but some things didn't really work. Early on they wrestled in more of a World of Sport style, which both being young, it didn't come off well at all. Then MJF was using some trickery, or trying to focus on Jungle Boy's shoulder as the match continued.
Some nice big spots, Aubrey accidentally hitting the ropes to give MJF a near fall was a solid 'hold your breath' moment. Jungle Boy sold the shoulder well, and he showed a lot of physical charisma. MJF won off a wrestling hold, while holding Jungle Boy's hands; so it wasn't totally clean, but it still punctuated fairly well. Jungle Boy looked fantastic, even in a loss.
Winner: MJF via Prawn Hold
5t. WWE SmackDown: Shinsuke Nakamura vs AJ Styles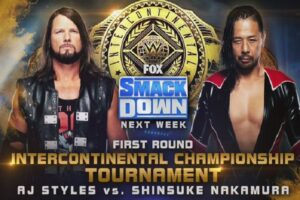 Nakamura grows frustrated, but he hasn't hit that yet. He aims from the corner again, Styles gets up, "YAO~!" Nakamura runs, into a roll up! Cover, TWO, into a TRIANGLE! Nakamura has the triangle hold but Styles stays up. Nakamura pulls Styles in deep and Styles fades. Styles gets a second wind, and dead lifts, INTO THE STYLES CLASH!! Cover, TWO!?! HOW?! Both men are down but stirring. They head for opposite ends of the ring, and Styles is to his feet first. Nakamura is up, Styles hurries over, but Nakamura put Styles outside. Styles forearms back! Then springboards, into a BOOT! Nakamura runs in, but into an enziguri! Springboard, PHENOMENAL FOREARM!! Cover, Styles wins!!
Winner: AJ via Phenomenal Forearm
4. AEW Double or Nothing: AEW Women's World Championship: NO DQ: Nyla Rose (c) vs Hikaru Shida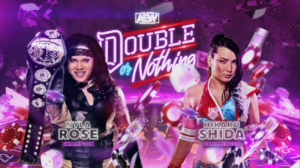 So Final Fantasy fans immediately rejoice, when Hikaru Shida comes out in the updated Tifa Lockhart gear. Early on we see Hikaru fight back from early strikes, but Nyla eventually starts taking over. Nyla uses Hikaru's kendo stick, throws her through a roulette table and beats her around on the outside for a while.
It's not until they reach the giant stack of chips, that Hikaru starts coming back after a big Running Knee from the stack of chips into the standing chip. Hikaru gets her kendo stick, lights up Nyla and doesn't give many moments for respite. Nyla had a few close calls after a Death Valley Driver and countering the Three Count with a kendo strike, but Hikaru doesn't stop coming forward. Running forearm, and two Three Counts finally give Hikaru the victory.
Winner: Hikaru via 3 Count
3. IMPACT!: #1 Contender Tournament: Sami Callihan vs Michael Elgin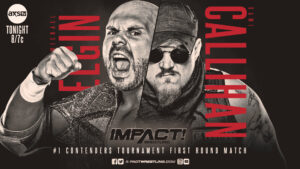 Elgin goes after Sami's injured ankle immediately and that really sets a tone early on. Elgin definitely takes the angle of wanting to inflict pain and not win too quickly. Sometimes playing with your food too long, doesn't turn out well. But we go to a commercial as soon as they get back in the ring.
When we come back from the commercial, the match starts to pick up. Sami won't lie down, and Elgin is getting a sick pleasure out of picking apart Callihan, Sami does get a few strikes in, which allows him to hit a dive to the outside, because at this point he's trying to pull out all stops. The match is solid up until to finishing sequence. Sami hits a Masato Tanaka style Sliding Forearm, which he tries to lead into the Piledriver, but the ankle makes him vulnerable. Elgin hits the Buckle Bomb, but Sami launches himself out of the corner with a Lariat, only to be responded to by Elgin with a Lariat of his own. Both guys fire, Elgin hits a Spinning Backfist, tries the Buckle Bomb again, but Sami slips out.
Sami's ankle buckles and he eats one more Spinning Backfist, and then an Elgin Bomb to give Big Mike the win. This was hard fought and showed a lot of heart from Sami. With all of Callihan's fighting from underneath and the possible respect with him and Shamrock, we get more inclinations towards Sami possibly turning face.
Winner: Elgin via Elgin Bomb
2. AJPW #4 Broadcast: Shotaro Ashino & Kuma Arashi vs Kento Miyahara & Francesco Akira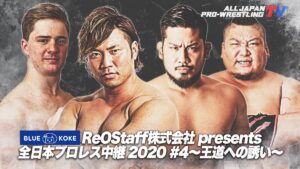 This is a wonderful building block of a match. Shotaro Ashino has made an immediate impact in All Japan, and he aims for the top. He's bringing back his Wrestle-1 Enfantes Terrible stablemates; which helps add to his domination. Kento is the Ace, so he's the main target for Shotaro. How does their first storyline encounter work out?
Shotaro goes after Kento, and they work together for a while. Akira was sadly put in more of the "Fall guy" spot, but he did make the best of his situation. Kuma worked with him primarily, and there was a comedic aspect since Kuma is about twice Akira's size. Shotaro definitely focused on Kento, working over his ankle and just sending a big message.
When we get to the finish, Shotaro has Akira laced up in his Ankle Hold, and Kento literally can't get there as he's selling his leg and dealing with Kuma. But this is a great first shot, Shotaro does Kento's Double Muscle pose to mock the Ace…and Enfantes stand tall. The main event scene has definitely been reinvigorated with Ashino's involvement.
Winner: Ashino via Ankle Hold
1. AEW Double or Nothing: Inaugural TNT Championship: Cody Rhodes vs Lance Archer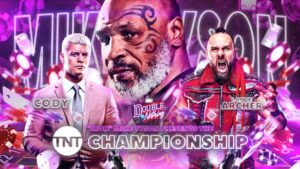 Tyson and the crowd rally but Archer dribbles Cody with the EBD Claw! But Archer exhausts himself and can't make the cover! The crowd is thunderous as both men slowly rise. Archer wristlocks and clubs Cody while heading back for a corner. Archer climbs up again, goes Old School again, the ref is busy with The Snake. Arn trips up Archer! Arn hides while Cody climbs up to grab Archer! Cody brings Archer up for an INVERTED SUPERPLEX!! Wait, another referee comes out and tells Bryce about Arn! Tyson agrees, Arn has to go! The refs EJECT Arn! Coach Arn calls BS but then the refs EJECT The Snake, too! At least things are even now. Archer grabs Cody for a GERMAN SUPLEX TOSS! Archer waves but there's no Snake to help him.
Wait, Snake returns, and he has a burlap sack! This is what it looks like, and Tyson steps up to stop it! Iron Mike dares Jake The Snake to do something. Snake backs off and then Tyson glares at Archer. Archer grabs Cody and whips him, for a tilt-o-whirl, inverted crucifix, but Cody slips down! CROSS RHODES! And then ANOTHER! Cover, CODY WINS!!
Winner: Cody via Cross Rhodes
Thoughts:
Now if you've read my Double or Nothing results, I was mostly underwhelmed from the show. So you'd probably think my vote would go to anything else. HAHA! I am never that transparent! MUWAHAHA – erhm – no? Okay I'll just type normal now.
Hikaru Shida vs Nyla Rose, was a match that over preformed to me, Hikaru finally getting the belt and just the general narrative they were trying to spin around her victory…makes that the highlight match of the week. I may not like Final Fantasy 7, and AEW isn't at the top of my list; but solid story and a good match can't be denied.