WWE Raw: 5/25/2020 YouTube Viewership Report
My look at the WWE Raw YouTube viewership for the May 25th 2020 broadcast!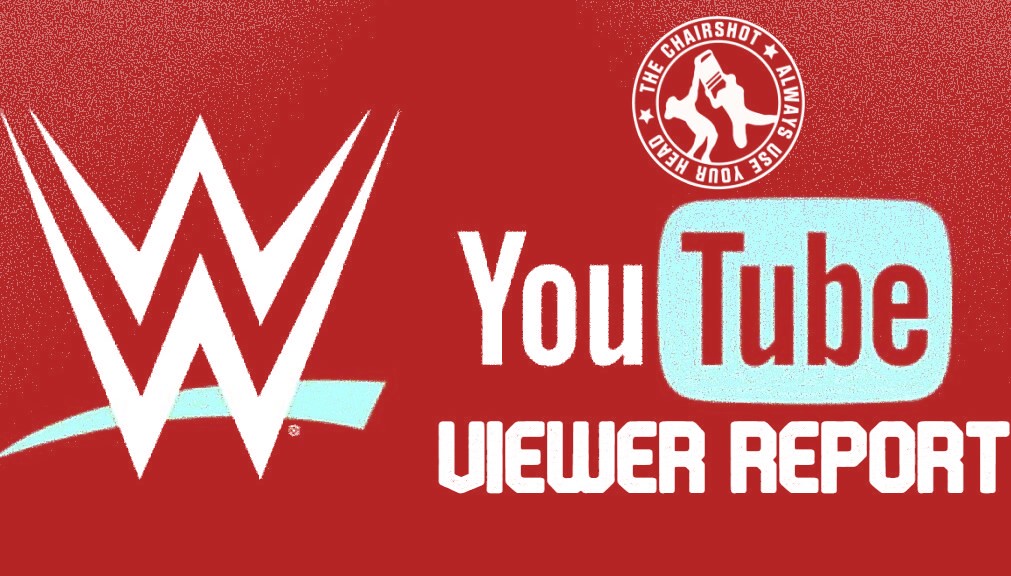 Greg DeMarco's look at the WWE Raw YouTube viewership for the May 25th 2020 broadcast!
As we all know, social media and other outlets have become a huge means of drawing in interaction and viewers for WWE. Most people will point to television ratings like they did during the Monday Night Wars in the late 1990's, however that can be skewed with so many various means of watching today that do not include cable television. As such, YouTube has joined social media as a metric as important to WWE as television ratings (if not more). The weekly WWE Raw YouTube Performance Report is a look into that success metric.
As you've become accustomed to, here is this week's WWE Raw YouTube Performance Report, compiled Wednesday (about 36+ hours after Raw went off the air), for the 5/25/2020 edition of WWE Raw:
Drwe McIntyre & Bobby Lashley brawl – 1.800 million views
Apollo Crews vs. Andrade – 746k views
Charlotte vs. Natalya vs. Nia Jax – 672k views
Aleister Black & Humberto Carrillo vs. Buddy Murphy & Austin Theory – 416k views
Street Profits vs. Bobby Lashley & MVP – 398k views
The IIconics attack Alexa Bliss & Nikki Cross – 393k views
Drew McIntyre on the VIP Lounge – 371k views
Kevin Owens vs. Angel Garza – 293k views
Asuka on The KO Show – 293k views
Seth Rollins promo on Rey Mysterio – 273k views
Edge promo – 183k views
Rob Gronkowski discusses R-Truth – 187k views
Street Profits & Viking Raiders play golf – 159k views
Liv Morgan discusses her best life – 139k views
WWE Raw YouTube Viewership – Greg's Nerd Numbers
5/25/2020 edition of Raw: 6.323 million million total views across 14 videos

+700k over last week, a 12% increase

5/28/2020 average: 451k views

+76k over last week, a 20% increase

5/28/2020 Top 5: 4.032 million views (64% of the total views)

+1.184 million views over last week, a 41% increase
WWE Raw YouTube Viewership – Greg's Nerd Analysis
Raw rebounded a little over last week's struggle, increasing YouTube viewership by 12%. Drew McIntyre maintained form in the top spot, as his brawl with Bobby Lashley netted 1.8 million views, and 28% of the overall viewership. That's something to be happy with considering he's positioned as the brand's top star, over Kevin Owens and Seth Rollins.
In regards to Rollins and Owens, the former netted 689k views between his two videos, while the latter trailed him at 586k total views. Interesting sidebar: both of Kevin Owens' videos garnered 293k views.
Lastly, Apollo Crews winning the United States Championship slides into the #2 spot this week, but falls short of a million views thus far. It's also the first video in the Raw playlist this week, which usually boosts a video's performance. I honestly thought it would garner more than a million views.
What do these numbers tell you about Monday's Raw?
Greg DeMarco is a life-long wrestling fan who has been providing analysis and perspective online since 2010. He's also worked for various wrestling promotions including the NWA and Ring Of Honor, and currently promotes IZW Wrestling in Arizona.
Links:
* Homepage – http://thechairshot.com/gregdemarco
* Twitter – https://twitter.com/ChairshotGreg
* Facebook – https://facebook.com/ChairshotGreg
* Instagram – https://instagram.com/ChairshotGreg
* Free Email Newsletter – https://gregdemarco.substack.com
---
Time to pick up a new Chairshot shirt!

Get yours at:
https://www.prowrestlingtees.com/related/thechairshot.html