WWE Smackdown: 5/8/2020 YouTube Viewership Report
Greg DeMarco's look at the WWE Smackdown YouTube viewership for the May 8th 2020 broadcast!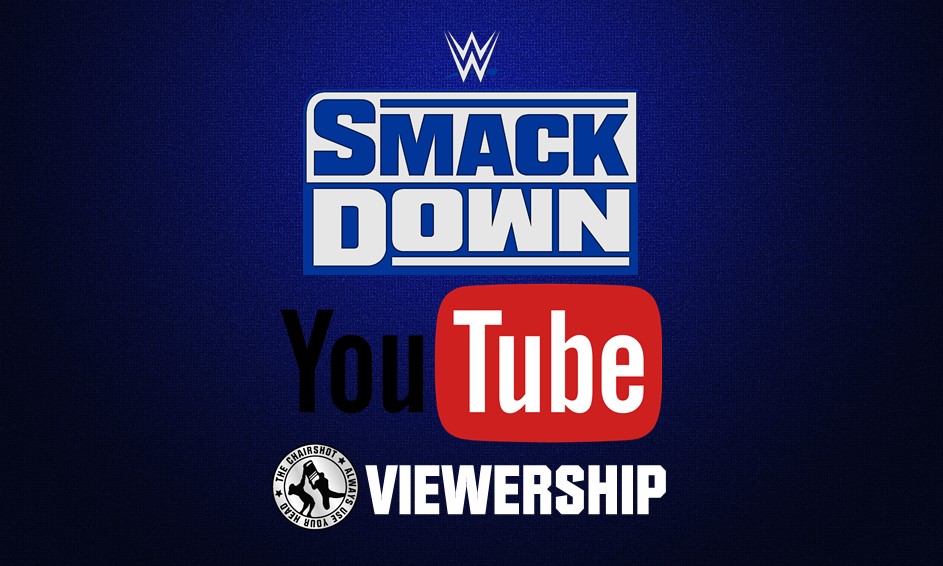 Greg DeMarco's look at the WWE Smackdown YouTube viewership for the May 8th 2020 broadcast!
As we all know, social media and other outlets have become a huge means of drawing in interaction and viewers for WWE. Most people will point to television ratings like they did during the Monday Night Wars in the late 1990's, however that can be skewed with so many various means of watching today that do not include cable television. As such, YouTube has joined social media as a metric as important to WWE as television ratings (if not more). The weekly WWE Smackdown YouTube Performance Report is a look into that success metric.
As you've become accustomed to, here is this week's WWE Smackdown YouTube Performance Report, compiled Sunday (about 48+ hours after Raw went off the air), for the 5/8/2020 edition of WWE Smackdown:
Bray Wyatt gives Braun Strowman "one last chance" – 1.556 million views
Jeff Hardy/Sheamus promo & brawl – 610k views
Lacey Evans & Tamina vs. Sasha Banks & Bayley – 555k views
Mandy Rose vs Sonya Deville – 522k views
The Hacker continues his threats – 497k views
Otis, Daniel Bryan, & Drew Gulak vs. King Corbin, Shinsuke Nakamura, & Cesaro – 288k views
King Corbin "retrieves the briefcase" – 256k views
8-Man Tag – 203k views
Carmella & Dana Brooke discuss the Money In The Bank briefcase – 99k views
WWE Smackdown YouTube Viewership – Greg's Nerd Numbers
5/8/2020 edition of Smackdown: 4.586 million views spread over 9 videos, less videos than most weeks
5/8/2020 average: 509k views
5/8/2020 Top 5: 3.740 million views, 82% of the total views

The #1 video accounted for 13% of the total views
WWE Smackdown YouTube Viewership – Greg's Nerd Analysis
This is my first week back cataloging the YouTube viewer numbers for WWE Smackdown, and unlike Raw we have a video that eclipsed 1 million views! Big thanks to Braun Strowman and Bray Wyatt for that, as their match at Money In The Bank gets some love in the build.
Also like Raw (and NXT), the tag team division isn't drawing eyeballs on YouTube, which is just more ammunition for The Revival/Revolt! (I'm kidding.) Also bad news for Baron Corbin this week, as both of his videos couldn't total as much as the women's tag team match. Personally, I am 100% okay with that, because Baron Corbin Sucks.
The Hacker still has people intrigued, as the promo video this week finishes in the Top 5 with just under a half-million views. But the biggest winner of all is Jeff Hardy, who carried Sheamus all the way to the #2 spot. Sheamus has not been registering a ton of views for his return, but the program with Hardy will undoubtedly help that.
What do these numbers tell you about Friday's Smackdown?
Greg DeMarco is a life-long wrestling fan who has been providing analysis and perspective online since 2010. He's also worked for various wrestling promotions including the NWA and Ring Of Honor, and currently promotes IZW Wrestling in Arizona.
Links:
* Homepage – http://thechairshot.com/gregdemarco
* Twitter – https://twitter.com/ChairshotGreg
* Facebook – https://facebook.com/ChairshotGreg
* Instagram – https://instagram.com/ChairshotGreg
* Free Email Newsletter – https://gregdemarco.substack.com
---
Time to pick up a new Chairshot shirt!

Get yours at:
https://www.prowrestlingtees.com/related/thechairshot.html