Andrew's Impact Wrestling Results & Match Ratings 6.23.20
More teases for potential Slammiversary shenanigans! Plus…who the hell would team with Swinger & Bey?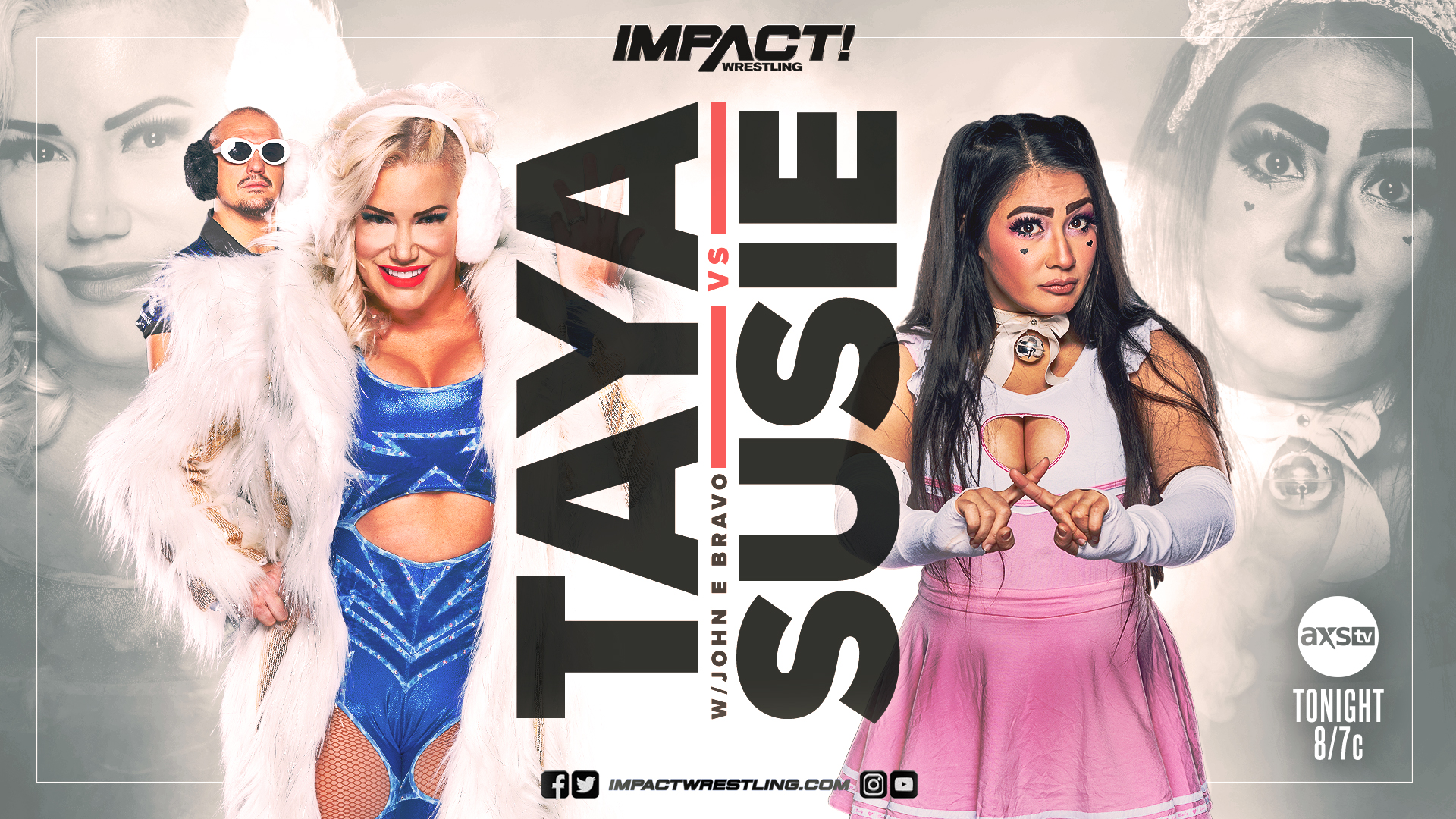 Amidst the wake of allegations for some talent that were in somewhat prevalent storylines, Impact Wrestling adjusted the card. With Joey Ryan being eradicated from what seems like most things wrestling, I wonder if Cancel Culture will survive at all…or if we're just gonna let that die quietly behind the woodshed.
Either way, this proves to be very Knockout heavy, which is great since there are a lot of new teams and fresh stories to sink our teeth into. Not to be overlooked, Ace Austin employing the services of Fulton is also a concerning duo.
With a few things to tackle, and only two hours…let's take this clip from a crazy blind man; before jumping into the review.
.@steveofcrazzy is blind and even he can recognize that @TheMooseNation is a fake World Champion. #IMPACTonAXSTV pic.twitter.com/iBQZx9Vc7w

— IMPACT (@IMPACTWRESTLING) June 24, 2020
Ratings:
Tasha Steelz w/Kiera Hogan vs Nevaeh w/Havok: Steelz wins via Rollup – ** 3/4
Deonna Purrazzo vs Alisha Edwards: Purrazzo via Fujiwara Armbar – * 1/2 
Ken Shamrock vs Josh Alexander w/Ethan Page: NO CONTEST
Taya Valkyrie w/John E. Bravo vs Susie: Taya wins via Road to Valhalla – ***
Chris Bey, Johnny Swinger & Rohit Raju vs Willie Mack, Cody Deaner & Cousin Jake: Chris wins via Beymouser – ***
Madman Fulton w/Ace Austin vs Eddie Edwards: Fulton wins via Better than Baron – *** 1/4 
Results:
Tasha Steelz w/Kiera Hogan vs Nevaeh w/Havok
Well, Tasha took it to Nevaeh, even though her and Kiera were backing off from the 'scary' girls. Tasha had Nevaeh reeling with a multitude of forearms and kicks. When Nevaeh finally got her hands on Tasha, Kiera made her beautiful presence known. She jumped on the apron to mouth off to Nevaeh, Havok didn't slow things down enough and Tasha rolls up Nevaeh for the finish.
The match was pretty solid for a budding feud. It was a nice surprise heel upset, and Kiera is money.
Alisha is apparently Tami-Lynn from the Ted movies now. Not complaining…just stating. 
.@DeonnaPurrazzo may want none of @MrsAIPAlisha's drama but she's going to get her one-on-one TONIGHT! #IMPACTonAXSTV pic.twitter.com/eSXjiTXUFY

— IMPACT (@IMPACTWRESTLING) June 24, 2020
Flashback Momentum: Bully Ray vs Devon, April 26,2012, IMPACT! Open Fight Night
Ken Shamrock gets involved with The North drama.
.@ShamrockKen will face @Walking_Weapon TONIGHT! #IMPACTonAXSTV pic.twitter.com/DzjgwUJ0uZ

— IMPACT (@IMPACTWRESTLING) June 24, 2020
Deonna Purrazzo vs Alisha Edwards
Big problem with this match, is the pure lack of credibility for Alisha. She hasn't won a match…in…umm…okay so there was before quarantine…before Eddie's eye injury, umm…nope. Okay I can't remember the last time she won a match. Maybe it was a tag match? Either way, she's about as credible as Mae Young giving birth to a hand.
Deonna had a decent Impact on AXS TV debut, but it was nothing special. Jordynne hit the ring and Deonna bailed claiming things happen on her time. I'd assume it was a music joke if it weren't what every heel said.
Ken Shamrock vs Josh Alexander w/Ethan Page
As soon as Shamrock comes down the ramp, The North jump him. Shamrock fights back valiantly, but they beat down Shamrock with the numbers game. This could be an avenue to having Shamrock and Callihan join forces and bury the hatchet.
Should be interesting to see what kind of new talent shows up to Impact for Slammiversary and how the card will pan out.
Taya Valkyrie w/John E. Bravo vs Susie
This was quite a good match, regardless of how you feel about certain gimmicks. Taya of course was cocky and dominated most of the match, but it was the glimpses of offense from Susie that made this fun. Some crisp fundamentals, the adorable "That's Bad" to halt Taya in her tracks (very Japanese wrestling, so I appreciate the gimmick), Arachana-rana and a nice amount of offense mixed with Su Yung traits.
Susie almost got the upset on multiple occasions, but all of the losses will probably lead to the return of Su Yung since the cute thing seems to have a shelf life. The question is, will we see Su Yung and a meaner Kylie, or will Kylie be the only person Su is nice to? This screams CW teen drama, but it's at least interesting.
Kylie does eventually make the save here, looking less than smiley. So Taya and Kylie would be a great match, maybe for Slammiversary?
Chris Bey, Johnny Swinger & Rohit Raju vs Willie Mack, Cody Deaner & Cousin Jake
Fun times were had during this match. Even though the combinations are a little silly, the story works well. Apparently Chris Bey isn't that big of a fan of Rohit, but it didn't hinder the team. Swinger got smacked around a little bit and it looked like the Deaners and Willie were going to run away with the match. However, Rohit saved Bey from a Stunner, and then Bey just shoved Rohit into the line of fire. That gave him the opening to hit the Beymouser on the X Division champion.
Things are building well in this angle.
.@Thornstowe_Scum and @legendbaby81 were picking on @dlobrown75 but they've got @MegaTJP and @FALLAH1 NEXT WEEK! #IMPACTonAXSTV pic.twitter.com/KVW1a9nIMM

— IMPACT (@IMPACTWRESTLING) June 24, 2020
Madman Fulton w/Ace Austin vs Eddie Edwards
This was a solid big man versus smaller underdog match. Which is impressive since Eddie has been positioned towards the top of the card, even being in the Five Way for the Impact World Championship at Slammiversary. So the way Fulton is sold as a monster mercenary, who was just mostly used poorly but still scary…is a concept we haven't seen in a while.
Ace tried to get involved a few times, but he was mostly a non-factor. Eddie pulled off his classic Shot of Caffeine, and a Tiger Driver; but only for a near fall. Fulton stopped Eddie in his tracks during Boston Knee Party attempts, catches him, hits his version of the End of Days, getting the win. This is a big win for Fulton and it's a big cog for Ace since it seems like he's orchestrating Fulton to take out the competition prior to Slammiversary.
Overall Score: 7/10
If you watch for high quality matches, you probably won't rate this episode as high as I did. But most of my enjoyment came from the fact that each match helped to build storylines, that will most likely culminate at Slammiversary. HELL, we even saw the closing segment of D'lo on his laptop. Apparently Reno Scum's little jabs at him being a company guy stung, and he was talking to someone about getting the band back together. He gets up, to reveal he was sitting on an Aces & Eights jacket, and then the screen goes black.
Why did @dlobrown75 have an Aces and 8s vest on the back of his chair? #IMPACTonAXSTV pic.twitter.com/RYhZPJYJVU

— IMPACT (@IMPACTWRESTLING) June 24, 2020
That last scene is obviously a big hint, especially since we got a Bully Ray flashback; BUT, it could also be Ken Anderson. If memory serves, Anderson and D'lo were supposed to revive the Aces & Eights gimmick for the TNA No Place Like Home WrestleMania show. That would also check the box of a former World Champion since Mr. Anderson is a 2 time TNA World Champ.
So yes, if you enjoy the story aspect of wrestling, this was a great episode to move things toward the PPV.