Andrew's New Japan Cup Results & Match Ratings 6.22.20: Day 3
Day 3 of the New Japan Cup! ZSJ/Ibushi, Tanahashi/Taichi – how do the tag team title ramifications play out?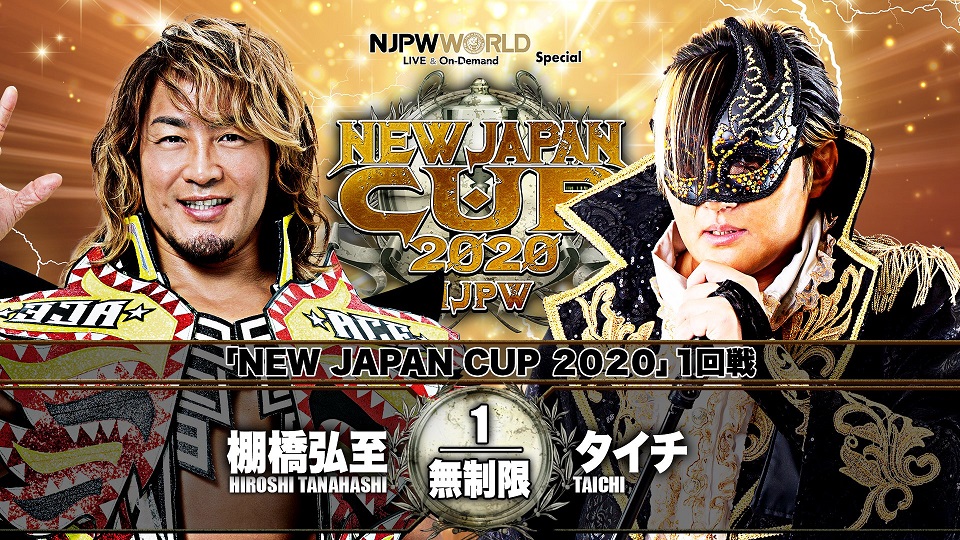 Amidst all of the wrestling community craziness, New Japan continues on with the New Japan Cup! Even if this gets overshadowed a little by the current events; this is a loaded card.
SHO looks to prove something to Shingo. This is a big brother/little brother dynamic, and now we get to see who's playing with the unplugged controller.
Golden Aces versus Dangerous Tekkers. Yes Yes – they each have singles matches, but that's what we have to focus on. Can Taichi or Zack pick up a win on the current champions? If they do, we could easily see none of these four winning, but having a tag match at Dominion.
Finally some fun stories and names that usually put on bangers! Let's get to watching!
Ratings:
Yuji Nagata, Yuya Uemura, Yota Tsuji & Gabriel Kidd vs Suzuki-Gun (Minoru Suzuki, El Desperado, Yoshinobu Kanemura & DOUKI): Despy wins via Pinche Loco @10:35 – ** 
Ryusuke Taguchi vs SANADA: SANADA via Japanese Leg Clutch @15:45 – ***
SHO vs Shingo Takagi: SHO wins via Shock Arrow @17:05 – ****
Zack Sabre Jr vs Kota Ibushi: Ibushi wins via Kamigoye @15:15 – *** ¾
Taichi vs Hiroshi Tanahashi: Taichi wins via Black Mephisto @21:50 – *** ½
Results:
Yuji Nagata, Yuya Uemura, Yota Tsuji & Gabriel Kidd vs Suzuki-Gun (Minoru Suzuki, El Desperado, Yoshinobu Kanemura & DOUKI)
Nagata is teamed with 3 Young Lions against a heel stable; do we think this is fair? This was exactly what we've grown to expect, decent fire from Young Lions, but ultimately coming up short. Yuya kept poking the bear by going at Suzuki, but Suzuki was more focused on taking a few more pot shots at Nagata. Despy picks up the win, so it helps to wash away a little bit of the bad taste in Despy and Suzuki's mouths.
Ryusuke Taguchi vs SANADA
So this was a very narrow thread of story to play with, and that kind of showed. Taguchi was trying to use the Paradise Lock and take a few short cuts with veteran savvy leading into this…and SANADA was smart to all of that.
While a decent match, this accidentally showed that SANADA is more athletic than Taguchi, as there was a Double Dropkick spot and multiple transitions where Ryusuke just looked bad. The ending flourish was nice with submission attempts, counters and roll throughs that lead to SANADA breaking out that Leg Clutch that plagued Zack Sabre for a little bit.
SHO vs Shingo Takagi
This story has been building for a year since Shingo basically embarrassed SHO during their forays in the Junior division. Now as NEVER champion, SHO did show a renewed interest in the rivalry with Shingo before the quarantine, and this moves it along nicely.
SHO worked the right arm, to try and remove some power from Shingo's moveset and take the sting out of the Pumping Bombers. Shingo still brought great intensity and fantastic power spots, but SHO had a resolve. After the Sunset Flip into Powerbreaker, it was looking like momentum shifted. Shingo had a few spots with Made in Japan and Pumping Bomber, but SHO kicked out at 2; the earlier damage to the arm proved fruitful.
Going back to the arm, SHO rolls off the Last of the Dragon, goes for a Kimura, but they Gator Roll into a Crossarmed Piledriver. SHO surprised himself, hits Shock Arrow and gets the upset! Now we should get SHO challenging for the NEVER at Dominion.
Really great match.
Zack Sabre Jr vs Kota Ibushi
So let me preface this with, this is not a new match up. Over the last few years we've seen them in a multitude of different tournaments, and they are always good, on top of being pretty 50/50. The early goings to this match definitely plays out like two people who know one another's playbooks well. By that I mean it's slow, measured and they try to goad the other one into familiar spots.
This doesn't stop Zack's usual technical wizardry, but we did get a more controlled Ibushi. He didn't jump in his own neck from the roof, so that's noteworthy. There was great back and forth, Ibushi still holding the strike advantage; so when Zack finds an opening he goes for a submission. Toward the end, Zack gets antsy and tries the Zack Driver, but Ibushi slips out, V Trigger, into the Kamigoye.
I suppose if the Young Bucks can continually take Golden Lovers moves, Ibushi is allowed an Omega move. Really good match, but lacked a little from not being overly different than the dozen or so matches we've already seen.
Taichi vs Hiroshi Tanahashi
To remind people, Taichi and ZSJ challenged Ibushi and Tanahashi for the tag titles before quarantine kicked in. So with Zack losing, Taichi really needs this win to validate a challenge and also to finally give him a quality win in the heavyweight division. Tanahashi is however battling time. The last few years a combination of injuries and his age became a big hurdle for him to surpass. Now, carrying the tag titles for the first time in over a decade, he has something more than his pride to fight for.
Taichi attacks before the bell, as is Suzuki-Gun tradition, and hits a Last Ride Powerbomb while Tanahashi is posing on introductions. This gave Taichi the advantage for a while, but Tanahashi kept working from underneath. We saw numerous Tanahashi classics, Slingblade, Twist and Shout, he even pulled out the side slam that we haven't seen in a while.
We got a great story, with Taichi honestly not being TOO underhanded. DOUKI was on the outside, which gave Taichi an opening here or there; but as far as Taichi is concerned, this was clean. Part of the fun here, was how Taichi showed his determination in this match. Where he didn't do the tear away pants until the Super Kick and Black Mephisto finish.
I do love the evolution of Taichi, he even continued the beatdown, forcing Ibushi out for the save. Which gave Taichi and Suzuki-Gun members the chance to jump Ibushi and get more of an advantage for Round 2.
Overall Score: 8/10
FINALLY! A classic style layout, easy to digest show (2.5 hours with the cleaning intermission) and just really good wrestling all around. Taichi gets a quality win, SHO got a great story win to push him to the forefront of things, Ibushi getting acknowledged as the strongest half of the Golden Aces, and SANADA having a fair chance to make another push to the Finals. Great stories, great finishes; even if the fan favorites didn't all win. It only took 4 shows to finally get their groove back. Not too shabby.
Matches for Round 2:
SHO vs SANADA (No real story here beyond SANADA, maybe, getting a little vengeance for a fellow stablemate that lost)
Ibushi vs Taichi (Prominent story here! Tag title implications, Taichi and Ibushi's positioning prior to the G1 would hang in the balance here)