Andrew's New Japan Cup Results & Ratings 6.24.20: Day 5
First day of Round 2 New Japan Cup matches! Cross generational main event! Will it rain, or will Blue Justice prevail?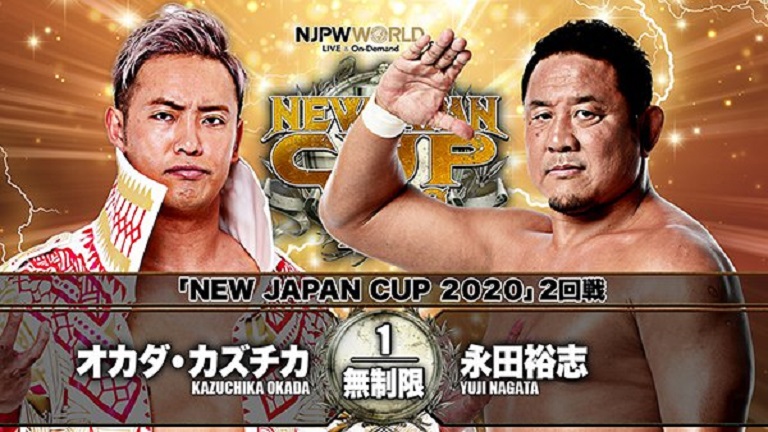 YAY! Round 2 for the left side of the bracket promises to bring some great New Japan matches! The New Japan Cup is finally starting to heat up, and then we get a week to let this all sink in.
Ishimori and Kanemaru facing each other is an old tale stretching back into their Pro Wrestling NOAH days. As far as I can remember, Ishimori never beat Kanemaru, but don't hold me to that one. Having a lot of history could make this an interesting time.
Makabe and Ishii had some great matches for the NEVER Openweight Championship, so this should just add a chapter to that book. Yano being the grand tormentor of Hiromu is classic. Plus, Mr. NJPW against the Rainmaker, is a generational match that should be tremendous.
Let's find out how it all shook out!
Ratings:
Taiji Ishimori vs Yoshinobu Kanemaru: Ishimori wins via Bloody Cross @9:20 – ***
Tomohiro Ishii vs Togi Makabe: Ishii wins via Vertical Drop Brainbuster @13:30 – ****
DOUKI, Taichi & Zack Sabre Jr vs Kota Ibushi, Hiroshi Tanahashi & Ryusuke Taguchi: Taguchi wins via Dodon @13:55 – ***
Toru Yano vs Hiromu Takahashi: Takahashi wins via Elevator Count Out @9:15 – ****
Yuji Nagata vs Kazuchika Okada: Okada wins via Cobra Clutch @20:15 – **** ¼
Results:
Taiji Ishimori vs Yoshinobu Kanemaru
Kanemaru jumped Ishimori right out of the curtain, which put them at a familiar dynamic of Ishimori having to play the underneath babyface. Kanemaru worked on Ishimori's legs, while trying to use the referee as a shield and take a few shortcuts.
Generally solid ring work, I really enjoyed the Pop-Up Manhattan Drop that Kanemaru did, Ishimori's counter to the Whiskey Mist and certain interactions were just generally nice. Nothing blow away, but for an opening match, it was easy to sink teeth into.
Tomohiro Ishii vs Togi Makabe
If we remember anything about their bouts for the NEVER championship, they were basically what established the title as the "tough guy" title for so many years. This match had numerous elements from the previous tilts, including immediately starting off with crashing into each other like bulls.
Any thoughts that Makabe might be losing a step, should be eliminated after this match. He pulled out most of his classic moves, 10 Count Punches, Northern Lights, Spider Suplex; but Ishii wasn't going to be denied. Great lariat and strike exchanges, hard hits, everything rang true like their old title matches. Ishii ends the match with his signature Brainbuster, but it was a great back and forth with resiliency and big moves.
DOUKI, Taichi & Zack Sabre Jr vs Kota Ibushi, Hiroshi Tanahashi & Ryusuke Taguchi
Now angry Ibushi is always interesting. Ibushi flew into the ring and took it to the Suzuki-Gun members after Taichi's beat down yesterday. Ibushi's emotions do tend to betray him a lot, so this will be interesting to see how his match with Taichi plays out.
As for this match, it was what you expect. A few wrinkles for the future, ZSJ and Taichi working with the Golden Aces primarily, adding heat to the eventual tag team title match. The fun thing here was that Taguchi was able to stabilize a little after an underwhelming performance against SANADA. DOUKI still has yet to really find his groove in New Japan. I still think he doesn't have a singles win, and very few, if any (I don't feel like checking), tag wins.
After Taguchi picked up the win, the heels jump the faces from behind and we have the continued struggle moving forward. Can Taichi defeat both tag team champions in this tournament?
Toru Yano vs Hiromu Takahashi
How do you continue to build on Yano's torment of Hiromu? Hiromu comes out in a hard hat, and tripping over his own feet, scared for his life. Yano goads him at multiple times, pulls out clippers to taunt him. Hiromu hides under the ring, when Yano goes to chase, Hiromu pops up and thinks he's got the upper hand since he has the clippers. He throws away the helmet, Yano runs in for Hiromu to put the boots to him…only to find the clippers don't work. Yano purposely started with busted clippers.
Yano produces more clippers and the chase is on. There's so much scrambling and brawling, just great physical comedy that tells their story. Yano then produces scissors, is that safe? You can't run with scissors, but can you wrestle with them?
Long and short, we get a double call back. Yano grabs trainer's tape, and Yota Tsuji. Tapes Yota to Yano, and clips a chunk of Hiromu's hair. This is a double call back because not only did Yano tape Hiromu's feet yesterday, but that's also how he beat Jon Moxley in the G1; by taping him to Yota Tsuji.
With the familiar path taken, Yano revels in his victory, but surprisingly, Tsuji and Hiromu are up. They tackle down Yano. Hiromu tapes Yano's hands and eyes while Tsuji calls for an elevator. The doors open, they throw in Yano, send it to the bottom floor and 3 Legged Man race into the ring.
Now this was a spectacle, it told a story and was great comedy. My rating is obviously not the same as others, but come on, how often does someone win via Elevator assistance?
Yuji Nagata vs Kazuchika Okada
We knew this was special, since it was a generational matchup. Nagata was a figurehead during the dark Inoki MMA period of the early 00s and we all know how Okada has soared with the heights NJPW has hit in the last 5 or so years.
Okada had a different aura about him in this match. He gave an actual clean break instead of his usually condescending pats, and seemed to have respect early on. But that quickly dwindled when he went for a cocky cover and we saw that evolutionary match style that Okada loves.
One thing that is special in all of Okada's matches is how there's always a portion tailored for his opponent. Meaning, he will purposefully wrestle in a way to their strengths, just to prove how good he is. This was no different since Nagata loves to strike, and outside of Shibata and Nakamura, Okada doesn't usually go for a strike heavy layout.
We saw some great moves from both men, Nagata pulling out the Nagata Lock #2 and nearly executing the Exploder of Justice. Okada did drop the cockiness, and as Nagata fired up after strikes you could see the "Freaking really" look all over Okada's face. It was just great action, showed that Nagata can still be a real challenger for any title, and helped Okada find new ways to lock in the Cobra Clutch.
Even Okada took back some of his jabs in his post-match comments. Putting Nagata over as a "cool old guy".
Overall Score: 9/10
Gorgeous show! So much to enjoy! As I said in my breakdown, I'm aware the Takahashi and Yano match won't grab everyone the same way. But Makabe/Ishii and Nagata/Okada were two of the best matches in the Cup so far. The most interesting tidbit is that this day went mostly how people would've expected. Nothing really shocking, the winners were the stronger positioned wrestlers…so what does that mean for the July 1st show?
New Japan Cup is infamous for silly upsets. Usually there is a stigma around a city or venue, but that is taken out of this equation. So let's look at the Round 2 for July 1st & the Quarter-Finals after today.
July 1st:
Taichi vs Kota Ibushi – Angry Ibushi wants to avenge his tag partner's loss and end the underhanded ways of the Holy Emperor. Taichi winning would be an upset, but also help the story along. So either winning is hard to argue.
SANADA vs SHO – Not a lot to dig into here. SANADA needs this win mostly because he's the only LIJ member without a title, so perception is reality, if you catch what I'm saying.
YOSHI-HASHI vs BUSHI – HASHI gets a layup. If this ends up being the upset, then HASHI needs to retire. His path to the quarter-finals is so easy the Portland Trail Blazers could do it.
EVIL vs Hirooki Goto – The only real 50/50 match here. No real underdog, just two guys trying to break past their choke artist stigmas. However, anticipate EVIL winning if YOSHI-HASHI gets passed BUSHI.
Quarter-Finals Left Bracket:
Tomohiro Ishii vs Hiromu Takahashi – Ishii having problems with many LIJ members in general, could play into these interactions. There's no direct thread to what I can remember, but the clash of styles should be interesting.
Kazuchika Okada vs Taiji Ishimori – To my knowledge, no real thread to pull at here. HOWEVER, if this were to mark the return of Jay White to Japan…Okada getting upset is very very likely. What should be a good match on paper, could be more interesting if the coming week changes travel availability.