Cook's Top 5: 1996 Wrestling Memories
Ol' Steve Cook continues his look back through his own wrestling history with this Top 5 Memories of 1996!
Ol' Steve Cook continues his look back through his own wrestling history with this Top 5 Memories of 1996!
When I look back at 1996, I look at it as a year where the groundwork was laid for bigger things. The WWF brought in some new talent and began featuring people that would be part of its rebound from the troubles of the early & mid 1990s. WCW began its most successful angle that changed a lot about North American wrestling. Also, I was introduced to what I still feel is the best way to experience wrestling, though who knows when we'll be able to do that again.
Well, unless we really want to attend a show from a promotion stupid enough to run shows with fans at the moment. Ian Rotten might have got my money one time in 2004, but he ain't getting it now. We might talk about that in a couple of months, we might not. 04 was a busy year. So was 1996! Let's continue my celebration of thirty years as a wrestling fan with a look back at my best five memories of 1996.
5. Rocky Debuts
The young man then known as Rocky Maivia got a ton of hype upon his arrival in the WWF. Dude's debut match was at the Survivor Series, where he was the sole survivor in his match. There were a number of hype videos touting Rocky as the future of the business. It seemed like way too much hype at the time, and that was one of the reasons Rocky failed early on.
As it turns out, the amount of hype was exactly right. Rocky became one of the biggest stars in the history of pro wrestling within four years. Could we have seen it coming at the Survivor Series? Sure, all we needed to do was listen to Jim Ross declare Rocky a blue chipper the moment he entered the arena. They knew he was going to be great.
4. Cactus Makes It Big
The Night After WrestleMania wasn't as big a deal in 1996 as it has been in recent years. However, the Raw after WM would often see some interesting events and debuts. One shining example was the debut of Mankind against Bob "Spark Plug" Holly. I was familiar with Mankind under his previous persona of Cactus Jack, and since I knew how good he was in WCW & ECW, I had no doubt he would be equally as successful in the WWF.
The outfit and mask? A little much. Pulling his hair out? Weird. But that was the WWF for you. And we ended up seeing Cactus Jack later on anyway, so all was well that ended well.
3. Austin 3:16
Speaking of people who had some early awkwardness in the WWF. I knew Steve Austin had the potential to be a star, but the Ringmaster wasn't going to get it done. Once they got rid of that gimmick and let Austin speak for himself, the rest was history. Austin had to give up the prestigious Million Dollar Championship in the process of becoming Stone Cold, but he made up for that by winning the 1996 King of the Ring tournament. Austin's speech after winning would take his career to another level.
Austin went to the hospital after his first round match to get some stitches put in his lip. When he returned, he was told that Jake Roberts had cut a Bible-thumping promo prior to their match in the finals. Since wrestlers weren't overly scripted back in 1996, Austin had the opportunity to think of a comeback, and came up with Austin 3:16. A worldwide phenomenon was about to begin.
2. The NWO Changes The Game
To be honest, you could fill a Top any number you want column with NWO moments from 1996. Scott Hall's WCW debut on Memorial Day. Kevin Nash powerbombing Eric Bischoff through the stage. Hulk Hogan turning against the fans. Nash using Rey Mysterio as a lawn dart. It had a different feel to anything WCW (or the WWF, for that matter) had presented since I started watching wrestling. It felt more real for some reason.
Yes, the NWO would eventually lose its coolness. It got way too big & lasted longer than anybody possibly could have cared. In 1996 it was one of the craziest things I'd ever seen.
1. My First Live Event
A big moment for me. After years of begging & pleading, my dad finally agreed to take me to a wrestling event in February 1996. It was a Raw taping at the Cincinnati Gardens the night after an In Your House event. The build to WrestleMania XII was heading into full gear. I went to thehistoryofwwe.com to find the full results for the evening, I'll interject here & there with thoughts.
WWF @ Cincinnati, OH – Cincinnati Gardens – February 19, 1996 (8,500)
Monday Night Raw taping:
Herman the German defeated Scott D'Amore
– I was very impressed by Herman the German! I never saw him again. D'Amore would pop up in mainstream wrestling again later on, but I don't recall him doing anything in the WWF besides dark matches like this one.
Chris Clyde defeated Gary Scott
Ahmed Johnson defeated Davey Boy Smith via disqualification an arm wrestling challenge, when Smith tipped the table onto Ahmed; Johnson recovered and was able to hit the Pearl River Plunge on Smith after a brief brawl
Duke Drose defeated Hunter Hearst Helmsley in a steel cage match when the momentum of a knee by Helmsley knocked Drose out the door
– Ah, the cage match. This was interesting. See, it had been advertised on television that Bret Hart would take on the British Bulldog in a cage match. I was a fan of that idea. The night of the card, a paper inside the program listing some of the matches had the cage match pitting Razor Ramon against Goldust. I wasn't as excited, but it did seem to make more sense as they were feuding at the time while Bret & Davey's issue had cooled off. Instead, they had a regular match for the live portion of Raw that aired that evening, and we were left with a cage match pitting the garbage man against the Connecticut aristocrat. Which featured the classic bad ending for a cage match with somebody getting punched and falling through the door. Good times.
Diesel & Shawn Michaels defeated the Undertaker & Jake Roberts at 2:58 when Michaels pinned Roberts with the superkick; mid-way through the bout, Taker and Diesel battled backstage, making the match 1-on-1; after the bout, Roberts and Michaels shook hands
– Roberts & Michaels were two of my favorites so it was fun to see them go at it, and I also enjoyed Jake re-forming his alliance with Undertaker. I don't remember the match being that short. I do remember it went on last, which was kind of awkward because they had to take the big blue cage down. They were four names worth sticking around for, even if it went less than three minutes.
2/19/96 – included a vignette promoting the return of the Ultimate Warrior; featured a vignette for Mankind; included a Larry Fling Live segment with special guest Billionaire Ted:
Razor Ramon defeated WWF IC Champion Goldust (w/ Marlena) via count-out when the champion walked out of the match after sustaining Razor's back suplex off the top; after the bout, Razor grabbed a microphone and asked acting WWF President Roddy Piper to make a match with Razor and Goldust, not a title match but a fight (this was to have led to the Miami ally fight scheduled between Razor and Goldust for WrestleMania XII)
Skip & Zip (w/ Sunny) fought Barry Horowitz & Aldo Montoya to a no contest when Vader came out before the Body Donnas' entrance and brutally attacked Horowitz and Montoya
Steve Austin (w/ Ted Dibiase) defeated Marty Jannetty via submission with the Million $ Dream; during the bout, Vince McMahon stated that Jannetty was about to enter the tag team tournament with a partner that had yet to debut; McMahon also referred to Austin's personality as "stone cold"
The Undertaker (w/ Paul Bearer) pinned Tatanka (w/ Ted Dibiase) with the tombstone; mid-way through the bout, Diesel came ringside to grab a cameraman, taking him backstage so he could document Diesel destroying the Undertaker's casket with an axe; after the bout, the reminants of the casket were shown on the video screen as the Undertaker and Bearer looked on
– Our seats were above the giant Raw letters they were using for an entrance at the time. The video screen was on the A, and there was no scoreboard hookup to the video screen so we didn't get to see anything shown on the video screen. Which wasn't as much of a problem as it would have been in later years, but it was awkward hearing Diesel smash a casket with an axe and not being able to see it.
2/26/96 – included a vignette in which several young fans asked WWF President Roddy Piper to bring the Ultimate Warrior back to the WWF; featured the announcement WWF World Champion Bret Hart would face Hunter Hearst Helmsley and Shawn Michaels would wrestle the 1-2-3 Kid the following week; included a Mankind vignette in which he talked about his mommy and his rat named George; featured footage of the Smith & Owen vs. Hakushi & Horowitz from the 2/24 Superstars and the announcement that the New Rockers would face the Godwinns the following weekend in the WWF Tag Team Title Tournament; included Vince McMahon conducting an in-ring interview with the two men that would face off in the main event of WrestleMania XII, Shawn Michaels and WWF World Champion Bret Hart; during the segment, Michaels agreed Hart was the best there was and possibly the best there ever will be but disagreed about being the best there is; Hart then put over his recent title defenses against men so much larger than him and said he didn't have to beat Michaels but Michaels would have to beat him to win the title; after the two spoke about their conditioning, WWF President Roddy Piper came out and took over the segment, first saying he didn't to hear fans boo either Bret or Shawn and then put down each man, telling Michaels he had nice abs but that didn't mean anything and then telling Bret anyone could have a lucky title defense; Piper then said there would be no cheap finish for the match because the winner would be the man with the most falls; after both agreed to the stipulation, Piper said the match would last a full hour:
– Choosing between Bret & Shawn was always pretty tough. I got a Shawn foam finger, but it's not like I was rooting against Bret.
Jake Roberts pinned Isaac Yankem DDS at 3:32 with the DDT after blocking Yankem's version by holding onto the ropes; prior to the bout, footage was shown of Jerry Lawler escaping Roberts' snake at the Royal Rumble
Diesel pinned Bob Holly with the powerbomb at around 5:30; after the bout, as Diesel made his way backstage, the Undertaker's gong sounded and the lights went out; when they came back on, Taker was standing alone in the ring; as Diesel went to get back in the ring the lights went out and when they came back on Taker was gone; moments later, Taker appeared on the big screen and said he was the master of playing mindgames
Ahmed Johnson pinned Shinobi (Al Snow) with the Pearl River Plunge; during the bout, WWF IC Champion Goldust called in and read a poem directed at WWF President Roddy Piper in which he asked when he could play his bagpipe
Yokozuna defeated Owen Hart & Davey Boy Smith (w/ Jim Cornette) via disqualification in a handicap match when Vader, who had come ringside moments earlier, interfered and hit a clothesline knocking Yoko to the mat; after the bout, Jake Roberts and Ahmed Johnson made the save against Vader, Owen, and Smith
– Yoko, Owen & Davey appeared in a picture on the front page of the sports section. Remember when newspapers were things?
3/4/96:
Shawn Michaels pinned the 1-2-3 Kid (w/ Ted Dibiase) with the superkick at around the 12:30 mark after avoiding a legdrop off the top; during the bout, WWF World Champion Bret Hart was shown watching the match backstage, during which he said he wouldn't fall for the same tricks against Michaels at WrestleMania that Michaels was using against the Kid and that he and Michaels were friends and he didn't want to see him get hurt before their match; after the bout, Michaels danced with a young girl in the ring (Shawn Michaels: His Journey)
Justin Bradshaw pinned Hakushi with the lariat
WWF World Champion Bret Hart defeated Hunter Hearst Helmsley via submission with the Sharpshooter in a non-title match
– Up until this point, Helmsley had a pretty solid win-loss record, so seeing him lose twice in one night was a bit of a surprise. He hadn't even done a curtain call yet!
It was a fun evening and opened my eyes further to the joy of pro wrestling. Last week I talked about how 1995 was a tough time to be a wrestling fan. 1996 showed me that better times were ahead. That's why I've never quit watching the stuff…there's always something good on the horizon.
I know that seems difficult to believe these days, but there is. Trust me.
King: Dominik Mysterio Needs To Do This At WrestleMania
Chris King is here with what WWE should do with Dominik Mysterio at WrestleMania in his long-awaited match against his father Rey Mysterio Jr.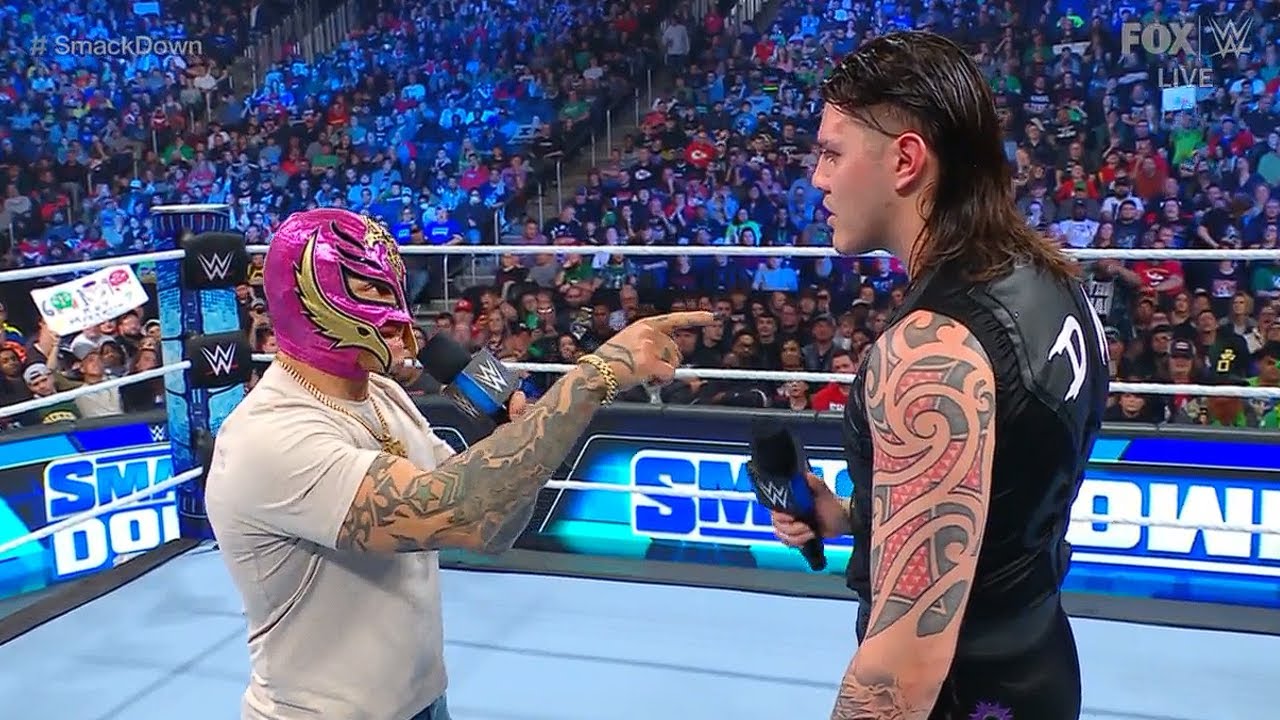 Chris King is here with what WWE should do with Dominik Mysterio at WrestleMania in his long-awaited match against his father Rey Mysterio Jr. 
On this week's episode of Friday Night SmackDown, Rey Mysterio finally snapped and beat some sense into his disrespectful punk-ass kid Dominik. The member of the Judgement Day came out to push his father again for a match on the Grandest Stage of Them All, this time with his mother and sister at ringside. The ungrateful punk told his mom to "Shut Up," as a father even I wanted to jump through the screen and whoop his ass.
Back in October of last year, Mysterio made the emotional decision to possibly quit the company but, instead, Triple H persuaded the Lucha libre superstar to move over to SmackDown to avoid his son. This came after Dominik shockingly turned on his father at Clash at the Castle. Mysterio did everything he could to refuse his despicable son's challenge for Mania but, a man can only be pushed so far. Mysterio will be inducted into the 2023 WWE Hall of Fame and I expect Dominik to embarrass his father during his speech to further this personal feud.
Yes, the WWE Universe hates Dominik and wants to see him get the ever-loving crap kicked out of him but, this feud is missing a special ingredient to capitalize on the biggest heat possible. Throughout this feud, Dominik has made mention of the legendary Eddie Guerrero on several occasions going back to the "iconic" 2005 feud.
I know WWE might not want to go this route but, Dominik MUST come out to Eddie Guerrero's theme at Mania. The disrespectful punk needs to come out in a lowrider to garner nuclear heat. It doesn't matter if The Judgement Day comes out and causes interference for Dominik to get the win, all that matters is that both superstars get the biggest payoff of this nearly year-long feud. Just imagine the Roman Reigns heat after he defeated The Undertaker and multiply that by ten. Dominik portrays the perfect heel and he truly is the missing ingredient that The Judgement Day needed to grow and evolve into a top faction.
King's WrestleMania Rewind: Eddie Guerrero vs. Rey Mysterio (WrestleMania 21)
In the next WrestleMania Rewind, Chris King takes us back to WWE WrestleMania 21, and Rey Mysterio vs Eddie Guerrero in a battle of tag team champions!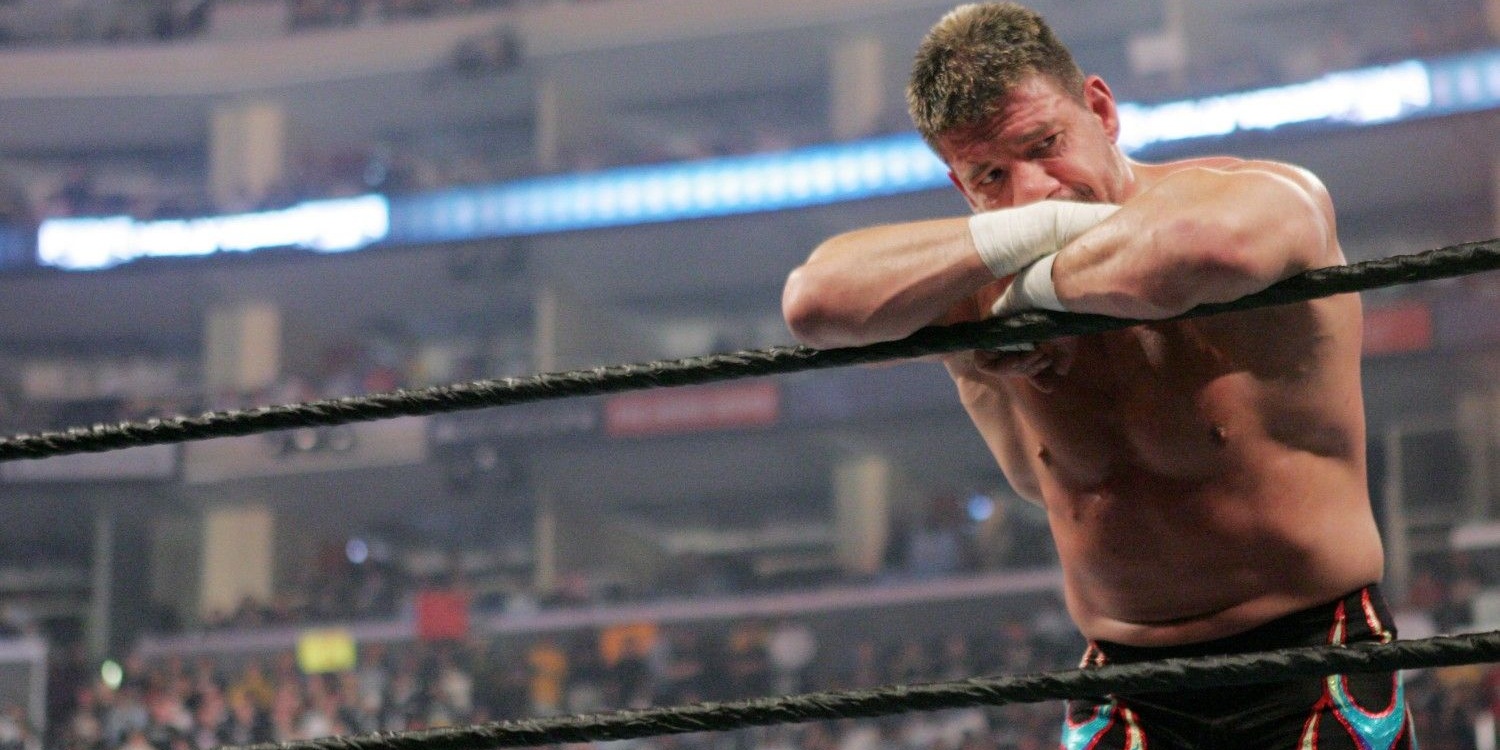 In the next WrestleMania Rewind, Chris King takes us back to WWE WrestleMania 21, and Rey Mysterio vs Eddie Guerrero in a battle of tag team champions!
Chris King is back with his third edition of WrestleMania Rewind. This week he's bringing us back to some 'Latino Heat.' We're rolling back to WrestleMania 21 where Eddie Guerrero faced longtime friend and rival Rey Mysterio.
This would be Guerrero's last Mania match caused by his unfortunate death. Over on SmackDown, Mysterio and Guerrero would become the tag team champions at No Way Out where they defeated MNM.
Chavo Guerrero would get into the head of Latino Heat by making him believe Mysterio was trying one-up his tag team partner. Chavo went as far as to tell his uncle to stop using the Guerrero name.
Guerrero would finally give in to his nephew's manipulation and went on to challenge Mysterio to a one-on-one match at WrestleMania 21. I For the first time in history, both tag team champions would face each other. Guerrero vs. Mysterio was the first match on the stacked card. Both partners threw everything at each other including the kitchen sink in a battle of one-up-manship.  In an incredible high-octane match that saw both superstars delivering counter for counter, Mysterio pulled off the win with a surprise pin roll up.
A few months later, what once was a friendly battle turned into a nasty fight involving the custody of Mysterio's real-life son Dominik Mysterio. After several torturous weeks, both former tag team champions would face off in a ladder match with the custody of Dominick on the line. I forgot how amazing this rivalry was and it's definitely worth a watch. Sadly, we would lose Latino Heat in November of 2005. There will never be another Eddie Guerrero. Viva La Raza!