Mishal's Top 5 Takeaways from WWE NXT TakeOver: In Your House
NXT presented their latest Takeover event on Sunday, and Mishal is here with his 5 biggest takeaways from In Your House!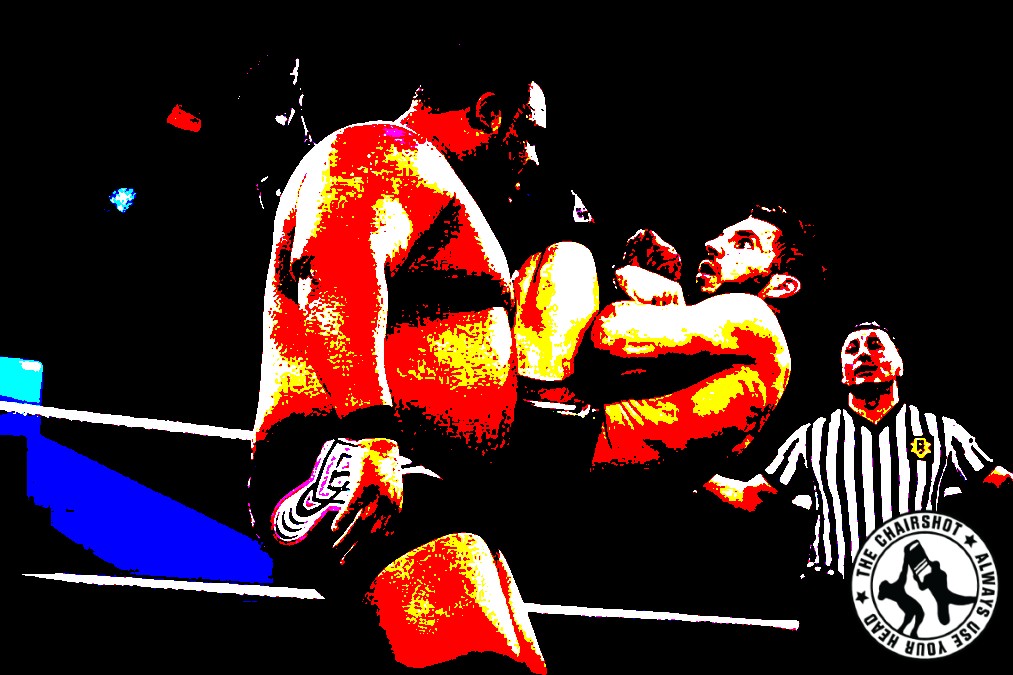 NXT presented their latest Takeover event on Sunday, and Mishal is here with his 5 biggest takeaways from In Your House!
Another NXT Takeover, another always eventful show from (in my opinion) the most consistent, exciting & well-balanced professional wrestling product available today.
TakeOver: In Your House had some big shoes to fill this past weekend. This show didn't just mark the brand's first major show since the 16th of February during their TakeOver: Portland event, but marked the return of an all-time classic event, 'In Your House'. One of the companies most nostalgic events was making its comeback after over two decades on the shelf, with its last show being St. Valentine's Day Massacre prior to that years Wrestlemania.
In Your House couldn't have made its return at a more fitting time in everyone's lives. More people are operating out of their houses than ever in recent history & for what looks like the remainder of the summer, it gives off a really nostalgic vibe that a lot of people will lavish & promised to be at least a little different from your standard WWE or NXT show. From top to bottom the card was stacked with potential, like every other show under the NXT brand, and put together a plethora of matches we've never seen prior, most notably the debut of Karrion Kross in his first major singles match since debuting weeks ago.
It was a show that promised a lot and delivered for the most part. Every match on here had the sensation of being a big deal, meaning something rather than just being a placeholder for something else & always tended to build on a larger story. There were some matches on here that are crawling up my favourites of the year thus far (although, I'm yet to see AEW's Double or Nothing II which I've been told will shift my stance) & a lot to pick apart, but here are a few things that stood out to me while watching the best wrestling money can buy.
5. We missed unique stage layouts.
When was the last time you remember a stage design in WWE that wasn't just the same old, basic layout you've come to expect from a weekly show?
Prior to even the global pandemic, we've become almost numb to the same visual presentation week in & week out, same music, same graphics & a look that in all honesty, can make a product feel stale at a certain point if you truly overthink it, much like I have. However, TakeOver: In Your House separated itself from the pack below it by giving itself a different atmosphere entirely.
Besides the obvious nostalgic nudge, the creative team wanted to give long-time fans of the show itself something to remember but also intertwine that with the future of the business itself, and it made for a lovely sight to see. It's the perfect blend of nostalgia while also giving newer fans something entirely unique on a visual level, which in turn made the whole show just so much more entertaining to sit through. After seeing the same repeated layout for weeks on end this simple change of direction is something I hope we see more off, not just from NXT but the main roster product as well, since spicing things up is never a bad thing to do!
4. Johnny Gargano is Mr. TakeOver
Johnny Gargano is to NXT TakeOver, what Shawn Michaels was (and still is) to WrestleMania.
Regardless of the opponent, the match stipulation, the circumstances or the state of his character, once you place Johnny Gargano on a TakeOver card, you know you're getting 'Johnny Wrestling' at his absolute best. He's put on some of the best matches in not just NXT, but WWE history at this show, against the likes of Tomasso Ciampa, Andrade, Adam Cole, Ricochet, Finn Balor or The Revival, Gargano has been the heart & soul of all those contests and continued to do so once again against Keith Lee this past Sunday.
Their match was a lot more important than fans gave it credit for being, not just due to it being a title match, but Gargano's first true chance to display his heel persona since his match against Tomasso Ciampa, who's reception was 'mixed' to say the least. In terms of antics, Gargano needs a little more time to truly embrace the new character he's set out to portray, the NXT fanbase, myself included, are so conditioned to see Gargano as the rebellious babyface we once knew him as that this entire new shift in character can take some time to get used to. Wisely enough they gave the match an 'Achilles heel' to work with against Keith Lee, and that resulted in one of the best contests of the evening.
Each character played to their strengths, Gargano utilizing his speed, agility & craftiness to wear down the much, much larger Keith Lee, while Lee himself was the human wrecking ball he always is & continues to be amongst the most consistently entertaining characters in the entire company at this point. Nothing about the match was ever boring, the storytelling was exactly what it needed to be & the action was as a wild as you were expecting by lumping these two into a ring together. No matter what's next for Johnny Gargano, you can guarantee another show-stealing TakeOver performance is lined up.
3. Karrion Kross is a bonafide star.
His match against Tomasso Ciampa was nothing spectacular, in fact, when placed side by side some of Ciampa's past TakeOver performances, I'd argue this was the weakest of his career to this point. That being said, the contest between Karrion Kross & Tomasso Ciampa accomplished the goal it set out to from the very beginning, make Karrion Kross look like the imposing force he truly is.
Kross dismantled, manhandled & brutalized the former NXT Champion in under 7 minutes at TakeOver: In Your House, lugging him around the ring like he was a ragdoll at points, playing into the size advantage perfectly but also reminding us just how vital of a character Tomasso Ciampa has become to the NXT brand. He's the iron man of NXT, taking on any opponent regardless of size & the gatekeeper for new talent to come through upon arrival.
What stood out to me the most was the star power that Karrion Kross has upon every single appearance. He's not just a terrifying, mammoth of a competitor with the size & looks that will likely get him to great lengths in WWE, but is even presented in a way that perfectly suits someone who is quite literally portrayed as being 'The End' of all things. His punk style entrance, the presence of Scarlett Bordeaux, the overall lighting & music that gives off a new take on 'The Beast' Brock Lesnar, who the company has always tried to replicate with failed results. This time around, it's clear there's a star standing right in the palm of their hands, and it'd be wise not to let him slip through their fingers.
2. Backyard Blunder
To put it as simply as I can without feeling as if I'm actively degrading the match, the entire 'Hollywood Backlot Brawl' ordeal, truly wasn't my thing in the slightest.
I've had a lot of issues with the booking direction taken surrounding Velveteen Dreams feud with Undisputed Era. Whether it was the strange start to it, none of the matches truly clicking or just the lack of interest I've had as of late for Adam Cole's reign due to the lack of credible competition since late last year. Nothing about this was necessarily clicking with me in the lead-up, and the only thing keeping me invested was the possibility of Velveteen Dream capturing NXT's top prize, which was tarnished when a stipulation was added on to 'excite' viewers with some added nostalgia on an already nostalgia-driven event.
Dream's biggest strength is his innate ability to tell a story in between the ropes of a ring, through both incredible facial expression & his over-the-top but high-octane wrestling style that emphasizes on his big moves planted late into this matches. By placing both himself & Cole, an equally brilliant in-ring competitor, the tension this match should have carried, regardless of the lack of actual fans in attendance, was significantly reduced due to how odd dethroning the longest-reigning champion in the title's history in a pre-recorded match set within a backlot would truly be rather than something fantastic on a wrestling level with a decisive victory.
The match itself wasn't without its moments surely but was just missing that element of tension, or even promise that Cole was on the verge of losing his most prized possession. Compared against other cinematic matches this also lacked that 'IT' factor that made both the Undertaker vs AJ Styles & John Cena vs Bray Wyatt matches standout earlier this year, and instead was a standard brawl with some really shakey editing that made a lot of it irritating to take in. While it wasn't a terrible match by any means, it was certainly a low point when you look at the chronology of TakeOver events in history.
1. Charlotte Flair may not have been wanted, but she's still the best. 
I've been fairly vocal about my blatant dislike of the Charlotte Flair character, her booking & storyline since Wrestlemania earlier this year. Despite being arguably the most consistent female performer in North America, maybe even further, the manner in which WWE was treating her character does her no service to the talents she possesses. Her recent reign as NXT Women's Champion, as well as the return to the brand, hasn't been what we were expecting in the slightest. Rather than breathe the air of fresh new matches, pushing previously underused talents & making her mark on the brand she originated from, most of what she's accomplished has done next to nothing for herself, or the brand as a whole. If anything, the product would be in a better position if Rhea Ripley had retained her gold in their initial match at Wrestlemania.
That being said, Sunday was proof of what happens when you let Charlotte Flair be Charlotte Flair, the outcome is the absolute best that this industry has to offer.
As much as I, along with many others, disliked Flair's booking as NXT Women's Champion, to deny her of her excellence after a phenomenal main event against both Rhea Ripley & Io Shirai just wouldn't be justified. On Sunday night Flair, along with her two opponents pieced together one of the years very best contests to date. It was a main event that embodied what makes a Championship match so important, the stakes were always high, and there was a 'do or die' attitude to the performances by all three women that made this so enticing to watch. The action was non-stop, rarely allowing you to breathe & slowly escalated as the match went on, but arguably the best aspect of this was that Io Shirai didn't feel out of place in the middle of two bitter rivals in Flair & Ripley, instead added a different dynamic to the match that I adored.
Even though there were a few botches of mistimed moves and the ending came seemingly from out of nowhere, this was everything Charlotte Flair's reign should have been, packed with passion & lead to the eventual establishment of a brand new face to the NXT women's division, a much-needed one at that. Not being the most familiar with Io Shirai I'll admit I do need to dig into her background and character more, but anything at this point in time is more welcome than what we had previously. NXT's women now have a new environment to work with, as Shirai's speed & high-flying arsenal is a great blend for any opponent to result in a great match to any show, which has made me more excited than ever to see what's waiting for us next.
It was sad to see the best moment of Flair's 2nd NXT Women's Championship reign be the final match of it, since the potential we had going in was an expectation that was sadly never met in the eyes of most fans.