Mitchell's WWE Backstage Report! (6/9/20)
The Women's Revolution is Backstage!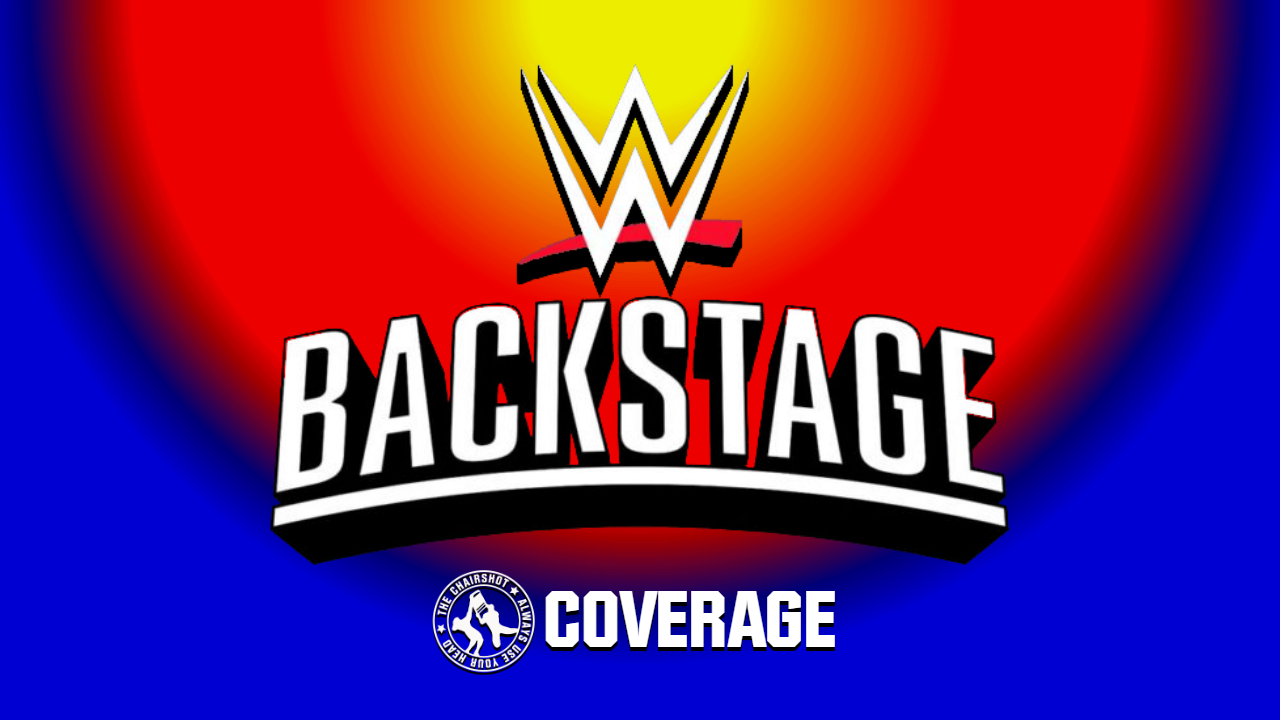 Representing all the women! Salute! Salute!
After reliving WWE Evolution, it is once again ladies' night Backstage! Renee Young, Paige, Ember Moon and Beth Phoenix discuss this week in WWE!
The panel assembles!
Renee has the Glampire, the Glamazon and the Shenom here! Paige claims Booker T's co-host spot and starts by plugging beard products. Ember is going green with her hair and Beth figures if Renee is Rose and Paige is Blanch, does that make her Sophia? Yes, they're the Golden Girls tonight! But WWE Evolution was big, and we'll have Nikki Bella here to talk her main event match with Ronda Rousey, and Sonya Deville talking her own rise in WWE. October 18th, 2018 was truly a turning point, for gone were the days of the women only getting a few minutes on the card. What were the panel's favorite moments from that night?
Ember says that it feels like a lifetime ago, but just remembering back, it was how together the locker room was as a unit, as women. They could've taken over the world and no one would've questioned it. That was the best feeling in the locker room ever. The battle royal was amazing and is truly a highlight of her career. Especially given the coming together of so many generations. Everyone meshed so well off the bat, it was amazing. It was one long day, but from that morning to the red carpet to the huge group photo, it was chaotic but great. Paige remembers the energy was so positive and it all smelled so wonderful. Paige, Renee and Beth were the commentary panel and obviously we have it happening her on Backstage. Every single woman killed it out there.
Beth remembers it as a maiden voyage for commentary as she does now on NXT. Just throwing out notes and enjoying the moment was great. It was a huge win for all the women, and she obviously has the Evolution plaque behind her. Renee remembers setting that picture up took 45 minutes! Looking at the picture itself, you wouldn't know it but the cameras had to keep backing up to get them all in the shot. There were days on the indies where Beth remembered maybe one or two women in a promotion. But now, look at just how many are in the WWE alone! This also honored those who had passed, such as Chyna, Mae Young and many more. It was a great melting pot moment and it was superb.
To look back a bit, The Bella Twins, like many others, made their debuts when the women weren't given as much of a platform as they are today. But Evolution was definitely a turning point in Nikki's career as she faced The Baddest Woman on the Planet, with sister Brie by her side.
Nikki Bella relives her Evolution experience.
She remembers getting a call from Vince McMahon about the first-ever all women's PPV. Then he says he wants her to have a match in the main event against Ronda. She was emotional and grateful. This was icing on the cake as the perfect finish to what she wanted to do in pro-wrestling. The Bella Army was there for Nikki but Ronda is the Raw Women's Champion. Nikki had to put herself in the mindset that she was Goliath to Ronda's David. Nikki was certainly impressive, and there were moments that Nikki did remember she was in the ring with a UFC champion. The DOUBLE Piper's Pit where Ronda threw both Bellas, then hits Nikki with the super armbar takedown definitely solidified the legitimacy of this night.
It had been such a long fight in pro-wrestling for women, and they had accomplished something amazing on a night full of incredible moments. The crowd hung onto every little thing they were given. When you can make magic like that to happen, that is when you paint a masterpiece. The mat is the canvas that they painted a Picasso on.
The panel discusses the new wave of the Women's (R)Evolution.
Two-thirds of WrestleMania 35's main event, Ronda and Becky, are both out of the ring, at least for now. Who does the panel see moving up in that power vacuum and grabbing the proverbial brass ring? Beth says that things are changing quickly and spots open up abruptly. Becky's face and name were on absolutely everything for a long time, but now she's stepping aside. Beth doesn't want to sound butt hurt over Raw snatching a certain someone up from NXT, but The EST, Bianca Belair, is still high on the list. Bianca is a future face of the Women's Division with her physical capabilities, her poise, and the respect of her peers, without even scratching the surface. Renee can't wait to see what more Bianca does. You can just feel the star power potential passing her in the hallway.
Paige adds that Bianca's qualities are beyond the ring. She is great physically, she is great on the mic, but she is the one designing her own gear, her husband Montez Ford's gear, and created a website for #BlackLivesMatter and other movements. She is a great human and has a passion for the business, so she is going to takeover. Paige also makes sure to shout out some congratulations to Becky, she's going to be a mother! And then to Ronda, Paige was excited when Ronda came in and brought some new eyes to the product. But there are still so many women to fill the gap, from Charlotte, Bayley, Natty to Alexa Bliss and then all the names in NXT! It is the opportunity of a lifetime for the Women's Division!
Ember says she also loves Bianca Belair, and agrees we haven't seen a minuscule amount of her potential yet. But don't forget Liv Morgan, Carmella, Naomi, Sonya Deville, Mandy Rose and so many more. For the first time, we might even see a fight for the brass ring in the Women's Division. Sonya and Lacey Evans went out there on SmackDown last Friday and put on an amazing match! This is an opportunity for all the women to step up, and they will, and then take advantage of The Man becoming The Mom and Ronda being away. Renee agrees on the insane depth of the roster. The future of women's wrestling is looking GOODT.
Backstage returns with Just the Highlights!
On Raw: It's time to talk less, and Claymore! Drew McIntyre made sure Bobby Lashley understood that ahead of Backlash, but the Rocky Mountain Machine still stayed up! Will Lashley topple McIntyre and take that WWE World Championship? And speaking of championships, Charlotte lost hers but gave Asuka a hell of a match. Nia Jax got involved and that screwed the Empress over. Will Asuka make sure Nia never does that again? And The Peep Show returned to give Edge a pep talk, but it only worked to upset The Viper. Randy Orton vows the Rated R Redemption ends, but Edge says it won't! Who has the final say this Sunday?
On SmackDown: Jeff Hardy knows someone framed him, and the evidence points towards Sheamus! The Celtic Warrior didn't outright deny it, but he did want Jeff to know that the Hardy Family won't be disappointed in him anymore. They're just used to it. And then Sheamus would BROGUE Hardy down! They have a grudge match this Sunday, will Hardy even the score? As for Miz & Morrison, they couldn't help but mess with the Monster Among Men. Whether their pranks were funny or not, Braun Strowman had the last laugh when he tipped their van. Will he be able to tip the scales just as easily when it's 2v1? And then, in a showdown of best friends, Bayley & Banks would dethrone Bliss-Cross to become the NEW WWE Women's Tag Team Champions!
The panel discusses this week in WWE.
Yesterday was National Best Friend Day, so it's very fitting to start off with Sasha and Bayley being tag team champions again. Ember takes her glasses off to say some very unpopular things. She doesn't think this was the right move. Bayley and Sasha sell themselves in the story with the tension between them. Whatever PPV their eventual breakdown match happens on, this didn't need the tag titles. The titles don't elevate the story between Bayley and Banks, this just devalued the titles themselves. The IIconics and Bliss-Cross are now having to share things and it doesn't help anyone. Maybe if the IIconics won the titles first and then Bayley & Banks took those from them, the Triple Threat for Backlash would have more going for it.
Paige anticipates Twitter coming after her. But she feels the tag titles haven't been used to their full potential. Yes, she was with Asuka and Kairi Sane, the Kabuki Warriors, before the green mist Heel turn. Rude. But each team that reigned, if the titles aren't being defended correctly, it's just the whole division being thrown under the rug. Paige feels that at some point, the titles need to be taken seriously, because it was such a huge moment for the Women's Division to get them! There are teams in NXT that could be used, too! Bayley and Sasha are great, we're sold, but let's build others, too.
Beth feels the same, but she's also a big fan of tag team wrestling. Now we have enough women where it isn't just about singles wrestling. We can have real tag teams that can be featured. Tag team wrestling has a different psychology than singles wrestling, and it is a disservice to all the talented females being left out because the titles are being piled into one place. That is to say, this eventual singles angle of Bayley VS Banks that will be featured regardless. Beth knows that when Raw and SmackDown weren't using the tag titles, it should've been NXT's turn. That's a way to feature four women at once! Hopefully this changes and we finally get some steam behind the titles. That's what it felt like with Bliss-Cross VS The IIconics, so hopefully it continues. Paige brings up Beth reuniting with Natty, and there's some intrigue there.
Renee agrees that with all the depth in the division now, that was part of the excitement of the tag titles becoming a reality. It was a huge buzz, so it's time to make the tag titles matter! But of course, with the titles multi-branded, we are certainly getting a double dose of The Boss & The Role Model now.
But last night, things got very real between Christian, Edge, and The Peep Show. "We think you can have the Greatest Wrestling Match… Ever!" An extremely emotional moment was interrupted by The Viper and he invoked the names of Beth and her daughters again. So to start the discussion, it'll be Ember so that Beth can gather her thoughts. Ember feels odd because Beth is here. But she will say that she loves when wrestling stories cross into real-life. We all waited those nine years for Edge to return, and it was great. We might be going backward with the order of matches, where we get the pure wrestling match first. But that's not to discredit the Last Man Standing match at WrestleMania, because Ember loved it. But, Ember is going with Edge 1000%, she did the Five Second Pose before it was cool, she's Edge all the way!
Did Beth hear that Ember is a fan of Edge? But Paige says Ember is taking Christian's role as Backstage Buddha right now. And she has been very vocal of her own fan following behind Edge. She relates to Edge, is inspired by Edge, and again the nine year journey to overcome a career ending injury is incredible. Paige is also a fan of Orton's ring psychology, camera work and all that. They both have so much pressure because they didn't label this the Greatest Wrestling Match Ever, the WWE did. There's just so much they have to think about and make this as perfect as possible. But Paige in the end is Team Edge. Renee knows Orton has been rather vocal online about his feelings of that label.
But finally, Beth has the floor! How has everything been going? Beth knows the panel is missing Christian, so she shows off the birthday give he gave her: a picture of himself. The back reads "To my biggest fan, Beth." But last night, Christian had Beth in tears with that promo. That is what a friend who really loves you would really say. This really is the match with the most pressure on Edge and Orton, and internet heat is already rolling in. Everyone has an opinion. But Beth has no love lost for Orton but Orton really is one of the very best to ever lace up boots. And of course, we know how Beth feels about Edge. He has been doing research on the best wrestlers ever, and watching the matches that inspired him in the first place. You can't go out there, take a beating at 46 years after a 9 year break, if you don't love this in your very soul.
Beth doesn't know what will happen, but she knows what we'll get is Edge's heart, soul and all the very best of himself and of Randy Orton. no matter what, we should all walk away respecting that.
Backstage shares a tweet from WWE on Fox.
"Who are your top five female WWE superstars of all time?" Put the names in and tag your friends! Well Asuka of course went with HERSELF all five times! Bully/Bubba Ray says #1 is Mae Young, and then there's "Everybody else." But didn't he powerbomb her through a table once?
Charlotte Flair was very popular among the WWE Universe, but there is still a bucket list opponent she wants to check off. Courtesy of Alex McCarthy's TalkSPORT podcast, Charlotte is quoted as saying, "I think if I look at the women who are not currently active, I'd have to say, I'd want a match with Beth Phoenix." That is the one woman Charlotte hasn't had a chance to face, and wants to take on the Glamazon. Well what does Beth say? Iron Woman Match? Steel Cage match? No, neither of those! Renee so crazy. But truth be told, the cage match is on Beth's own bucket list. But not a modern cage, she wants to go old school with the blue square cage! Everyone who knows that steel cage must be thinking she's nuts because that design is infamous for being unforgiving. But that's still a dream match, and Beth is flattered for Charlotte to say all that.
Paige says, "Are you kidding?" It'd be amazing! Charlotte is incredible, and to go against a legend like Beth, a woman who entered the Men's Royal Rumble, and then perform in the Women's Royal Rumble even after getting busted open, who wouldn't want that? If Beth doesn't do this, she's selfish because she's disappointing her fans, including Paige. JK. But we do need this! The one time they were in the ring together was the Women's Rumble, and it was incredible. Renee was a fan and is now a friend, and she loved watching Beth show up. Ember's take is that Charlotte is amazing, and could see Charlotte doing a moonsault of the top of that blue cage. Or even Beth hitting a Super Glam Slam! But another name that wants after Beth, and Ember has been saying it herself, is well, herself! Because of the Shimmer DVD!
When Ember got started wrestling, others were like, "You want to wrestle like the girls on TV?" Back then, it was the Diva's Era, a very different time. We all know what that was. But a friend gave Ember the Best of Shimmer, Volume 2, and said, "You need to wrestle like these women." And the first match ever of REAL Women's Wrestling: Beth Phoenix VS Mischief! That was mind-blowing. Ember vowed to be on Beth's level, she wants to be in Shimmer and wrestle like that. That is why Ember has always wanted a dream match with the person that made her better. A very touching story and Beth is about to cry. Beth would be honored to step in the ring with Ember. Edge agrees, and we all hope Ember makes her own in-ring return. Paige asks if we're hearing it here first. Is Beth coming back? Renee claims she heard it and Ember sure hopes so.
Sonya Deville goes Backstage!
Fire & Desire breaking up and Sonya DECKING Mandy Rose still gives Renee chills! Renee and Paige talk with Sonya now, put your hair up and square up! Absolution Reunion Part 2, but without Mandy because boo Mandy. Mama Paige is crying, tho. But that promo from all that time ago, did Sonya feel it in that moment that it was something special? Well it's weird, because in the days leading up to it, Sonya wasn't sure exactly what she was going to say. She was thinking about the story in total, and there was so much real emotion in it. Sonya and Mandy were basically sisters, being roommates together, starting in Tough Enough together, then Absolution and Fire & Desire. It was a lot to work with, so when that day finally came, Sonya was in her own head thinking, "This is going to be my moment." It was make or break so she needed to kill it. The second she said her first line, she was in the groove.
What was the reaction from the locker room. Surely there were people who didn't know that's what she was bringing. It was crazy. The internet erupted, there was shock, because she barely got any mic time. No one knew she had a voice and opinions of her own. Sonya wanted to talk, and having to ask creative and even Vince himself that. She wanted just one shot. If she screws up, go ahead and take it away from her forever, but that's how confident she was. Paige says that she is so proud of Sonya. She's obviously very protective of them, but she saw them both day one in Tough Enough as a judge, and then brought them along on the road. Mandy Rose has been the one in the spotlight, but Sonya never gave up and now she is a star. Mandy's a star, Sonya's a star, both are killing it. But how has it all felt personally for Sonya?
First of all, Sonya remembers an interview back as Absolution, and being asked how it is to work with Paige. Sonya said that watching Paige prepare a promo, which she had almost every single night, all of that was so inspiring. Sonya remembers wanting to do that, too, but everyone played their roles, everything happens for a reason and timing is everything. But being here now, it feels justified and good and that Sonya is where she's supposed to be. If they didn't go through all of that, if Sonya didn't feel like the third wheel, would she have had that passion? No. That emotion was real because of how Sonya was portrayed as second to Mandy. It's a societal thing where the gorgeous one attracts attention. Sonya loves Mandy to death, but it is what it is. Sonya was the badass, serious one but she knew she was more than one dimensional, and now we all see that.
What are some moments Sonya looks back on during her time with Paige? You can't work with Paige that long and not have some good stories. Sonya of course has some stories. She just remembers how excited they were for the debut. Not everyone gets a great debut like that. They ran through the crowd, beat up Sasha and Mickie James, and Paige is Mama Paige for a reason. She's always had great advice and great confidence. Sonya was freaking out as the rookie, but she'd look at Paige and Paige would be so calm. How did she do it? Paige reminds Sonya of that live event prank she pulled about their match being moved around. She told them they ended up first on the card and so Mandy and Sonya had to hurry into their gear. Paige got others involved, but to their credit, Sonya and Mandy didn't fall for it.
Sonya says they didn't fall for it because while they were ten minutes late, they were already rushing as the rookies. They were flying down the highway and Paige says, "We got moved to first!" The two freaked out, thinking they'd have to do make-up in the car, but then Paige followed up with something about getting dressed in the car. That tipped them off. Paige has another amazing memory from Tough Enough. Reminder that June is Pride Month and Sonya is the face of pride right now. Paige got to see on Tough Enough Sonya coming out on world television. What was that like? Paige can't fully understand that feeling, but she felt the energy coming off Sonya and using the WWE as a platform. It is crazy to think how long ago that was.
But yeah, it was a crazy thing. Sonya hadn't come out to anyone but immediate family, and her girlfriend at the time wasn't out to anyone at all! So when Sonya was asked about relationships, a normal question for most, it was this loaded question for her. She's gonna out her girlfriend at the same time, but saying she's single is lying and she'd get dragged into love angles. So what was she to do? Flight or fight said, "Yeah, I have a girlfriend." And then she couldn't have predicted the last five years, but it at least helped Sonya be comfortable with herself. When you're forced to speak your truth, your truth becomes reality. It wasn't planned, because Sonya thought she was okay with herself, but then she realized she wasn't. No one close to her really knew. She was ashamed of herself back then. But now, five years later, to know she is okay with herself, and she's helping others be okay with themselves, that's special.
So how important is it to Sonya to see same sex relationships and stories in the WWE? Well, in any show or movie, you see it because it's part of society now. Sonya think it should be the same with pro-wrestling. We're on the right direction and Stephanie McMahon has been supporting Sonya in that inclusion the last 2 and a half years. Paige was there for Comic-Con a few years back, there was also the New York Pride Parade and now some Pride shirts. Inclusion is coming, it's here, and the WWE is onboard. Speaking of Pride merch, doesn't Sonya have shoes, too? Courtesy of Mache Customs, Sonya has rainbow Nike shoes. Renee thanks Sonya for joining the show, and of course she can come for the real deal when we can return to the studio.
The next wave of the Women's (R)Evolution is here!
Io Shirai finally has the NXT Women's Championship after TakeOver: In Your House, but she's not the only one rising up. Beth can speak to this as commentary, but who does she think the WWE Universe needs to keep their eye on? We've seen so many already get their brand out there, such as Shotzi Blackheart, but Beth has to go with a woman who we've seen the journey and potential and want to see more of. It's Tegan Nox! Everyone agrees, because of the ACL injuries, the return and how she's shined already. Then a standout from TakeOver, Raquel Gonzalez! Those Chyna vibes! Raquel knows how to use her size and presence and there are big things in her future.
Ember and Paige are both former NXT Women's Champions, so what do they see from this big moment in Shirai's career? Well first off, NXT is the place where hard work does pay off. That grind in the Performance Center, 8 to 12 hour days, knowing you are the face of the division and the brand now, that's great. There is so much confidence that comes with having the belt. Ember personally felt she had to step up and be a leader, and surely Shirai can do that. Paige as the inaugural, she actually didn't have that many eyes on her because the NXT Women's Division then is not what it is now. The division now is the best it's ever been because of the platform. But being the first NXT Women's Champion, with the first merchandise featured on WWE's shop, that was huge.
It frustrates her when people act like it's part of the script. No, they all worked their whole lives for this. When you get to WWE, you want the title, and when you get it, that's real! The passion, the emotion, it's all real. The WWE is trusting you with something, to be the face of a brand or a division. It feels good but has a lot of pressure that comes with it. But Shirai will handle it as an absolute star and one of the best in the world. And a quick shout out to Candice LeRae going from bubbly Babyface to sinister Heel and is doing wonderful work. Renee definitely wants to see what Shirai does next and that reaction from Full Sail was incredible.
Backstage wraps it up!
Renee thanks Paige, Beth, Ember and Sonya for being on the show. We spoke a bit last week about the situation around the world, and yesterday, the New Day spoke on their podcast about their own experiences. So to end the show, we will end on Big E's powerful words. "I don't know how you don't feel empathy for a man like that, who's accused of passing a counterfeit $20 bill, man! He didn't deserve to die like that. We cannot be okay with murdering us! You just can't be okay with it. Because it's not the first time. And I cannot accept living in a country where this is acceptable. Where it takes two days to get an arrest for this man!"
Xavier Woods adds that we need to "figure out the best way to get through that. And for a lot of us, that is making sure that people see us as 'non-threatening.' So the work, the countless hours, we have to be on guard to make sure that if there's someone around who might be nervous around us, we have to make sure that their fears are assuaged. Because if they're scared of us, and they leave this interaction and we haven't presented a kind smile and a big 'hello,' they'll pass us by and later still be scared of us. But if we do the work, to smile and wave and make them feel better, then maybe they'll feel better later. But it's such an unfair thing to put on anyone." Powerful words that no one can deny.
---
My Thoughts:
Another really great episode, to where I almost feel like I need to give these scores. Following up FS1's showing of Evolution, talking Women's (R)Evolution was natural and a lot of fun. It was great hearing about Evolution from the panel, Beth's perspective on Edge VS Orton as well as her feelings on some dream matches. I do appreciate that they felt throwing Bayley & Banks into the tag title story was not necessary, because in the long run, it probably isn't. If Becky was still here and the Four Horsewomen were fighting over the tag titles, I'd get it. It'd be a step closer to having a Grand Slam Horsewomen collection as Becky and Charlotte need the tag titles while Sasha still needs the SmackDown Women's Championship. But we also really do need NXT included on the tag division. Sonya has definitely become a star, so hearing some stories from her perspective was really good. And closing with comments from Big E and Xavier Woods was another strong ending to show the WWE and Fox aren't shutting out the real world.