News From Cook's Corner 6.1.20: Save Black Lives
So last week I closed News From Cook's Corner with a guarantee that next week would be better. Welp…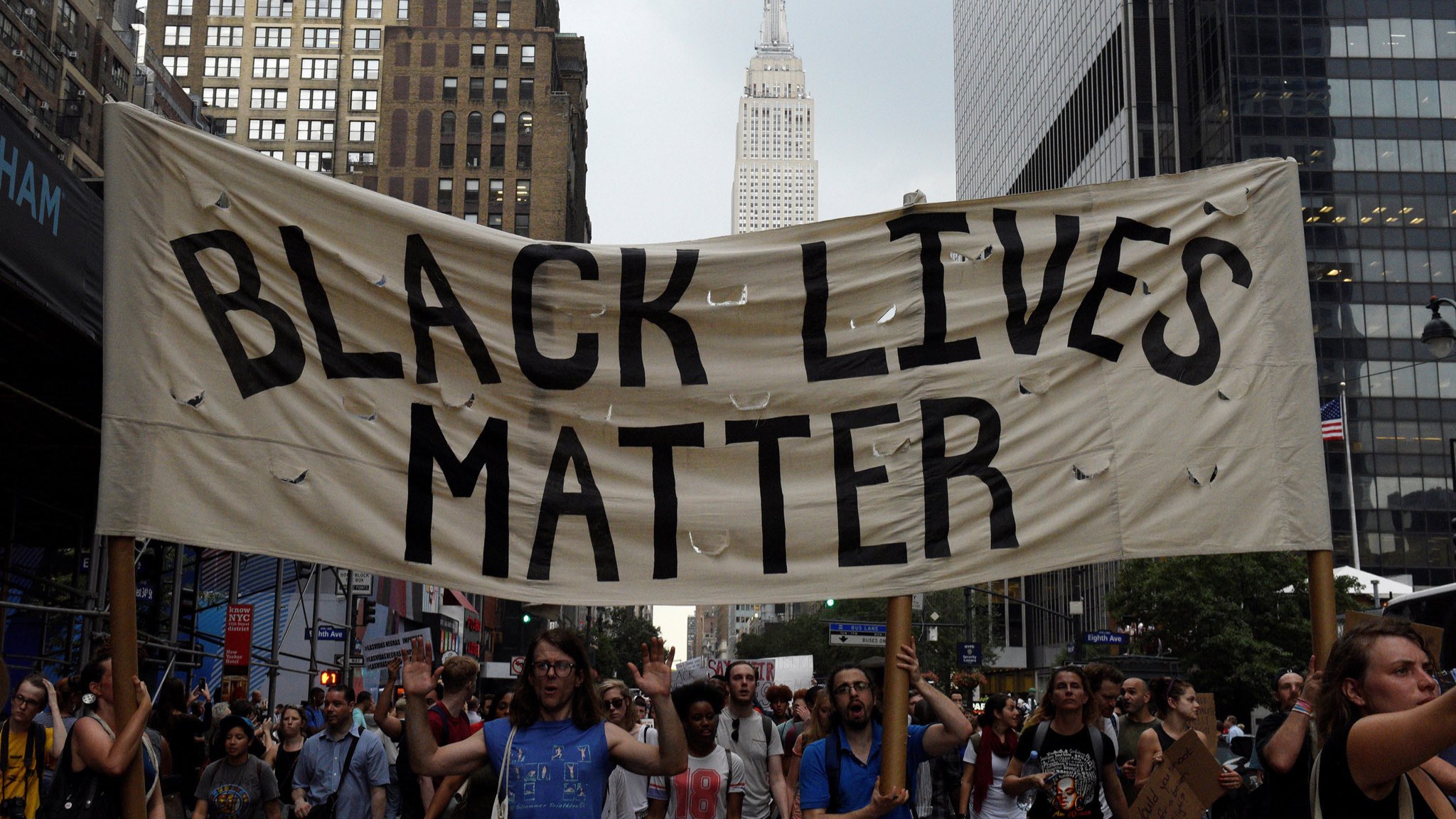 So last week I closed News From Cook's Corner with a guarantee that next week would be better. Welp…
I mean, I was kind of right. Professional wrestling news wasn't nearly as depressing or disheartening over the past week. Unfortunately, the rest of the world more than made up for it. I never really know what to say when these things pop up, as I feel like I have little authority to speak on matters of racial justice. I'm a Caucasian from Kentucky that's never had to worry about the idea that police wouldn't protect me. My experience is not the experience of other people.
On one hand, I find it hard to believe I've benefited from racial privilege, because it's not like my status in the grand scheme of things is all that great. One look at my rusted out Chrysler Concorde would tell you that. On the other hand, I don't have to worry about being shot at if I have my hands in my pockets. I've never had police break into my house. If I got arrested for some reason, which I don't plan on any time soon, I assume I would make it to the hoosegow in one piece. Heck, they might take me to Burger King if I ask nicely.
I know there is a percentage of you that don't want to hear about these things in a wrestling column. You want my takes on pro wrestling & nothing else. I understand that, but I feel like I would be doing a disservice to the situation if I ignored it. I'll address it one time, and then I'll shut up and listen, as us white folk should probably do at this point.
Things need to change, and we need to play our part in that change. It's become blatantly obvious we can't trust our elected leaders to lead the way. The people at the top of our government got there by dividing the people, not uniting them. Uniting people is not in their best interest, and they won't do anything that's not in their best interest. Any true change in the way things are will need to start from the ground up. As little as we think our voice matters, it can still create change in concert with others.
Hopefully you'll bear with me up on my soapbox for a little bit longer, as I offer my respect to the many pro wrestlers out there that have also commented on the situation in a responsible manner. That might cost them some fans & some social media follows, but some things are more important. Wrestling's racial history is complicated just like society's, and while great strides have been made by the current generation of wrestlers of color, there's still a long way to go. Here's hoping that people of color can continue to prosper in wrestling, and that those standing in the way either change or get out of the way. Pro wrestling is small potatoes in the grand scheme of things, but it's also a reflection of society. Promoters that refuse to book wrestlers that make their opinions known are merely re-enforcing the current system.
Whether you like the current system or not, it's not going to work long-term. The reaction gets louder every time. Our leaders might not have to worry about it because they won't be alive too much longer, but those of us in the 18-49 demographic will have to address it. If I had the answers…well, I wouldn't be launching into a wrestling news column.
But here we are.
WWE News
Matt Riddle is on his way to SmackDown, and WrestleTalk reports that Dominik Dijakovic is also expected to start on the main roster soon. I know that the success rate of NXT wrestlers on Raw & SmackDown is certainly hit or miss, but I can also see Riddle & Dijakovic doing very well. Both guys can work, and both guys also bring unique qualities to the table. Riddle has a certain charisma about him that should translate well to a network audience. People just seem to like him. As for Dijakovic…well, feast your eyes. Big, jacked dude that can do some big spots. You know Vince McMahon sees some potential in that guy.
I know the easy argument to make is that both guys will flop on the main roster because that's what almost always happens. I'm willing to give it a chance though. It's also a good thing to ease the NXT logjam that keeps people in their same spots forever, either on TV or off. Although at least now some of them get to be on TV by being the audience, so there's that. Say what you will about WWE being slow to the draw by finally introducing a live paid audience weeks after AEW did, but they've already had the second best fan moment of the pandemic era:
Mood.@KacyCatanzaro #SmackDown pic.twitter.com/l4BrOIdqlo

— WWE Universe (@WWEUniverse) May 30, 2020
Number one is still Dr. Britt Baker DMD hitting Cody with her shoe, and I don't see that getting topped. Actually, hold up, I think I just came up with a column for this week, or sometime pretty soon. So let's not spoil any more of that future piece of business.
Drew Gulak is back with WWE after briefly becoming a free agent. There was a bit of disparity between what WWE wanted to give Gulak and what Gulak thought he was worth, which led to negotiations taking longer than expected. As things turned out on television, nobody knew Gulak was gone for any period of time except people like us that are obsessed with wrestling news. Hopefully Drew got a good deal. It could have been fun to see him reunite with some old friends in another promotion, but it does seem like WWE has some interest in using him right now. Hope it stays that way!
Samoa Joe is still waiting to get cleared from a concussion. The Wrestling Observer & many other sources expect to see him behind the announce table going forward, and if he does get cleared it's unlikely he'll be working a full-time schedule in the ring. Joe being on television constantly should help any future matches he has garner an extra bit of interest. Joe is 41 years old and has a ton of miles on his tires, so it is about that time to make the next transition in his career. He's also good at announcing, which always helps.
This appears to leave Jerry Lawler out of the mix, which I would assume is perfectly fine with the King. He previously said he was only interested in coming back to Raw commentary as a favor, and would be happy to step aside when he was no longer needed. Lawler's absence solves a couple of problems for WWE: it's a bad look to have a 70+ year old flying around during a pandemic, and if he's not there he can't make "ramen noodle moonsault" jokes. Everybody wins here.
In other announcing news, Nigel McGuinness was among the names furloughed by WWE during the pandemic. Kurt Angle is already back on television again and his name was on that list, so all bets are off as to when we could see some of these people. Might be next week, might be next year. Depends on how that profit margin is looking.
Chris DeJospeh was released by WWE this week. He had been working as one of the top writers for SmackDown, reporting to Bruce Prichard. PWInsider noted that DeJoseph had received a promotion in the last week or so. My assumption was that he wrote the opening segment of this past Friday's show, and somebody important watched it. SEScoops.com reported that DeJoseph was released due to inappropriate conduct & remarks during a backstage meeting that infuriated Vince McMahon. I'd love to hear more about that. I'd also love to see some footage of that. In any event, I never get too wrapped up in WWE writer comings & goings because they're all Vince's shows. I never notice much of a difference when a writer arrives or leaves.
Kairi Sane had one of the worst weeks one can imagine. Reports came out this past week that she was one of the first people that saw Hana Kimura's social media posts and alerted people she knew in STARDOM to the situation. Just to show that no good deed goes unpunished, Kairi had her head busted open on the ring steps during a match with Nia Jax at the Raw tapings. You can guess how the reaction to that went. Fans were outraged at Nia Jax. WWE didn't blame Nia Jax. That's how it's going to go as long as Nia Jax wrestles for WWE. I think all we can hope for is that Kairi doesn't have to wrestle Nia anymore.
AEW News
I have to admit that I thought Double or Nothing would be way down from AEW's previous PPV efforts as far as buys go. It didn't feel like the buzz was there. Apparently it was, as Mike Johnson & Dave Meltzer are both reporting that the show did better than expected. In fact, it may have been the most purchased AEW PPV thus far. Even if AEW's overall viewership is down, they're turning more of those viewers into PPV buyers.
The one thing that generated the most negative comments online from the PPV was a spot in the Stadium Stampede match where Matt Hardy was drowned in a swimming pool so he could change into a different character. As Matt's wife Reby pointed out, it's a spot he's done for five years now. Usually it was at the Hardy Compound in the Lake of Reincarnation, but Matt changing into different characters after going into water is nothing new. However, Chris Jericho did admit that the segment of the match could have been thought out better, and he understands why people would have been offended by it.
My Take: If they found the same icebox they used for Matt/Kenny vs. Le Sex Gods, nobody would have thought anything of it. Sometimes you just gotta read the room. Even if you personally loved Shad Gaspard and didn't mean to invoke his memory in any way, you need to know that doing something similar to what led to his death will rub people the wrong way. Matt's a smart guy and he'll learn from it. We won't see him drowning for awhile. Everything else about the Stadium Stampede match seemed to be a major success and I expect it to be a drawing card for AEW going forward, much to the dismay of the second-most beloved Kentuckian in pro wrestling.
Clutch Adams had a match taped for AEW Dark to air this coming Tuesday. It could have been a big deal for him to work Shawn Spears on YouTube, but now that won't be airing. See, Adams had to go and be a homophobe on social media. 411mania was all over this story. Adams claimed that he couldn't get booked in Beyond Wrestling because he isn't "butt buddies" with the promoter. The tweet in question was deleted after Beyond Wrestling called him out and said they wouldn't be booking him anymore.
Of course, once you make one social media faux pas, people start looking back in your history to find some more. I'm not a huge fan of this, as I feel that people do have the capacity for change and most of us would shudder at things we said years ago whether they were offensive or not. That being said, it was a bad time for people to find out that Adams made all kinds of racist and homophobic tweets seven years ago. That, along with I presume knowledge of Adams' recent tweets, led to his match being removed from this week's AEW Dark.
I'm sure some will get mad over Adams' freedom of speech being violated or some such thing. Here's the thing: Beyond is an independent wrestling promotion. They can book any indy wrestler they want. They don't have to book somebody if they're not inclined to, for whatever reason they want. Also, last I checked, referring to people with homophobic slurs publicly isn't a good way to get on their good side. As for AEW, they can find anybody to job to Shawn Spears on Dark. Its an easy slot to fill. There's no reason for them to risk it on somebody that is prone to outbursts on social media, or in real life for that matter. Dark is a big opportunity, and we've seen AEW hire indy talent that show something in a match with an AEW regular.
Simply put, Clutch Adams couldn't have chosen a worse time to shoot his mouth off. If I was in that position, you wouldn't hear a damn thing from me on social media from that Wednesday until the next Tuesday except plugs for AEW Dark and my match. Sure, if world events intervene you can comment on those, and hopefully in a way that won't get you noticed in a negative light, but why would you go out of your way to talk shit? Makes no sense whatsoever.
Adams did post a heartfelt apology, and one hopes that he will learn from this experience and be better going forward. I will say that I'm not buying his explanation of "butt buddies" being "slang for being close or tight with someone". Unless verbiage has changed since the days I hung out with people immature enough to use the term, I think it's pretty obvious what's being insinuated there. Like I said, I hope he learns and gets better.
One could argue that this would also justify independent promoters that don't want to book wrestlers that aren't homophobic & racist. We've heard about promoters making suggestions to wrestlers not to be activist, or simply hashtagging Black Lives Matter. My response? Those promoters are entitled to their decision. They should put their name on it, so we know where they stand. Beyond made it perfectly clear where they stand. AEW made their move If other promotions want to favor racism or other phobias, or excuse them in the name of talent, they should be decent enough to let the consumer know. Makes sense to me.
Danny Havoc
Right around the time I was going to put the finishing touches on this column, I was alerted to the passing of Danny Havoc. Havoc was most known for his lengthy stint with Combat Zone Wrestling, a promotion he watched rabidly as a teenager and wanted to wrestle for. So he flew out from Iowa to do just that, and they didn't really have a school at the time. This was around when CHIKARA & CZW had combined their wrestling schools, and Havoc ended up learning a lot from Mike Quackenbush & Chris Hero. Now, you might not think Havoc learned a lot from those two considering most of his matches ended up being deathmatches, but it did give him the basics, and I think Havoc's creative side was helped along by both Quack & Hero, two wrestling masterminds.
My childhood best friend & I watched a ton of CZW during my visits to his residence over the years, and we saw most of Havoc's early work. Danny was willing to take an absolute beating from anybody on the roster, which served to get him over with a CZW audience that could be really tough to impress. It wasn't surprising to learn that Danny was one of the most widely respected men in the CZW locker room.
It also wasn't surprising to learn that Havoc put a lot of thought into his deathmatches. Havoc had a retirement match with Alex Colon for CZW that actually stuck for a couple of years, and it was interesting to see the drawings he made to plan out spots for the match, which were showcased when Vice's The Wrestlers series aired an episode on deathmatch wrestling. A lot of people dismiss deathmatch wrestling as mindless blood & guts with no rhyme or reason, and there are a lot of those matches that fall into that trap, but the best at the craft really shine through. Danny Havoc was one of those guys whose deathmatches always had some meaning.
Havoc had a return match for Matt Tremont's H20 promotion in 2019, and took part in a Game Changer Wrestling tour of Japan this year. He also competed on a GCW show in Cleveland in March, which would have been one of the last indy shows to take place before the coronavirus shut everybody down. I assume Havoc decided he was returning somewhere else than CZW when DJ Hyde botched buying glass for his retirement match.
Anybody that watched Danny Havoc assumed he wouldn't live to the average life expectancy. The guy was born two years after I was. That's way too soon. Sadly, we have to end this edition of the Corner paying respect to somebody that left this world way too soon.
I'm making no promises for next week. Calling my shot obviously didn't work.