Andrew's AJPW Summer Action Series 7.25.20 Results & Match Ratings
AJPW brings us two big title matches! Current tag team champions fight for the Triple Crown and the Junior title is on the line!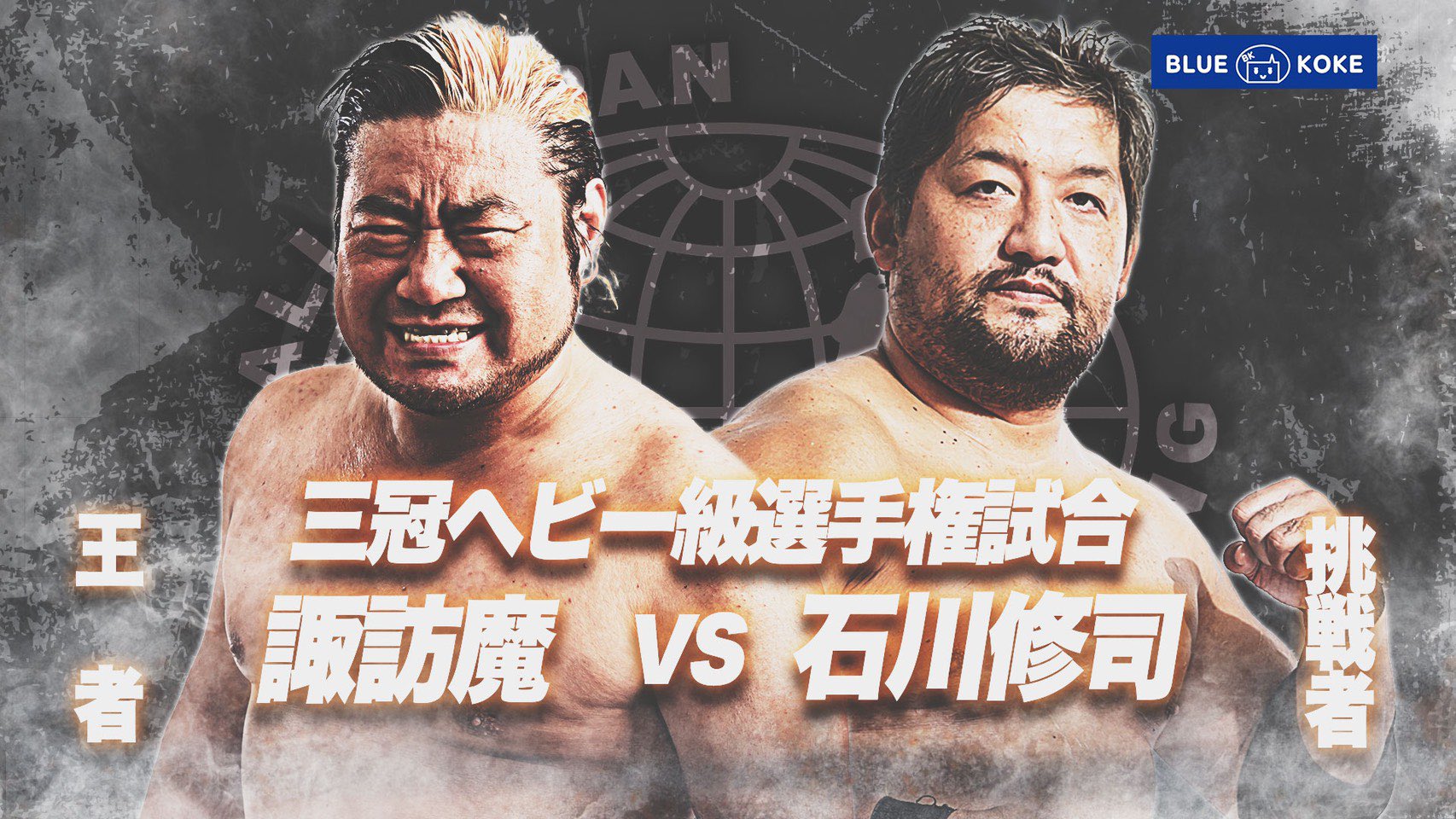 All Japan has been fairly consistent putting out content during this interesting quarantine period. Today we get two important championship matches.
Can Koji Iwamoto bring the Junior title back to AJPW? Does this match break up the Violence Giant tag team, and of course, who comes out victorious?
Aside from the title matches, we do get a match that should prove to be great fun with Enfantes Terrible going against a makeshift group involving Jiro Kuroshiro and Kento Miyahara. If that match doesn't entertain or lead somewhere, then I'm gonna eat my shoes.
Let's get to the match!
Ratings:
Yusuke Okada & Black Menso-re vs Evolution( Hikaru Sato & Dan Tamura): Dan wins via Cloverleaf Hold @8:40 – ** ¼
Atsuki Aoyagi, Yuma Aoyagi & Osamu Nishimura vs Masanobu Fuchi, Jake Lee & Takao Omori: Fuchi wins via Small Package @8:45 – * ¾
KAI &Tajiri vs Seigo Tachibana & Yoshitatsu vs Izanagi & Zeus: Izanagi wins via Small Package @6:45 – ***
Yusuke Kodama, Kuma Arashi, Hokuto Omori & Shotaro Ashino vs Kento Miyahara, Akira Francesco, RISING Hayato & Jiro "Ikemen" Kuroshiro:  Miyahara wins via Shutdown German Suplex Hold @15:00 – *** ½
AJPW World Junior Heavyweight Championship: Koji Iwamoto vs Susumu Yokosuka (c): Iwamoto wins via Koko no Geijutsu @15:55 – *** ¾ – TITLE CHANGE!!!!
Triple Crown Championship: SUWAMA (c) vs Shuji Ishikawa:  SUWAMA retains via Backdrop Hold @27:35 – **** ¼
Results:
Yusuke Okada & Black Menso-re vs Evolution (Hikaru Sato & Dan Tamura)
The wrinkle to make this match interesting is that Okada recently left Evolution to try and blaze his own path. Though it didn't seem to be malicious, judging from body language Sato wants to send a message and Dan is trying to prove that he's a better replacement. Sadly for Menso-re his use is mostly for comedy and to eat the pinfall.
In what was a surprisingly one sided match, the Evolution tandem, just beat on mostly Menso-re and Okada is isolated. Okada is coming off a very recent loss when he challenged Yoshitatsu for the GAORA TV title, so this is a good way to give him an new angle to work through.
Dan continued to look solid, a few awkward lockups, but he's still young. Quarantine has made any notions of excursions impossible, so nothing like learning beyond Young Boy limitations in your home promotion.
Atsuki Aoyagi, Yuma Aoyagi & Osamu Nishimura vs Masanobu Fuchi, Jake Lee & Takao Omori
If you've seen one Fuchi match over the last few years, you've seen them all. Being the Golden Age Junior Ace, All Japan fans regard him highly. So they tend to enjoy his antics, though they are always the same. Headlock, closed fist, opponents tell the referee it was closed, referee asks Fuchi he denies, fans in the crowd deny, he does it a few more times. Then once the match starts to come to a close, you see him hesitation Scoop Slam most of the younger talent willing to take the bump. I understand nostalgia, and I do appreciate that he has a role to play…but come on now…mix it up. Even if someone just knocked his head off with a chair during entrances to get heat…I tire of seeing the same formula.
Jake Lee is fantastic and Yuma Aoyagi looks more and more like a dweeb in this 2020 timeline. Hard to believe they tried to position Yuma as a threat to Kento's title reign earlier this year.
KAI &Tajiri vs Seigo Tachibana & Yoshitatsu vs Izanagi & Zeus
So this match had a nice mixture of 1 heavyweight and 1 junior on each team. I really enjoyed the fact that when Zeus and Izanagi hit the ring, Tajiri and KAI powdered, having Tatsu and Seigo take the attack. Yoshitatsu made it very obvious that he's…more of a dick. I can't say he's a heel outright, since he may be taking the tough love approach (lack of subtitles and conversational Japanese make it hard to pick up on idiosyncrasies).  But Yoshitatsu made Seigo do…99% of the work.
Seigo is gold though, even if he begged for a tag and Tatsu told him to stay in, he stayed in delinquent character. Doing the stereotypical thug squat, saying something demeaning, and then either paying for it, or getting in some offense. This was, a very fun match. There was even a point when Zeus took on the other four at the same time, lariated them into respective corners, went to the middle to pose, and everyone fell forward as Zeus posed.
Between Tatsu picking his spots, Tajiri trying to avoid big skirmishes but got grabbed by Utamaro on the outside, and Zeus just being the house that he is; it was hard not to find something to like. Izanagi picking up the win on Seigo works two ways. Seigo put up a good fight and had a few chances himself, but Izanagi starting to cement some of these wins, finally makes him look less like a chump.
Yusuke Kodama, Kuma Arashi, Hokuto Omori & Shotaro Ashino vs Kento Miyahara, Akira Francesco, RISING Hayato & Jiro "Ikemen" Kuroshiro
This whole match was a beautiful display of personality, including and of course after Jiro's 6 minute entrance. Hokuto kept going after Miyahara, which actually took Miyahara out of his element a few times, the young "North Wolf" did catch the Ace sleeping a few times.
Part of the fun here was seeing Ashino and Jiro interact together again. They had some great matches in Wrestle-1, style wise are complete opposites; but work tremendously together. Ashino even allows himself to play with Jiro's more flamboyant style and not be quite as serious. The other really fun aspect was Hayato and Miyahara's interactions. Miyahara tends to big brother a lot of the wrestlers, but Hayato gives it back a little. There was one point where Kento as dazed after Hokuto had the advantage, Hayato actually slapped the sense back into Kento to fire him back up; but only once. He tried to do it again later in the match and Kento smacked the crap out of him ahead of time.
Kento picking up the win over Hokuto just adds to the young wrestlers drive to compete with the Ace, and it works well. This was really fun, great pacing, and all eight are special. Here's to hoping Jiro decides to stick around longer than he initially planned.
AJPW World Junior Heavyweight Championship: Koji Iwamoto vs Susumu Yokosuka (c)
This is one of those matches that would've been better if it were a little longer or slower paced. Still not a bad match at all, we just went from 0-60 pretty quick.
Early on the match was about Yokosuka slowing things down, working a few limbs and hitting an assortment of submissions. Iwamoto tried to combat it with a few submission attempts of his own, but generally using his speed and power advantage. Midway through there was an Avalanche Suplex spot that looked waay too cooperative, but that was also the point in which the match felt like it turned into finisher spam.
Yokosuka hit the Yokosuka Cutter and Jumbo no Kachi a few times, but only for near falls. Then a flash Koko no Geijutsu gave the momentum back to Iwamoto, so he could hit one more correctly and be the first AJPW home talent to hold the new title.
Yokosuka does the respectful thing, where he places the belt on the new champion, but a new challenger is already in the wings. Dan Tamura steps up to challenge for the Junior title, which feels a little quick. Granted, smaller rosters are causing creative booking decisions for everyone, so this should be an interesting test for Tamura.
Triple Crown Championship: SUWAMA (c) vs Shuji Ishikawa
Well the shoe is on the other foot here. For a little context, the last time these two wrestled a singles was after SUWAMA beat Shuji in Champion Carnival 2017, so as the champion at the time, Shuji had a win to get back. So in July of 2017, Shuji beat SUWAMA's challenge, then after that they formed Violence Giant and haven't faced each other since. So there we go, they're 1-1, current Heavyweight Tag Champions, and this should be a great match.
The early goings was either stalemate since they've been tag partners for the last three years, or SUWAMA had a slight edge.  Once Shuji hit the Fire/Thunder Driver on the outside though, the match turned. SUWAMA sold a stinger for a while, his strikes were weak, his desperation was high and Shuji was in complete control. It wasn't until SUWAMA got fired up out of pure frustration hitting a Belly to Belly Suplex that he started to bring the match closer to equal.
We saw a great back and forth slugfest, done in more of an old 90s style of All Japan. Two men, known for high impact power moves, nothing too flashy, just a downright fight. Both men were exhausted and even the moves reflected so. A few great German Suplexes from SUWAMA, but because of Shuji's size and the exhaustion, he ended up throwing him more over his shoulder than straight over.
Shuji landed most of his big moves, Splash Mountain was a very close near fall, TSUNAMI, Kamigoye…just deliberate strikes and a hard fought fight. SUWAMA had to hit three Backdrop Drivers, finishing the last with the bridge for the Backdrop Hold to put his friend and tag team partner away.
SUWAMA's victory is a little short lived, since Kento and Jiro come out and…I'm pretty sure they challenged for the tag team championship. There were a lot of funny barbs, as you could tell from how Jiro and the crowd reacted to comments. I noticed that Jiro and Kento are a big contrast in how they speak. Kento was more demanding (he's the Ace and kind of arrogant at times), Jiro stumbled a little over his words (purposefully) and basically said please.
Overall Score: 7.5/10
So this was a great show and did stuff I loved. Self-contained narratives make me happy. By that I mean, Dan won his match, so he challenged for the Junior title. We saw him look impressive and they capitalize on that (even if he's most likely losing). Then we get some great interactions with Kento and Jiro during the eight man, and they cap off the night with a challenge.
Since we got the video package announcing the Atsusuhi Aoki memorial show and the dates for the Champion Carnival, this was an important time to watch. I'm very invested in Jiro and Kento, who will be in the Champion Carnival and how Dan fairs against Iwamoto.
Great show, with great prospects for the rest of the year.