Andrew's Impact Wrestling Results & Match Ratings 7.14.20
Slammiversary is July 18th! With all the possible names showing up, this Go Home could be quite interesting.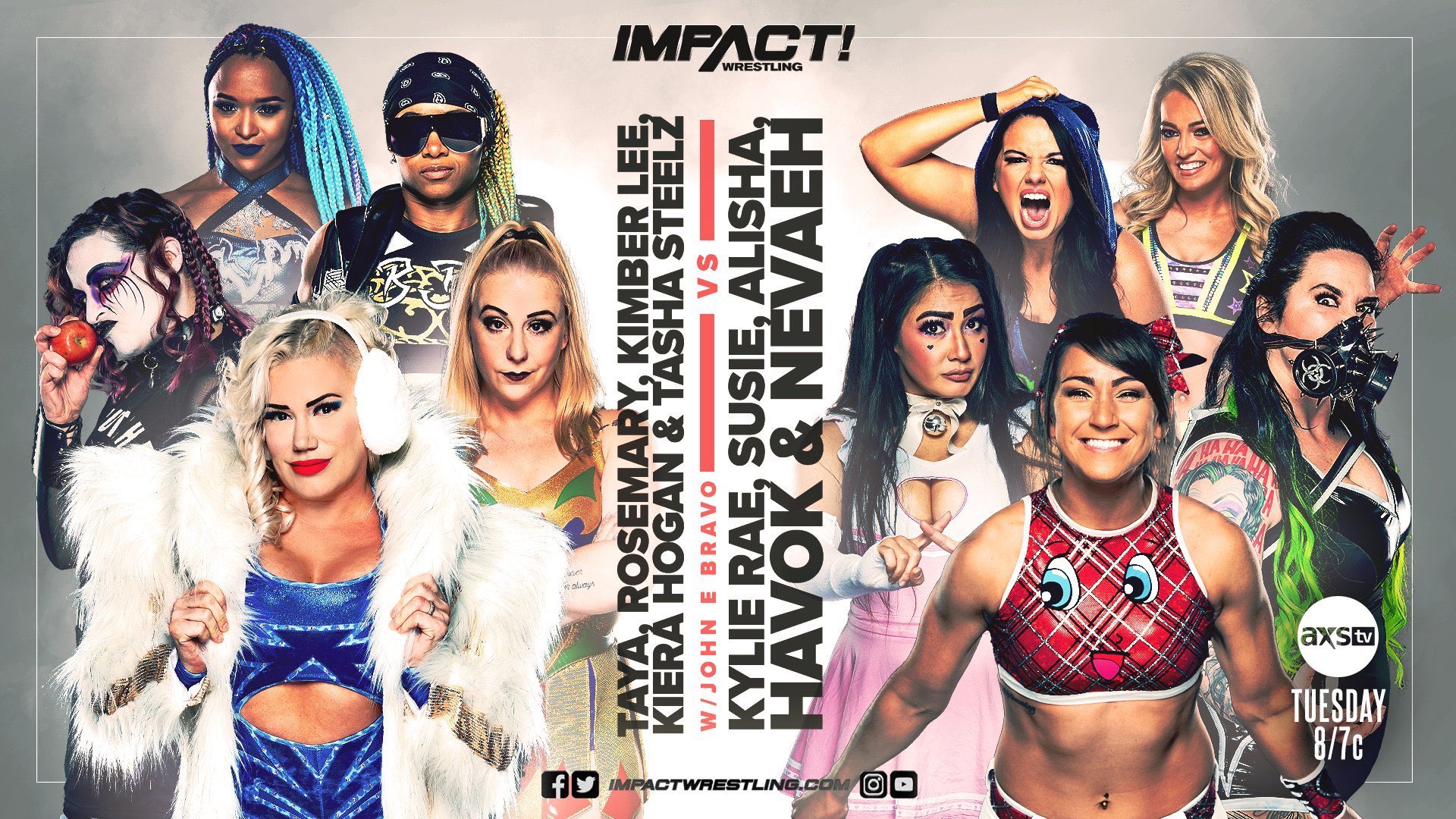 Well we've hit the Go Home for one of the most hyped Slammiversary shows in recent memory. Moose has to find a teammate against Dreamer and Crazzy Steve. Plus we get a big 10 Knockout tag match involving most of the gauntlet match participants.
Aside from that, I really have no clue what we're getting for this show. Hopefully Impact pulls out something interesting to motivate any naysayers to actually purchase the PPV.
Before the show, let's play some sad trombone for the Swingman. He just wants a friend.
.@DashingChrisBey just went and broke Johnny Swinger's heart. #IMPACTonAXSTV @swinger_johnny pic.twitter.com/Y3k3cfWv37

— IMPACT (@IMPACTWRESTLING) July 15, 2020
Ratings:
Rosemary, Taya Valkyrie, Kiera Hogan, Tasha Steelz & Kimber Lee vs Havok, Nevaeh, Susie, Kylie Rae & Alisha Edwards: Susie wins via Panic Switch – ***
XXXL (Acey Romero & Larry D) vs The Deaners (Cody Deaner & Cousin Jake): Jake wins via Crucifix Pin – * 1/2
Moose & Rohit Raju vs Tommy Dreamer & Crazzy Steve: Steve wins via King Kill 33 – ** 1/2 
Results:
Rosemary, Taya Valkyrie, Kiera Hogan, Tasha Steelz & Kimber Lee vs Havok, Nevaeh, Susie, Kylie Rae & Alisha Edwards
Well this was a very solid precursor match for the Knockouts Gauntlet match. Havok and Nevaeh enjoyed over powering Tasha and Kiera at different points, but things did come to parody. We saw a lot of the familiar feuds continue, everyone got in a decent amount of work (yes even Alisha) and Susie started tapping into the Su Yung a bit more. She hit the Aracna-rana, into a big signature melee from everyone; but she hits the Panic Switch on Kimber Lee for the pinfall and starts ticking like Su.
Are we going to lose our sweet innocent girl to the darkness?
Sweet Home…Ohio?
.@The_Ace_Austin has returned to Dayton, Ohio with @FultonWorld to prepare for #Slammiversary. #IMPACTonAXSTV pic.twitter.com/QyeRKibAKB

— IMPACT (@IMPACTWRESTLING) July 15, 2020
IMPACTPlus Flashback Moment: Slammiversary 2013, Ultimate X, TNA X Division Championship, Suicide vs Chris Sabin vs Kenny King
This was a nice way to cash in on the hype going around that Alex Shelley helped to fan the flames of a Chris Sabin return to Impact. Impact has played the flashbacks very well to play with the rumor mill. 
XXXL (Acey Romero & Larry D) vs The Deaners (Cody Deaner & Cousin Jake)
You know it's something when the initial talking point for commentary is that both of these teams need some momentum with a potential tag team shake up depending on the Slammiversary title match. The match is forgettable, the finish is dumb but lead to something at least. Larry hits a Powerbomb on Cody, but he's not the legal man, so Jake just hits him in the Crucifix pin.
After the match, the big boys turn heel, beatdown The Deaners and hit a tandem move on Jake to send a message.
Rohit gets no respect, but hopefully this is a slow build for him. He's actually been quite great thus far.
.@TheMooseNation couldn't find a tag team partner…so he turned to @HakimZane as his last resort. #IMPACTonAXSTV pic.twitter.com/3r88L7gkzc

— IMPACT (@IMPACTWRESTLING) July 15, 2020
Moose & Rohit Raju vs Tommy Dreamer & Crazzy Steve
A serviceable match which worked to preserve the main story match. Rohit did a lot of the heavy lifting and had Dreamer reeling, so when Moose looked to capitalize on Rohit's work, that's when the match fell apart a little for the TNA champion. Everyone put in decent work, but after Dreamer wiped out Moose on the outside, Rohit tried for the fast School Boy, but only for a two count. Steve managed to get the advantage, hit the middle rope DDT and secure the win for Dreamer's team. This continues to push the narrative that Rohit is a joke, protect Moose and technically give Dreamer a win on the books before the PPV.
Because the arm wrestling contest ended due to Moose being a jackass, Rhino and Hernandez had a bit of a parking lot brawl. We get a goofy cinematic which ends how a lot of dude fight/arguments do. Amusing enough.
.@SuperMexCTM and @Rhyno313 had a WILD brawl to settle their arm wrestling dispute. #IMPACTonAXSTV pic.twitter.com/uDBMOI6HXO

— IMPACT (@IMPACTWRESTLING) July 15, 2020
Well they plug in that long hype package for the main event four way again. Now I understand this is possibly because they had to cut footage because of people who are no longer with the company…but damn it makes me hate Trey more and more. It does do a great job at making Ace Austin look like a stud though.
So the end of the show is more hype packages. A bit of a retrospective for Eddie Edwards and the culmination of Trey going to some gym from his past. The gym apparently is also The Rascalz gym, so Trey gets wind of this, so him and Wentz head to the gym. Insert a 7 minutes cinematic with some brawling, some goofiness and ending in a stare down that gets figured out at Slammiversary. It wasn't bad for what it was, but the last nearly 30 minutes of this show being hype packages and goofy cinematics was odd. Not awful, just not what I expected. 
Overall Score: 5.5/10
While the show moved stories to a logical point before the PPV, and turned an irrelevant team heel to hopefully spark some interest, it felt weird. Tons of gaps in action between vignettes, segments and cinematic encounters. So when you have come to expect quality in-ring content, and you get weird intermittent pacing; I just don't think this show came off very well.
It definitely felt SUPER campy at times, the matches weren't great and Trey is about as believable as the main champion as Eugene. Strike that, Eugene had a better chance at being taken seriously. I know a few months ago I said that Wentz needed the most help getting over, but I feel like his workrate has won over a lot of people. Whereas, once the Trey's mom gimmick stopped…the holes in his entire game are glaring painful.
Hopefully Slammiversary pays off, because I feel the way they've teased some names will garner more attention than Impact has had in a while. Let's just hope they don't drop the ball.