Andrew's Impact Wrestling Results & Match Ratings 7.7.20
The penultimate IMPACT before Slammiversary! Later start time, but starting off with a smile!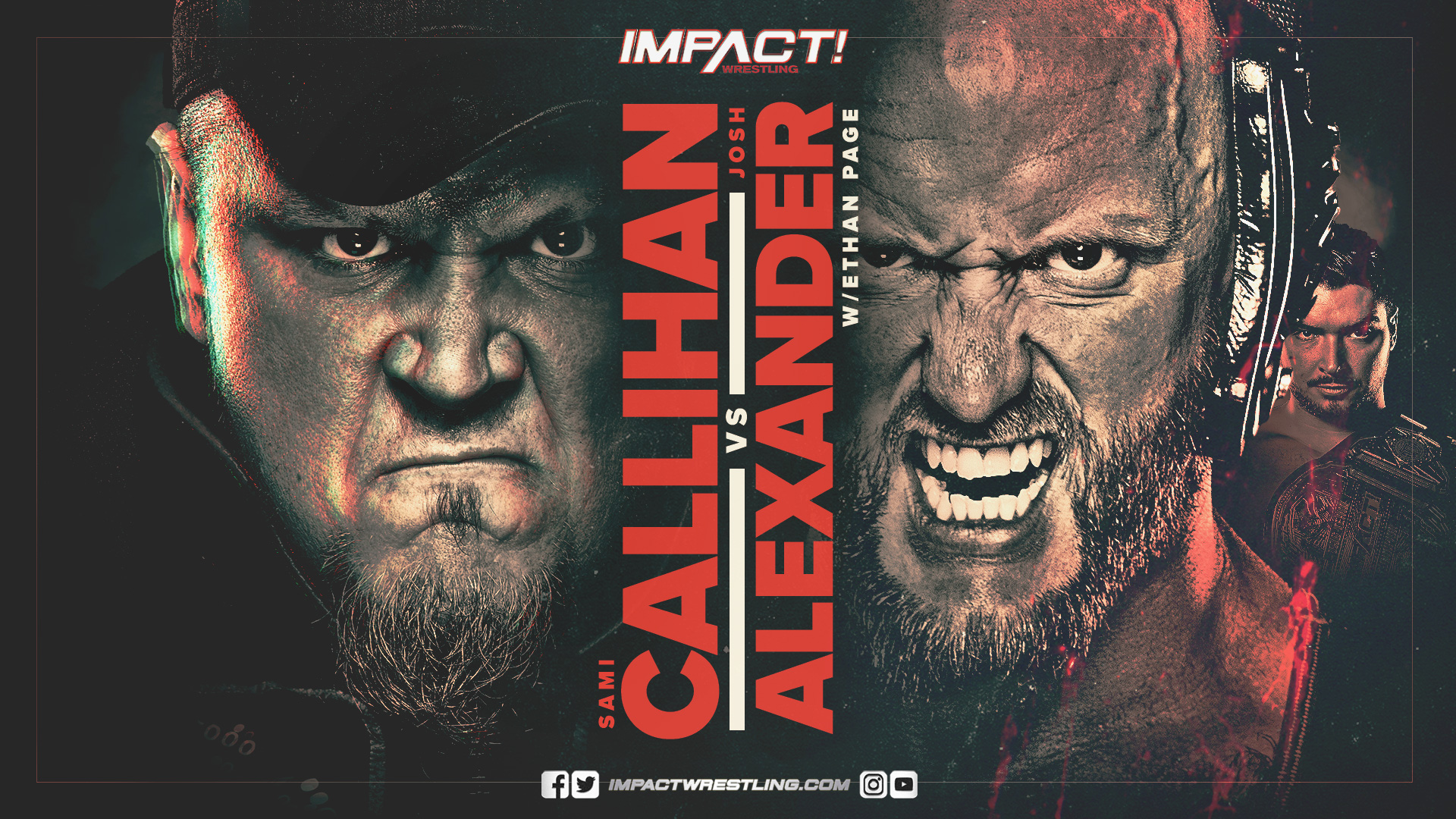 Since tonight marks the penultimate IMPACT before Slammiversary, we should get some angles coming to a head. Callihan and Shamrock will slowly start building some chemistry or stay suspicious of one another. Jordynne Grace gets a tune up before Deonna Purrazzo's challenge.
Most importantly, at least for Taya, she finally tags with her best demon friend Rosemary! Ragnarok begins, aiming to take out the the adorable duo of Kylie Rae and Susie.
The Knockouts kick things off, so let's see if Ragnarok begins…or…if that's bad!
Ratings:
Taya Valkyrie & Rosemary vs Susie & Kylie Rae: Kylie via Smile to the Finish – ***
Reno Scum vs The Deaners vs Fallah Bahh & TJP vs XXXL: Jake wins via Side Slam – **
Jordynne Grace vs Kimber Lee: Grace wins via Grace Driver – * 1/2
X Division Championship: Willie Mack (c) vs Swing-a-cide: Willie retains via Stunner – *
Josh Alexander w/Ethan Page vs Sami Callihan: Callihan wins via Piledriver – *** 1/4 
Results:
Well this was a terrible night to start off with for the Impact brand. Not only did they start an hour later than usual, without much heads up; their Twitch stream had a heart attack and froze twice within the first 20 minutes.
This caused a fairly large exodus from the stream by the time they got things worked out. Awful look before a big show.
Taya Valkyrie & Rosemary vs Susie & Kylie Rae
In what started as a solid match with Rosemary verbally berating Susie calling her an idiot, leading into a lot of Taya and Rosemary heel work. This was building to a solid crescendo with Kylie working over Rosemary, but the stream froze (Impact showed a replay after the show of the frozen segments so I'll restart the results).
So let's reestablish the match for a second. Kylie is very encouraging to Susie, trying to do tandem moves, team poses and just being cute. It very much seems like an older sister trying to involve a younger sibling. Taya and Rosemary really get across the verbal abuse about calling Susie an idiotic child, and she plays into the scared little girl in a horror movie trope. This is probably the first real understanding we've gotten of Susie. She's not so much Su Yung's good side, but perhaps an innocent inner child version before the darkness took her over.
Kylie did most of the work, and sold being exhausted but trying to protect Susie at the same time. Susie sells voices in her head combined with frustration at not being useful, before she finally comes in with a couple Shoteis to take out Rosemary. This allows Bravo to be distracted with his demon girlfriend, which causes Taya distress and a distraction. Kylie takes advantage of the distraction, hooks the heel and locks in the Smile to the Finish (STF).
I think this is Susie's first official win, and she looks confused/astonished/happy…this was just fun and great character work from everyone.
Reno Scum vs The Deaners vs Fallah Bahh & TJP vs XXXL
The intermittent lag issues continued, but this was a mess of a match. Lots of everyone in the ring, random brawling, and then Reno Scum and Kuyas brawl to the back. So I guess we're looking at a TJP & Fallah Bahh versus Reno Scum match soon. But back in the ring we've got…two teams with no momentum. So hey, one has to win, right?
XXXL beats around Cody since he's the size of a light lunch to them, but when Jake comes in; the story changes a bit. Acey wipes out Cody, but as Larry comes off the ropes, Jake catches him in a Pop Up Side Slam. Which as a move is uninteresting, but given the size of the man and context…it was a cool enough finish.
After the match, they cut backstage and we see a bit of the brawl and TJP hops in a trash can with a chair, and Fallah pushes him around like a battering ram. I guess they're trying to go for a meme worthy gif. Reno Scum gets the advantage…again, probably leading to a match. 
IMPACTplus Flashback Moment: Lockdown 2010, Tara & Angelina Love vs Velvet Sky & Madison Rayne, TNA Knockouts & Knockouts Tag Match
This match reminds how much I loved Lacey Von Erich…aesthetically…cause god was she awful at wrestling. 
Not a terrible backstage segment with Shamrock and Sami:
The World's Most Dangerous Tag Team has a nice ring to it, doesn't it? #IMPACTonAXSTV @ShamrockKen @TheSamiCallihan pic.twitter.com/f4hkGNIY0d

— IMPACT (@IMPACTWRESTLING) July 8, 2020
Jordynne Grace vs Kimber Lee
This match was slow, and frankly, boring. Kimber is being developed decently as a heel threat, but it's basic wrestling logic that you're not gonna have a dominant champion lose before a PPV. Jordynne fell victim to a few shortcuts, and again, just slow developing moves that looked far too telegraphed to be taken seriously.
Kimber goes for the brass knuckles but gets caught in the Grace Driver and the champion wins without a ton of struggle, just dealing with cheap shots.
We get a very long hype package for the 3 known competitors for the vacant Impact Wrestling title. Trey doing this screaming and trying to get angry, just has his voice crack and make him sound like a kid who wants his toy back. The last few weeks have done Trey no favors. 
Our world changes on July 18th at #Slammiversary as we are GUARANTEED a new World Champion.

Will it be @The_Ace_Austin, @TheEddieEdwards, @TheTreyMiguel or the mystery opponent? #IMPACTonAXSTV pic.twitter.com/by8alXIFJj

— IMPACT (@IMPACTWRESTLING) July 8, 2020
Willie Mack encounters Swing-a-cide, obviously knows it's Swinger and "reminds" him of his X Division title match. 
Locker Room Talk has a special guest, and it's – MADISON RAYNE! Yes this is a little cringey, but it's also pretty funny, especially the finish is very 90s sitcom. 
.@MadisonRayne welcomes one of the most iconic Knockouts of all-time to Locker Room Talk….HERSELF!

She'll entering the Knockouts #1 Contenders Gauntlet Match at #Slammiversary! #IMPACTonAXSTV pic.twitter.com/rWNITyJ1cV

— IMPACT (@IMPACTWRESTLING) July 8, 2020
X Division Championship: Willie Mack (c) vs Swing-a-cide
My rating on this is a little misleading. Yes the match wasn't good, but it was great comedically. Swinger tried to do Suicide moves and motions, and he knew them fairly well. He tried to Spiderman in the ropes…but it was pathetic, tried to do an Abdominal Stretch but failed, then he went to the top rope; was super uncomfortable, slipped, hit his face then stumbled into the Stunner.
Solid comedy, but nothing wonderful of course.
Okay Tommy Dreamer has an E&C Awesome Show caliber level of promo. Advised by Tricky Dicky Heyman. This was great. 
.@THETOMMYDREAMER went to the TNA Championship Committee and the TNA Director of Authority and he's going to face @TheMooseNation for the TNA World Heavyweight Championship at #Slammiversary! #IMPACTonAXSTV pic.twitter.com/iEuVjsFs5p

— IMPACT (@IMPACTWRESTLING) July 8, 2020
Josh Alexander w/Ethan Page vs Sami Callihan
This was a solid main event. Sami came out swinging and brawling damn well, even mitigating Ethan Page's presence for the most part. The small moments when Ethan's jawing did distract Sami, Josh hit a few nice power moves. A Vertical Suplex into apron and a Spin-Out Torture Rack Bomb had Sami reeling. Josh locked in an Ankle Lock as an interesting combination message. We all know that Ken Shamrock's signature move is the Ankle Lock, but Josh also picked the ankle that Shamrock used to make Sami pass out at Rebellion.
Sami hits the Piledriver on the apron, rolls Josh in, then Josh kicks out, causing Sami to fall into the referee. Ethan gets involved, but Shamrock shows up to make the save. Shamrock has the Ankle Lock on Ethan on the outside, Sami hits another Piledriver; and the match is over. This "World's Most Dangerous Tag Team" is picking up some steam.
Overall Score: 6/10
The early technical difficulties made this a very irritating watch. Impact did good since they replayed the segments after their post-show After Shock. Also after the show, they had another altered/extended teaser for Slammiversary. This time it confirmed the former World Champion isn't coming alone, so those 3 shot glasses we saw before are now full; then there are three hands that grab the shots. Plus on After Shock, Don Callis makes so many Good Brothers references that it actually gets annoying.
As for the show, we get a lot of obvious matches that weren't exactly riveting and mixed with the technical issues, it was really an awful look tonight. A good portion of why I scored the show so low was the fact it was about 25/30 minutes of issues before they figured it out. Plus Trey looked like such a punk in the promo, I want to watch him getting beaten so hard he stays on Xplosion for the rest of the year.
The main event was good stuff, built the story well, but just a bit on the rough side to get to the end. After they replayed the Knockouts tag, that brought the score up a little since that was a really fun match, but I'm still salty.