Andrew's New Japan Cup Results & Match Ratings 7.3.20: Day 8
Day 8 of the Los Ingobernables Cup! 3 out of 4 of the final competitors are LIJ members, so AT LEAST one of them will make the Finals.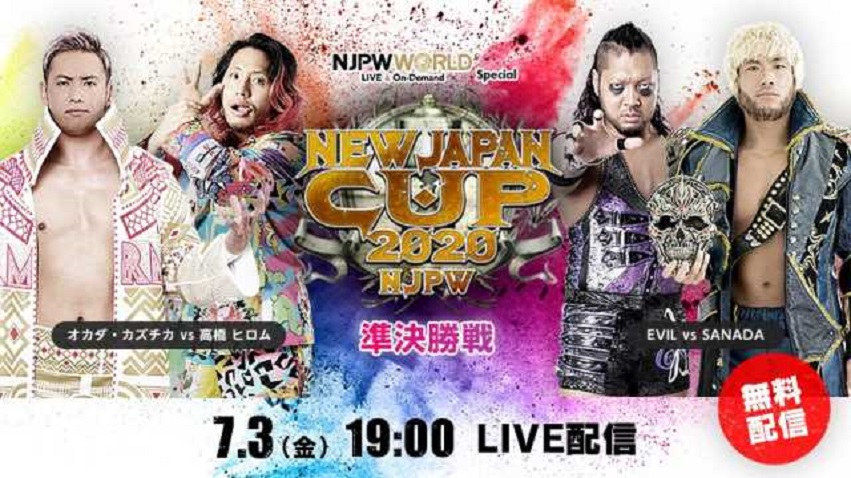 Hiromu is trying to earn his shot at Naito since their Anniversary match was ruined due to quarantine. But Okada is still Okada, and EVIL is looking to live up to his name a bit more this year.
Let's hope that we get some quality matches, and SANADA learns from all the other times EVIL has taken a few shortcuts, to anticipate some of the tactics.
Also apparently this day is free, so if you want to watch, click this link: https://njpwworld.com/p/s_series_00550_8_1
Now let's see who makes it to the Finals!
Ratings:
Minoru Suzuki, El Desperado, ZSJ & Taichi vs Gabriel Kidd, Yuji Nagata, Kota Ibushi & Hiroshi Tanahashi: El Desperado wins via Pinche Loco @12:15 – ***
Tomohiro Ishii, SHO & Hirooki Goto vs Shingo Takagi, BUSHI & Tetsuya Naito: SHO wins via Shock Arrow @13:25 – *** ¼
EVIL vs SANADA: EVIL wins via Everything is Evil @20:15 – *** ½
Kazuchika Okada vs Hiromu Takahashi: Okada wins via Cobra Clutch @27:00 – **** ¼
Results:
Minoru Suzuki, El Desperado, ZSJ & Taichi vs Gabriel Kidd, Yuji Nagata, Kota Ibushi & Hiroshi Tanahashi
If you've been following along with the tournament, the story dynamic here is obvious. Suzuki still isn't finished with Nagata, so we could see another singles match between them in the near future. Plus, Taichi defeated both tag team champions during The Cup, so it lends more credence to the challenge the Dangerous Tekkers made before quarantine.
Everyone branches off to their respective feud partner. ZSJ and Tanahashi go back and forth a bit, Taichi stayed out of things for the most part, but Tanahashi took a lot of offense. So they're playing up the fact that Tanahashi's age and injuries could make him the weak link in the Golden Aces.
After a few breakdown brawls, we get Despy in the ring alone with the Young Lion. Gabriel is getting progressively better, but we all know that more often than not, the Young Lions eat the pin. And a Pinche Loco from Despy continues the tradition.
Solid enough and always fun to watch the feuds build over the shows.
Tomohiro Ishii, SHO & Hirooki Goto vs Shingo Takagi, BUSHI & Tetsuya Naito
A match that didn't have much weight behind it, beyond SHO and Shingo…turned out to be pretty entertaining. Hirooki Goto still got a decent amount of time with Naito, so that really makes me wonder if these hints have any bearing on future title defenses.
The SHO and Shingo story carried this match, since they paired off often and it was always hard hitting. Yes we all saw BUSHI slip on air or something, and I liked how after the slip he wiped his foot back and forth. I always enjoy when people blame the inanimate object for why they messed up. Like when people smack the glove if they don't catch the baseball.
SHO and BUSHI had the finished sequence, which actually had a lot of importance. If BUSHI beat SHO, then he would've had a win over both Junior Tag Team Champions. SHO however, wouldn't be denied his chance to challenge Shingo for a different title. After hitting Powerbreaker, SHO does his Arrow taunt directly at Shingo, before hitting Shock Arrow on BUSHI.
The Grand Master is…Kawato…Master Wato. God this looks terrible. So Master Wato comes out, says a few things, poses and then gets beat down by DOUKI. If you're getting beat down by DOUKI, you're YOSHI-HASHI level of lame.
EVIL vs SANADA
I enjoyed the reference to their previous singles matches with the handshake and then EVIL tries to take a cheap shot. After that, the match is very similar to their other interactions, where the familiarity benefits both men. This match had a few more clunky spots than their usual encounters though.
SANADA didn't hook the Tiger Suplex clean, so there was a hitch there and the Shiranui was a complete mess. Plus Marty Asami being used by EVIL for the Magic Killer isn't new, but just didn't look good. I appreciated EVIL bringing back the Home Run Chairshot, but the finish made SANADA look like a bit of a jabroni. Getting shoved into the referee for the bump, EVIL hitting him with the Shoryuken to the ding ding and then the Stomp to the Boys…SANADA looked a bit dumb.
While the finish more than punctuated EVIL's desire to win by any means necessary, regardless of who, it made SANADA look dumb to me. While a solid match, it didn't build on their previous outings, and hurt SANADA more to me than anything else.
Kazuchika Okada vs Hiromu Takahashi
This was a slow burn of a match, where both men had control doing what they do best. Hiromu with the insanity and Okada mostly with his size advantage. Early on Hiromu used the running Apron Dropkick to kick Okada through the gate door on the barricade. He rolled in the ring, grinned and then had a look on his face like "FIIINE", like he heard someone's voice in his head saying "a champion doesn't take cheap wins".
As the strikes and signature moves came out, the intensity of the match built. Hiromu countered the Cobra Clutch once by lifting Okada up and driving him into the corner turnbuckle with the Death Valley Driver. Funnily enough, since Okada is reinventing himself a little, the first Rainmaker of the tournament was hit…by Hiromu. That Rainmaker lead into Time Bomb and that was a very close near fall. You could audibly hear Red Shoes saying "Only 2".
Receiving the moderate insult, Okada made sure to send a message. Rolling Rainmaker hit clean, and then he did something we don't see often, by holding wrist control and hitting multiple Short Arm Lariats. Hiromu was all heart in this match, trying to counter, fight from underneath, and pop back up from most of the bigger moves Okada threw at him. But this was too much, Repeating Rainmakers into the Cobra Clutch, Hiromu was out. Red Shoes calls for the bell, but to show Hiromu's resolve, he never tapped.
Overall Score: 7/10
While I do enjoy these 2 hour bite sized NJPW shows, the flaws are much easier to see and drag the product along. As entertaining as the early matches may have been, they were still very much what we've grown to expect. The early multi-man tags are story builders, but they are also for fans that enjoy that version of storytelling.
EVIL's victory was a little telegraphed to me, since he's always been more willing to take shortcuts (I would've hoped SANADA would've realized that and fought more intelligently), so that match may have been more enjoyed by others. The main event brought it, and was nice, but needing to wait 90 minutes to be hooked is a little rough.
Still solid action throughout, but since New Japan has set a fairly high standard, marginally above average still hits with the feelsbadman.
New Japan Cup Finals:
EVIL vs Kazuchika Okada (Okada is 3-1 over EVIL, but EVIL did have a big win in their first singles match back in 2017. This newer version of EVIL could be what he needs to bring the record closer to even. My pick will be EVIL, purely because Okada needs some distance from the title.)