Andrew's New Japan Cup Results & Match Ratings: Day 6
Last few matches before the Quarter Finals! Hopefully also the last win for YOSHI-HASHI (not a spoiler, come on, we all knew it).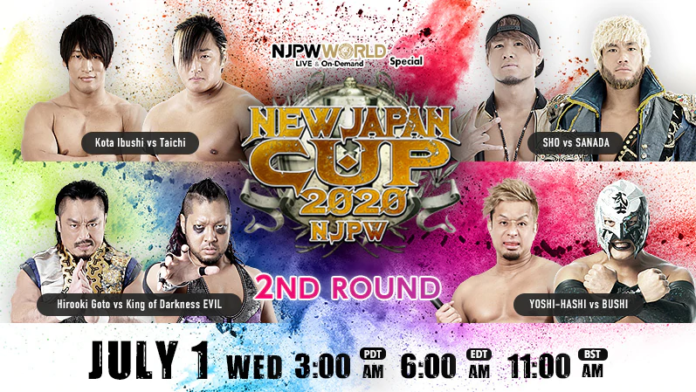 This may be mean to say, but I'm glad we're getting past this day. YOSHI-HASHI being handed two wins makes me question everything about this tournament so far. And yes, I know the match didn't happen yet, but come on, BUSHI, ugh.
At least we have Lord Taichi to root on and we get to see what new way Goto comes up short while still being marginally protected.
Okay I'm being more cynical than usual coming into this show. Who knows, maybe I'll be surprised. Let's find out!
Ratings:
BUSHI vs YOSHI-HASHI: HASHI wins via Karma @10:20 – **
SANADA vs SHO: SANADA wins via Skull End @14:45 – *** ¼
Toru Yano, Tomohiro Ishii & Yota Tsuji vs Shingo Takagi, Hiromu Takahashi & Tetsuya Naito: Hiromu wins via Boston Crab @13:05 – ***
Taichi w/ZSJ vs Kota Ibushi w/Hiroshi Tanahashi: Taichi wins via Black Mephisto @18:10 – *** ¾
EVIL vs Hirooki Goto: EVIL wins via Everything is Evil @18:25 – *** ½
Results:
BUSHI vs YOSHI-HASHI
Again, like I said in previous articles…HASHI got a layup, and still almost messed that up. This match was a perfect opener in the sense that it's over quickly and now we never have to think about it again. BUSHI got an early jump, HASHI eventually used his size to gain some space…but then he HASHI'd. It looked like he nearly messed up his right knee, but he just landed like an idiot.
Only real positive beyond it being over, is that HASHI won with Karma and not that awful looking Butterfly Lock. God YOSHI-HASHI is the actual worst.
SANADA vs SHO
This was interesting since it seemed like SHO wanted to prove his wrestling ability to SANADA. Many tie ups, float overs, counter holds and submission attempts from both men. SHO was working the Armbar as to make it harder to lock in the Skull End, but SANADA still powered through. Also to be noted, SHO did a lot of homework for this. Catching SANADA as he was following a rope run and also catching SANADA when he was doing his double leapfrog spot, landing a big German Suplex.
Definitely a solid match, where SHO showed a lot of ability to stick with someone in the upper mid card of the heavyweight division. The future is bright for Mr. High Voltage.
Toru Yano, Tomohiro Ishii & Yota Tsuji vs Shingo Takagi, Hiromu Takahashi & Tetsuya Naito
Some pieces to like about this match, but more of a place setting match. Yano had a ziplock bag with the lock of hair that he clipped from Hiromu. Hiromu instigated Ishii as often as he could, and they had a small exchange during the match. But most of the match was Tsuji getting beat up by everyone, trying to get a little payback (using a new lifting figure four necklock move) but eventually falling to Hiromu.
This was good since it established the fact Hiromu won't back down from Ishii and he was able to submit someone significantly bigger than himself (Young Lion or not). So in a world where perception is a good portion of reality, Hiromu helped to quell any lingering doubts.
Taichi w/ZSJ vs Kota Ibushi w/Hiroshi Tanahashi
This was a nice balance of the usual Suzuki-Gun match, and the type of matches Taichi has been putting on since moving to heavyweight. Early on ZSJ and Taichi were taking advantage of confusion and the fact Tanahashi stayed on the other side too often. So ZSJ got a few pot shots before Tanahashi could come in to break it up.
After initial shenanigans, we got a nice striking battle which turned into "who has the stronger kick". Taichi played the fighting spirit role well, took a lot of offense, and dished it back out. Ibushi did manage to pull off a Last Ride and caught Taichi mid Superkick and flipped him into the Bastard Driver for a cool looking spot. But a combination of ref bumps, low blows, ZSJ interference and Iron Fingers from Hell; set things up for the Holy Emperor to get the win via Black Mephisto.
Even though I listed a decent amount of heel tactics, they were spread out nicely to make the match pretty enjoyable. This also strengthens the bid for the tag titles since Taichi technically beat both tag champions during this tournament.
EVIL vs Hirooki Goto
EVIL attacked Goto as he was coming out to the ring, and the brawl was on from there! EVIL goes for his patented chairs, but Goto eventually quells the onslaught and slides back into the ring. Once in the ring Goto starts to gain a little momentum, but EVIL turns it around after hitting his Running Senton in the corner.
Unlike other power wrestler matches, neither of these guys are known for brutal or cool strike combinations. So the match did feel a little slow. But once we start getting closer to the finish, there are counters upon counters and signature hits. EVIL hit Darkness Falls, Goto hit a Reverse GTR and GTW, but none of that picked up the win.
As the men were struggling for position, Red Shoes takes a bump and EVIL sees an opening. Giving Goto the good old Garvin Stomp to the Boys, he then hits Everything is Evil and moves on to the Quarter Finals.
In the post-match speech he did say he's going to win by any means necessary to prove he's the new number 1. And taking a few more heel avenues than we're accustomed to…definitely proves that point.
Overall Score: 6.25/10
The predictability on every match, except for Taichi and Ibushi really took the air out of this day for me. Advantageously, we have 3 days in a row of New Japan action, so the next two have a lot of room to improve.
Between Taichi moving through the tag champions and EVIL living up to his name, we've got a few interesting storylines. Is EVIL setting up to win the whole thing and maybe break off of Los Ingobernables de Japon? If he has to face SANADA; will he go to any means necessary?
Also Taichi has been motivated by two different women in two different ways for his victories, so that might be a story. Stardom wrestler Tam Nakano made him a special bento (lunch) before his Tanahashi match and Miho Abe sent him a pair of her panties and a bikini photo (not joking, follow his Twitter). So where else might he glean some inspiration?
The stories set in place helped save this lack luster day. So now, let's look at all the Quarter Finals matches:
Taiji Ishimori vs Kazuchika Okada – (A top Junior versus the Ace. In what should be a fun match, I still hold that we may see Bullet Club shenanigans to get Ishimori a surprise upset.)
Hiromu Takahashi vs Tomohiro Ishii – (With all the love Hiromu has across Japanese and Western fans, people want to see him get his match against Naito. This will be difficult for Hiromu, but there's a good chance he gets the win here.)
SANADA vs Taichi – (The third first time meeting, is a big question mark. EVIL taking a 'by any means necessary' approach would really lend a lot of weight to multiple LIJ matches. So if SANADA wins here and Hiromu wins the other side of the bracket, we could really see the chance for EVIL to break out. I'm running with my playlist, and SANADA should win this, but Taichi may have more tricks or motivation up his sleeve.)
EVIL vs YOSHI-HASHI – (The only matchup we've seen before! I mean YOSHI-HASHI was handed this Quarter Finals appearance, but he still sucks. EVIL should win this with little trouble.)