Andrew's NOAH Stay Together Forever! Results & Match Ratings 7.18
NOAH is building up to some big matches in August. Naomichi Marufuji challenges for the Heavyweight title. Mutoh looks to sap the energy from the future star Kaito Kiyomiya. So the main event for this show Shiozaki/Kiyomiya vs Mutoh/Marufuji! Who gets the momentum?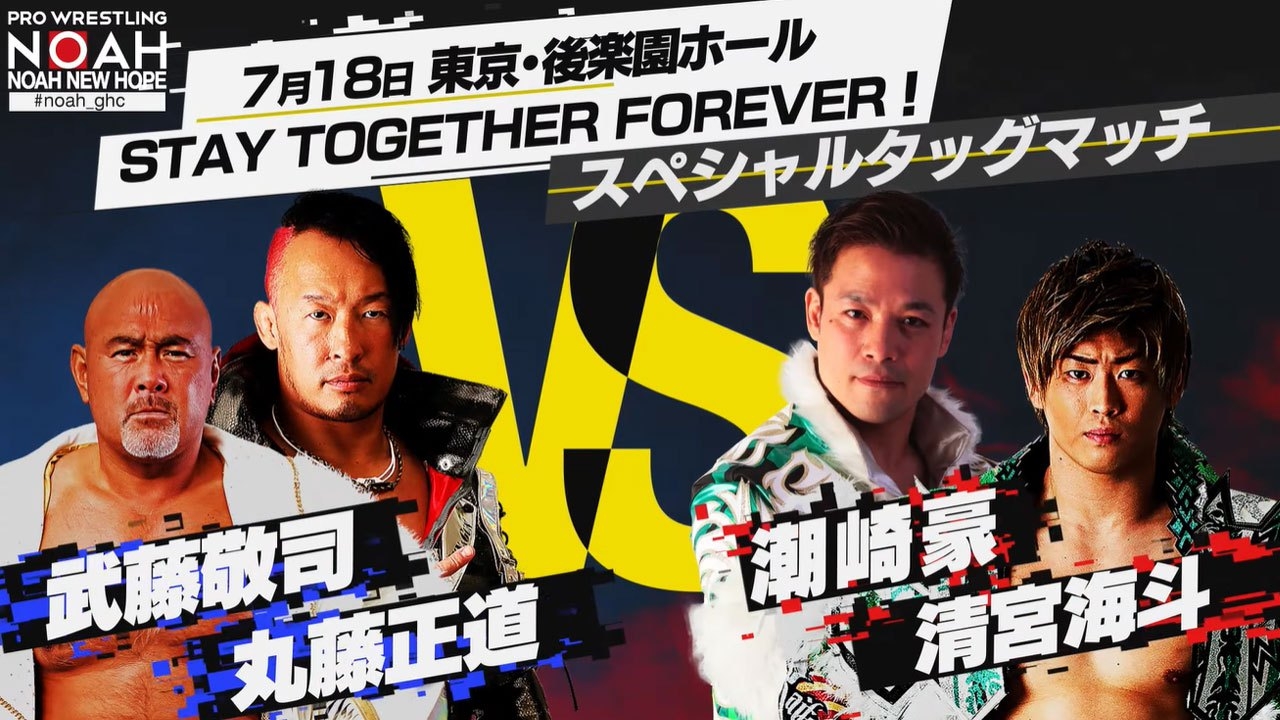 Much like the All Japan show I covered, this is a show leading to bigger things. This is a great show to familiarize yourself with the current landscape of NOAH and where the major players are placed.
The RATEL'S versus Stinger story never ends, even if RATEL'S is technically no more. Kenoh and his angry Ginyu Force engage in faction warfare, then we get the main event with our biggest potential matches. Naomichi Marufuji will challenge Go Shiozaki for the GHC Heavyweight Championship on August 8th to see who really embodies NOAH. Then we have Kaito Kiyomiya fishing his wish, as he will face Keiji Mutoh on August 10th.
Now let's see if the M Alliance builds momentum for the future, or if Shiozaki/Kaito can establish themselves as the unrivaled top of the food chain.
Ratings:
Kinya Okada vs Yoshiki Inamura: Inamura wins via Boston Crab @10:15 – ** ¼
Full Throttle (Atsushi Kotoge, Seiki Yoshioka & Hajime Ohara) vs Katsuhiko Nakajima, Mohammed Yone & Shuhei Taniguchi: Nakajima wins via Vertical Spike @15:25 – ***
3v3 Elimination Match: Stinger (HAYATA, Kotaro Suzuki & Yoshinari Ogawa) vs Daisuke Harada, Tadasuke & YO-HEY: Harada wins via Katayama German Suplex Hold @16:05 – ***
KONGO (Kenoh, Nio, Haoh, Masa Kitamiya & Manabu Soya) vs Sugiura-Gun (Takashi Sugiura, Kaz Hayashi, NOSAWA Rongai, Kendo Kashin & Kazushi Sakuraba): Sugiura wins via Olympic Slam @16:55 – *** ¼
Naomichi Marufuji & Keiji Mutoh vs Kaito Kiyomiya & Go Shiozaki: Marufuji wins via Hammerlock KO-OH @20:50 – *** ¾
Results:
Kinya Okada vs Yoshiki Inamura
As all Puro fans new and old should be used to, younger wrestlers kicking off a show is not a new concept. Inamura is a slight step above Young Boy since he was quickly incorporated into a faction and is Kongo's tank.
Inamura's power was met nicely with Okada's more old school striking/precision style of offense. The crowd was trying to rally Okada at different points, but mostly thanks to the slight experience edge for Inamura, the match was never really in jeopardy. Okada did show a nice flurry of kicks and a combination that could do him wonders in the future.
Decent enough opening match.
Full Throttle (Atsushi Kotoge, Seiki Yoshioka & Hajime Ohara) vs Katsuhiko Nakajima, Mohammed Yone & Shuhei Taniguchi
So this is a mismatch when you look at all the names, since Full Throttle is a Junior Heavyweight faction and the other side is three heavyweights. Will team chemistry prevail over the obvious strength and weight advantages?
Early on we are reminded that Kotoge is still crazy, but at least Seiki seems to be more willing to play. Seiki at least halfheartedly does the rev up motion for the Full Throttle faction, and he's grinning the entire time through his reluctance. So it's nice to see that it's like a Goku/Vegeta dynamic where Seiki wants to think it's dumb…but he kinda likes it as well.
This is made more evident when he fakes a Tope, instead opts for an Asai Moonsault to the outside, but overshoots and ends up on the announce table. He's not hurt, and the announcer is berating him playfully like a parent, so he apologizes, then the announcer does the Full Throttle motion so Seiki responds as he tries to return to the match a little embarrassed.
So even though he rolled out of the way forcing Kotoge to eat the full brunt of a scoop slam, and tries to act cool, he seems to be enjoying his new friends. Aside from the character growth and fun interactions, it's a solid match that sees the GHC National Champion go over Ohara with the Vertical Spike.
We did get a small glimpse at Seiki and Katsuhiko, so that's something I need more of.
3v3 Elimination Match: Stinger (HAYATA, Kotaro Suzuki & Yoshinari Ogawa) vs Daisuke Harada, Tadasuke & YO-HEY
After some decent back and forth, the former RATEL's trio puts HAYATA in the Tree of Woe, hits the Triple Sliding Kick, but HAYATA manages to tag in Ogawa. Before the stream can even introduce his stats, Tadasuke hits a Headlock Takedown, captures the Head and Leg, to pick up a flash pinfall. Ogawa is eliminated.
Kotaro comes in, takes it to Tadasuke and starts bringing the match momentum back to equilibrium. Tadasuke does manage to tag out to YO-HEY, so we get the Junior title preview. Suzuki seems almost a half-step slow, not because he's bad, but because YO-HEY actually has tricks up his sleeve. YO-HEY goes for Ganmen G, but Suzuki tries to counter it a few times. He tries to counter it with Requiem, but YO-HEY counters that with a Reverse Face G. Suzuki can't get his bearing, YO-HEY finally hits Ganmen G, and that's 2 Stinger members down.
Now alone against his former stablemates, HAYATA has to fend off numerous triple teams. He gets lucky and while charging, he tosses YO-HEY over the top rope, but he lands on the apron. However, a well-timed Superkick from HAYATA eliminates YO-HEY. Malfunction at the junction gives HAYATA another elimination when Tadasuke accidentally lariats Harada, allowing for HAYATA to roll him up with a Double Clutch Crucifix.
Harada takes a lot of this personally since he was the defacto leader of RATEL's and you can tell from his facial expressions this is very personal. So after some jockeying for position, Harada hits his Knee Upper, Rolling Elbow and then the Katayama German Suplex Hold, with emphasis.
KONGO (Kenoh, Nio, Haoh, Masa Kitamiya & Manabu Soya) vs Sugiura-Gun (Takashi Sugiura, Kaz Hayashi, NOSAWA Rongai, Kendo Kashin & Kazushi Sakuraba)
With 10 people in a match, it's a little silly to try and do any type of play by play, especially when it starts off as more of gang warfare. The fun thing to absorb during this match, was how much Kendo Kashin does not fit in with the rest of Sugiura-Gun.
Basically being an entire stable of wily old veterans, none of them are above taken liberties with rules or distracted referees, but Kendo wasn't on the same page. They were all beating on Haoh on the outside, Kendo tries to choke him with the guardrail and everyone is like "no, we don't do that". Then when Kenoh got tagged in and wiped out Kaz, NOSAWA and Suigura, Sakuraba was looking to tag, but Kendo wanted nothing of it.
That was especially great since it had veterans showing fear of Kenoh, so that makes him look like a bigger force. When Sakuraba weakened Kenoh a little, THAT's when Kendo wanted the tag and Sakuraba pulled his hand a back from the tag and said something snarky that popped the audience.
Lastly, we see the tried and tested team train attack. NOSAWA had to call Kendo back into the ring multiple times, and then Kendo reverses the Irish Whip sending Suguira into the corner to hit Nio. Sugiura gave him a "who the eff do you think you are" kind of look, but continued to murder, cause Sugiura is a killing machine.
All in all, it was a fun match, and I'm looking forward to how much more crap they're gonna take from Kendo Kashin before beating the hell out of him.
Naomichi Marufuji & Keiji Mutoh vs Kaito Kiyomiya & Go Shiozaki
The main event is a big match preview. Marufuji has challenged Shiozaki for the heavyweight title, and Mutoh has agreed to face Kaito. So it's a great generational clash. Mutoh would be looking to dispatch Kaito, which might open up a chance for him to challenge for the GHC Heavyweight and complete the Japanese Grand Slam (holding the 3 major Heavyweight Championship: IWGP, Triple Crown and GHC). Mutoh would only be the third person to pull this off (other 2 being: Kensuke Sasaki & Yoshihiro Takayama).
So it's nice to see that Dad Jokes/Grandpa Humor is the same even in Japan. After starting against Kaito, Mutoh powders out to regain his bearings and sees the newer addition NOAH has made to commentary in the form of Jurina (some may remember when she did guest stuff for NJPW, Japanese Pop Idol who really likes wrestling). So Mutoh goes over to her to do the M Alliance finger symbol. This makes sense because a few weeks ago they claimed that if your name ends with, starts with or has an M in it, you're part of the Alliance. Jurina's last name is Matsui. So Mutoh gets cute and you see him motion to the ring and say "touch", which in broken English wrestling direction is tag in, and nothing untoward. It was just an amusing interaction that really made me realize how similar dad humor is, the old "Get in there, you're on my team" kind of vibe.
Aside from that, this was pretty awesome at setting things up. Mutoh and Kaito have a nice chemistry that will hopefully get better when Kaito remembers the leg Mutoh kicks is the one that goes back, not that you fall to. But Marufuji looked like one hell of a threat. Even with Shiozaki brushing off Marufuji's chops and having his echo with every slap, Marufuji put together some great offense.
The corner combination into a flurry of Thrust Kicks + KO-OH attacks was nice. Plus Mutoh and Maurfuji showed decent tag chemistry doing a Shining Wizard/KO-OH combination on Go, followed by a KO-OH/Dragon Screw to Kaito's right knee, before Mutoh locked him in the figure four.
Plus winning with the close range hammerlock variant of the KO-OH looked pretty damn effective. Nice finish to a solid show.
Overall Score: 7/10
While nothing more than a lot of preliminary matches building toward their bigger show, nothing was bad. Even matches that were "just okay"; still did their job at advancing stories, dynamics or wrestler growth. We got a lot of threads to pull on, interactions to chew on, and this is the type of show that is just very enjoyable.
I especially enjoyed the fact the last two matches didn't focus on ring work (though it was still really good given the show and layout), they each told an interesting story depending on the perspective you took. Kaito's desire to prove himself against Mutoh coupled with the Misawa protégé versus Kobashi protégé and who really is NOAH, it's just great stuff.
Obviously the closer you follow the company, the more little idiosyncrasies matter, but this just felt like a fun show.