Cook's Top 5: Wrestlers Named After Dogs
Inspired by the AEW Puppy Battle Royale, Cook brings us his take on the Top 5 dog gimmicks!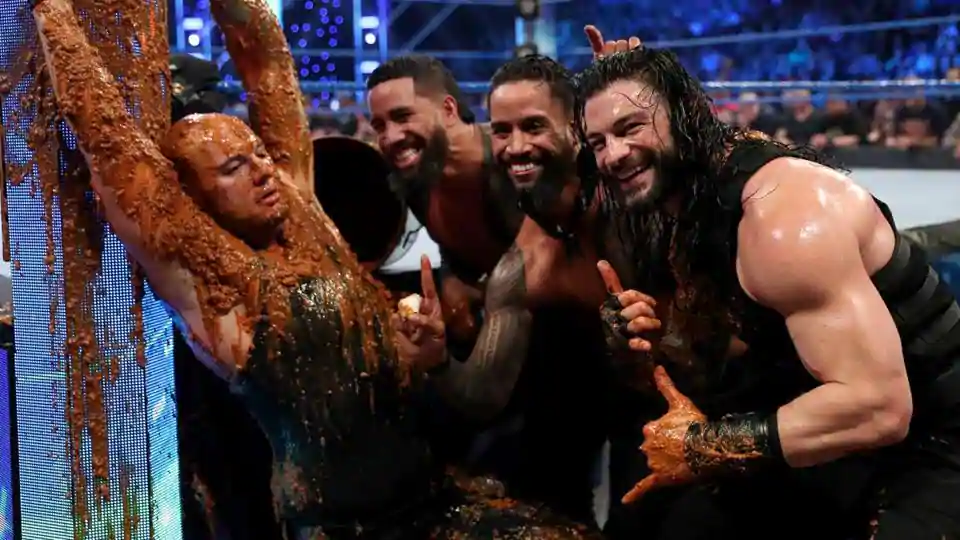 We've ranked animals here before. However, I must admit that dogs are back on my radar after seeing AEW's Puppy Battle Royale. I'm not sure how well man's best friend does with the 50+ demographic these days, but I do know that 18-49 year olds love them some puppies!
Puppy Penelope Ford & Puppy MJF made history on Wednesday night, and were just adorable while doing so. Now, I was going to rank some wrestling dogs like Pepe McMichael & Chloe Wilson, but while researching that I found out that another website that recently closed its wrestling section due to their editor being a sexual miscreant did a similar column last year. We don't want to follow in that guy's footsteps, so we've decided to rank the top 5 wrestlers named after dogs instead.
Makes sense, right?
5. "Dogfaced Gremlin" Rick Steiner
I've written about my love for Scott Steiner before, and I think everybody knows at this point that Big Poppa Pump is a living legend. Unfortunately, the success of the younger brother kind of leaves Rick under the radar, which isn't fair considering his contributions to the business. One of the best wrestlers to wear head gear of all time. Delivered one of the best clotheslines of the 1990s. Just a badass son of a gun.
4. "The Big Dog" Roman Reigns
How did Roman Reigns become the Big Dog? It's a good question. I'm pretty sure it was when he beat Undertaker at WrestleMania in a terrible match and became the ruler of The Yard. All I know for sure is that Michael Cole yelled it at the top of his lungs every time Roman came down to the ring afterwards, and it became a thing eventually. I'm sure people in demographics younger & older than I can tell you why Roman is a Big Dog. The only time I've really seen Roman's resemblance to a dog highlighted was in a Baron Corbin feud that I'd like to forget.
Either way, Roman's the BIG DOG.
3. The Rottweilers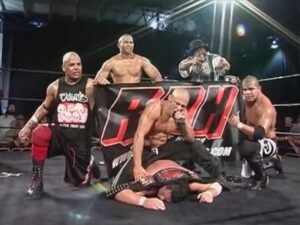 You think I'm leaving a group led by Homicide off of any list it could qualify for? No, sir! Homicide still scares the living hell out of me, and I am a fearless man. 'Cide ran New York for many years, still does as far as I can tell, and the Rottweilers were his merry band of tough guys that had no respect for ROH's Code of Honor or anybody in their way. Low Ki was a featured member of the group, as were the Havana Pitbulls, Ricky Reyes & Rocky Romero. Of course, there was also the spokesperson of the group, Julius Smokes. One of my favorite early ROH personalities that never quite made it as far as I thought he could have given his promo skills. This may or may not have had something to do with warrants in various states limiting his travel options. I can not confirm or deny any legal issues concerning Mr. Smokes, I just know I wish he was still telling people that their arms were too short to box with God on ROH shows, or on another show I watch regularly.
2. The Junkyard Dog
There is no wrestler more beloved in any geographic area today than JYD was in Louisiana back in the early 1980s. He was a folk hero to Mid-South Wrestling audiences that watched him battle the Fabulous Freebirds, Ted DiBiase, Butch Reed & the Big Cat, Ernie Ladd. Only natural that a dog & a cat would have a fierce rivalry. Dog was a household name in that area, with popularity that exceeded any other local sports hero.
He made the move to the WWF when pretty much every other territorial star did. While JYD's WWF run wasn't as inspired from an in-ring & creative perspective as his time in Mid-South, he was still one of the most popular babyfaces on the circuit, especially with the younger audience. Some even rank him second to Hulk Hogan. His feuds with Terry Funk & "King" Harley Race stand out from that period.
1. The British Bulldogs
Was there any doubt who would top this list? Maybe if I was a little bit younger I would have left Dynamite Kid out of the proceedings and put all the focus on Davey Boy Smith. I can't do that, if for no other reason than Matilda wasn't around for Davey Boy's singles run. The lovable bulldog replaced Captain Lou Albano as the team's manager towards the end of their run as tag team champions, and most people couldn't tell the difference.
Pro wrestling has had plenty of dogs, and wrestlers calling themselves dogs. Nobody lived up to the moniker like the Bulldogs & Matilda.