Cook's WWE The Horror Show At Extreme Rules Gambling Picks
You know, gambling odds can add a level of entertainment. Since Horror Show isn't really anticipated highly; Cook gives us the information to make our own fun!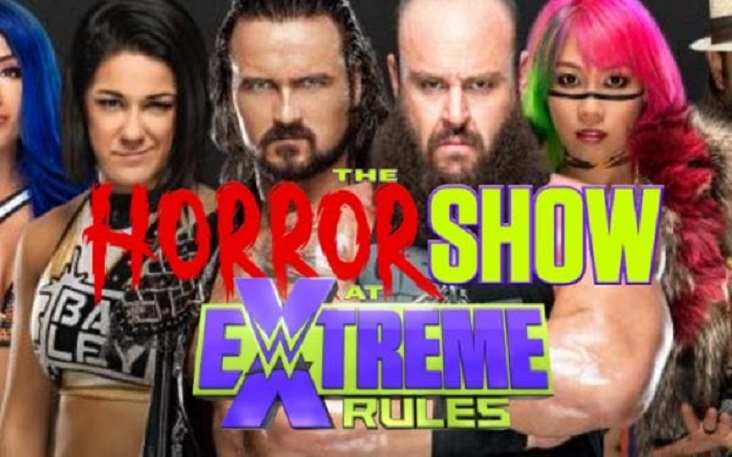 It's time to bet on some pro wrestling!
WWE presents The Horror Show at Extreme Rules this Sunday night on WWE Network and probably still on PPV. We've got six matches scheduled so far, some with some very extreme stipulations. Extreme enough to make this qualify as a Horror Show!
At least it's resulted in some pretty cool posters.
This time I had to go elsewhere to find some odds. WWELeaks posted some lines via 5Dimes Sportsbook. They seem accurate enough for column content for me, so let's figure out how we can make some money off of a Horror Show!
WWE have revealed another unique poster for The Horror Show at Extreme Rules.

Nikki Cross vs Bayley 🙌🏻 pic.twitter.com/6PgVW9Fmfy

— Gary Cassidy (@WrestlingGary) July 14, 2020
Bayley (c) vs. Nikki Cross
Bayley -530
Nikki Cross +350
Bayley Dos Straps has rarely been better during her stint with WWE. It's tough to make an argument in favor of her losing the SmackDown Women's Championship right now, esepcially considering the impact that title has on her friendship with Sasha Banks. The only argument I can make in favor of Nikki Cross winning is that she's just so darn adorable.
Adorable enough to pick at +350? Probably not. I'd just stay away from this one. Bayley will win but it won't make you much money.
Promo for Sasha Banks vs Asuka at Extreme Rules! pic.twitter.com/OJGZSphExT

— acab rocky (@TheNextBlGThing) July 15, 2020
Asuka (c) vs. Sasha Banks
Asuka -350
Sasha Banks +250
I've been all about the Boss in recent months. Sasha Banks has been on her A game and it's tough to pick against her in any match. Unless she's facing Asuka, and unless she's been getting the upper hand in their recent interactions. Everything about TV booking tells me that Asuka is getting the win here, leaving Sasha without a singles championship of her own & increasing the tension between Boss & Hug.
Not only did MVP introduce the new WWE United States Championship but he was the one who recieved a WWE United States Championship ring too in his career.@The305MVP is synonymous with the United States Championship.#WWERAW pic.twitter.com/OY3kpmGEdM

— WrestleNews365 (@365Wrestle) July 14, 2020
Apollo Crews (c) vs. MVP
Apollo Crews -380
MVP +315
There's not a match I like the underdog more in than this one. MVP has low key been one of WWE's top performers in 2020, you could even say he's been a candidate for MVP. The endgame of the feud should be putting Crews over, but I think you can get more mileage out of this by having MVP cheat to win the US Championship here, then have Crews comeback for the rematch at SummerSlam. I'm sensing a title change here.
.@reymysterio & @WWERollins…it's #EyeForAnEye this Sunday at The Horror Show at #ExtremeRules!#WWERaw pic.twitter.com/RMKdr0Sls9

— WWE (@WWE) July 15, 2020
Rey Mysterio vs. Seth Rollins
Rey Mysterio +200
Seth Rollins -280
It's an Eye for an Eye, meaning that the winner will be the person that manages to dislodge one of their opponents' eyes from its socket. I know, it sounds like something the Insane Clown Posse would book on a StrangleMania card, but this is where we're at in WWE 2020. They're trying different things, especially on shows like The Horror Show at Extreme Rules. Is this drawing any interest? Doesn't seem like it to me, but maybe we'll find out later that a ton of blood marks bought this show hoping to see something gross.
I'm a little surprised that Rey Mysterio is the underdog here. I know he's not under contract, but the story here seems to dictate that the Monday Night Messiah would lose an eye and declare himself a martyr or some such thing.
.@DMcIntyreWWE was the victim of a @HEELZiggler ambush on #WWERaw! pic.twitter.com/sLK7lyKO1c

— WWE (@WWE) July 16, 2020
Drew McIntyre (c) vs. Dolph Ziggler
Drew McIntyre -1,850
Dolph Ziggler +900
Nobody in the world is giving Dolph Ziggler a chance here. Should they? Well, he does have the advantage of deciding the match stipulation for a WWE Championship match, and the story tells us that he's not revealing it until just before the match. It's a hell of an advantage to have, and an easy out for Drew should he lose.
I don't think Drew would lose. But if Dolph Ziggler wins, you can get some pretty good money out of it. I suspect this line will get closer prior to matchtime because everybody will think this.
😱😱😱 "I was expecting @WWEBrayWyatt."

Dr. @rachelbonnetta meets 'The Fiend'. pic.twitter.com/A8xO9LF9nv

— WWE on FOX (@WWEonFOX) July 16, 2020
Braun Strowman vs. Bray Wyatt
Braun Strowman (+170)
Bray Wyatt (-230)
Braun is still Universal Champion, but it's a non-title Wyatt Swamp Fight. The fact that it's non-title & taking place in Bray's backyard gives Wyatt a pretty huge advantage here. Also, there's no other obvious opponent for Braun for SummerSlam, unless they get Goldberg or another big star to waste their time during a pandemic. I can't see Bray Wyatt losing here…but that doesn't mean it's a 100% guarantee. Bray has lost some big matches before.
Bray does tend to do well in matches of his own creation though. It's tempting to throw some money on Braun, but I wouldn't advise it.
Enjoy the gambling! And let me know if you win anything on Twitter so we can discuss my cut.