Mishal: Saving Jeff Hardy
How do you save Jeff Hardy? Mishal has the simple, one-step solution.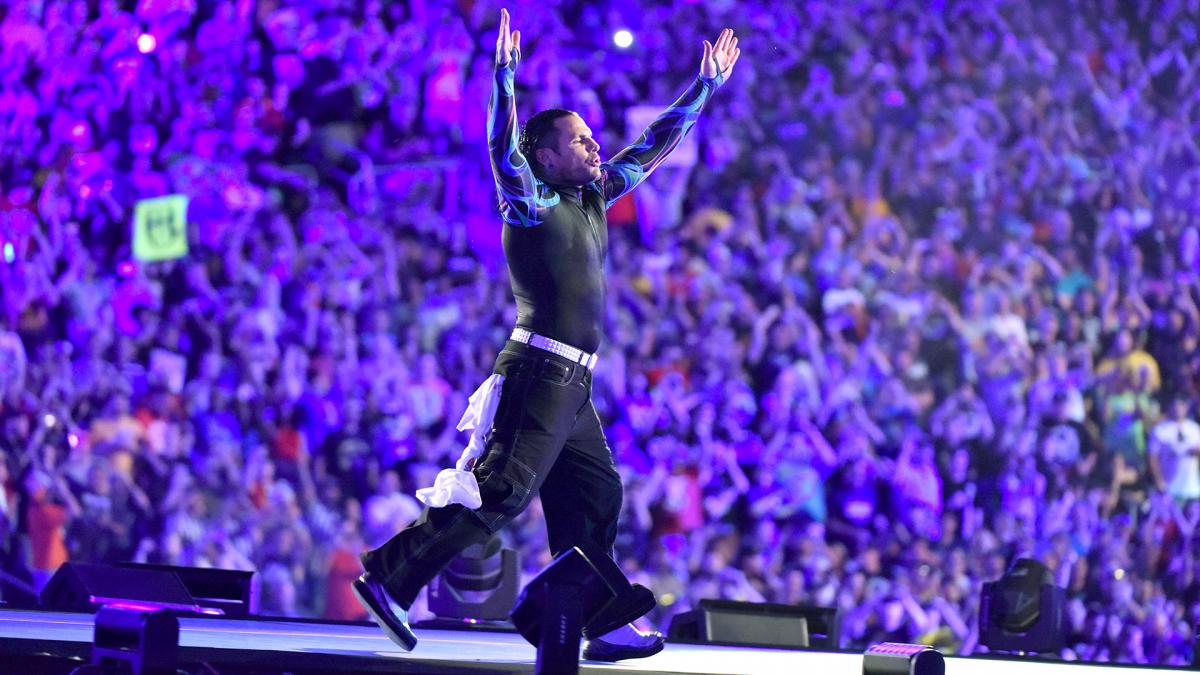 How do you save Jeff Hardy? Mishal has the simple, one-step solution.
Being a babyface in the modern era of professional wrestling is no easy task, to any performer across any company around the world.
Over the last decade or so the landscape of the business has changed in ways many never saw coming. The very nature of storytelling in professional wrestling isn't what it once was in the 80s or 90s, it's evolved in ways that make it both intriguing but obviously a challenge when presenting to a generation that you could say is more critical, vocal & potentially a lot more intelligent all due to the presence of the internet & the online wrestling community many of us argue within on a day-to-day basis.
To be a babyface in the current landscape doesn't seem to be the 'cool' thing to do anymore, especially if you pay attention to the millions of fans who consistently turn their backs on most major babyfaces handed to them, especially within the world of WWE. In the past, the likes of John Cena, Seth Rollins, The Rock, Roman Reigns, Batista & dozens of others have faced the wrath that fans can bring on the modern-day babyface in professional wrestling. Granted none of the flack they received was simply due to being the 'good guy', it's a complicated blend of booking, the state of the fanbase & how storylines are playing out at that specific moment in time. All these men were examples of the traditional, hardworking, flawless, happy-go-lucky babyface no longer being the most digestible option for a fanbase that's greatly evolved.
But through all these years of change, one character has withstood the test of time, that being Jeff Hardy.
Jeff Hardy is an oddity to me. His character is one that seemingly never ages over time, one that drifts perfectly between every generation of fans & one of the very, very rare cases in this industry where (in my opinion) a character doesn't actually need to change drastically in order to remain relevant. That isn't to say Hardy hasn't attempted to change his gimmick in the past, because there have been changes, some of which have worked, and one in particular that we'll touch on in a few seconds.
His WWE gimmick has remained more or less consistent, portrayed as the defiant, daredevil underdog that somehow always overcomes the odds regardless of the obstacle in front of him. His battles with the likes of Triple H, The Undertaker, Edge, CM Punk & Randy Orton were proof of that 'never say die' attitude that's made him so popular over the years. The Jeff Hardy character was never one to talk or hold a crowd by the words coming out of his mouth, he does his talking through fighting & risking everything he has to entertain his fanbase. And that's where Hardy's appeal has always lied, in the sacrifice he gives for our entertainment, despite the hiccups that have occurred outside the ring.
That is where my fundamental problem with the Jeff Hardy character comes in, or at least how he's been handled over the last number of months, that being the constant need to drag the man's personal life into a storyline. In the past, WWE has used this trope, and like almost any other idea they touch, is met with a host of mixed results from fan & critics alike. They constantly rewind to Hardy's troubled past with drugs, alcohol, substance abuse & battles with depression or family struggles, and while within moderation these angles can add to the reliability a character has with an audience, at times the way the company handles these genuine, real-world issues can come across as offensive in their writing.
Many other stars such as Shawn Michaels, Daniel Bryan, Edge, Randy Orton or even Jeff's own brother Matt have used their real lives to craft together a plethora of interesting storylines, develop their characters further & manage to give the audience more than just be the standard over-the-top character professional wrestlers are stereotyped for. Beyond anything, these men became more human when opening up to the fanbase, resulting in a connection that will always be quite special, whether heel or babyface.
Where the difference lies in how WWE treats their other talents as opposed to Jeff Hardy, which raises some major concerns.
Jeff's life has been a central theme in his rivalries against Randy Orton, Edge, Triple H, CM Punk, Jeff Jarrett (during his infamous TNA days) & as anyone keeping up with the current product has witnessed, Sheamus of all people. Of the previous names, arguably the best example of using Hardy's past to build on a story is during his battles against CM Punk, which remain criminally underrated. The battles they waged over both the Spring & Summer of 2009 weren't just fantastic storytelling & advanced both their characters forward in incredible directions prior to Hardy's sendoff from the company, but remain an excellent example of how to make stories personal without crossing boundaries. Everything they engaged with worked for one simple reason, it fit into the characters of both Hardy & Punk. Punk's character at the time was morphing into the 'Straightedge saviour' he would later identify himself with, justifying his abuse of Hardy over his past altercations with people as a result of alcohol & drug abuse, but also solidified him as the heel he so masterfully played. On the other hand, it only aided the fans in wanting Hardy to bounce back from his past & beat Punk for the World Heavyweight Title at the time, helping him as the babyface that never gives up.
Compare this to the current storyline with Sheamus, which presents similar themes only with one gigantic difference, the lack of subtlety behind anything. Rather than be a refreshing storyline on his past demons haunting him on his journey back to the top of the mountain or to attain a goal, his feud with Sheamus feels like a parody of ones that have come before. There's an over reliance on comedy, sketches, reenacted personal problems (the controversial car accident & drug test angles as examples) & on-the-nose dialogue that bogs it all down from being something truly personal. All of it is mauled by the writing team clearly trying too hard or not understanding that sometimes the flamboyant & ridiculous nature of professional wrestling isn't always what a feud needs to thrive. Sometimes it's just about the conflict, as Punk demonstrated years prior. On top of the bad presentation, it just doesn't fit the character of Sheamus himself, who plays the role of the brutish heel far better than a martyr of sorts trying to bring someone 'out of the dark', the storyline from the get-go tries to tackle too much ground when one of the rivals involved just isn't suited to accomplish what it sets out to do.
Nothing in this article is to suggest that WWE shouldn't delve into using personal issues per se, but rather think them through before shoving it into a rivalry that probably doesn't need a personal conflict to even be decent. On its own, this feud could have been a perfect rivalry based on bitterness, not alcoholism or battling your past demons which are presented in the most ridiculous manner possible that just don't reflect how serious the subject matter is.
My big gripe with the storyline is that it's wasting arguably the best pure babyface in WWE at the moment, by relegating him to a story that clearly just exists to be a form of shock factor to WWE's new audience over on FOX. It's clear the deal the company has going on with FOX is lucrative, and definitely raking in substantial amounts of money to their already sizeable profits, but this is one of those times a storyline is so disconnected from what the fanbase wants & thinks. So little about it rings like it's genuinely written to appeal to fans, instead feeling like an attempt to drag in casual viewers through 'controversy'.
Obviously a star like Hardy needs a solid, gripping storyline to engage with & so would fans, but all of their work as of late misses the key appeal he's always had as a character. He's never been one to talk extensively on the mic or work well with comedic segments, which is so frustrating to witness as a fan of not just the product but Hardy himself since I was a young fan seeing him redefine the business as we know it. The same goes for Sheamus, who's 'no holds barred' persona has been abandoned for a gimmick similar to CM Punk, something that sadly doesn't work due to his far weaker skills on a microphone.
The key to saving Jeff Hardy is simple, embrace who he is.
Jeff Hardy is all about the art he displays in between the ropes of the squared circle, the risks, the dives, the unique presentation & damage he puts his body through. With age, the latter has reduced but still remains a central part of who he is, both as a person & character, a concept so simple to utilize in the current wrestling landscape where this kind of action is appealed to all over the place, especially with the likes of AEW on the rise. Opponents such as AJ Styles, Bray Wyatt, Daniel Bryan, Matt Riddle, Drew Gulak, heck even Sheamus himself are all viable selections to run programs with when handed the right material, but their current ploy is just a major misfire for me personally. Completely failing to be what it wants to & instead feels like a parody of better angles that have come before in spades.
Rumours have swirled lately of a Jeff Hardy release sometime in the future due to (apparent) forgoing contract negotiations, and while I'd imagine WWE throw the biggest deal imaginable at one of their most beloved stars, it's hard to imagine this storyline playing well into a potential decision he may have to make at some stage. It seems more disrespectful to the man rather than a fitting tribute to all the battles he's waged to become the icon he is at this point in time, something no fan wants to feel when watching someone we've grown to love since the mid-90s. At a time of so much uncertainty should we play into the rumour wheel, the man deserves better than what he's playing with right now.
This is more of a letter to WWE than Hardy himself since the decisions generally come from the top. But with the state of the company's ratings & fan approval over their handling of this feud, it's hard to imagine a change shouldn't be contemplated in some manner or another. What happens this coming Sunday at Extreme Rules will give us a clearer picture of where we go from here, but as of this writing, Jeff Hardy deserves & is worth so much better than what he's doing for us right now. Regardless of his status, a legend deserves to be treated like one.