Mishal's Top 5 Matches In WWE Extreme Rules History
With WWE Extreme Rules right around the corner, Mishal takes a look at the Top 5 matches at WWE's annual "extreme" themed card!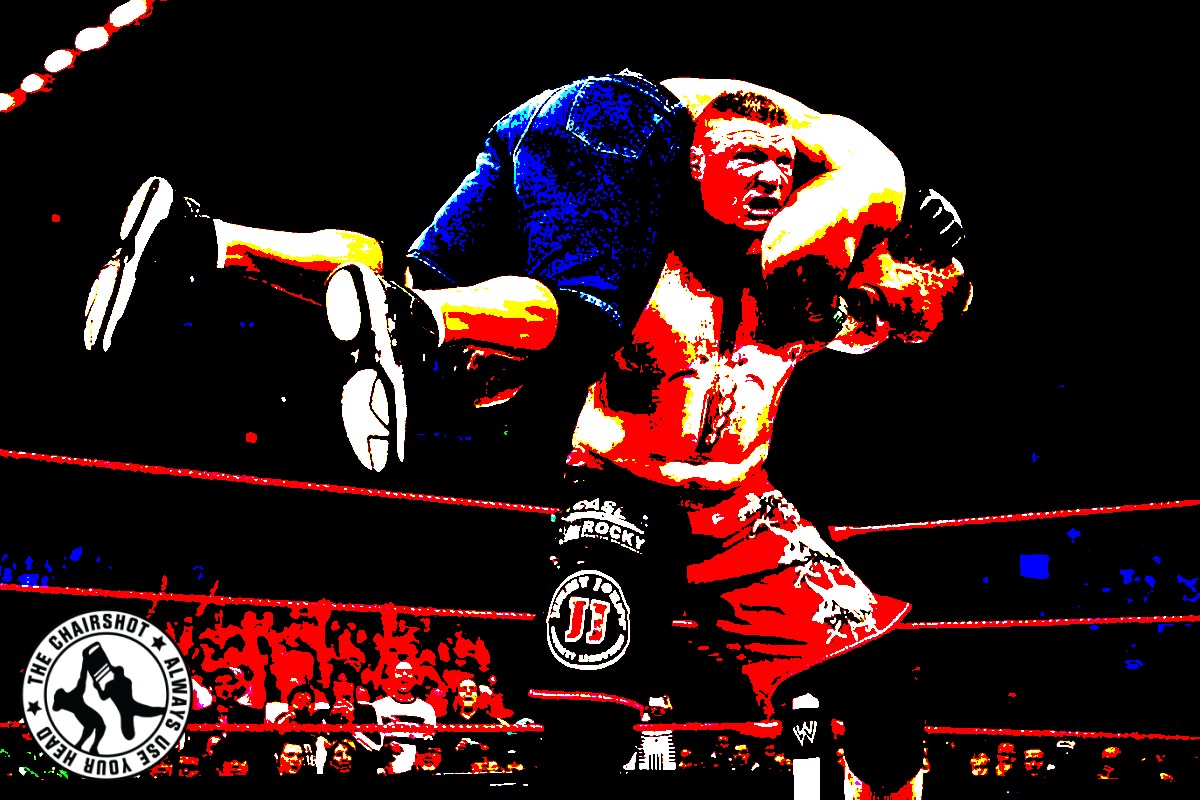 With WWE Extreme Rules right around the corner, Mishal takes a look at the Top 5 matches at WWE's annual "extreme" themed card!
WWE always claims that Extreme Rules is the one night of the year that the WWE 'goes extreme', the one night of the year where 'anything goes', where the stipulations come out in full force, weapons are scattered all over the place & the superstars of WWE go the furthest lengths to inflict as much pain on their fellow rivals as possible. It serves as the perfect release for fans bored of the standard wrestling cards we get most of the time across the business and allows for a release from much of the pent up aggression we can sometimes feel.
Extreme Rules, not just as a stipulation but as a show concept is an ideal way to either build or cap off the biggest feuds on your programming. From blood feuds to long-winded ones that are in need of closure the event allows for a solid amount of creativity that other events can't always implement due to certain stipulations requiring a specific time & place, which is why this event can be so vital to the fanbase as a whole.
Over the years the event has been somewhat slept on by many people, primarily because the past few renditions of the show haven't exactly been all that memorable. Nor has it lived up to the mantle of being 'extreme' per se. A lot of this could be directed to the shift in programming being increasingly more family-friendly over the years, but a part of me thinks this is out of sheer laziness on the creative team's behalf.
When the show has reached its peak though, it can be downright fantastic, providing matches that are constantly overlooked.
And since the latest edition is right around the corner as we speak, let's take a little glance at the 5 best matches in the history of the Extreme Rules pay-per-view.
Honourable Mentions:
Hornswoggle vs El Torito (Extreme Rules 2014)
On paper, the 'WeeLC' match should have been a colossal failure, but the fact that WWE succeeded in executing this match as well as it ended up being is something I'll always praise them for. Fully embracing the ludicrous gimmick at play in ways nobody pictured this is one of my personal favourite guilty pleasure matches of the decade. It's packed with action, insane spots & blows me away everytime I see it.
Edge vs Jeff Hardy – World Heavyweight Championship Match (Extreme Rules 2009)
One of the most criminally overlooked ladder matches in recent memory. Considering the amount of history between the two, Hardy's incredible babyface run over the course of the two years leading up to this & the heights they went to in order to finally see Hardy realize his dream was worth every minute of this underrated classic.
The Miz vs John Cena vs John Morrison – WWE Championship Match (Extreme Rules 2011)
Not a lot of people talk about this match, probably because a particular moment from this evening (which I'll touch on in a bit) overshadowed its genuine brilliance. Being held inside a Steel Cage can be somewhat of a restriction to most competitors, but Cena, Miz & Morrison used their surroundings perfectly alongside their individual character traits to craft an enthralling main event. Even though the finish was slightly predictable, this one still holds up all these years later.
CM Punk vs Randy Orton (Extreme Rules 2011)
While it wasn't at the highest point of CM Punk's career, his 2011 rivalry with Randy Orton resulted in some genuinely fantastic matches, this being the best of them. Unlike their standard match at WrestleMania prior to this one, this was packed with brutality, intensity & a much-needed example of just how good Punk was at the time despite coming up short. What followed Punk shortly after this is far more noteworthy than the match itself, but this is still amongst the best Last Man Standing matches in recent mem
Roman Reigns vs AJ Styles – WWE Championship Match (Extreme Rules 2016)
More than just a fantastic main event, this was the closest we'll get to seeing an Attitude Era-Esque match in a modern professional wrestling setting. Reigns & Styles have chemistry that not enough people talk about, their matches are put on at a ridiculous pace, endless amounts of big moves but more importantly understand how to play off one another to perfection. This was a wild main event, that never slowed down & established AJ Styles as a big name just months into his WWE career.
Top 5 Matches In WWE Extreme Rules History
5. Rey Mysterio vs Chris Jericho – Intercontinental Championship Match (Extreme Rules 2009)
In careers packed with history, some of the industry's most iconic moments, incredible matches against a whos who of talent & an ability to only grow better with age, Rey Mysterio & Chris Jericho are some of the very rare talents we as fans get to see come along. Regardless of who their opponent is, the night of the week or the event, you know you're in for something special when either man walks out into the squared circle to do battle.
Their 2009 feud, is in my opinion, the most overlooked of either man's career to this point (although the work they're doing in both AEW & WWE at the moment, respectively is superb). It was a feud that started on the simple premise of try to be the better man but soon transformed into Jericho's obsession with trying to unmask Mysterio from the mask that is more or less who he is at that stage in his career. This was the 2nd match in an already intense feud, stipulated under 'No Disqualification' rules to allow each man to do their worst, and it resulted in an unsung classic of how to execute professional wrestling storytelling.
Many will place the Jeff Hardy & Edge main event from the 2009 event above this one but there's something about the chemistry between Jericho & Mysterio that always draws me in. Neither man seems to miss a beat when they're mixing in the ring together, with near-flawless pacing that replicates their work years prior in WCW during the company's most successful days. This particular match was the perfect blend of aggression, unhinged cruiserweight action & storytelling, leading to a finish that at the time was gloriously wicked considering what it represents to the wider wrestling community, and still does. Considering this isn't even the best match of their feud that year is a testament to the work rate these two have when performing but is still a match I highly recommend since many forget just how incredible their work in 2009 ended up being.
4. The Shield vs Evolution (Extreme Rules 2014)
Talk about dream matches for the ages. In 2014 there wasn't a single match that was more talked about than when The Shield stepped up to the reformed, newly improved Evolution, in their first match together in just about a decade following their split years prior.
At this time there were few things in wrestling more prestigious than Seth Rollins, Dean Ambrose (the now, Jon Moxley) & Roman Reigns, a faction of wrestlers so immensely talented that they turned anything they touched into pure gold. Whether they were winning championships, stealing the show regardless of their place on the card or dismantling every WWE legend there is to name at that time (The Undertaker, The Rock, John Cena, Kane, Big Show, Mark Henry, Randy Orton to name a few), the three young men had a reputation for being the very best, most dangerous group of talent the business had on offer across the board. And it was tough to argue that position, they demanded it if anything. It was this reputation that made this the landmark occasion it was, a collision between wrestling's past & wrestling's future in a match we never thought we'd see with our own eyes.
To put it simply, it was special.
Despite being held under traditional tag team rules, this was war if there ever was one. It started off a little bit slow but over time built to the brawl you were expecting it to be, delivering all the goods you'd want from six men who have a reputation for their insane physicality in the ring. What this match did more than anything was display each mans individual set of skills that made them special. From Batista's brute strength, Triple H's brutality, Randy Orton's snake-like offence, Seth Rollins incredible agility, Dean Ambrose's lunacy or Roman Reign's no-nonsense brawling, it highlighted everyone & turned this into a platform for the three younger men to bounce off of. More than anything else this was about cementing The Shield as the standard-bearers for how a faction in professional wrestling should both look & feel, and with it being one of their final matches together I can't imagine a higher note to go out on.
3. Christian vs Alberto Del Rio – World Heavyweight Championship Match (Extreme Rules 2011)
As beautiful as professional wrestling can be, you don't always 'feel' every big moment you see. Extreme Rules 2011, was one of those rare moments where everyone cried tears of joy.
Following the heart-breaking retirement of the 'Rated R Superstar' Edge, the Ladder Match between Edge's real-life best friend Christian & Alberto Del Rio could not have come with higher stakes behind it. Not only was the match for the now vacant World Heavyweight Championship, but it would also mark the first time either man would claim a World Championship in WWE since their respective debuts.  Del Rio at the time was one of the company's golden boys, a heel that was always billed close to the top of the card in some manner & was riding a solid wave of momentum prior to this match. Christian, on the other hand, was a star always thrust back from reaching 'The Big One' in WWE, even though he holds one of the most consistent track records a wrestler could want, always stealing the show regardless of what or who he was up against.
As you'd expect from the stakes, this was a masterful contest that stands as one of the best of either man's career. Both men have always had chemistry in the ring that few can boast is as good, but this struck a different chord with fans. Packed with jaw-dropping action, brutality throughout, incredible high-spots, the drama you'd expect from any championship match & a level of experience from Christian that helped take this up to another level, it was the kind of big match fans pay money for. Easily the height of the matches emotions came towards the end, as Del Rio was about to clinch a victory was distracted by a surprise appearance from Edge himself who appeared from out of nowhere to assist his outnumbered best friend to a victory that had the arena shaking from the rafters with excitement.
Professional wrestling rarely writes moments as beautiful & as genuine as this one ended up. Despite the circumstances, this is the kind of storytelling fans live for.
2. Sheamus vs Daniel Bryan – World Heavyweight Championship Match (Extreme Rules 2012)
In terms of being 'extreme', I can't say this meets the standard. However, in terms of being a straightforward, brutal, exhausting wrestling match, this excels above & beyond even the ability of both Daniel Bryan & Sheamus that you've come to expect. Even though the match itself wasn't contested in a particularly brutal setting, one without cages, weapons, tables or a variety of items to use, the condition of both men coming out of this looked like they'd been through a plane crash. 2-out of-3 Falls matches have a tendency to be long-winded & exhausting, this might be the best of them that the WWE has presented over the last decade or so.
In front of a molten Chicago crowd, yearning for the new rising star Daniel Bryan and his newly coined 'Yes!' chant to take over following an explosive WrestleMania, the atmosphere for this threw me back to the old days of ECW. This didn't feel like your standard WWE match, the pacing & action was punishing, much more than other matches of this kind & the fans only aided. A rabid audience that just wanted to see a fantastic wrestling match & nothing else, and they got what they desired in spades. This match was everything their WrestleMania XXVIII (and even their scrapped XXVII) encounter should have been in retrospect, despite that matches successes. It was a star-making performance for Daniel Bryan, who was slowly ascending up the company ranks despite some hesitancy from the 'higher-ups' & a reminder to fans of just how good of a natural brawler Sheamus is when he's allowed to be who he is, a pure warrior.
While it may not stand at the most 'extreme' contest on this list or in the chronology of the Extreme Rules event, it stands amongst the best matches the event has ever seen & a match that deserves more attention than it seems to get. Regardless of your preferences, this is a match I'd go as far to call simply essential.
1. John Cena vs Brock Lesnar (Extreme Rules 2012)
When it comes to WWE's PG-era of programming, it's going to be very difficult to get anymore 'extreme' that John Cena & Brock Lesnar got in 2012.
Their epic main event came off the heels of one of the most remarkable returns in company history when Lesnar returned the night after WrestleMania XXVIII in Miami, where Cena was on the receiving end of an F5 that set the stage for a rematch between the two almost a decade after their previous outing against one another. Lesnar came into this the ultimate outsider, a monster with no chains, completely unhinged & one with no respect for those around him, which was the perfect setup to collide against the very face of WWE in John Cena, off a heartbreaking loss to The Rock just weeks prior.
More than just being a collision between two bonafide box office draws, this match was unlike any other you've likely ever seen. In fact, this wasn't even a wrestling match, it was a fight, an incredibly brutal one for that matter. Nothing about this fell under the traditional structure of a WWE main event, everything about it was brutal, methodical, hard to watch & punishing by blending Lesnar's MMA background against his ridiculous agility for a man his size. The result was a near 20-minute beatdown of Cena into a bloody pulp, hurling him around the ring, clobbering him in ways never seen before & tearing the ringside area apart to inflict as much punishment as possible. For a re-introduction to Brock Lesnar after all his years away from the sport, it couldn't have been done better. The final result is still a divisive one for many fans, myself included, who see Cena' victory as a colossal mistake, but that doesn't take away from the sheer brutality this managed to convey, especially with many doubting the levels it reached considering the company guidelines.
It may not be a 'mat classic', but in terms of story & spectacle, you'd struggle to find anything as jaw-dropping as what these two men on this night in Chicago. As many times as I've seen this, it holds up remarkably well to this very day & was an early warning of just how chaotic the next few years of Brock Lesnar would come to be in WWE. Besides being a phenomenal event, it was everything the Extreme Rules mantle should represent.
King: Dominik Mysterio Needs To Do This At WrestleMania
Chris King is here with what WWE should do with Dominik Mysterio at WrestleMania in his long-awaited match against his father Rey Mysterio Jr.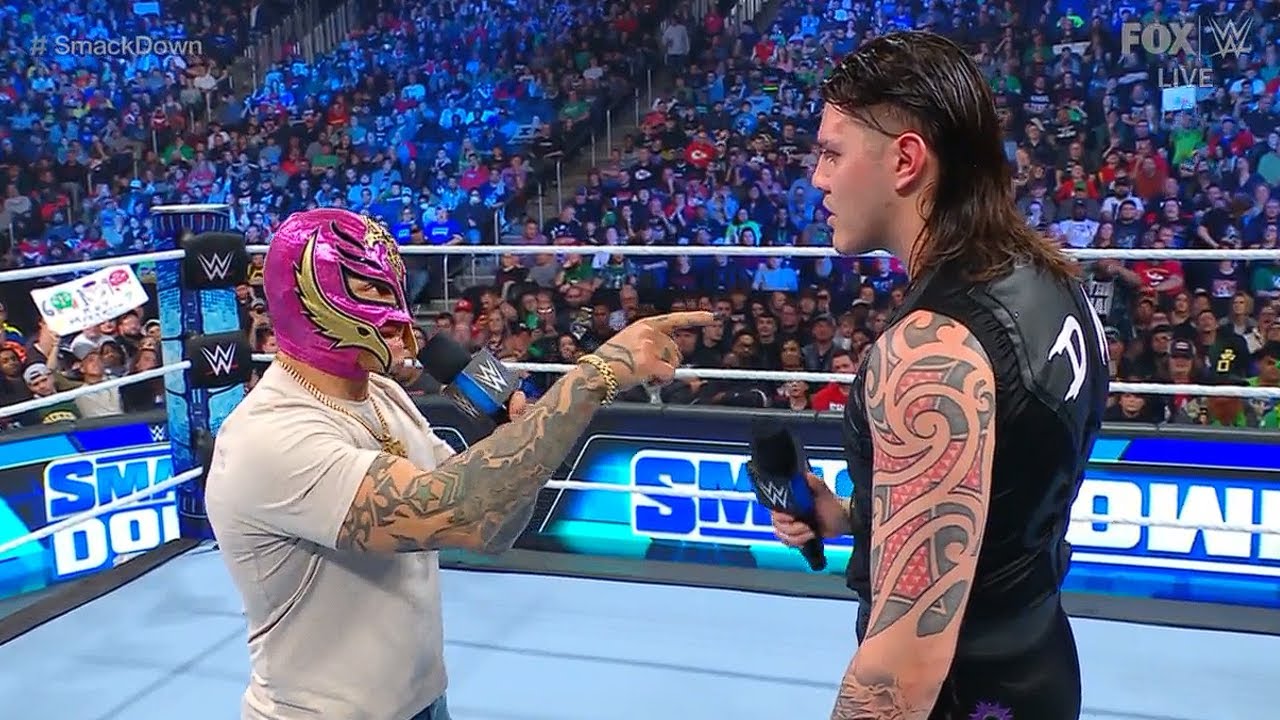 Chris King is here with what WWE should do with Dominik Mysterio at WrestleMania in his long-awaited match against his father Rey Mysterio Jr. 
On this week's episode of Friday Night SmackDown, Rey Mysterio finally snapped and beat some sense into his disrespectful punk-ass kid Dominik. The member of the Judgement Day came out to push his father again for a match on the Grandest Stage of Them All, this time with his mother and sister at ringside. The ungrateful punk told his mom to "Shut Up," as a father even I wanted to jump through the screen and whoop his ass.
Back in October of last year, Mysterio made the emotional decision to possibly quit the company but, instead, Triple H persuaded the Lucha libre superstar to move over to SmackDown to avoid his son. This came after Dominik shockingly turned on his father at Clash at the Castle. Mysterio did everything he could to refuse his despicable son's challenge for Mania but, a man can only be pushed so far. Mysterio will be inducted into the 2023 WWE Hall of Fame and I expect Dominik to embarrass his father during his speech to further this personal feud.
Yes, the WWE Universe hates Dominik and wants to see him get the ever-loving crap kicked out of him but, this feud is missing a special ingredient to capitalize on the biggest heat possible. Throughout this feud, Dominik has made mention of the legendary Eddie Guerrero on several occasions going back to the "iconic" 2005 feud.
I know WWE might not want to go this route but, Dominik MUST come out to Eddie Guerrero's theme at Mania. The disrespectful punk needs to come out in a lowrider to garner nuclear heat. It doesn't matter if The Judgement Day comes out and causes interference for Dominik to get the win, all that matters is that both superstars get the biggest payoff of this nearly year-long feud. Just imagine the Roman Reigns heat after he defeated The Undertaker and multiply that by ten. Dominik portrays the perfect heel and he truly is the missing ingredient that The Judgement Day needed to grow and evolve into a top faction.
King's WrestleMania Rewind: Eddie Guerrero vs. Rey Mysterio (WrestleMania 21)
In the next WrestleMania Rewind, Chris King takes us back to WWE WrestleMania 21, and Rey Mysterio vs Eddie Guerrero in a battle of tag team champions!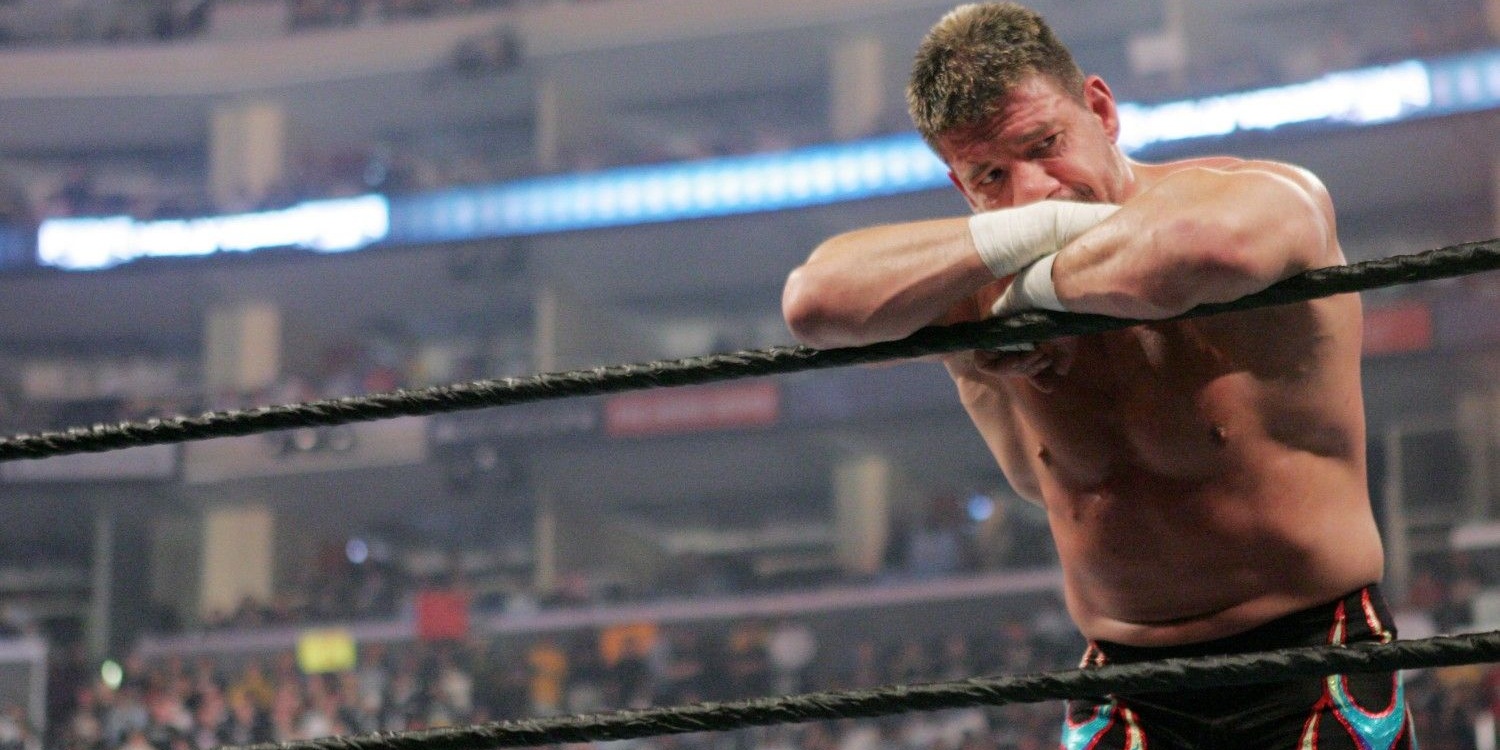 In the next WrestleMania Rewind, Chris King takes us back to WWE WrestleMania 21, and Rey Mysterio vs Eddie Guerrero in a battle of tag team champions!
Chris King is back with his third edition of WrestleMania Rewind. This week he's bringing us back to some 'Latino Heat.' We're rolling back to WrestleMania 21 where Eddie Guerrero faced longtime friend and rival Rey Mysterio.
This would be Guerrero's last Mania match caused by his unfortunate death. Over on SmackDown, Mysterio and Guerrero would become the tag team champions at No Way Out where they defeated MNM.
Chavo Guerrero would get into the head of Latino Heat by making him believe Mysterio was trying one-up his tag team partner. Chavo went as far as to tell his uncle to stop using the Guerrero name.
Guerrero would finally give in to his nephew's manipulation and went on to challenge Mysterio to a one-on-one match at WrestleMania 21. I For the first time in history, both tag team champions would face each other. Guerrero vs. Mysterio was the first match on the stacked card. Both partners threw everything at each other including the kitchen sink in a battle of one-up-manship.  In an incredible high-octane match that saw both superstars delivering counter for counter, Mysterio pulled off the win with a surprise pin roll up.
A few months later, what once was a friendly battle turned into a nasty fight involving the custody of Mysterio's real-life son Dominik Mysterio. After several torturous weeks, both former tag team champions would face off in a ladder match with the custody of Dominick on the line. I forgot how amazing this rivalry was and it's definitely worth a watch. Sadly, we would lose Latino Heat in November of 2005. There will never be another Eddie Guerrero. Viva La Raza!