Mishal's Top 5 Takeaways from (the Horror Show at) WWE Extreme Rules 2020
"I'm over the moon that WWE has let its creative chops flair more than ever, I just wish they'd think through what they presented more…"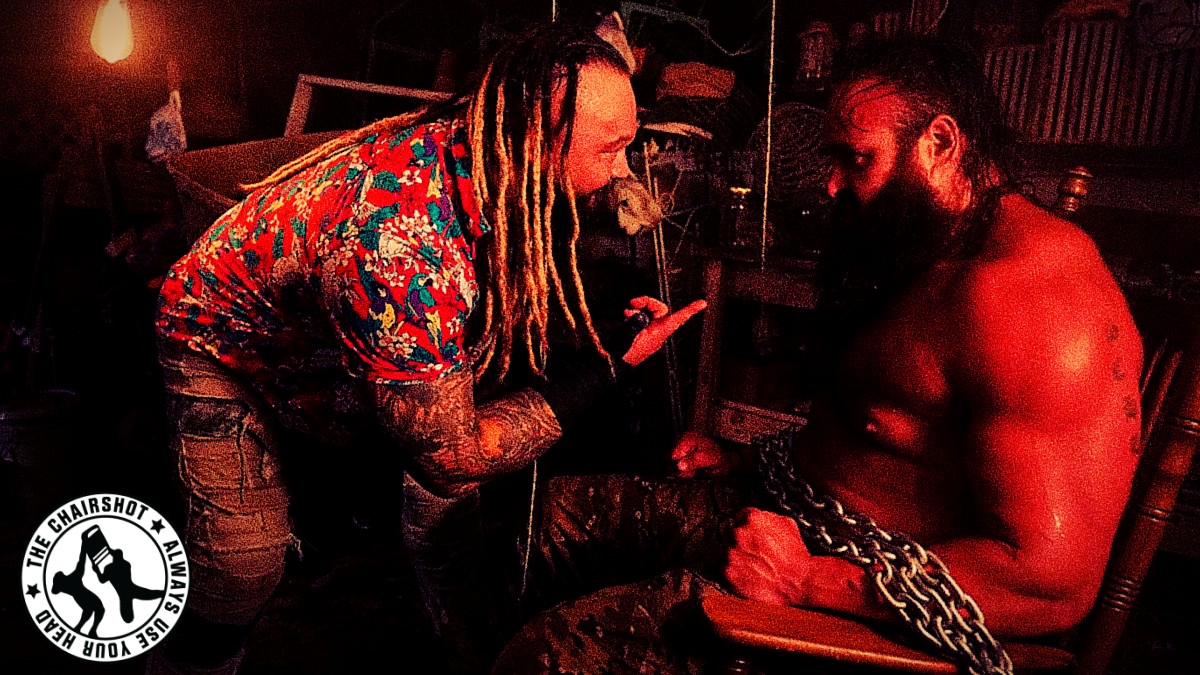 Mishal has you covered with his Top 5 Takeaways from The Horror Show at WWE Extreme Rules!
You know the drill, another month, another headline show to discuss from the world of WWE.
Extreme Rules was a show I had virtually no expectations for, just because the card itself was so bizarre I couldn't make heads or tails of it. What we got, like the previous events, slightly exceeded my expectations from what I was expecting. Much like 'The Greatest Wrestling Match Ever' or an 'Indoor Money in the Bank', Extreme Rules at the very least had something unique going for it, a plethora of stipulation matches that could swing either way. What we ended up getting certainly had its moments of unpredictability, and some moments that are better left not spoken about.
Like every show I watch monthly, let's take a look at 5 big takeaways I had after watching (The Horror Show) at WWE Extreme Rules 2020!
5. Seth Rollins in on his A-game
Regardless of your stance on Sunday nights gimmick, the angle leading into it or the direction of Rey Mysterio's character in WWE or his status with the company as of this writing (as he's allegedly still working without a legal contract), one thing is for sure as of last night, Seth Rollins has found his groove as a competitor & storyteller.
More than just put on (arguably) the best match of the entire evening against Mysterio under 'Eye for an Eye' rules, it's clear that as a character, Rollins has found where he belongs. The role he's playing as the 'Monday Night Messiah' is captivating, dangerous, unpredictable but more importantly, seems like the first gimmick Rollins has been handed that can potentially hold prolonged momentum in a business where the average gimmick lasts less than six months. Aside from furthering him as a performer, it allows a plethora of new talent to latch onto him and find new ground. Talent such as Buddy Murphy, Akam, Razar & Austin Theory have all been able to share the spotlight with one of the company's largest, most important stars, and while there is work to be done on that part, it's a solid place to start off from.
Along with his excellent character work & presentation, Rollins match quality is just as good as it once was at his peak just a year ago prior to his plateau. Extreme Rules showed us a lot of things, but it was a firm reminder to me that we're finally seeing Seth Rollins come into his own in WWE.
4. WWE booking takes a dive
I've been watching professional wrestling since the late days of WCW. I've seen it all, the good, the bad, the worst & the atrociously terrible on a scale almost unimaginable by modern standards. Seeing that degree of terribleness sets you up with the expectations that nothing can get worse, which is rarely the case, but also that little will ever come close to what's come before.
And for the most part, professional wrestling is generally consistently solid in quality, until we get to Sunday night.
Towards the tail-end of a genuinely fantastic contest, one of the finest of the evening between Asuka & Sasha Banks, WWE tested the waters of absurd booking in a way that had me baffled. In every single way. Rather than a simple booking to a contest that could on its own rank among the best of the year, they went the route of ending the contest on an incredibly sour note that wasn't just silly but makes no sense to anyone sitting at home. In the midst of a referee bump, Bayley of all people donned the outfit of the matches referee and counted the three-count, handing her best friend Sasha Banks with the RAW Women's Championship in a decision that surpasses all logic.
Bayley hijacking the match and claiming victory for her partner wasn't just ridiculous by the very rule book the company has set up for years, it's plain stupid, simply put. The booking benefits nobody, makes everyone involved look substantially worse, mocks the very foundation of the company's rule set & is just a booking that doesn't work anyway you spin it.
This post is fairly straightforward, but it's hard to complexly discuss a booking that is so ridiculously stupid it deserves no further discussion.
3. Dolph Ziggler, WWE's highest-paid enhancement talent
His match against Drew McIntyre was solid, for what it was. But Dolph Ziggler's matches over the last 18 months have one element in common, the severe lack of tension each one has the tendency to possess.
Ziggler's career peaked a very, very long time ago. Nothing I'm saying is to detract from the truly world-class performer that he is in the eyes of most fans, his dozens of championship reigns, high-caliber matches against the likes of Cena, Rollins, Mysterio, Jericho, Del Rio, Orton & a plethora of others or the dedication he's had to always be a resident WWE talent that will never give up his loyalty to the brand that made him who he is. The heights of his career have sadly come and gone, but this past Sunday on paper could have been the ultimate redemption story in terms of delivering a high-stakes, emotional story against his former tag-team partner, with whom he has a tonne of history with.
And as I mentioned, the match did its job of putting McIntyre over as champion & establishing him as the best one in the longest time under the WWE banner. But it just shed more light on how low the stakes are for a modern-day Dolph Ziggler match. The level of credibility he's lost is one of the largest among the current roster, and it isn't entirely his fault, but the character hasn't really shifted in a manner that brings along interest with it as he drifts onto other opponents. Ziggler has floated through dozens of gimmicks & teams over the last number of years, yet it hasn't really aided him as we saw this past week, instead, it's watered him down to a shell of his former self.
Where Ziggler ends up next is anyone's guess, but it's apparent that the man has become WWE's highest-paid enhancement talent. Mind you he's doing a solid job at what he does, but my has the tide changed.
2. Cesaro & Shinsuke Nakamura re-establish themselves
Could they be used in a different manner as single stars? Absolutely.
Should they be main event-level talent? Without question?
But, is this a better role for two of SmackDown's most underutilized talents than what they've been given since last year? Yes, and I'll fight anyone who disagrees.
2020 hasn't been kind to Cesaro & Nakamura. With the absence of Sami Zayn and the loss of his Intercontinental Championship, the former trio has been reduced to a duo of men who've essentially been treated as your standard, resident henchmen. This kind of booking favours the standard company undercard but feels almost insulting to two stars with enough talent to carry an entire brand on their shoulders. The two have gotten a bit of shine in matches against Braun Strowman, Daniel Bryan & Drew Gulak but for the most part, they're the equivalent of background noise in terms of company storylines, simply existing to further narratives they hold no relevance in.
While my personal booking would look substantially different from what we're currently seeing, Extreme Rules was a step in the right direction if anything. WWE shining a spotlight on them feels right, feels earned & couldn't have come at a more crucial point in both men's careers as they were on the verge of dwindling into obscurity prior to their solid performance opposite The New Day. On top of a pretty solid opening contest, they feel slightly rejuvenated as a duo, standing on their own as an aggressive team that has had enough of waiting, and instead plans on taking their success for themselves. Of all the bookings on Sunday night, few had me more optimistic than this one did.
1. What was the main event?
In terms of production value, Sunday nights 'Swamp Fight' between Bray Wyatt & Braun Strowman was as solid as you'd expect. It was filmed beautifully to deliver the aura of the world Bray Wyatt lurks within, the music blends not just the horror of the Wyatt Family but their specific theme, it visually presented certain concepts in ways I never predicted, showed Strowman's range as a performer & further expanded the Wyatt character in ways that make sense while continuing to make him arguably the most compelling in the business at the moment.
Where the main event lost me was that it wasn't really what it was sold as. Considering it was billed as a 'fight' between two stablemates, this was more of an angle to me than a grudge match. We had our fair share of brawling & foreign object use, but it was all so minimal to the sheer levels of drama on display that was used to expand on character over spectacle. That's not necessarily a bad thing, in fact, it's commendable, but never felt like the concept was justified, particularly on a night when the focus is on the 'extreme' overall.
Wyatt & Strowman's bout felt more like a placeholder for their next (and presumably final) chapter in their current feud, which reduces the impact it should have due to how unique the concept itself is on paper. The match had the potential to rival the sheer excellence that the 'Boneyard Match' & 'Firefly Funhouse' presented at WrestleMania, but instead felt like a segment better suited to SmackDown as a progressive angle heading into their next encounter. This wasn't the worst thing I've ever seen by any stretch, but like a lot of the show never lived up to its concept on paper. Fans will find a lot to love in this, as a storytelling element this just didn't possess the impact to stand on its own without the wider story coming into play to carry it along.
I'm over the moon that WWE has let its creative chops flair more than prior, I just wish they'd think through what they presented more than what was given to us.