Mitchell's Wednesday Night War Phase 3 Review!
Wednesday Night War finishes Phase 3!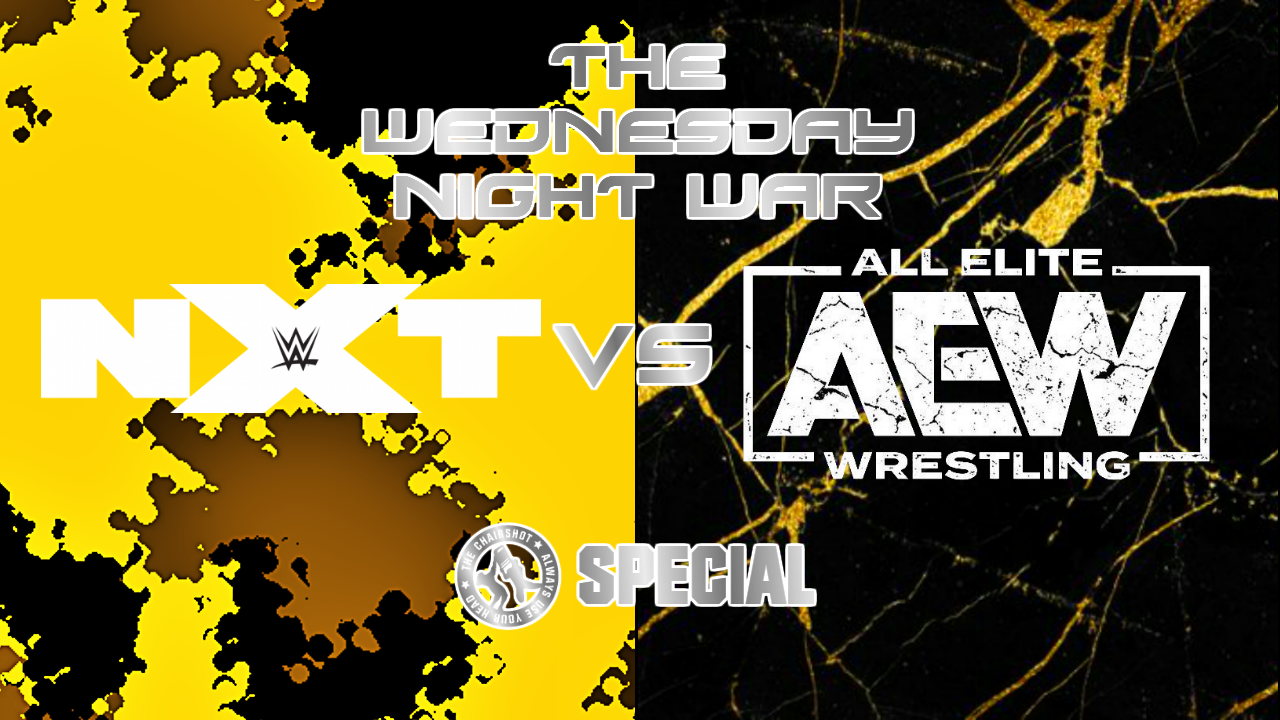 The Wednesday Night War's third phase closes in epic fashion!
As 2020 ran into a dark stretch of modern history, the world of pro-wrestling worked to give us all a bright light! How did WWE NXT and AEW Dynamite persevere for the sake of their fans?
First, a look back at the previous phases!
In Phase 1 of this "war," AEW did incredibly well for the new promotion on the block, but NXT earned its spot as WWE's third brand.
PHASE 1 SCORE GRAPH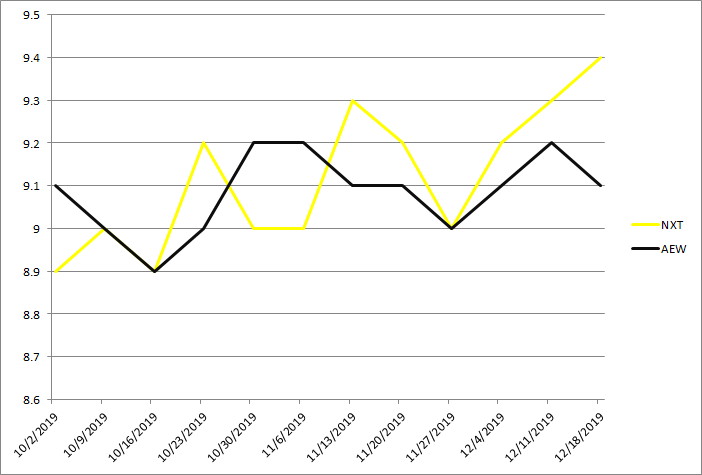 PHASE 1 FINAL SCORES: NXT – 9.11; AEW – 9.08
The race was neck and neck but NXT pulled out the win because they were building into Survivor Series and establishing itself on par with Raw and SmackDown.
In Phase 2, the holiday episodes were exempt as AEW didn't have any because they took the holidays off. NXT was recaps and awards anyway, so it wasn't of much consequence, anyway. Then things were very different as AEW started hitting harder for the sake of AEW Revolution.
PHASE 2 SCORE GRAPH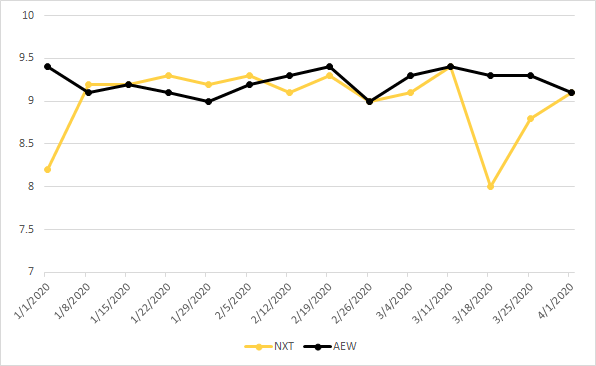 PHASE 2 FINAL SCORES: NXT – 9.01; AEW – 9.22
TOTAL PHASE 1 & 2 SCORES: NXT – 9.06; AEW – 9.15
On a phase-to-phase level, NXT and AEW are tied at one apiece, but AEW has the overall lead. That March 18th episode of NXT was WWE dealing with COVID in their own way, using the entire night to hype up #OneFinalBeat and everything else they had to eventually roll out as weekly episodes, not as TakeOver: Tamba Bay.
Now I do need to apologize for not holding to what I said would be Phase 3 with July 1st. But then BOTH companies gave us their own two week mid-summer events! Yes, NXT bringing back The Great American Bash was counter programming, but if Triple H is to be believed, everything was going to happen the way it did regardless. Plus, adding one more week to Phase 3 isn't that big of a deal, it just means Phase 4 starts this week with the 15th.
PHASE 3 SCORE GRAPH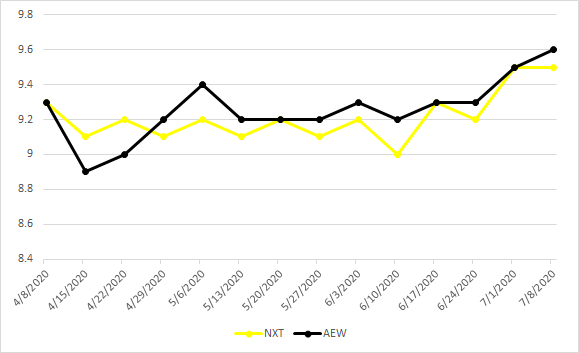 PHASE 3 FINAL SCORES: NXT – 9.21; AEW – 9.26
TOTAL PHASE 1, 2 & 3 SCORES: NXT – 9.1; AEW – 9.19
Phase 3 Analysis
Wow, those are pretty big numbers. And AEW has another phase win, as well as the overall lead! Both did great in the last two weeks with Fyter Fest and Great American Bash, but clearly the Double or Nothing build for AEW was big while that one episode on June 10th kinda cost NXT the numbers. That was the TakeOver: In Your House aftermath episode so there were more recaps and interviews than usual while AEW just kept powering through as they brought the TNT Championship to TV, giving us great matches multiple weeks in a row, laying the groundwork for the Fyter Fest two-night special we got. Also, Jericho on commentary was an ace in the hole for AEW, what about that wasn't awesome?
Phase 3 Conclusions
The creative energy in AEW is pretty fresh and that makes for a lot of the excitement still behind them. The Stadium Stampede and the previous Falls Count Anywhere tag were just amazing matches for all the ideas they had, but they've also had weird things. For example, while AEW says wins and losses matter, they gave us quite a lot of #1 contender gimmick matches, like the Casino Ladder Royale and a normal battle royal. Of course, that is what happens when a lot of wrestlers end up more or less 50-50 booked. Just saying. But that's part of the apparent principle that as long as they thrill us, much can be forgiven.
As for NXT, they had to adjust a few times. WrestleMania gave us Charlotte Flair's return, she had a good stretch but her own personal circumstances would eventually have her back out of NXT. That's fine because now the Evil Genius reigns and everyone is so happy for her to finally have a title she probably should've had a year or more ago. NXT giving us their own double champion in Keith Lee is a great move to move into the next part of the year, and there might be a lot more new changes depending on what The Undisputed Era does next.
Phase 4 Preview
Don't count NXT out in this first year of the Wednesday Night War. Their ratings have actually still done well and even beaten AEW on occasion. This phase goes from this week, July 15th, until October 7th, which will basically be the AEW Dynamite one year anniversary episode. Unless they promote September 30th as that. Either way, it's basically another three month stretch. There's a good chance with TakeOver: No Longer Boston coming that NXT will turn it up again, and AEW is even opening this phase strong with Fight for the Fallen with the AEW World Championship match of Moxley VS Cage.
I said this three months ago that I hoped the pandemic would lessen but things are still unpredictable. Politics might try to tear us apart, but let's stick together as wrestling fans who instead fight over this stuff.