Nerd Review: Dumb And Dumber (1994)
The Bandwagon Nerds trio digs into another Nerd Review this week, 1994's Dumb And Dumber!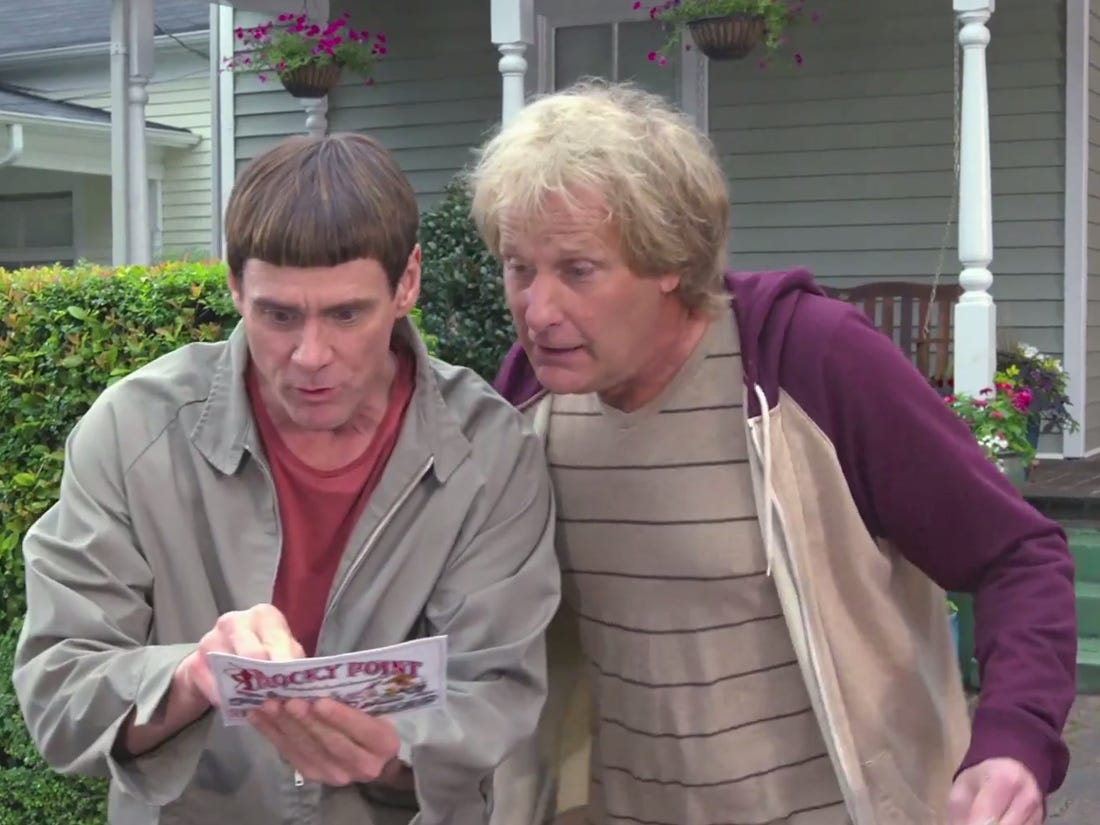 The Bandwagon Nerds trio digs into another Nerd Review this week, 1994's Dumb And Dumber!
Welcome to this week's edition of the Nerd Review! Every week the Nerds give you their take on a different cult classic from the Nerdosphere. This week the guys review the the 1994 hit Dumb And Dumber!
The Flick: Dumb and Dumber
What's it About: Harry and Lloyd are two half witted best friends who embark on a cross country journey to return a briefcase to a beautiful woman. Along the way, they encounter all sorts of shady characters intent on taking the briefcase for themselves. But in Lloyd and Harry, those shady characters got more stupidity than they bargained for.
Metacritic Score: 41
The Nerds' Take: Dumb and Dumber
DPP: Dumb and Dumber is the first in an over two decade long collection of movies either written, directed, or produced by the Farrelly Brothers. An immediate cult classic, this is slapstick comedy and toilet humor at its finest. The story follows two dim-witted best friends (Lloyd and Harry) who are attempting to return a briefcase to a beautiful woman Lloyd had met while driving her to the airport. The woman, however, was attempting to pay a ransom for her husband. And unbeknownst to Lloyd, he took the briefcase that contained the money. The two end up making a road trip from Providence, Rhode Island to Aspen, Colorado to return the briefcase, all the while being chased by the two kidnappers who are attempting to kill them and retrieve the ransom money. This movie is over the top comedy in every aspect. Cheesy one-liners, ridiculous outfits, driving a moped in the freezing cold mountains of Colorado, and a van covered with hair to look like a sheep-dog. And let's not forget, Jeff Daniels in a laxative induced, way too long and uncomfortable toilet scene. This was also the culmination of the breakout year for Jim Carrey, who released Ace Ventura and The Mask prior to the release of Dumb and Dumber to close out 1994. This movie is one that can, in a way, still hold up over the course of time…so long as you continue to enjoy slapstick comedies and toilet humor…which I do.
DPP's Rating: 3/5
Patrick: Hey! Wanna hear the most annoying sound in the world? No, it is not Jim Carrey screaming in a car. It is every insipid, annoying moment of this truly awful movie. Jim Carry and Jeff Daniels are idiotic best friends Harry and Lloyd. They find themselves chasing a beautiful woman across the country to Aspen, Colorado attempting to return a briefcase full of cash to her. Unbeknownst to them, the woman, played by Lauren Holly, was leaving the cash to pay a ransom for her kidnapped husband. What follows is a mad cap journey filled with shaggy cars and laxative jokes.
The story is simple enough. Jim Carrey and Jeff Daniels certainly dive full bore into their roles as the halfwits Harry and Lloyd. The movie certainly lives up to its title. I know plenty of people love this flick and find it hilarious. To me, it is tedious to sit through with redundant jokes that get old fast. I have tried to watch Dumb and Dumber multiple times. I do not get it. I do not find it funny. The hours spent watching this film are hours of my life I can never get back. I hold the Farrelly Brothers personally responsible.
Patrick's Rating: .05/5
Dave: The Farrely Brothers have written and directed some excellent comedies over the years including Kingpin (one of my all-time favorites), Me, Myself & Irene, Shallow Hal, and There's Something About Mary. But if you are looking for the best movie the brothers ever did, then look no further than 1994's comic classic, Dumb and Dumber. Now, anyone who listens to The Bandwagon Nerds Podcast already knows that Patrick's review will be, let's just say, not very flattering. Allow me to sell you on this movie and let you in on the reasons why it is fantastic.
Dumb and Dumber has been termed a "screw-ball comedy" and that is 100% correct. The antics of Lloyd Christmas, played by Jim Carrey when he was the most popular comic in the business, and Harry Dunne, fantastically played by Jeff Daniels, are nothing short of gloriously idiotic. That is the charm of Dumb and Dumber though. It is one of those rare movies that showcases just how ignorant the two main characters are, but it does so in a way that produces some laugh out loud moments the whole way through. The guys convert their van into a giant sheepdog to promote Harry's dog grooming venture, Mutt Cuts. Need I say more? Lloyd begins the movie as a limo driver but falls in love with one of his customers, Mary (Lauren Holly), as he drives her to the airport. When Mary leaves her briefcase at the airport, Lloyd becomes unyieldingly determined to return the briefcase to her in Aspen. He even convinces Harry to go along with him. Unbeknownst to the guys, Mary's briefcase contained a large sum of ransom money to free Mary's husband from kidnappers and agents of the kidnappers proceed to try and retrieve that money from the guys. Once the guys leave Providence, Rhode Island to make the trek to Aspen, hilarity and misadventure ensue.
Make no mistake: There are some massively childish moments and the humor is definitely of the slapstick and immature variety and, you know what….that's OK. From outlandish tuxedos, to offing owls with champagne corks, to slipping laxatives into the others drinks, to martial arts fantasies, tongues stuck to ski lifts, $275,000 IOUs, men's room misadventures, and everything in between, Dumb and Dumber just hits all the right cords and although I have seen it at least 20 times, it never gets old. If you have enjoyed the last two comedies we have reviewed the past two weeks (Blazing Saddles and Spaceballs), then, by all means, watch Dumb and Dumber. One could make the argument that it is the funniest of the three and I would not argue too loudly against that. If you like your comedy with a more mature twist to it, then this is not the movie for you. But, if complete and utter tomfoolery, buffoonery, and absolute silliness is up your alley, then Dumb and Dumber is one of those timeless classics that any fan of comedy needs to see.
Dave's Rating: 5/5
Nerds Rating: 2.8/5