News From Cook's Corner 7.13.20: Everything Is EVIL
Steve Cook is back with your look at the news of the week, from Cook's Corner! This week's news is definitely EVIL. (Because Everything is EVIL.)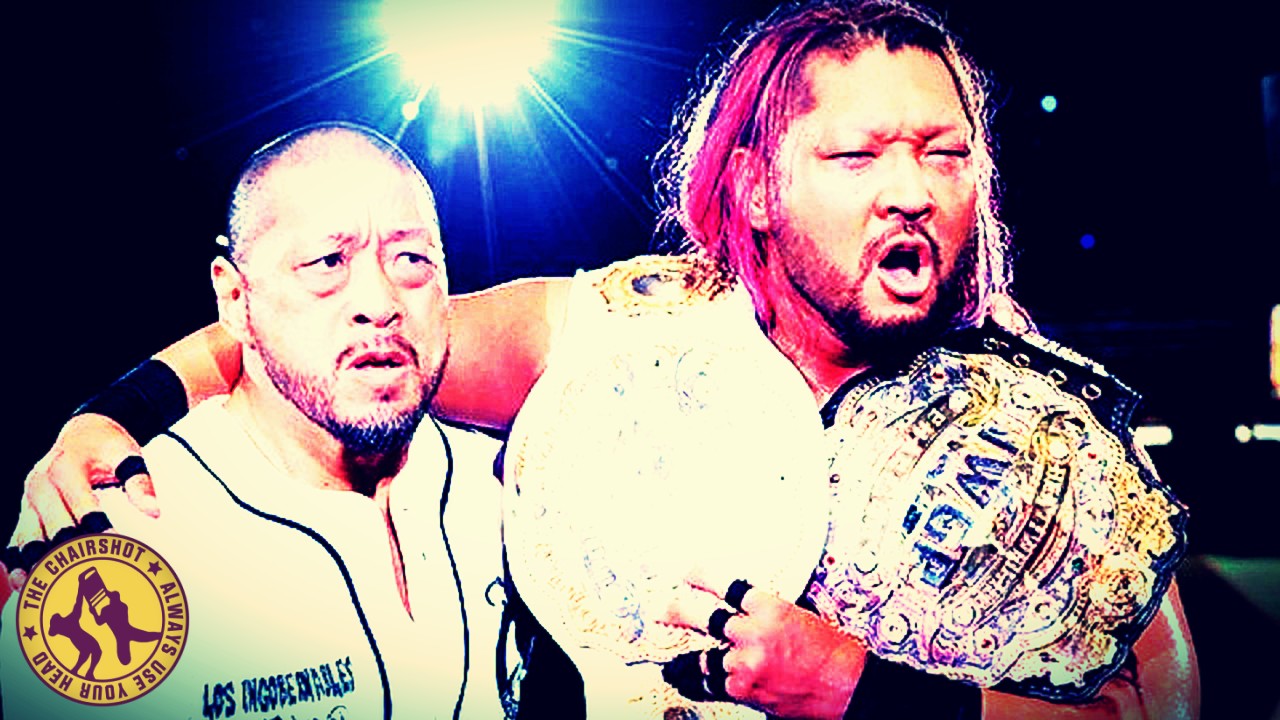 Steve Cook is back with your look at the news of the week, from Cook's Corner! This week's news is definitely EVIL. (Because Everything is EVIL.)
Hi, hello & welcome to News From Cook's Corner! Once again, this week featured a lot of takes concerning Wednesday night ratings, as the results have become something of a trend. I really don't have anything to add to what I said last week, so check that one out if you missed it.
So what else is going on this week? A little here, a little there. Something happened over this past weekend that I think will help shape the future of pro wrestling for at least the next twenty-five years or so. That sounds worth talking about, right? We'll lead off with that…
Happy 100th Birthday Mama McMahon!
It's been a mixed time for the family. Linda McMahon's mother died recently at the age of 93. That's certainly a long time to live, but it's a breeze compared to 100 years. That's how long Vince McMahon's mother has been on this planet now, and here's what he had to say about it.
Happy 100th birthday to my mom! I hope I have her genetics 🙂

— Vince McMahon (@VinceMcMahon) July 11, 2020
I've never had any question that Vince McMahon was going to outlive everybody, and now that his mom has cracked the triple digit barrier, we have genetic proof. Vince rarely sleeps. He never goes on vacation. He calls all the shots in WWE, and there's no reason to think he won't do so for at least the next twenty-five years.
I hate to give Ryan Satin credit for anything since he took my dream job of working on a show with Renee Young, but he got a pretty good tweet off at the expense of my beloved 411mania…
FYI – Vince McMahon is behind the push of literally every single person getting one on WWE TV https://t.co/vXN70BU4xS

— Ryan Satin (@ryansatin) July 8, 2020
The thing is, people still believe that Vince isn't behind some pushes and is behind others. We usually give Paul Heyman credit for these pushes we can't believe Vince would be behind. Truth is, it's not like Vince only sees these people after they appear on Raw. He gave the go-ahead for that Austin Theory run on Raw. Shayna Baszler got some shine at Survivor Series & Royal Rumble with Vince's approval. Ricochet, Cedric Alexander, whoever else you want to fill in here, all got on TV with Vince's approval. He just got tired of them. it happens. I get tired of people constantly, and I bet you do too.
So for those of you that have been getting excited about the day when Triple H finally takes over and makes everything like NXT…don't hold your breath. Death is for people that aren't Vincent Kennedy McMahon. He will run WWE for a long time to come. Hell, I wouldn't be surprised if he's got the technology developed where he can run the company from beyond the grave. He's gotta be saving that money for something, right?
This Matt Riddle news isn't going away
One of the more high-profile wrestlers outed as part of the Speaking Out movement was Matt Riddle. Former EVOLVE valet & wrestler Candy Cartwright accused Riddle of sexual assault back in 2018. At first, Riddle & his lawyer denied any & all claims that anything happened between the two. In fact, they claimed that Cartwright had stalked Riddle for a number of years. Turns out that while Cartwright's story concerning her relationship with Riddle has remained the same, and has been backed up with photographic evidence, Riddle's story has been changing. This past week, his story went from "she was stalking me" to "I was cheating on my wife with her, but I swear everything was consensual! You gotta believe me, bro!"
There's two sides to every story. But Riddle going on the motherfreaking Bubba the Love Sponge show to share his side doesn't give me a lot of confidence in his judgment. Riddle's wife has forgiven him, so that's good news on the home front. Also good news for him on the financial front because they got five kids. Those would be some expensive alimony payments.
An Eye for an Eye
I think there's one thing we can all agree on concerning pro wrestling that we don't like to admit: things have to be stupid sometimes.
If wrestling was 100% logical, most of the things we love most about it couldn't happen. People would be fined, suspended, arrested & put in jail far more often for the acts they commit against fellow wrestlers. Especially if they we-oh I better not get too political this week. Most of the best characters wouldn't be allowed to exist. It's in all of our best interest if we just allow some things to not make sense.
Sometimes, we need to let the answer to questions be, as Dutch Mantell once said, "Because it's wrestling and we say so". Some people over-think everything and complain about every little inconsistency in a storyline, or about how something is completely unrealistic. That's no way to live life as a wrestling fan.
However, exceptions need to be made. Sometimes, a wrestling promotion presents something so stupid that it needs to be called out. Like WWE's recent match announcement for The Horror Show At Extreme Rules.
AN EYE FOR AN EYE. 👁@reymysterio decided on one SHOCKING stipulation for his match with @WWERollins at The Horror Show at #ExtremeRules!#WWERaw pic.twitter.com/ln0SKWKyZu

— WWE (@WWE) July 7, 2020
(Side note: I love Tom Phillips leading into asking Samoa Joe about this with "Joe, you've done some reprehensible things in your career." Awesome stuff.)
So. WWE in the recent past has been all about family entertainment. Vince McMahon has gone on record as being anti-blood & guts. Now, we're having wrestlers "rip out eyeballs"? No, nobody's actually going to lose their eye, they're going to do some CGI that will probably cost more than it will for Impact Wrestling to put on Slammiversary this weekend. Is it the end of the world? No. Is it defensible by any stretch of my imagination? No. You got a bonafide legend like Rey Mysterio who reportedly isn't even under contract right now, and you can do pretty much anything you want with the guy. This is what you choose?
As Randy Orton would say, "STUPID! STUPID! STUPID!"
Why is Charlotte out of action?
The Queen took to Twitter to explain her current absence from competition.
My air conditioning is broken, and we have a little free time. These tweets may be spaced out a bit, but we're going to talk time off, plastic surgery and boobs.

— Charlotte Flair (@MsCharlotteWWE) July 12, 2020
The thread (at least Charlotte's part before it gets to the dummies) is worth reading. I'll sum it up by saying Charlotte's taking time off for some cosmetic surgery that's the result of a previous surgery. Charlotte did express some annoyance over everybody having an opinion on the topic, and I will say that one of the reasons I stopped doing the Hot 100 was I wanted to stop expressing any of my opinions on things like boobs in public. It was a little crass, not something one should be talking about past a certain age. Not saying you all need to feel the same way, and I'm not even saying I don't have opinions on things like boobs. I'm just saying it's no longer my thing to talk about Charlotte Flair's boobs in columns like this one.
We don't have boob talk. We don't put peoples' eyes out. We're about good old wholesome family fun here at the Corner.
Everything is EVIL
hehe pic.twitter.com/Cps5boT9Vr

— i guess im a little "wierd" 😛 *covered in blood* (@iLikeJason_) July 12, 2020
We should have seen this coming. The way that 2020 has gone so far, it only makes sense that New Japan's grand return would culminate in a man back-stabbing his own faction & winning the IWGP Heavyweight & Intercontinental Championships from Tetsuya Naito. I don't think many people had EVIL winning the Cup & then the double championship, and I'd bet even fewer people had Dick Togo re-emerging as EVIL's new manager. It's certainly an interesting direction to go in.
Many of the IWC experts seem displeased. See, EVIL's matches don't get as many snowflakes as their favorites do. You can see the inner turmoil there.
Me? I don't hate it. Hey, if EVIL & Io Shirai are going to be stuck on different continents during this pandemic while still being engaged, they should at least be rewarded with championships. I would suggest shaving the main event match lengths a little bit, but from a story perspective it has potential. And it's more shocking than anything we've seen from American feds since the pandemic hit, so give them credit for that.
It does seem like a sign that New Japan doesn't expect anybody that's not currently in Japan to be on their shows anytime soon. That's depressing for many reasons, but if New Japan is going to go forward and have shows, they're going to have to adjust. They'll have to use the people they have available to them. These recent shows have seen some notable names off of the card, and there's no reason to think they'll be back anytime soon. That's why somebody like EVIL is going to have to step up as champion, and why everybody else currently on the cards will have to step up, so we don't notice all of these absences.
There is one downside though: why must people always be rewarded for being evil? Kids are learning terrible lessons these days, I tell ya.
New Japan was able to have crowds at 33% capacity for the New Japan Cup Finals & Dominion, making American wrestling fans even more jealous of their Japanese counterparts than they usually are. I've seen fans at Japanese wrestling shows wearing facial coverings as far back as I can remember, so it's not surprising that they've been quicker to figure this thing out than Americans. We're just too obsessed with making everybody look at our ugly faces. I don't get it either.
Nick Gage: Cameo King
We've given some keystrokes to deathmatch wrestlers recently, but only for things like death & lymphoma. It's nice to talk about one of the deathmatch legends for something positive for a change, and a few years back I wouldn't have expected to hear much of anything positive from Nick Gage. Dude fell on hard times in 2010 & robbed a bank. Did his time, and now he's back on the indies doing pretty darn well for himself.
Last week, a Cameo video Gage did in support of transgender rights went public, which led to Gage's Cameo page getting a ton of attention & business.
I woulda done this for free in case you didnt know i love all my fans including the trans fans you guys show me and gcw love everywhere we go i thought it was obvious that trans rights are human rights but ill say it again and if you got a problem wit that ill def fight you MDK https://t.co/mn3NnReoeQ

— Nick FN Gage (@thekingnickgage) July 7, 2020
We shouldn't be surprised when a pro wrestler says something like this that's common sense to more socially liberal types like myself. Given all the bad pub wrestling has gotten lately thanks to the pieces of crap that got exposed by victims speaking out, I think it's worth mentioning when Nick Gage speaks in support of transgender rights as human rights, or when Cody calls "fans" on the carpet for using homophobic language in reference to Sonny Kiss, his opponent on this week's Dynamite. Not to go "Not All" on you guys, but it's nice to see people in the wrestling business doing the right things. And if you don't think speaking in support of transgender rights is the right thing, or that calling out homophobic bigots on their stupidity is the right thing, that's a "you" problem.
I'm just saying that if you need to send any kind of message to somebody, hit Gage up. He's turned things around.
Thanks for reading! Be sure to check out all the other great columns & podcasts here at The Chairshot. People around here are doing some great things. Until next time, keep your stick on the ice.