Adam's WWE Payback Review & Match Ratings 8.30.2020
Adam decides to stretch out his review skills before the next NWA event. WWE Payback! Big Dogs are back, and maybe some new glory to bask in! How did you like the show?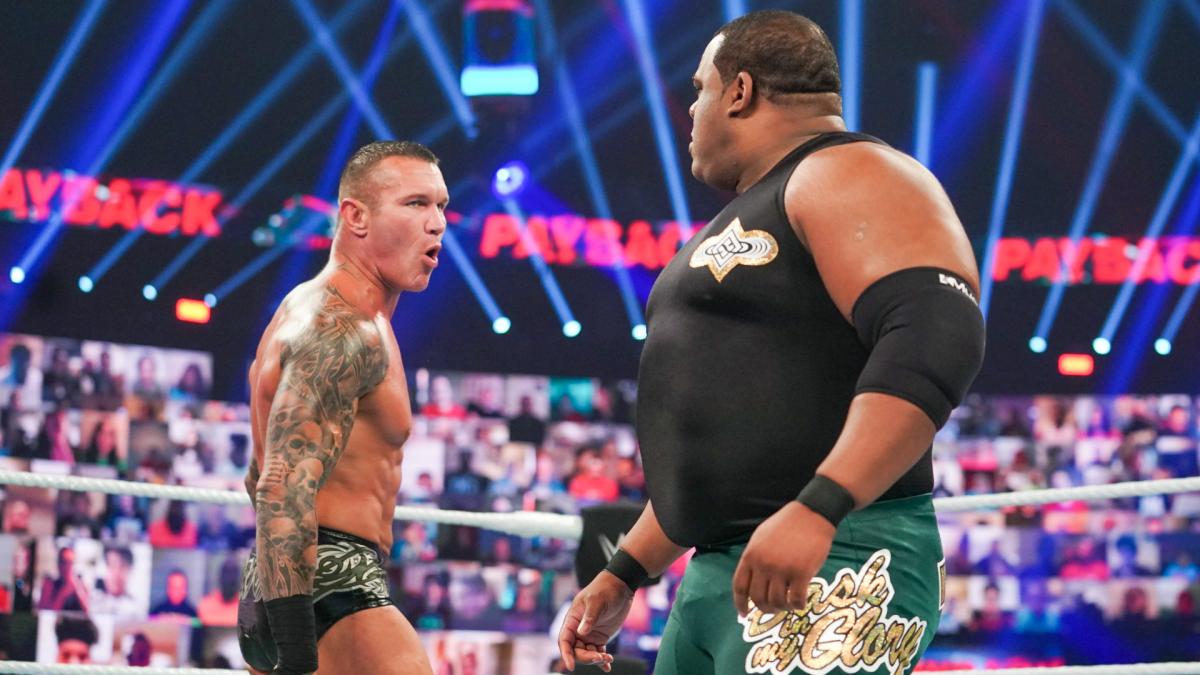 I just had to mention the pulling rank card again on DWI this week. Oh well, I had nothing better to do on Sunday except watch this in all honesty so let's do this! Sunday night in Orlando, featuring the ThunderDome, sponsored by Cricket… or Hulu… one of them. This has a lot of potential to be a great PPV with a lot of storylines ending, beginning and getting better an better.
It's okay, if I get swamped with stuff in the future, I'll have Andrew do it because you know what they say about Payback.
Ratings:
Liv Morgan & Ruby Riott vs The IIconics: Riott Squad wins via Codebreaker/Riott Kick Combination – **
Bobby Lashley vs Apolo Crews for the US Championship: Lashley wins via Full Lashley- ** 1/4 – TITLE CHANGE!!
Big E vs Sheamus: Big E wins via Big Ending- ** 3/4
Matt Riddle vs King Corbin: Riddle wins via Floatin Bro –  *** 1/2
Sasha and Bayley vs Shayna Bazler and Nia Jax: Shanya Bazler and Nia jax wins via Kirafuda Clutch/Muta Lock Combination – ** 3/4 – TITLE CHANGE!!
Randy Orton vs Keith Lee: Keith Lee wins via Spirit Bomb – *** 1/4
Los Mysterios vs Seth Rollins and Buddy Murphy: Mysterios win via 619/Frog Splash – ****
Roman Reigns vs The Fiend vs Braun Strowman for the WWE Universal Championship: Roman Reigns wins via Spear- ** 3/4
Review:
Liv Morgan & Ruby Riott vs The IIconics
The majority of the match has Peyton and Billie taking shots on the reformed Riott Squad, saying they are not friends and going so far to do some malfunction at the junction and even blaming Ruby for hitting Liv off the corner for a tag. As always though, being rude and bitchy doesn't prevail and good over comes evil even if being good is dumb. A new combination finisher from Riott and Morgan and the match ended once the two got on the same page. A nice pre-show appearance after the match and they say they, "Liv2Riott and Riott2Liv" before it all ends.
Bobby Lashley vs Apolo Crews
It started very back and forth, Lashley showing his strength and Crews with his speed in the early goings. Not much interference from MVP or Shelton in the match other than fronting on Crews when Lashley powdered out early in the match. A few more back and forths of domination from both men, Dominators from Lashley and German Suplexes from Crews but in the end, Lashley overpowers the champion and makes him tap to the Full Lashley.
Aftermath: After some poses that the Hurt Business and the new United States Champion, Bobby Lashley, Apollo Crews attacks and says he's going to get his championship back.
Big E vs Sheamus
Sheamus tries to make Big E thinking psychologically that Woods and Kingston are holding him back before the match starts and it's actually a wrestling match. Some power moves, Sheamus targeting the leg for the Cloverleaf which looked like it would have been the best idea since Big E has to use his legs for his power moves but, adrenaline is one hell of a drug and Big E lands a big move to break Sheamus' concentration before landing a big… well… Big Ending to win the match.
Aftermath: He goes on to run to Corey and says, he's time is coming and it's coming now.
Matt Riddle vs King Corbin
I will have to admit, the backstage interview made me give it some more points because it added to Corbin's arrogance by calling Riddle a failure in the ring AND at home and Riddle actually reacting like PC Tunney getting a question wrong on Phenomenal Funky Facts.
Corbin gets the early jump on Riddle after flinging his sliders to the "crowd" with a lariat. Corbin takes it to Riddle but anger fuels Riddle to actually put up a fight and be scrappy with attempting a Kimura Lock on Baron and putting multiple Sleeper Holds. Corbin getting a bit of an advantage hitting a Deep Six but, you don't mess with a bro and his actual life so after kick to the liver, Riddle goes on and on to attack Corbin and grounds him heavily to hit the Floating Bro and score the win.
Aftermath: Corbin is of course embarrassed that he lost to Riddle and decides to attack Riddle in the back, unintentionally putting Riddle through the catering table.
Sasha and Bayley vs Shayna Bazler and Nia Jax
Shayna and Sasha started this match and the opening was very good, technical wrestling all around from both of them but, it started gettign a little sloppy with some moves. Nia comes in and looks like she hurt her leg again in an earlier spot but, she makes up for it using her power to get ahead of the match and Shayna weakening the tag champions down as the Submission Magician she is. She tells Nia that they've got this, they take care of business and Shayna makes sure that they won. Applying the Muta Lock to Sasha, the Kirafuda on Bayley and even using Sasha's arm to choke Bayley to add more insult to injury as Bayley taps out.
Randy Orton vs Keith Lee
Orton doing his usual mind games with taking it to The Limitless One with the Back Body Drop on the announce table and looks like he is getting the upper hand but for those that watch NXT, unlike Randy Orton it seems, Keith Lee isn't so easily taken down. a pounce taking Orton from the middle of the ring sends him out of sorts and sends a receipt to Orton on the table. Even after a Hangman DDT, it's not enough to put Keith Lee down and after an attempted RKO, Keith Lee remembers all of Goku's training from DragonBall Z and lands the Spirit Bomb to win his first match on the RAW Roster.
Los Mysterios vs Seth Rollins and Buddy Murphy
Dominik coming out like a house of fire, taking it to Murphy and Rollins early out of pure frustration. Amazing back and forth, amazing high flying wrestling, amazing technical wrestling with counters from everyone and being one step ahead on both sides of the teams. Some of the counters including both Murphy and Rollins catching a crossbody and doing the Falcon arrow, Rey going to the top and getting two knees to the gut from Seth but in the end with the last counter, a little malfunction at the junction between Rollins and Murphy in the Buckle Bomb and Enziguri combo sending Rollins into the kick instead of Rey. Rey tagging in Dominik, taking out Rollins with a sliding suicide dive through the bottom rope and Murphy taking the 619 from Dominik along with a nice Frog Splash to get his first win as a WWE Superstar.
Roman Reigns vs The Fiend vs Braun Strowman
The Fiend would come out first with the ominous aura he always brings but Braun wanted none of it as The Fiend enters and gets knocked down instantly. Both monsters go back and forth, Fiend grabbing a Mallet and putting Braun through the announce table. Both of them going up to the ramp and throwing each other through a table on the outside and still taking the fight to each other going back to the ring. After Braun gets a little bit of momentum his way, The Fiend catches him going to the top rope and Superplexes Braun to explode the ring.
Notice how in all of this, Roman isn't mentioned at all. That's because he signs the contract for the match right after the ring implodes and walks down to pick up the scraps.
Getting a near fall on both men, he tries beating them down with a chair. Still no victory. The Fiend actually does the Mandible Claw to Roman before getting kicked in the balls and Roman spears Braun to recapture the Universal Championship. Roman Reigns, the guy who has the wettest hair and just doesn't care came back with class and kicked some monster ass.
Overall Score: 7.5/10
The one time Andrew being lazy actually made me like a show. He's batting .500 so far and this card actually… wasn't awful. Yeah there were a couple of matches that "fans" would consider a bathroom break but all in all, each match was good in their own right. We knew Sasha and Bayley were going to drop the titles for a major blow up down the line, Los Mysterios against Rollins and Murphy actually put on an amazing performance much to my surprise in all honesty. Roman showed up like the Samoan Badass that he is, Riddle actually showed emotion other than stoned and Nia didn't kill a person for once so, round of applause for everyone!
Great PPV, a solid performance all around and great story telling. I loved it.