Andrew's NJPW Strong Ep. 2 Results & Match Ratings 8.14.2020
Episode 2 of NJPW Strong! ACH returns to New Japan! KENTA vs Jeff Cobb headlines! Who moves on to the Finals?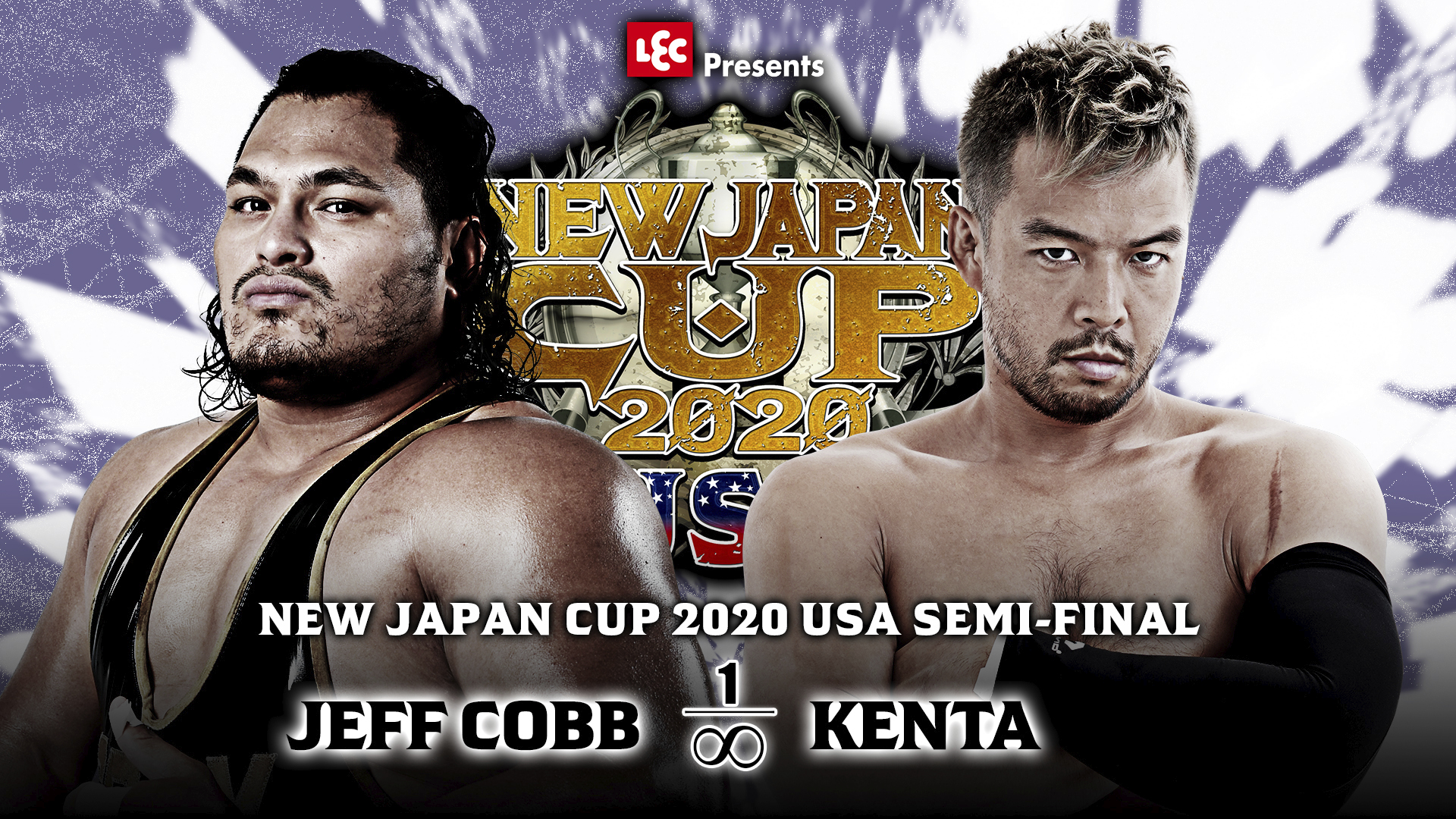 Now let's all be honest here, the first episode was a little…meh. So now with the announcements of some high flying veterans to be on this second episode, maybe that cane spark some life into the fledgling show.
Plus we've also got the two Semi-Finals matches for the USA Cup. We COULD see an all Bullet Club final round, but I'm still firmly in the Finlay vs KENTA boat.
Let's see if that boat springs any leaks!
Ratings:
Clark Connors & Jordan Clearwater vs Logan Riegel & Barrett Brown: Brown wins via Roll Up – ** 1/4 
ACH, TJP & Alex Zayne vs PJ Black, Blake Christian & Misterioso: PJ Black wins via Springboard 450 – *** 3/4
Tama Tonga vs David Finlay: Finlay wins via Prima Nocta – ** 3/4 
Jeff Cobb vs KENTA: KENTA wins via Small Package – *** 1/4 
Results:
Clark Connors & Jordan Clearwater vs Logan Riegel & Barrett Brown
Welp, it's obvious why this is the opening match. Not only is there a Young Lion in the match, but aside from Independent fans, it's filled with relative unknowns. Connors looked the best athletically, physically and in-ring crispness. Riegel is at least a tag team specialist, but his brother is apparently in England, hence makeshift teams everywhere.
Let's be fair, if you lined these four guys up, you might think we're creating a boy band and not professional wrestlers. Nothing about this match was overly interesting, beyond the fact that Connors didn't eat the pinfall, Clearwater did. So Connors gets protected a little in a match that means less than my POG collection in 2020.
ACH, TJP & Alex Zayne vs PJ Black, Blake Christian & Misterioso
Well okay, a lot of non-NJPW talent, but a lot of proven talent. This should be a fairly exciting match given all the names involved.
This match did not disappoint. Blake Christian is the least known in this match, but he actually held his own, even using an interesting Wristclutch Spin Out Side Slam. Alex Zayne had a few cool moments when he did a Handspring off of ACH's back, flipping forward and then hitting the Frankensteiner on Blake Christian. The other notable one was, a Shoot Star Double Knees Press to PJ's back. Just a bunch of great spots. ACH had an awesome fire moment where he blitzed around the ring, diving on everything that moved.
This match had a ton of saves, great clear outs and just great action that never really slowed up. Blake is the main reason that PJ Black won the match, since he had some great saving moments. Just a lot of fun.
Tama Tonga vs David Finlay
Finlay came out of the gates taking the offense to Tama and trying to keep him in front of him. Since Tama is always billed as the best defensive wrestler in New Japan, Finlay made it a point to not allow him to get any momentum. The match itself was pretty solid, but since Finlay was a little obvious to me and never really seemed to have issues with Tama; the outcome of the match felt a little heavy handed.
Decent enough for Finlay to continue the return push.
Jeff Cobb vs KENTA
This had a nice tournament feel since both men are proven commodities and very good at their chosen profession. We get a bit of a slow burn to this, as neither man really dominates, but you see a lot of both styles and personality. Cobb was showboating a little more than usual as he hit some power moves, and took too long on his first attempt at the Gachimuchi Moonsault, so KENTA got knees up.
We do get a decently wrestled match from both men, but when Jeff Cobb kicks out of the Double Footstomp and counters the Go 2 Sleep, new KENTA emerges. Cobb has KENTA in his arms for Tour of the Islands, but KENTA grabs the referee, then pushes Cobb into the referee. KENTA can't immediately take advantage of the situation, so Cobb hits the Wristclutch Fallaway Slam Hold, for a visible 5 count, but still no ref. KENTA tries to kick Cobb, but Cobb blocks, a little more struggling and finally KENTA lands the nut shot, rolls him up right as the referee can count, and steals the win via Small Package.
Overall Score: 6.5/10
The action in the show was all around better, even if the opening match was worthless. We saw both Semi-Finals matches carry weight with some story to them, and the 6 man match was just straight fire. So after a very "meh" start on episode 1; episode 2 starts to build momentum and felt more like a New Japan card.
I did say I figured David Finlay and KENTA would meet in the Finals, and look what we have here! As for who wins, that depends on how New Japan sees the United States title. It has always been held by gaijins, and only 3 Japanese wrestlers have challenged for it (Ishii, YOSHI-HASHI & Minoru Suzuki). So if the IWGP US belt is supposed to stay the gaijin belt, Finlay probably pulls off the upset. If they don't care and actually want to go for the better story…well then KENTA all the way baby!