Andrew's Stardom 5STAR Grand Prix Red Stars Results & Review: Day 1
Stardom's 5Star Grand Prix begins! Check out the Red Stars results! Do you love, love, love Giulia?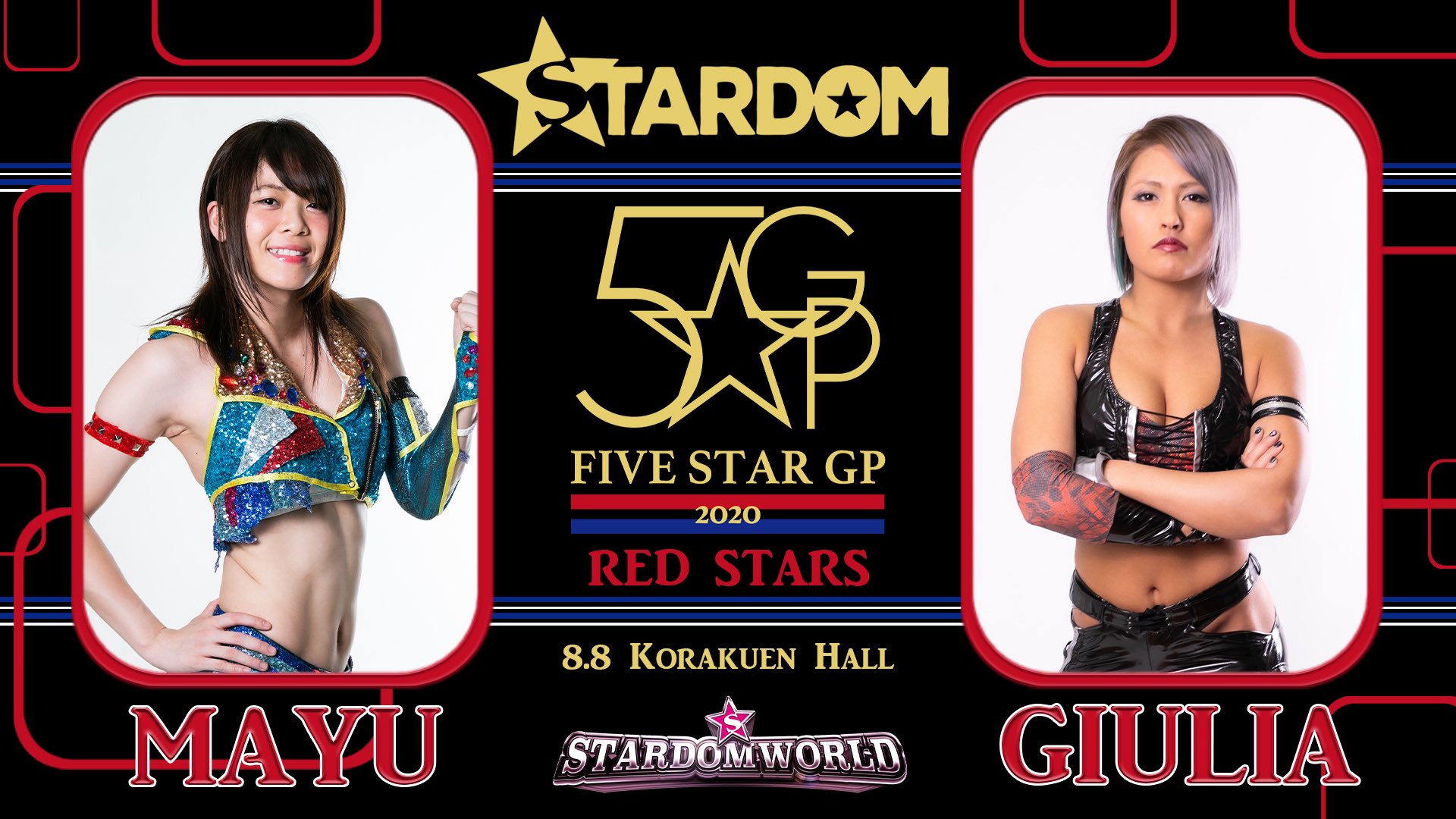 The last two years Mathew and I have covered one half of the 5Star Grand Prix. He's also had the winner come from his block the last two years. So people who have been following Stardom coverage here should know to expect it; as well as, knowing I need to get a winner dammit! If YOSHI-HASHI can win a title in 2020, I can get the winner coming from my block!
So we should all know my favorite to win the block, Tam Nakano! The most kawaii in the cosmos has had a special place in my heart for a while. Aside from Tam, I suppose Konami or Giulia might have a shot at winning the whole thing.
But we root for Tam in this house! Now let's see how the first day goes!
Ratings:
Starlight Kid vs Death Yama-san: Kid wins via Yoshi Tonic – **
Saya Kamitani vs Konami: Konami wins via Triangle Armbar – ** ½
Himeka vs Tam Nakano: Himeka wins via Running Powerbomb – ***
Giulia vs Mayu Iwatani: Giulia wins via Glorious Driver – *** ½
Results:
Starlight Kid vs Death Yama-san
So any real context for newer fans, there isn't much. This is more of a generational battle since Yama has been on the verge of retirement (I think even retiring once a few years ago), but found a new lease on gimmick life with DEATH. Starlight is athletic, cute, and bubbly with a very bright future. She's just on the younger side, so she hasn't received a huge push since normally the girls who are still school age aren't pushed too far.  Since she recently graduated high school, we could see Starlight in line for some big things.
This went how you'd expect from two lower card wrestlers, but one on the rise. There was a fun locomotion cradle spot, and a few quick reversals, but Death is too much gimmick to really be expected to win much. Kid got control after Death ran into her foot a few times, Tiger Feint from Kid and Kid delivers a Yoshi Tonic for the victory.
Saya Kamitani vs Konami
Recent drama between these two comes from the fact that Saya and Utami beat Kyona and Konami for the vacant tag team titles recently. So there's a little bit of a revenge story for Konami or Saya could establish some momentum. Simple little story, but for a tournament, it's adequate.
We see a solid bit of back and forth. Konami is the mat technician of Stardom, so she was aiming to catch Saya, but Saya is a little smart to her ways. Saya tried to keep her space with some well-placed knees and decent striking, but Konami kept searching for the submission. Saya tried one of her own, but the attempted Muta Lock looked awkward to say it nicely. Konami did say she was aiming for Saya's neck, and managed to get the submission with a Triangle Armbar.
This match was a good reminder that Konami was trained by Kana (WWE Asuka), since her offense is almost identical (meant as a compliment).
Himeka vs Tam Nakano
There's no real backstory here. Tam and Giulia (leader of Donna del Mondo) have had their issues, but it hasn't really bled through the whole faction. Himeka and Tam actually start the match off with a hand shake and playful smiles.
We actually saw a solid in-ring story here. Himeka attacked Tam's back with submissions, power moves and strikes focused on crippling the cutest in the universe. Whereas Tam went after Himeka's legs and arms with her potent kicks, to try and take some power out of the Jumbo Princess. Part of the beauty in Tam's wrestling is her selling. As she tried to matrix out of a pin cover or even hold the bridge on her Tiger Suplex, she crumpled selling the back.
As a testament to Tam's resolve, she refused to tap out during the Torture Rack. Tam had a small flurry which gave her a near fall after the Idol Knee, but Himeka's power and Tam's injured back, just made it too hard to come back. Sure, there was one sloppy part with Tam countering a Powerbomb attempt with a Frankensteiner that just looked rough…but aside from the one bad spot, everything else in the match was solid.
Now on Stardom World! It's Himeka vs Tam Nakano, from August 8 at Korakuen Hall! It's the 5★STAR GP 2020! https://t.co/q8dHnF58vW pic.twitter.com/zdMQsyruXp

— We Are Stardom (@we_are_stardom) August 10, 2020
Tam lost, so I'm not happy, but Himeka held her own and it was pretty solid.
Giulia vs Mayu Iwatani
Giulia is the recently crowned Wonder of Stardom champion, and Mayu is the current World of Stardom champion, as well as the Icon. So this feels more like the established main eventer against a new young starlet. Will the red or white belt champion be first on the board?
Mayu's right shoulder was taped pretty heavily and Giulia went right after the tape. Cobra Twists, Arm Breakers, just a really malicious gameplan from the exotic leader of Donna del Mondo. Mayu did fight back with a lot of her classic moves. Running Three, Frog Splash, Dragon Suplex, but nothing seemed to sting as much as whatever Giulia put together. Mayu had to find a few ways to position for rope breaks, just never seeming like she had a chance to get any real momentum.
Giulia hit the Glorious Driver, shook her head, stood back up and did it again. Giulia seemed surprised she won, but it was a solid gameplan, in a match that nearly went the full 20 minute limitation.
Now on Stardom World! From earlier today at Korakuen Hall, it's Mayu Iwatani vs Giulia in the Red Stars block of the 5★STAR GP2020! https://t.co/q8dHnF58vW! pic.twitter.com/jQgYhhNFa1

— We Are Stardom (@we_are_stardom) August 8, 2020
Overall Score: 6.75/10
When it comes down to Day 1 tournament matches, this was a pretty solid show. We had two matches that were fairly entertaining, and even if I don't like Giulia or the fact Tam lost, I can't deny decent outings. Not a ton of big storylines to look out for since it's only the first day, but at least it was a fun start.
Tam and Mayu starting out with losses lends you to believe they will pick up points fairly soon and we'll get a close block. Now let's check out the current points standings and get ready for the next day of matches!