Cook: The AEW Heels "Controversy"
Steve Cook weighs in the AEW Heels controversy…is it a controversy at all?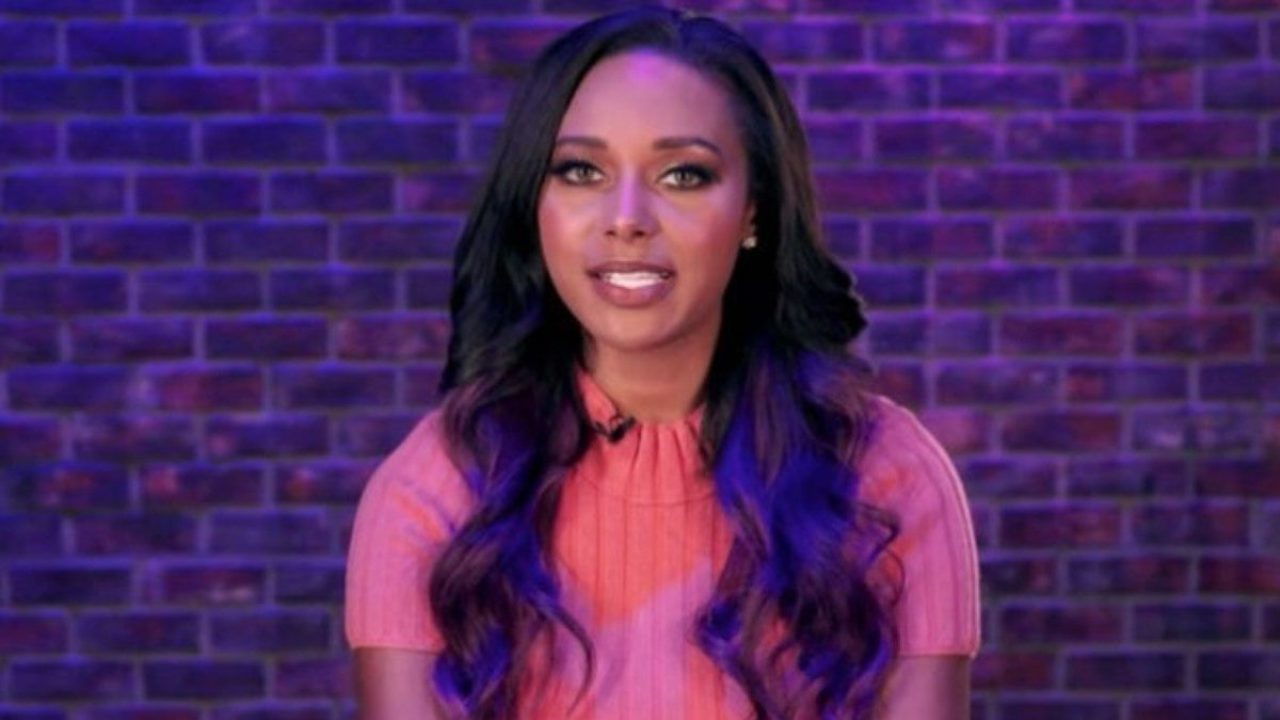 Steve Cook weighs in the AEW Heels controversy…is it a controversy at all?
My Thirtieth Anniversary Celebration has caused me to do a good deal of looking back at certain aspects of life. I've found that the things I regret most in life aren't things I did…they're things I didn't do. If I had taken that chance or made one decision instead of another, things could be vastly different. Most of my regrets in this aspect are big time stuff that I don't want to discuss here. Some are pretty small though, including one that might sound silly to you…
I wish I joined a fan club at some point.
Back in the day, fan clubs were a pretty huge deal for kids. There weren't as many ways to get in touch with people with the same interests as you back then. No Internet, obviously no social media, not much except the kids you knew in the neighborhood. So if they didn't share your interests, you usually ended up doing a lot by yourself.
Fan clubs were a way for you to express that interest. You got all kinds of "free" stuff, there were usually events that would involve meeting other fan club members, and sometimes you'd end up meeting the person/people you were a fan of. I never really thought too much about joining one back then, but looking back, I wish I had.
Especially considering the fact that most of my interests had pretty cool fan clubs. For example: the WWF Fan Club!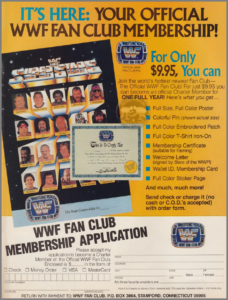 You got posters, pins, patches, a welcome letter and a MEMBERSHIP CARD! How cool is that? In later years, the WWF Fan club experience included merchandise coupons, autographed photos, key chains, a newsletter, cassette tapes with theme songs, and even a free ticket to a live event. All within the range of $9.95-$12.95. I don't know how the inflation works, but it still sounds like a great deal to me.
The Cincinnati Reds, like most sports teams, has a fun array of fan clubs. Most notable is probably the Rosie Reds, which started out in the 1960s with the goal of inspiring fan support in Cincinnati that would keep the team from moving. It was originally a women-only club, but men ended up joining as well.

The benefits of becoming a Rosie Red:
Opportunity to purchase Opening Day tickets
Two free tickets for Guest of the Reds game, plus join our parade on the field before the game
Chance to participate in player Meet and Greets
Ins & Outs Tour of Great American Ball Park
Discounted tickets for designated Reds home games
Road trips to other ballparks
Riverboat Cruise on Ohio River
Opportunity to take part in the Opening Day parade
Discounted membership to Reds Hall of Fame Memberships (with HOF membership, receive 10% off Team Shop purchases)
Chance to purchase Post Season tickets and much more…
Sounds fun, right? $30 is a heck of a deal, and that's the same price the Reds themselves charge for kids from 3-12 to join the Reds Heads.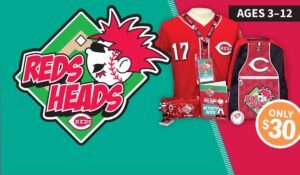 I wish they had this going on when I was a kid. You get a jersey, a backpack, a bobblehead, a lanyard, two free tickets to a game, a player autograph session, a player question & answer session, the chance to go to the front of the line when they let fans run the bases, and the chance to run on the field with the players at the beginning of a game. There isn't a better deal at Great American Ball Park, and I know that since I've sold stuff there for years.
Fan clubs seem like fun.
Unfortunately, I'll never know what it's like to be in one. See, as an Internet Wrestling Journalist I have to be objective. If I join a promotion's fan club, or even a wrestler's, that will be seen by others as a sign of bias. Honestly, I'm kind of pushing it already with the Fave Five column. I'm not supposed to actually be a fan of anybody.
You, dear reader, don't have that problem. You can root for anybody you like, and you can even join a fan club and get access to all kinds of cool stuff. In fact, if you happen to be female and happen to be an AEW fan, there's a new fan club wrestling community just for you!
AEW Heels, the new female-focused wrestling community led by AEW Chief Brand Officer Brandi Rhodes and the stars of AEW's women's division, today announced the launch of its new fan membership platform. Powered by Wonderful Union's secure digital platform, female wrestling fans can seamlessly access AEW Heels' exclusive content and other special benefits — all in a safe environment for engaging in conversation and developing friendships worldwide. With an annual paid subscription of $49, members receive access to a variety of features including virtual meet-and-greets, video conference discussions with industry experts, exclusive AEW talent Q&A sessions, customized merchandise, special promotions, themed parties and more. The secure space enables AEW Heels members to connect, learn and thrive together through shared passions for women's wrestling. Female fans can subscribe to AEW Heels at: http://alleliteheels.com
Apparently, this made people mad.
Which…I mean, I know everybody likes to get mad on the Internet about everything these days, so I shouldn't be surprised about anything drawing a fiercely negative reaction. Yet, the vitriol surrounding AEW Heels from people on social media wasn't something I was quite expecting. Let's break it down:
– Price Point: OK, so $49 is a little higher than the fan clubs I was talking about earlier. However, this seems to delve even deeper into fan interaction. More importantly, we need to talk about how supporting wrestling costs money, and compare the AEW Heels price tag to other things. Looking at AEW's shopping website, most of their t-shirts go for $24.99. So I can get two t-shirts, add on a shipping charge, and that's more than what AEW Heels costs. Heck, they have new Street Fighter X themed shirts that'll set you back $37.99. I don't see the same rage directed towards AEW t-shirts.
I have had the WWE Network pretty much since its debut. Sets me back $9.99 per month, which comes to $119.88 per year. I'm ok with that. Maybe that means I'm speaking from a position of privilege, where I can drop that kind of money on streaming wrestling per year and not worry about it. But we're talking about more than twice what AEW Heels costs, and I'm not interacting with any WWE Superstars.
– The Actual State of Women's Wrestling in AEW: People have been skeptical about AEW's women's division since the promotion started. There's been definite ups & downs, and there's still a lot of work to do. I get why they're doing some of the stuff they're doing.
The Deadly Draw tournament on YouTube makes sense to me. They want to build up their YouTube account, and women's wrestling is a draw on YouTube. Ring of Honor's top six uploads by viewership all feature the Women of Honor. The first Deadly Draw matches did 140,000 more views than AEW Dark this week, so it seems like it's working from where I sit.
I also see the argument that the matches should be on Dynamite to make them seem "important". Which I get, but then I have to ask what you would have taken off of Dynamite this week in order to fit 20+ minutes of match time. More likely, the match time gets drastically cut. The Mae Young Classic wouldn't have been the Mae Young Classic if the matches were shoehorned onto Raw or SmackDown to get more people watching them.
Progress has been made, but there's a long way to go. I'm patient about these things, but I get why others aren't. And I can understand why people are making the argument that AEW should do more with their women if they really want a sizeable female audience.
– It's a fan club: Apparently AEW is reluctant to use the term "fan club", which kinda sounds like some Vince McMahon stuff to me. "IT'S NOT A "FAN CLUB", PAL! "WRESTLING COMMUNITY!"" I'm not sure whether that's entirely the issue, or if some people really aren't aware of how fan clubs work. People pay money to support their favorite things and get some perks out of the deal. This has happened for generations now, it really isn't anything new. Then I think some other people aren't aware of how businesses work, or that at the end of the day, pro wrestling is a business.
Trying to cultivate more female wrestling fans is good business. Wrestling promoters have known this for years, that's why the Rock N' Roll Express never struggled to get bookings in the 1980s. Women wanted to see Ricky & Robert, and men wanted to be where the women were at. Sure, there's some altruistic stuff at work here, I'm sure Brandi Rhodes is serious about wanting to create a positive community. There's also the fact that there might be some money to be made, and wrestling companies need money to survive & thrive. Especially when they can't sell tickets to live events.
I don't know why AEW Heels became this big controversy that caused Brandi to take a time out from social media and a lot of otherwise normal folk to lose their heads. The price plays a role, but there's more to it than that. Is it a hatred of the messenger, or the message? Honestly, it seems to be a little bit of everything.
All I know for sure is that the people actually taking part in the program are having a good time. I heard nothing but good things about their event on Friday night. At the end of the day, I think that's what matters the most. As long as the people paying the bill feel like they're getting something out of it, who am I to tell them that they aren't?
King's WrestleMania Rewind: Charlotte Flair vs. Asuka from WrestleMania 34
Chris king is back with one of the most underrated matches in WrestleMania history–Charlotte Flair vs. Asuka!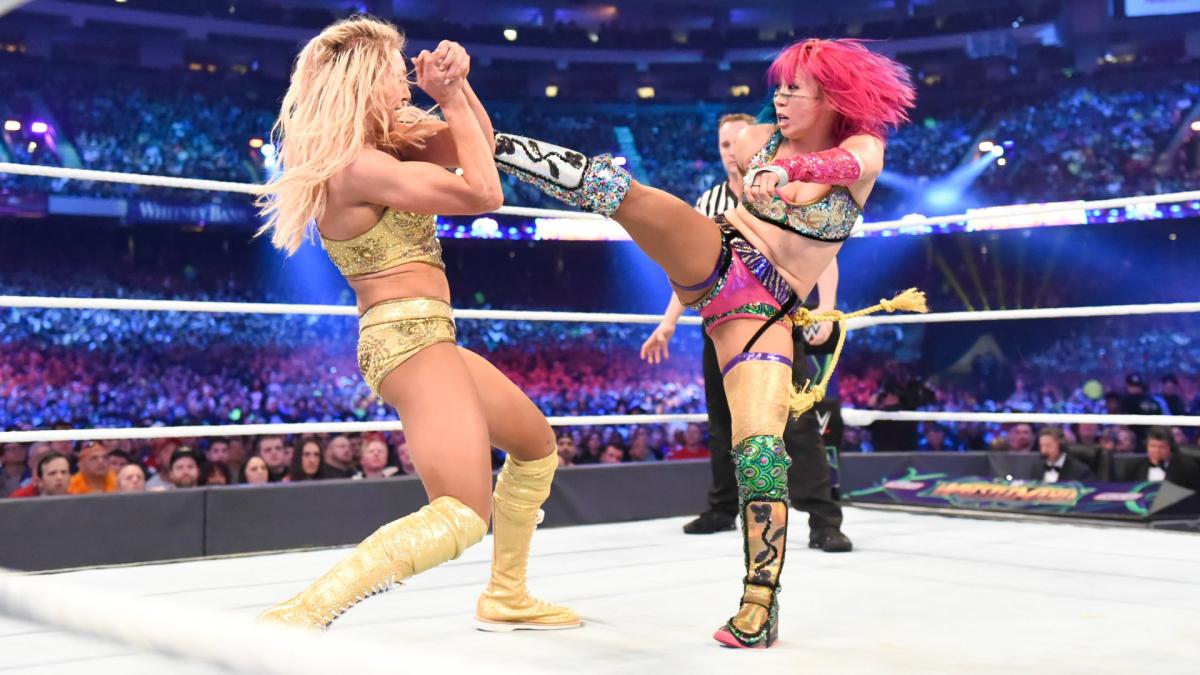 Chris king is back with one of the most underrated matches in WrestleMania history–Charlotte Flair vs. Asuka!
We look back at Charlotte Flair vs. Asuka at WWE WrestleMania 34. 'The Empress of Tomorrow' put her unprecedented and historic undefeated streak of 914 days on the line against 'The Queen's' SmackDown Women's Championship.
For years, this was considered a dream match while Asuka dominated the roster in NXT, while Flair won numerous championships on the main roster on both Raw and SmackDown. The Empress made her long-awaited debut on the September 11th episode of Raw and began to tear through the competition.
Asuka outlasted all twenty-nine other women in the historic first-ever Women's Royal Rumble match to challenge for the title of her choosing. At Fastlane, she made her choice.
The WWE Universe was so excited for this match myself included. Both superstars delivered a fantastic performance on the Grandest Stage of Them All executing counter after counter. Asuka showed off some nasty-looking kicks to her opponent, and Flair hit a thunderous Spanish Fly off the top rope. Flair was seconds away from defeat at the hands of The Empress but she locked in Figure Eight and Asuka was forced to tap out.
I can't even begin to explain how shocked I was at this outcome, as nearly everyone expected The Empress to continue her undefeated streak and walk away with the women's title. This controversial decision was the downfall of Asuka's momentum. She would ultimately win the SmackDown Women's Championship at the 2018 TLC pay-per-view in the triple-threat ladder match.
Fast forward to this year when Asuka has recently returned with her Japanese-inspired persona Kana. Kana is dangerous and ruthless and is heading into a championship with Bianca Belair at WrestleMania 39. The Empress has regained all her momentum and is highly favored to walk away with the Raw Women's Championship. Let's hope that Asuka and Belair can tear the house down and deliver an A+ grade match both women are fully capable of.
King: Dominik Mysterio Needs To Do This At WrestleMania
Chris King is here with what WWE should do with Dominik Mysterio at WrestleMania in his long-awaited match against his father Rey Mysterio Jr.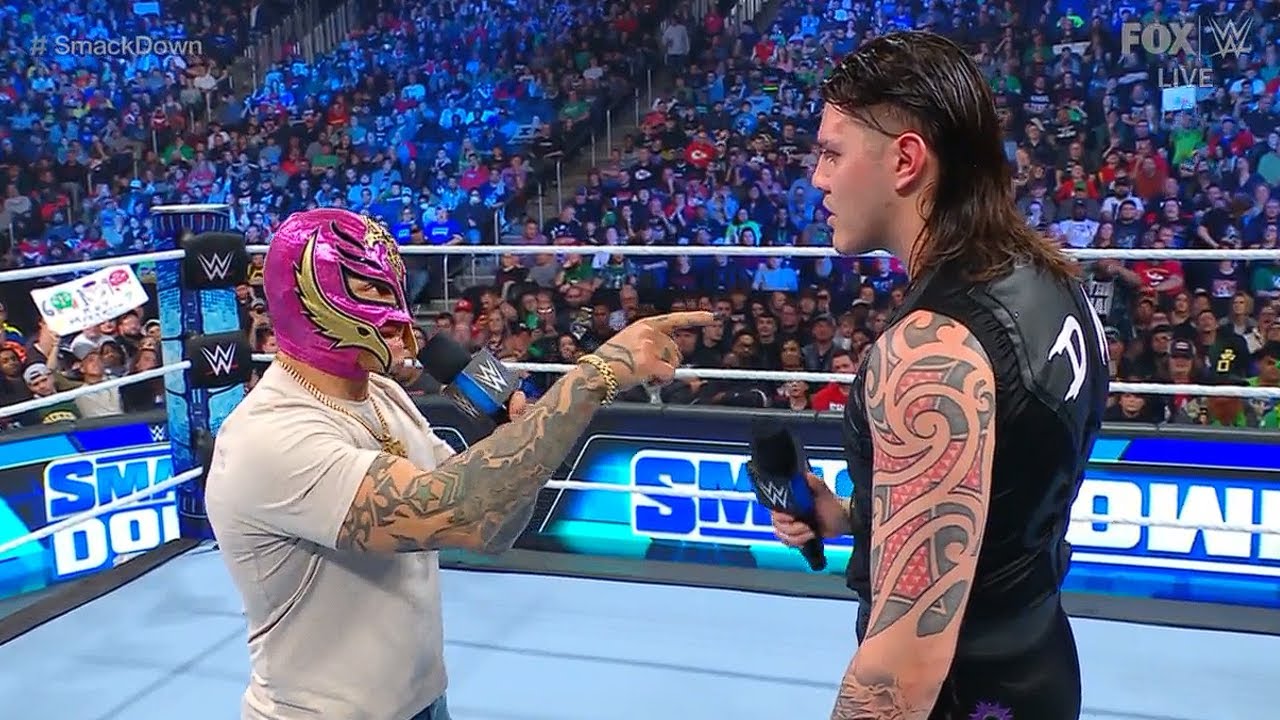 Chris King is here with what WWE should do with Dominik Mysterio at WrestleMania in his long-awaited match against his father Rey Mysterio Jr. 
On this week's episode of Friday Night SmackDown, Rey Mysterio finally snapped and beat some sense into his disrespectful punk-ass kid Dominik. The member of the Judgement Day came out to push his father again for a match on the Grandest Stage of Them All, this time with his mother and sister at ringside. The ungrateful punk told his mom to "Shut Up," as a father even I wanted to jump through the screen and whoop his ass.
Back in October of last year, Mysterio made the emotional decision to possibly quit the company but, instead, Triple H persuaded the Lucha libre superstar to move over to SmackDown to avoid his son. This came after Dominik shockingly turned on his father at Clash at the Castle. Mysterio did everything he could to refuse his despicable son's challenge for Mania but, a man can only be pushed so far. Mysterio will be inducted into the 2023 WWE Hall of Fame and I expect Dominik to embarrass his father during his speech to further this personal feud.
Yes, the WWE Universe hates Dominik and wants to see him get the ever-loving crap kicked out of him but, this feud is missing a special ingredient to capitalize on the biggest heat possible. Throughout this feud, Dominik has made mention of the legendary Eddie Guerrero on several occasions going back to the "iconic" 2005 feud.
I know WWE might not want to go this route but, Dominik MUST come out to Eddie Guerrero's theme at Mania. The disrespectful punk needs to come out in a lowrider to garner nuclear heat. It doesn't matter if The Judgement Day comes out and causes interference for Dominik to get the win, all that matters is that both superstars get the biggest payoff of this nearly year-long feud. Just imagine the Roman Reigns heat after he defeated The Undertaker and multiply that by ten. Dominik portrays the perfect heel and he truly is the missing ingredient that The Judgement Day needed to grow and evolve into a top faction.