Cook's Top 5: 2006 Wrestling Memories
The journey continues! Steve Cook stops his time travel in 2006, when he graduates college and Kurt Angle…..graduates to TNA?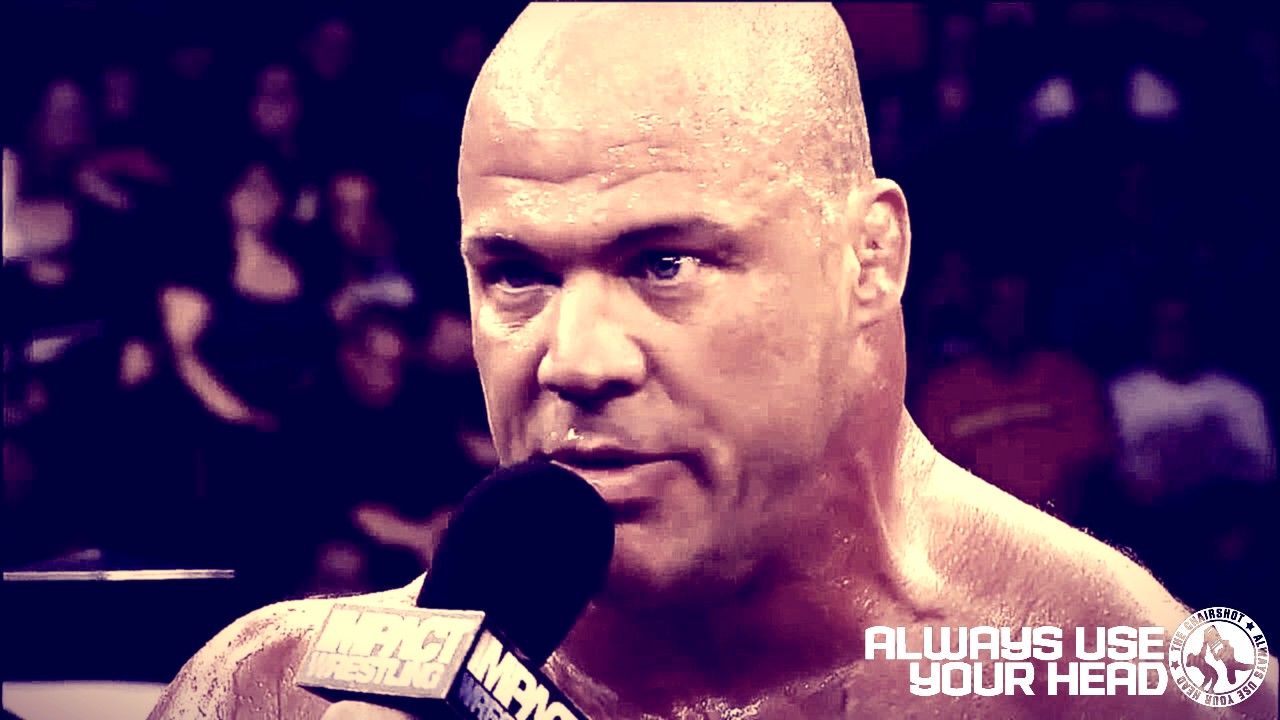 The journey continues! Steve Cook stops his time travel in 2006, when he graduates college and Kurt Angle…..graduates to TNA?
2006 was a busy year.
I graduated from college & entered the "real world". However, I still had a lot of attention on what some would call the "fake world" of pro wrestling. There was a lot going on locally, and I was in the thick of a lot of it. Let's look at my 5 most vivid memories of 2006 as we continue my celebration of 30 glorious years as a wrestling fan.
5. OVW & HWA in Cincinnati?
To be honest, Cincinnati has never really been a tip-top wrestling market. The Sheik ran shows there for awhile, Ole Anderson & Jim Crockett tried after that, and national promotions have stopped by a couple of times a year or so, but Cincinnati isn't mentioned as a top wrestling city like a lot of Midwestern towns are. Regional promotions had a tough time breaking into the area for years. I'd read about companies like the USWA & SMW that operated right on the border, but never quite got that far north. They got their shows on a low-powered station, but never toured ECW ran a total of one show in Cincinnati. Heck, ROH got as close as Dayton, but didn't crack that Cincinnati barrier until the Sinclair era.
So it was interesting in 2006 when Ohio Valley Wrestling finally got a TV deal in Cincinnati. Good timing for me since I'd just moved back to the area from Louisville. However, it wasn't exactly the best timing for OVW. Jim Cornette had been forced out of the company. Paul Heyman took over creative for awhile, but by this time he was working for WWE's ECW brand. So the booking wasn't exactly what it was in OVW's glory days, the talent wasn't exactly what it was then, and overall it just wasn't quite up to what I had seen in Louisville. There was some talent that would become something later. Some kid named Cody Runnels was teaming with Shawn Spears. Colt Cabana & Matt Sydal made their way in. Katie Lea & Beth Phoenix were doing good things in the women's division. There were bits & pieces, but it just wasn't like the old days when the Disnmores, Conways, Damajas & Machines were carrying the territory with Bolin Services & the Disciples of Synn at their apex of heeldom.
Another interesting part of OVW getting a TV deal: the HWA got a spot on right after them. There was some talent there too! A very young Jon Moxley, Cannonball Callihan & the Crist Brothers were starting out. However, they weren't what they would become, and the production of the show was beyond godawful. It was a really cool idea to have pro wrestling on local television in 2006, but it was a bit ahead of its time.
4. Kurt Angle moves to TNA
One of the big backstage stories of 2006 involved the physical & mental health of Kurt Angle. Things weren't going well for him on WWE's full-time schedule, so he asked for his release. Shortly after, he popped up in TNA and a lot of people were worried. I remember 411 posting a column from a new writer that was convinced that Angle would die in a TNA ring. That didn't happen.
Angle did have some ups & downs during his TNA stint, but it didn't go nearly as poorly as people feared. The lighter schedule helped Angle stay active in wrestling well into the 2010s and produce some great matches on TNA events. All in all, I'd say things worked out for the best.
3. Backlash 2006
It was time for final exams in college. So what was I doing? Traveling to Lexington for a wrestling show, of course! Backlash 2006 was the show, and I got some results via History of WWE, who also present some other results that will appear later.
Heat – featured Joey Styles & Jerry Lawler on commentary: Goldust pinned Rob Conway with a powerslam at 3:38
My friend was hoping for a CM Punk vs. Rob Conway match, so when Conway came out we were wondering if he got it right for a second. Also, Conway's theme at this point was tremendous:
Doesn't age well though, with a lyric like "Unlike you, I've had my way with many, many girls". Sounds a bit problematic.
Carlito Caribbean Cool pinned Chris Masters with the Back Cracker and putting both feet on the middle rope for leverage at 9:58 after Masters hit the top turnbuckle face-first; after the bout, Maria showed several comments from fans earlier in the night of who they thought would win the night's main event triple threat match; she introduced the backstage segment by saying Masters won the opening match and ended by segment by interviewing Lita about Edge's participation in the main event
Umaga (w/ Armando Allejandro Estrada) pinned Ric Flair with a thumb strike to the throat at 3:29 following a headbutt off the middle turnbuckle
Trish Stratus defeated WWE Women's Champion Mickie James via disqualification at 4:05 when the champion refused to stop choking Trish; mid-way through the bout, Trish fell to the floor, dislocating her shoulder
Kind of disappointing to see a Ric Flair match (even in 2006) be a squash, though it was the right result for Umaga. Definitely disappointing for Trish vs. Mickie to get cut short due to an injury, I was looking forward to that one.
Rob Van Dam pinned WWE IC Champion Shelton Benjamin to win the title with the Five Star Frog Splash at 18:41 after using the Van Daminator to send the Money in the Bank briefcase into the champion's face; had Benjamin won the match he would have earned RVD's Money in the Bank world title shot (History of the Intercontinental Championship)
The Big Show fought Kane to a no contest at around the 8-minute mark when, after Kane knocked Show to the floor, red lights shone over the ring and Kane's own voice could be heard saying "It's happening again … May 19th … Do you remember what happened on that day?;" for several minutes, Kane appeared in pain until Show hit him over the head with a steel chair, causing the lights to come back on and the voice to disappear
RVD vs. Shelton was good. I think Big Show vs. Kane might still rank as the worst match I've ever seen live, which is saying something. The booking was brutal, and the action wasn't exactly stellar. May 19th was another one of those amazing storylines for Kane, leading to the man later known as Luke Gallows appearing in a 1990s Kane outfit way before he was ready to go on TV. Bad times.
Vince & Shane McMahon defeated Shawn Michaels in a no holds barred handicap match at 19:59 when Vince scored the pin after WWE Raw Tag Team Champions the Spirit Squad interfered, with all five Squad members throwing Michaels through a table set up in the ring; the match was officially billed as a tag team match with "God" as Michaels' partner; prior to the bout, Vince added the no holds barred stipulation after introducing "God" to the ring; Jim Ross referred to the finish on air as "bullshit;" after the match, the McMahons were hoisted on the Squad's shoulders at the entrance stage
I'm not the most religious person, but I thought this entire storyline with Shawn teaming with "God" & Vince's sacrilegious promos was complete garbage. Shawn tried in the match, but it was a lost cause going in. Follow this up with an in-ring promo with Eugene & Matt Striker, and it was a rough lead-in to the main event.
WWE World Champion John Cena defeated Triple H and Edge (w/ Lita) in a No DQ match at 17:34 by pinning Triple H after revering an attempt at the Pedigree into a roll over; after the bout, Triple H hit the referee, Edge, and Cena in the face with his sledgehammer before giving several crotch chops and leaving the ring as the show came to an end (Triple H: The King of Kings)
Perfectly fine PPV main event. I wouldn't say it was enough to save the show, and some of the in-ring shenanigans led to some discontent from the Kentucky Boxing & Wrestling Authority. Kentucky wasn't big on blood, thanks to some of Ian Rotten's IWA Mid-South bloodfests from back in the day receiving complaints from the locals. WWE asked for permission, the state said no, and WWE did it anyway because that's how they roll. Several fines were issued, and in related news, WWE hasn't held a PPV in Kentucky since Backlash 2006.
2. ROH vs. CZW
I attended four Ring of Honor shows at the Montgomery County Fairgrounds in 2006. Looking back now, I consider 2006 to be the peak of ROH for a number of reasons.
-Bryan Danielson was tremendous as champion for almost the entire calendar year.
-Jimmy Jacobs was in love with Lacey.
-Ring of Honor was in a bitter feud with Combat Zone Wrestling.
ROH & CZW both looked to fill the void left in the scene by their fellow Philly wrestling staple, Extreme Championship Wrestling. CZW's idea was to make things ultraviolent. Sure, it was also the home of some fantastic non-hardcore wrestlers, many of whom would eventually work for ROH & other feds, but most of CZW's popularity back in the day was built off of the ultraviolence. That's what drew fans to the bingo hall & kept CZW running all those years. You can argue over how much violence a wrestling show needs, but I'll always believe that every wrestling promotion needs to present at least a little danger to keep things interesting.
As much as ROH has always claimed to be all about "pure wrestling", they've presented their fair share of violence over the years. The same fans that claim to prefer ROH due to having the best bell to bell in-ring grappling action lose their minds during brawls, or when foreign objects get introduced to matches. It's only human.
ROH's presentation of its feud with CZW was one of the few times that a promotion vs. promotion feud actually worked. CZW got plenty of times to shine, like at Tag Wars 2006 at Dayton in January where those hooligans Chris Hero & Necro Butcher tried to ruin the show by tearing the entrance down. Or during Weekend of Champions Night 1 in April, where Team CZW got the win in a wild brawl that led to B.J. Whitmer being stretchered out on a table. Of course, ROH got plenty of victories as well, and did win the big blowoff match at Death Before Dishonor IV in the Cage of Death. Fun times were had by all, and ROH fans were introduced to a number of wrestlers that would appear in the future.
One of which was the Necro Butcher, who had already become a favorite of mine due to watching some of his more hardcore matches and that Samoa Joe match. The ROH vs. CZW feud ended in Philadelphia, but two weeks later, Necro & Whitmer settled their personal issue in a barbed wire match in Dayton. B.J. got the win, but one got the feeling that the Butcher would be back in ROH rings soon enough.
CZW's presentation of their feud with ROH didn't go nearly as well. Owner John Zandig didn't really want anything to do with it, other higher-ups in the company weren't really interested either and it pretty much flamed out. Kind of a trend in CZW over the years, but at least Zandig got his proper respect on the most recent AEW Dynamite.
1. WWE vs. ECW Head To Head

I told you earlier about a WWE pay per view event I attended that was…well, a pay per view event that I attended. In June, I would head up to Dayton for something that ended up being a lot more fun. The stars of WWE & ECW were facing off in the Nutter Center for a USA Network special to hype the upcoming One Night Stand & the debut of ECW as a WWE brand.
WWE @ Dayton, OH – Nutter Center – June 7, 2006 (4,700)
WWE IC Champion Shelton Benjamin defeated Carlito Caribbean Cool
Matt Hardy defeated Jon Bolen
Jimmy Yang defeated Tatanka
Shelton & Carlito worked a time limit gimmick, as I recall, it was either fifteen or twenty minutes, with Shelton getting the win at the last second. I want to say this was the first appearance of Jimmy under his eventual cowboy gimmick, as he got the win over a Native American. The dark match period also saw Dusty Rhodes come out to cut a promo hyping his DVD, which was a welcome bonus.
WWE vs. ECW – shown live on the USA Network – opened with Mick Foley and Paul Heyman giving inspiration to the WWE and ECW locker rooms, respectively; featured Jim Ross & Jerry Lawler on commentary representing the WWE and Joey Styles & Tazz representing ECW, with Ross and Styles having to keep Lawler and Tazz apart prior to the matches; included a commercial advertising the debut of ECW on the Sci-Fi Channel the following Tuesday night; featured an in-ring promo by Kurt Angle regarding the attack he sustained by Randy Orton on Raw and their upcoming match at ECW One Night Stand; moments later, Orton interrupted, saying the new ECW Kurt Angle would be facing the new Monday Night Raw Randy Orton, that he would make Angle pay for breaking his ankle, and that he would kill the legend of ECW in one match; included a vignette focusing on Sabu; featured an in-ring promo by Paul Heyman in which he announced the return of ECW to network TV the following Tuesday, ran down the scheduled card for ECW One Night Stand, and then showed highlights of last year's event; featured a look at Kane's appearance in "See No Evil":
Rob Van Dam pinned World Heavyweight Champion Rey Mysterio Jr. in a No DQ non-title match at 10:43 with the Five Star Frog Splash after Mysterio missed a springboard legdrop and fell onto a steel chair; Mysterio had the chair placed across him as RVD went up top but Mysterio threw it off him as Van Dam was in mid-air; after the bout, RVD helped Mysterio to his feet (ECW: Extreme Rules)
WWE Women's Champion Mickie James pinned Jazz in a non-title match at 2:01 with a jumping DDT
Tough to go wrong with Rey & RVD. Mickie & Jazz only going 2 minutes was the WWE women's division of the time period, and the AEW women's division of the now. Yeah, I had to say it.
The Big Show won a 20-man WWE / ECW battle royal by last eliminating Randy Orton at 14:20 after hitting the chokeslam; the match originally ended at 13:32 when Orton eliminated Kurt Angle, seemingly giving the WWE team the victory as both Orton and Show were left in the ring; moments later, Show ripped off his Raw shirt to reveal an ECW shirt underneath; order of elimination: Mark Henry by Angle & Little Guido at the 14-second mark; Matt Hardy by Terry Funk & Justin Credible at the 47-second mark; Guido by Show via a punch off the apron at 1:19; Tatanka by Dreamer at 1:32; Carlito Caribbean Cool by Sandman via a dropkick off the apron at 1:44; Tony Mamaluke by Edge via a hiptoss over the top at 1:56; Dreamer by Orton & Edge at 2:07; Funk by Edge & Finlay at 6:03; Credible by Finlay at 6:19; Al Snow by WWE IC Champion Shelton Benjamin via a kick to the head after Benjamin avoided being hit with Head at 6:49; Stevie Richards by WWE US Champion Bobby Lashley at 7:01; Balls Mahoney by Lashley at 7:16; Lashley by Angle at 7:21; Sandman by Orton at 11:26; Benjamin by Angle at 11:39; Finlay by Angle via a catapult at 13:11; Edge by Angle via a belly to belly suplex over the top at 13:26 as Edge attempted the spear; Angle by Orton at 13:32; Edge spent the majority of the match outside the ring, interfering only long enough to eliminate someone near the ropes (ECW One Night Stand 2)
This might have been the first "everybody wrestles in a brand t-shirt" match, but I'm sure I'm forgetting something. Big Show turning on somebody was certainly a shocking development.
Edge (w/ Lita & Mick Foley) pinned Tommy Dreamer (w/ Terry Funk) in a No DQ match at 6:45 with the spear as Dreamer attempted to powerbomb an interfering Lita, while Foley and Funk battled outside the ring; after the commercial break, Foley sat alone in the ring and cut a lengthy promo on how he planned to end the heroes of ECW at One Night Stand
I got to see Terry Funk punch Mick Foley right in front of me. That would have been on my bucket list if I had one at the time. Foley later wrote in his Hardcore Diaries that he didn't think the promo got over well with the Ohio crowd. I thought it did, but I also thought that HHH/HBK Cell match got over with the crowd. So what did I know?
WWE World Champion John Cena defeated Sabu via disqualification at 8:04 when the Big Show interfered and attacked the champion as Sabu was caught in the STFU; prior to the bout, Lawler and Tazz brawled around ringside until they were broken apart by officials and returned to their commentary duties; after the match, both rosters engaged in an in-ring brawl to close the broadcast
John Cena vs. Sabu is a main event that I watched in person. Can anybody top that with a more random main event they watched in person? Hit me up on the Twitter & let me know. 2006 was one of those years. This show gave me some hope for the new ECW, which lasted up until the debut of the Zombie. All downhill from there.
Next time…2007? Uh oh.
King: Dominik Mysterio Needs To Do This At WrestleMania
Chris King is here with what WWE should do with Dominik Mysterio at WrestleMania in his long-awaited match against his father Rey Mysterio Jr.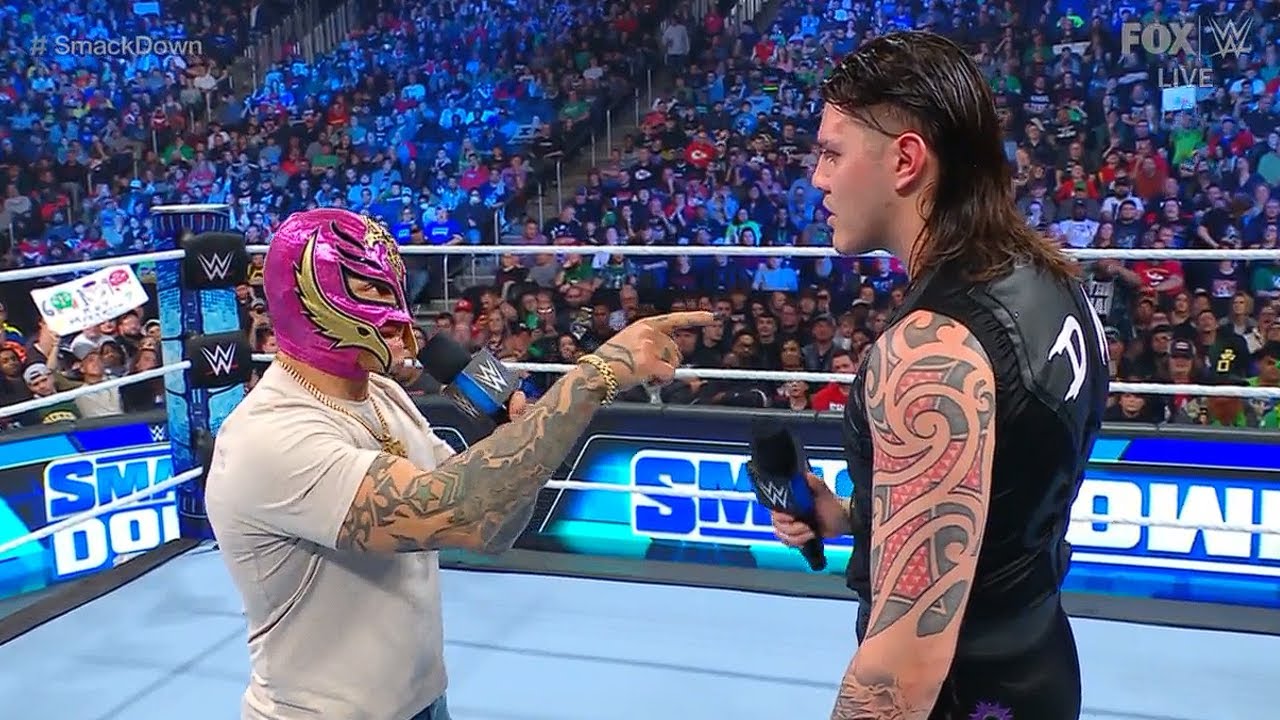 Chris King is here with what WWE should do with Dominik Mysterio at WrestleMania in his long-awaited match against his father Rey Mysterio Jr. 
On this week's episode of Friday Night SmackDown, Rey Mysterio finally snapped and beat some sense into his disrespectful punk-ass kid Dominik. The member of the Judgement Day came out to push his father again for a match on the Grandest Stage of Them All, this time with his mother and sister at ringside. The ungrateful punk told his mom to "Shut Up," as a father even I wanted to jump through the screen and whoop his ass.
Back in October of last year, Mysterio made the emotional decision to possibly quit the company but, instead, Triple H persuaded the Lucha libre superstar to move over to SmackDown to avoid his son. This came after Dominik shockingly turned on his father at Clash at the Castle. Mysterio did everything he could to refuse his despicable son's challenge for Mania but, a man can only be pushed so far. Mysterio will be inducted into the 2023 WWE Hall of Fame and I expect Dominik to embarrass his father during his speech to further this personal feud.
Yes, the WWE Universe hates Dominik and wants to see him get the ever-loving crap kicked out of him but, this feud is missing a special ingredient to capitalize on the biggest heat possible. Throughout this feud, Dominik has made mention of the legendary Eddie Guerrero on several occasions going back to the "iconic" 2005 feud.
I know WWE might not want to go this route but, Dominik MUST come out to Eddie Guerrero's theme at Mania. The disrespectful punk needs to come out in a lowrider to garner nuclear heat. It doesn't matter if The Judgement Day comes out and causes interference for Dominik to get the win, all that matters is that both superstars get the biggest payoff of this nearly year-long feud. Just imagine the Roman Reigns heat after he defeated The Undertaker and multiply that by ten. Dominik portrays the perfect heel and he truly is the missing ingredient that The Judgement Day needed to grow and evolve into a top faction.
King's WrestleMania Rewind: Eddie Guerrero vs. Rey Mysterio (WrestleMania 21)
In the next WrestleMania Rewind, Chris King takes us back to WWE WrestleMania 21, and Rey Mysterio vs Eddie Guerrero in a battle of tag team champions!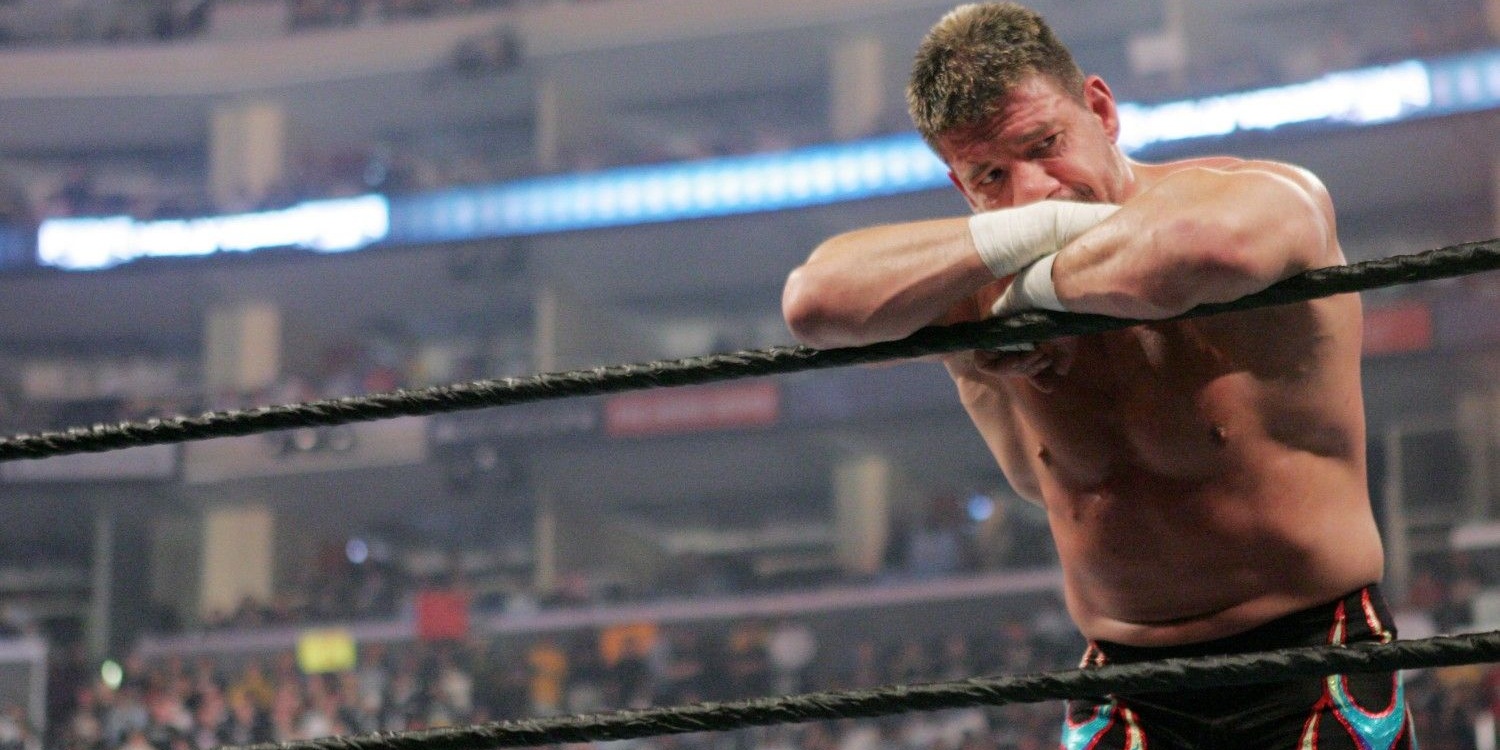 In the next WrestleMania Rewind, Chris King takes us back to WWE WrestleMania 21, and Rey Mysterio vs Eddie Guerrero in a battle of tag team champions!
Chris King is back with his third edition of WrestleMania Rewind. This week he's bringing us back to some 'Latino Heat.' We're rolling back to WrestleMania 21 where Eddie Guerrero faced longtime friend and rival Rey Mysterio.
This would be Guerrero's last Mania match caused by his unfortunate death. Over on SmackDown, Mysterio and Guerrero would become the tag team champions at No Way Out where they defeated MNM.
Chavo Guerrero would get into the head of Latino Heat by making him believe Mysterio was trying one-up his tag team partner. Chavo went as far as to tell his uncle to stop using the Guerrero name.
Guerrero would finally give in to his nephew's manipulation and went on to challenge Mysterio to a one-on-one match at WrestleMania 21. I For the first time in history, both tag team champions would face each other. Guerrero vs. Mysterio was the first match on the stacked card. Both partners threw everything at each other including the kitchen sink in a battle of one-up-manship.  In an incredible high-octane match that saw both superstars delivering counter for counter, Mysterio pulled off the win with a surprise pin roll up.
A few months later, what once was a friendly battle turned into a nasty fight involving the custody of Mysterio's real-life son Dominik Mysterio. After several torturous weeks, both former tag team champions would face off in a ladder match with the custody of Dominick on the line. I forgot how amazing this rivalry was and it's definitely worth a watch. Sadly, we would lose Latino Heat in November of 2005. There will never be another Eddie Guerrero. Viva La Raza!