Greg DeMarco's Top 5 Things RETRIBUTION Can Do In WWE This Week
RETRIBUTION ran wild in WWE this week, and now we all want to see what they do next. Welp, here are my Top 5 options!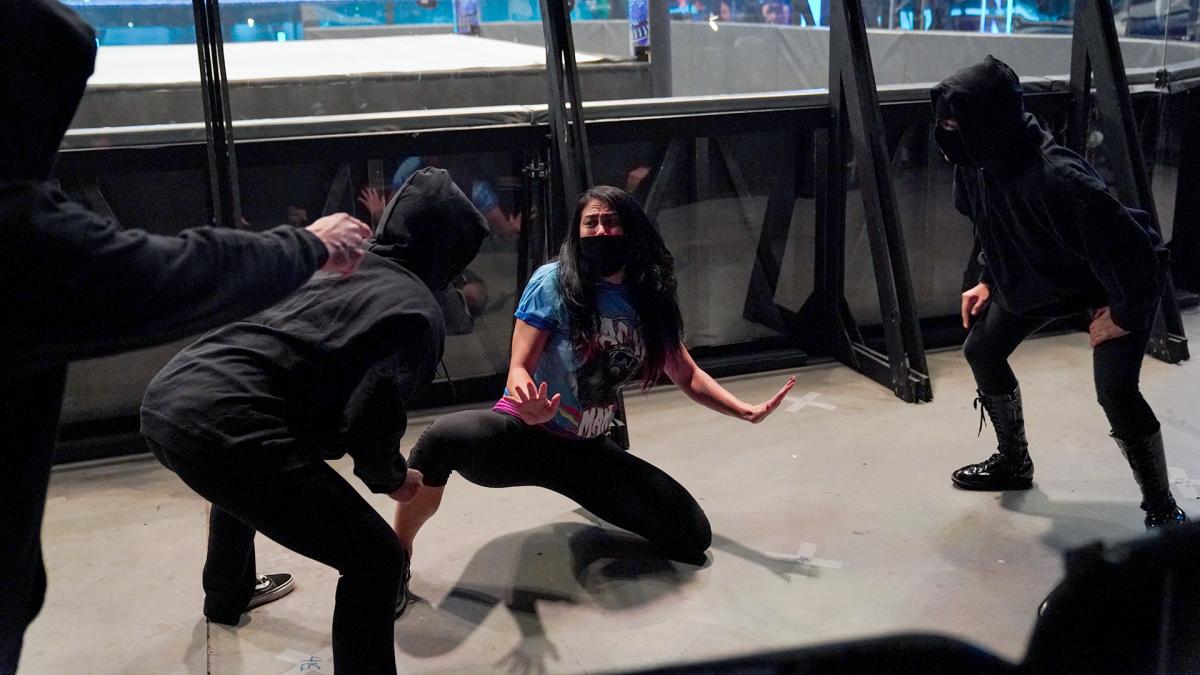 RETRIBUTION ran wild in WWE this week, and now we all want to see what they do next. Welp, here are my Top 5 options!
RETRIBUTION was teased to the WWE audience last Monday before Raw, and were the likely subject of leaks that were designed to make us think there was backstage chaos all day. The group caused chaos of their own, spearheading technical issues on both Raw and Smackdown, blowing up a transformer, and attacking the crew and "fans" Friday night on FOX.
Who makes up the group? It's speculated that Friday's crew consisted of Tommaso Ciampa, Chelsea Green, Vanessa Bourne, Lio Rush, and a stand-in for Dominik Dijakovic. It's largely possible the entire group were stand-ins to get the speculation going, or that Dijak could show up as a 6th member. I might suggest that later. 🙂
The most important element now is the follow-up, and it starts this Monday. What can this group do to continue to have their presence felt during WWE television?
Greg DeMarco's Top 5 Things RETRIBUTION Can Do In WWE This Week
5. Attack Zelina Vega during a Twitch stream.
Wait…that already happened!
5. Make Some Demands
A Middle English origin definition of "retribution" is "recompense for merit or a service." This group wants something, and if they are indeed NXT talent (many of whom didn't get a fair shake for one reason or another), then they have to want something, right? Instead of revealing a member (more on that later), reveal what you want. Make some demands, maybe after…
4. Take Someone Hostage
So RETRIBUTION isn't supposed to be political, but a kidnapping would seem on brand for a group of hooligans who are running around in hoodies and ski masks. Why not take someone in? It doesn't have to be a wrestler, it could be a Michael Cole (who can later use what happened as a storytelling device) or a backstage correspondent like Charly Caruso.
Random attacks are great in your first week, but these first two options can advance the storyline with a little more to sink our teeth into.
3. Reveal One Member
I think it's far too soon for RETRIBUTION to reveal their identities this week. The anticipation is there, and if WWE rotates who is under the black gear, they can really keep fans guessing (and social media trending).
But why not toss people a bone, and have one person get revealed–possibly by accident.
I'm not saying Tommaso Ciampa gets revealed this week (although then they have a mouthpiece), but what about Lio Rush (if that's indeed him). He recently wrestled his "last match," and his departure from WWE was surprising. He's been a polarizing figure online, and his revelation could keep people talking.
This group is unique in that it has two women (or so we think), so the revelation of, say, a Chelsea Green could be newsworthy.
2. Win A Championship
This could be too soon, but championships are still important in WWE. And I am not talking the 24/7 Championship here, although that's obviously an option.
But say Apollo Crews or AJ Styles issue an open challenge, and someone from RETRIBUTION answers, and wins? Now we have a mystery champion, and this band of misfits have a bargaining chip.
1. Takeover Raw Underground
Monday's Raw ended with MVP leading The Hurt Business into Shane McMahon's Raw Underground, taking control of the fight club and destroying what was remaining in their path (it's important to remember that Babatunde's Dabba Kato, Erik the viking, and Dolph Ziggler weren't part of this). It's easy to expect them to be a force in it next week.
What if the hottest angle (RETRIBUTION) takes over the hottest segment (Raw Underground)? It could be a great way to debut Dominik Dijakovic as a member (still under a hood), as the 6'7″ monstrous frame he possesses can believably take out Bobby Lashley and company en route to a successful hostile takeover.
---
What would you do with RETRIBUTION this week? Sound off on Twitter @ChairshotGreg using the hashtag #UseYourHead!