Mishal's Top 5 WWE SummerSlam Events
Mishal takes a look at the Top 5 WWE SummerSlam events, does your favorite "Biggest Party Of The Summer" make his list?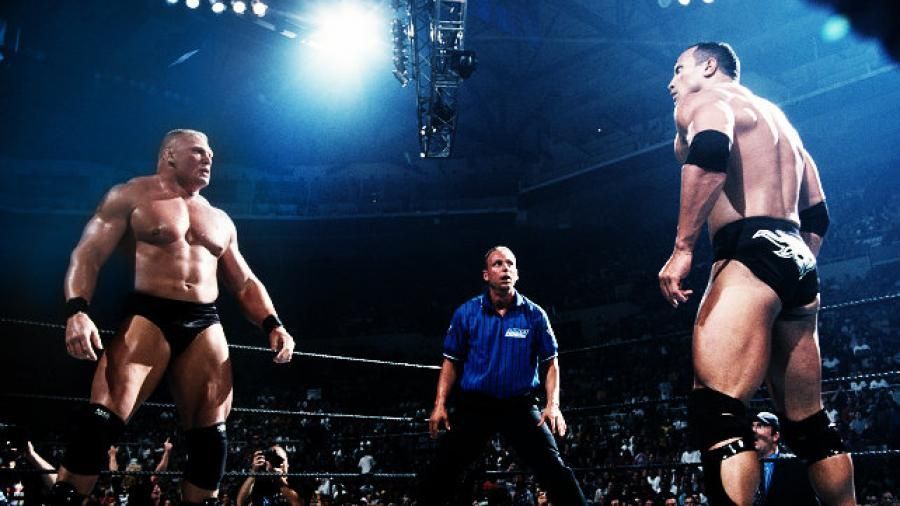 Mishal takes a look at the Top 5 WWE SummerSlam events, does your favorite "Biggest Party Of The Summer" make his list?
"The biggest party of the summer" is right around the corner. Summerslam has always been an event that comes along at the perfect time of the year, right as everyone is in the midst of their summer holidays, right before schools go back for those of us that attend, right before the work year fluxes back into its chaotic self & for wrestling fans, marks the turning point in the year as Wrestlemania season begins to draw closer & closer.
This year's event feels different, like every other event we've seen since mid-March. Summerslam 2020 doesn't feel like the celebration it usually does at this time of year, maybe due to the state of the business, product & the fact that we're in the midst of a global pandemic. As a result, Summerslam feels 'smaller', and rightfully so with the event being held from the WWE's Performance Centre this year, much like Wrestlemania was. Rather than be an event that constantly surrounds itself on the spectacle it drags along with it like so many years prior, this year it feels like the company needs to rely more on its actual storytelling, which admittedly hasn't been the best.
In the past, however, Summerslam has had its fair share of incredible moments that stand as amongst some of the finest in the history of the business to this very day. Summerslam may not be on the level of Wrestlemania, but it holds its place in company history as a historically significant event, one packed with iconic moments, classic matches that stand the test of time & shows that have created stars that continue to be the box office stars we know them to be.
And since there's no better time to do so, I figured taking a dive into the shows deep history couldn't be done at a better time than now, with the show just weeks away from going on the air.
So with this article, I'll be looking at the 5 best shows in the history of Summerslam history. When it comes to making decisions around these lists I consider a wide variety of elements, the historic value, how it caters to the product at the time, its legacy & just how well booked the card is from top to bottom. At the end of the day, this list is my own subjective opinion & any other suggestions or comments are always welcome.
But for now, let's take a look at the best that Summerslam has to offer.
Honourable mentions: WWE SummerSlam
Summerslam 2014 – If there's one thing everyone can credit WWE for during the 2014 edition of Summerslam, it was that they dared to book their top commodity, the very face of their brand, in the most decisive squash match in recent wrestling memory. John Cena's loss to Brock Lesnar grows more iconic with every viewing & never loses its impact no matter how long ago it seems now. The rest of the card is fine but underwhelming. Featuring a solid opening contest, slightly underrated Lumberjack Match, Roman Reigns' first major singles match & a Stephanie McMahon performance that is nowhere near as bad as you'd imagine it to be.
Summerslam 2001 – Sadly marred by the underwhelming booking of the infamous WCW vs WWE feud, this event is still one everyone can have a blast with. Both main event matches between Steve Austin & Kurt Angle, as well as Booker T & The Rock are excellent in their own right, upgrading a show that is really a victim of the talent it juggles below its main matches. Most of the WCW drafted talent at the time fail to enhance the large chunk of matches they're involved in, which always results in a lack of tension for any contest against company originals. It's certainly worth watching for a bonkers crowd & some quality action, but will always be held back by the stories it carried along.
Summerslam 1998 – An all-around fun show that like others in this section, is essentially carried by two marvellous headline matches which featured four of the Attitude Era's flagship stars. The main event between Steve Austin & Undertaker was an insane, physical match following the very standard formula of that period in time, but it was really the ladder match between Triple H & The Rock that was the standout in my eyes. It was a match that established the two as the future of the business, displaying their chemistry additionally which lead to a match that far exceeds the expectations considering the stipulation. Even though the rest of the card doesn't really have much to say (aside from a solid Shamrock vs Hart match), it still holds your attention due to a tonne of entertainment value.
Summerslam 2000 – Another Summerslam event with headline matches so ridiculously good it lifts a show above the weaknesses lurking elsewhere. Carried by a brilliant WWE Championship Match, death-defying Tables, Ladders & Chairs Match, a technical masterpiece of a 2-out of-3 falls match & Shane McMahon damn near killing himself in his bout against Steve Blackman. Elsewhere on the show, there is your fair share of entertainment, just nothing that felt like it stood out significantly due to its booking or overall quality. It's one of those shows that most fans I know would place higher on their list, but sadly isn't one of those that I hold to that high a standard as opposed to others on this list.
Summerslam 2005 – The most ridiculously over-the-top Summerslam you can find. Everything about this was all about the excess, from a hilariously over-the-top main event, a ladder match for the custody of a child, an opening match that you could blink and miss, a John Cena/Chris Jericho match that would mark the final match for Jericho for the next two years & brutal World Heavyweight Championship bout that pulled out all the stops. While we usually remember this for the main event that's essentially a meme at this point, it's severely underrated.
Mishal's Top 5 WWE SummerSlam Events
5. Summerslam 2009
Summerslam 2009 holds a personal spot in my heart. It was the first event I'd ever watched live at the age of 13 & is still a show that ages wonderfully as time has moved on. While by no means perfect due to a few hiccups, it's a show that fully lives up to the hype of being 'The Biggest Party of the Summer', offering all the spectacle, action & larger-than-life moments you've come to expect from an event such as this one. For a show set in Hollywood, this is just as dumb & ridiculously fun as you'd expect in the heart of the entertainment industry.
While most people generally regard the TLC main event between Jeff Hardy & CM Punk as the highlight, it was really the tag-team match between Legacy & the return D-Generation-X that I find myself revisiting so often. Not to take away from the main event, but it's something about the spectacle of that tag team match, the early days booking of DX upon their return & incredible in-ring action that elevates it to arguably my favourite match the group has ever been involved in. Additionally, there's plenty of action on the side to drool over as Rey Mysterio's excellent match against Dolph Ziggler over the Intercontinental Title shines bright, Jeri-Show defend their Tag Team Titles against Cryme Tyme, MVP faces Jack Swagger in a match that is a solid waste of time & Randy Orton battles John Cena in one of the most wonderfully overbooked matches you could find out there, featuring a cameo from Ted Dibiase's real-life brother that I cannot quite wrap my head around.
If it weren't for a dreadful match between Kane & The Great Khali, as well as an 8-second ECW Championship Match between Christian & William Regal that did nothing for anyone involved this could be in the Top 3 range of this article, sadly it sits right at the tip of the very best these events have dished out.
4. Summerslam 1992
Isn't it astonishing how iconic this show is almost three decades removed from when it first occurred?
Summerslam 1992 is special, and it's very difficult to deny its importance. Despite apparently being a nightmare to set up at the time due to the events scope, audience & oversees location, few shows boast the magnitude this one does. Boasting over 80,000 fans, they were treated to what many (myself included) consider the greatest match in the history of Summerslam between Bret Hart & British Bulldog over the Intercontinental Championship, a match that doesn't age a single day. It's a technical masterpiece in everyway, telling an emotional homecoming story, a battle between two best friends & further displaying how the Intercontinental Championship truly was the workhorse title of the 1990s, the fact that it headlined an event of this size is simply astonishing. Even the pop that Bulldog receives following his sudden victory stands as one of the loudest in professional wrestling as a whole, one of the most genuinely enthralling moments the sport has ever bared witness to.
Supporting their incredible effort is a near 30-minute war between Randy Savage & Ultimate Warrior over the WWF Championship that is sadly forgotten about due to its questionable ending, but never takes away from being a damn fine wrestling match before the final bell. Much like other shows, however, this one falls victim to its undercard, which is a bit of mess. While the opening match between Legion of Doom & Money Inc. is pretty great, the rest of the show is either a hit or miss depending on your stance. Most matches fall flat due to stale in-ring action or booking that has no place on a card or show of this size. If the undercard had received a little more attention in its final presentation this could end up being one of the best shows of all-time & while it still bares historcial significance, its quality isn't always to be praised.
3. Summerslam 2013
Imagine if WWE infused every show they had with this much emotion behind it. Summerslam 2013 isn't without its flaws, but my goodness does it evoke a lot out of anyone who passionately follows the product.
In particular the three headline matches of the card are a wrestling fans dream, everything you could possibly want a main event-level match to be. John Cena & Daniel Bryan have only wrestled once on PPV together, but the chemistry they put on display makes me clammer for multiple trilogies between the two, and considering Cena wrestled this with a serious tricep injury, it's all a wonder as to what they could achieve should Cena be at 100% of his potential. Christian & Alberto Del Rio deliver one of the most underrated matches of the last decade or so over the World Heavyweight Championship, exemplifying just how brilliant both men are whenever they enter a ring. But the gold medal goes to Brock Lesnar & CM Punk, who put on to this day, the match I consider Brock's finest since his WWE comeback in 2012. Each match combined story, action & spectacle in different & unique ways to deliver fans with something for everyone, which is exactly what this business is all about.
Nothing about the midcard is outwardly terrible (bar an Inferno Match that had no business opening the show), but none of it is all that memorable to me. Summerslam has an act of excelling with its main matches, but generally underdelivering on its supporting matches, or vice versa. Matches like Cody Rhodes vs Damien Sandow had solid stories going in, just never told them in a manner that makes them memorable. It's a tough task too considering how brilliant the previous matches mentioned truly are in their own right.
Thankfully we have the ending of the show, which started the build to one of the greatest moments of the modern-era just months later.
2. Summerslam 2011
There's no other way around it, Summerslam 2011 is just a good old fashioned, excellent night of professional wrestling from top to bottom. It's a near perfectly booked show, without a single bad match in sight, every match either serving a purpose to a wider story or furthering the story of every character involved & most importantly, delivering on excellent action across the board without compromising anyone.
The level of quality this card excudes is rare in todays professional wrestling landscape, because it's a card that never reaches too far, always feels focused, tight & accomplishes exactly what it wants you to feel. While I give WWE a hard time for overbooking much of their product, this one almost perfectly tells the story it wants to without ever breaking momentum.
John Cena & CM Punk collide in the highly anticipated sequel to their Money in the Bank classic over the WWE Championship, Randy Orton & Christian put on the match of the night in a No Holds Barred Match over the World Heavyweight Championship, Sheamus & Mark Henry beat each other to a pulp at the height of Henry's career, Wade Barrett displays just how overlooked his talents truly were under the WWE banner, the women are actually given some time to shine even to the smallest of degrees due to the time they were handed & the show ends on a note that leaves you with dozens of questions. It's exactly what a pay-per-view should be about, leaving you wanting more the next night once it's all over with & injecting you with that sensation of the unknown, which is hard to accomplish in the days of the internet.
A lot of fans may disagree with me placing this over the 2013 edition, but few shows are this much fun to watch for me personally.
1. Summerslam 2002
And here we have it, the grandaddy of Summerslam events, the standard bearer for Summerslam & one of the very few professional wrestling shows I'd go as far to call virtually perfect.
Everything on this show absolutely rules, and I don't just mean rules, I mean almost every match on here has the potential to be on some kind of 'best of' list. There isn't a single bad thing on this show, whether it be the matches of the segments that break apart the broadcast, it somehow all works as this beautiful piece of professional wrestling history that you could consider an absolute masterclass in how to book a show.
Summerslam 2002 does everything a show needs to do to be significant in the annals of wrestling. It puts forward the future, shines light on the past, crafts interesting storylines that could carry on for months, provides incredible in-ring action that is almost unmatched & sets up the company for what would become my favourite period in wrestling history as the brand split was soon to become fresh in fans minds with RAW & SmackDown on the verge of forming their own shows.
Simply taking a look at the card itself is overwheling just based on the Wikipedia page. The Rock battling on Brock Lesnar just months after his debut for the WWE Championship, Shawn Michaels & Triple H clashing in one of the most personal, brutal matches in company history, Rey Mysterio & Kurt Angle cramming 30-minutes worth of content into a 10-minute adrenaline rush, Edge & Eddie Guerrero giving us a preview of some of the classics they would end up having, RVD & Chris Benoit facing off in an underrated gem of a contest, Ric Flair & Chris Jericho going toe-to-toe in a match more people need to watch, the Un-Americans colliding with the ever-bizarre team of Booker T & Goldust, heck even Undertaker had a match with Test that wasn't the mediocre piece of work you'd expect it to be on paper.
It's a show that never stops giving, ever. Summerslam 2002 is, and always will be my favourite professional wrestling show without question, oozing quality like no other event, setting up talent that are iconic to this very day, providing some of the best professional wrestling action you can find anywhere on the planet & becoming on of the few shows I could watch every single day without ever growing bored of it.
Regardless of what you're expecting, if this thing doesn't blow you out of your seat, get your head checked.