Mishal's Top 5 Worst SummerSlams of All-Time
With the event around the corner, Mishal lists out his 5 WORST SummerSlams ever! Do you agree with his rankings?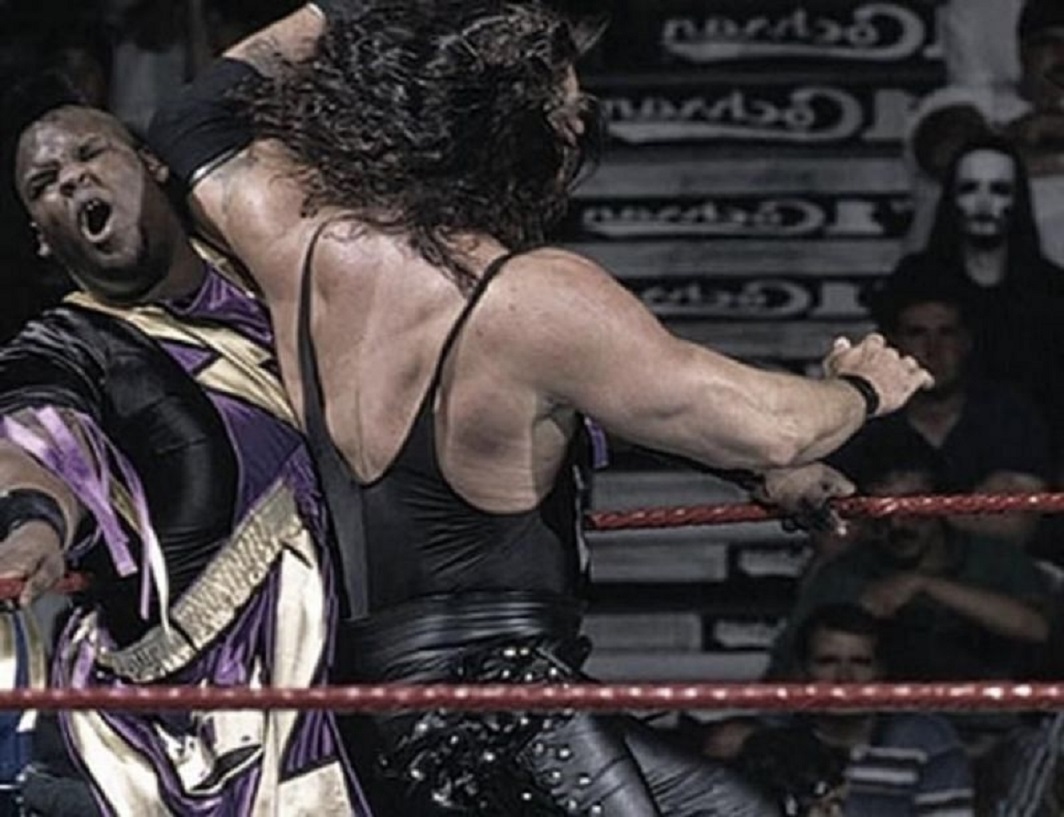 Last week I took a dive into the very best that "The Biggest Party of the Summer" had to offer, the very best shows in the events long, storied chronology that have created a vast number of incredible moments, matches, future superstars & events that I find myself revisiting more often than most.
But that was last week, that was the positive side of any aspect of professional wrestling. That was when things were at their very best, with everything coming together how most fans wish they would. When professional wrestling gets it right, it's a beautiful sight to behold to either the casual or hardcore fanbase because it satisfies every desire a fan has when it comes to this form of entertainment. The storytelling is on point, the action is crisp & every wrestler on the card regardless of status has a moment to shine in the spotlight.
Sadly, like anything else in this world, that just isn't always a reality.
Wrestling has its bad days, and SummerSlam is certainly no stranger to these days like any other show you can come up with in your head.
While it is generally marketed & promoted as the 2nd biggest annual event only to WrestleMania on a yearly basis, the show isn't without its blunders, sometimes its flat-out misfires. Not every event has the capability to live up to the hype it exudes during its build-up, and today we'll take a different perspective on WWE's 2nd largest annual event, focusing on the times SummerSlam failed to live up to expectation.
(Dis)Honourable Mentions
SummerSlam 1997 – Widely remembered for being the infamous night that Steve Austin broke his neck as a result of a botched piledriver from Owen Hart, it's a shame that this event historically, will rarely crawl away from such a dreaded moment. While the epic, near 30-minute main event between Undertaker & Bret Hart is just as good as it sounds, nothing else stands out due to the overall state of the product at the time. It's the very definition of a one-match show.
SummerSlam 1993 – An Undertaker/Giant Gonzalez rematch, a main event ending in a count-out under absurd circumstances & only one truly memorable match on the card makes this a tough one to put below the top 5 spots. While the rest of the card obviously underwhelms, there's nothing distinctly dreadful that drags it as low as some other entries on this list. The early to mid-90s were a rough time for WWE's product as a whole, and this show, to me, began to show the cracks in the foundation that would develop in the coming years.
SummerSlam 2016 – The longest SummerSlam to date, and you feel every minute of it. Mauled by an overstuffed card, restless crowd, matches with questionable booking choices that sadly undermined the fairly solid action & a showing closing angle that still leaves a bad taste in my mouth, the 2016 edition of SummerSlam was a perfect example of quantity over quality. Were in not for AJ Styles & John Cena putting on one of my favourite matches of the last number of years, this could easily slot itself at the higher points on this list.
5) SummerSlam 2006
I'll never be able to make sense of WWE's product in 2006. It was such a bizarre time for the product as a whole that it makes most shows over the course of that year feel too 'out there' to really invest in properly. With the resurgence of ECW, the return of DX, the rise of King Booker & Edge taking programming in directions we never saw coming, the whole year always feels like a blur to me. An awkward blend of the Attitude Era combined with a product in the midst of a big change with an ever-changing culture.
2006, feels just like that, a mish-mash of different eras of storytelling that never quite land.
Carried by an insane, over-the-top 'I Quit' match between Ric Flair and Mick Foley, as well as another excellent encounter between bitter rivals Edge & John Cena for the WWE Championship in the main event, the show left little else to truly standout beyond garnering cheap crowd reactions. At the very least the two matches I just mentioned had a backstory to them that provided them with some kind of tension or investment, which can't be said for anything else.
At its core, this event was built around the reunion of D-Generation-X taking on Vince & Shane McMahon, and if you're familiar with this feud at all you'll know that if you had any doubt that the McMahons had a single chance of beating the rebellious duo in the main event, you were dead wrong. The match itself had its moments but always felt more like a prolonged comedic affair rather than a serious storyline, used more than anything to embarrass a plethora of potentially incredibly entertaining talent from both RAW & SmackDown (except The Spirit Squad, of course).
Elsewhere on the card, there was an ECW Championship match between The Big Show & Sabu which struggled due to the lack of believability behind it, King Booker & Batista displaying just how little chemistry they had in their World Heavyweight Championship match, Hulk Hogan wrestling Randy Orton in his final match on the WWE roster to date & Chavo Guerrero facing Rey Mysterio in a throwaway opening match. While I'd consider this more watchable than any of the upcoming picks on my list, this isn't the company's bright spot when it comes to SummerSlam events.
4) SummerSlam 1990
There isn't a single match on the SummerSlam 1990 card that I would label as 'good', not a single one.
In fact, SummerSlam 1990 is a really solid example of a wrestling show that simply exists without any long-lasting impact or historical value, which is something no fan takes pride in saying. It's an event packed with potential that consistently under-performs in all the key areas you need for a show like this to mean something.
None of this is to say the show was devoid of moments, as there were a few that elevates this out of the territory of being simply god awful, but almost everything this card offered is the kind of content you'd see on an average night of free television. The 2-out of-3 Falls Match is arguably the best on the card, while Hulk Hogan's bout against Earthquake is far better than you'd think it is on paper (with the exception of the atrocious ending). But everything else simply exists. It's all capped off by the main event that barely gets time to feel like a headline match, especially one inside the Steel Cage which was one of the pinnacle matches of that era, instead feeling like simple filler once it ends just above the 10-minute mark.
I wish I had more to say about SummerSlam 1990, but it's just one of those shows that offer nothing of really critique or substance.
3) SummerSlam 2007
A year after the letdown that was the 2006 SummerSlam card we got this, an even bigger letdown than one would come to expect.
Essentially a one-match card slightly elevated by a 'big fight feel' main event between John Cena & Randy Orton, both on their way to the very peak of their careers at that point in time over the WWE Championship the rest of the show offered nothing substantial for an event with quite a lot at stake. The returns of both Triple H & Rey Mysterio were at the center of the show, while the rest of the card didn't really have any kind of vibe that resembled 'The Biggest Party of the Summer' in anyway.
From a booking standpoint, the evening left a lot to be desired. Both return matches of Triple H & Rey Mysterio received inadequate timing against both King Booker & Chavo Guerrero, respectively, leaving their returns feeling mostly unsatisfying despite their lengthy layoffs. Other matches on the card such as a Triple Threat Match for the Intercontinental Championship, criminally short ECW Championship match, Kane facing Finlay in the opener & a Divas Battle Royal added nothing to a card already lacking in excitement outside of the main event.
Thankfully the main event itself was pretty solid, starting off a rivalry between Cena & Orton that would only end roughly two years after this event concluded. As far as SummerSlam's go, I can't think of an event that feels less like the hype that built up to it.
2) SummerSlam 1995
1995 is widely regarded by most fans as the worst year in the history of WWE. It was a year riddled with creative bankruptcy, departures from numerous talent, a product refusing to change with the culture around it & a roster that felt like it was stuck in the 1970s in terms of almost every aspect that comes with professional wrestling.
1995 embodies those sentiments, displaying the very worst of WWE as we know it.
If it weren't for another phenomenal match between Shawn Michaels & Razor Ramon, a rematch from their WrestleMania match just a little over a year prior, this event would have been a disaster from top to bottom. Aside from that match, the card is amongst the worst you can find in terms of star power & booking.
Few events the company puts on feel this lifeless to me, boasting almost nothing of excitement outside a few moments that you'd notice upon your first viewing. Every match on here either falls flat, feels uninspired or is booked like a standard episode of RAW & nothing more, the very opposite of what this time of the year is meant to represent. Much like the product at the time, the event felt void of any motivation, creativity or anything to even try to excite the audience, capped off by one of the worst main events to any wrestling show I've come across. The headliner between Diesel & King Mabel, despite running under the 10-minute mark, is one of the most difficult to sit through that I can name, and thankfully marked the first & only time Mabel stepped foot near the main event scene.
Judging by my rhetoric this should easily be at the top of the list, but no, there is another.
1) SummerSlam 2010
Wrestling's biggest 'What if?' show in my mind.
The build to this event had every WWE & wrestling fan pumped, from young to old. It was a show built on the back of one of the hottest angles WWE had put on display in years, with The Nexus running wild, mauling everyone in their path & setting up a potential suitcase of talent to build a brand off of in the future. Pitting them against the company's biggest name in John Cena along with the likes of Chris Jericho, Edge, Bret Hart, John Morrison & a returning Daniel Bryan (fresh of his firing) made this the show nobody wanted to miss until it happened.
SummerSlam 2010 is a show that leaves a bad taste in the mouth of fans who want the best from their wrestling content. It's a booking disaster on every level, with the exception of a World Heavyweight Championship Match between Kane & Rey Mysterio that stands out as the single standout segment in a show that struggles under the weight of bad creative decisions. The event is the personification of what WWE gets wrong at its worst, favouring their standard booking tropes over long-term plans that could actually improve the product in the long-run.
Matches such as Sheamus vs Randy Orton for the WWE Championship, Dolph Ziggler vs Kofi Kingston for the Intercontinental Championship & Big Show vs The Straightedge Society have the potential to build a small, yet exciting card that never feels overstuffed, but does everything it's not meant to do. All of these matches, every single one of them, are booked by a group of people out of touch with their fanbase, unaware of what makes the sport so great at its peaks.
None of this, however, is as criminal as the main event between Nexus & Team WWE, a match that single-handedly killed the hottest gimmick the company had produced in years, and a decision they never recovered from in the months that followed. The match itself was quite the spectacle but totally undermined by a closing sequence that leaves a bad taste in mine, and other fans mouths upon repeated viewings.
As far as SummerSlam goes, topping this in terms of being the worst will be a daunting task.
King's WrestleMania Rewind: Charlotte Flair vs. Asuka from WrestleMania 34
Chris king is back with one of the most underrated matches in WrestleMania history–Charlotte Flair vs. Asuka!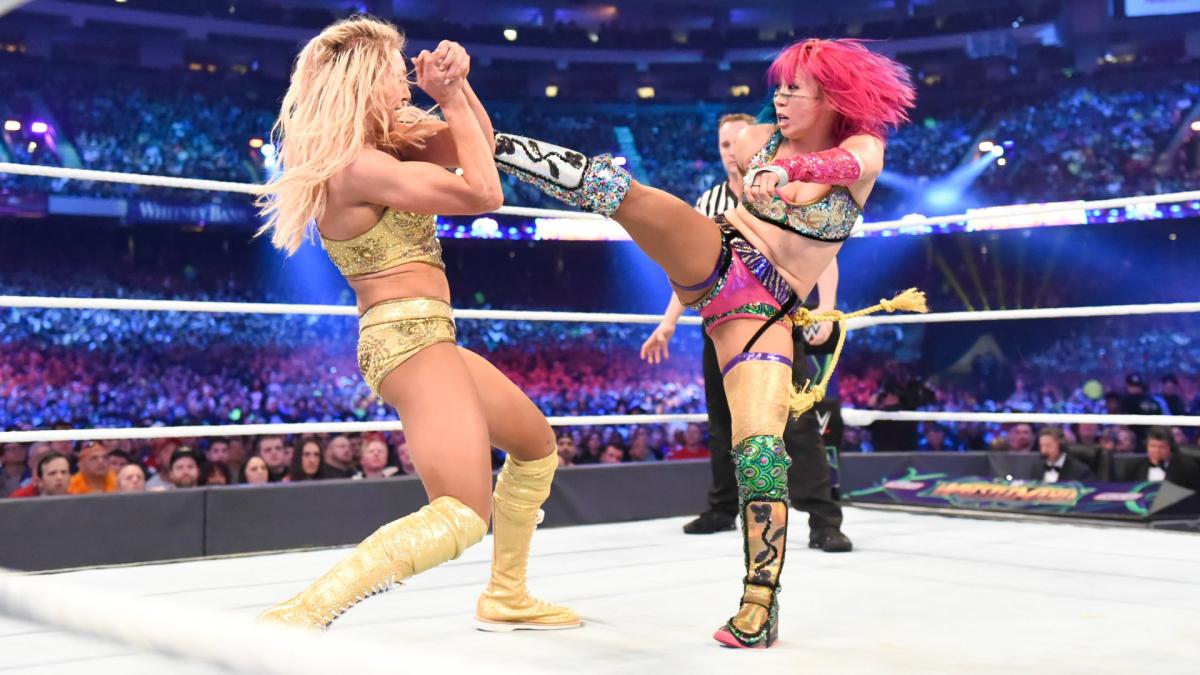 Chris king is back with one of the most underrated matches in WrestleMania history–Charlotte Flair vs. Asuka!
We look back at Charlotte Flair vs. Asuka at WWE WrestleMania 34. 'The Empress of Tomorrow' put her unprecedented and historic undefeated streak of 914 days on the line against 'The Queen's' SmackDown Women's Championship.
For years, this was considered a dream match while Asuka dominated the roster in NXT, while Flair won numerous championships on the main roster on both Raw and SmackDown. The Empress made her long-awaited debut on the September 11th episode of Raw and began to tear through the competition.
Asuka outlasted all twenty-nine other women in the historic first-ever Women's Royal Rumble match to challenge for the title of her choosing. At Fastlane, she made her choice.
The WWE Universe was so excited for this match myself included. Both superstars delivered a fantastic performance on the Grandest Stage of Them All executing counter after counter. Asuka showed off some nasty-looking kicks to her opponent, and Flair hit a thunderous Spanish Fly off the top rope. Flair was seconds away from defeat at the hands of The Empress but she locked in Figure Eight and Asuka was forced to tap out.
I can't even begin to explain how shocked I was at this outcome, as nearly everyone expected The Empress to continue her undefeated streak and walk away with the women's title. This controversial decision was the downfall of Asuka's momentum. She would ultimately win the SmackDown Women's Championship at the 2018 TLC pay-per-view in the triple-threat ladder match.
Fast forward to this year when Asuka has recently returned with her Japanese-inspired persona Kana. Kana is dangerous and ruthless and is heading into a championship with Bianca Belair at WrestleMania 39. The Empress has regained all her momentum and is highly favored to walk away with the Raw Women's Championship. Let's hope that Asuka and Belair can tear the house down and deliver an A+ grade match both women are fully capable of.
King: Dominik Mysterio Needs To Do This At WrestleMania
Chris King is here with what WWE should do with Dominik Mysterio at WrestleMania in his long-awaited match against his father Rey Mysterio Jr.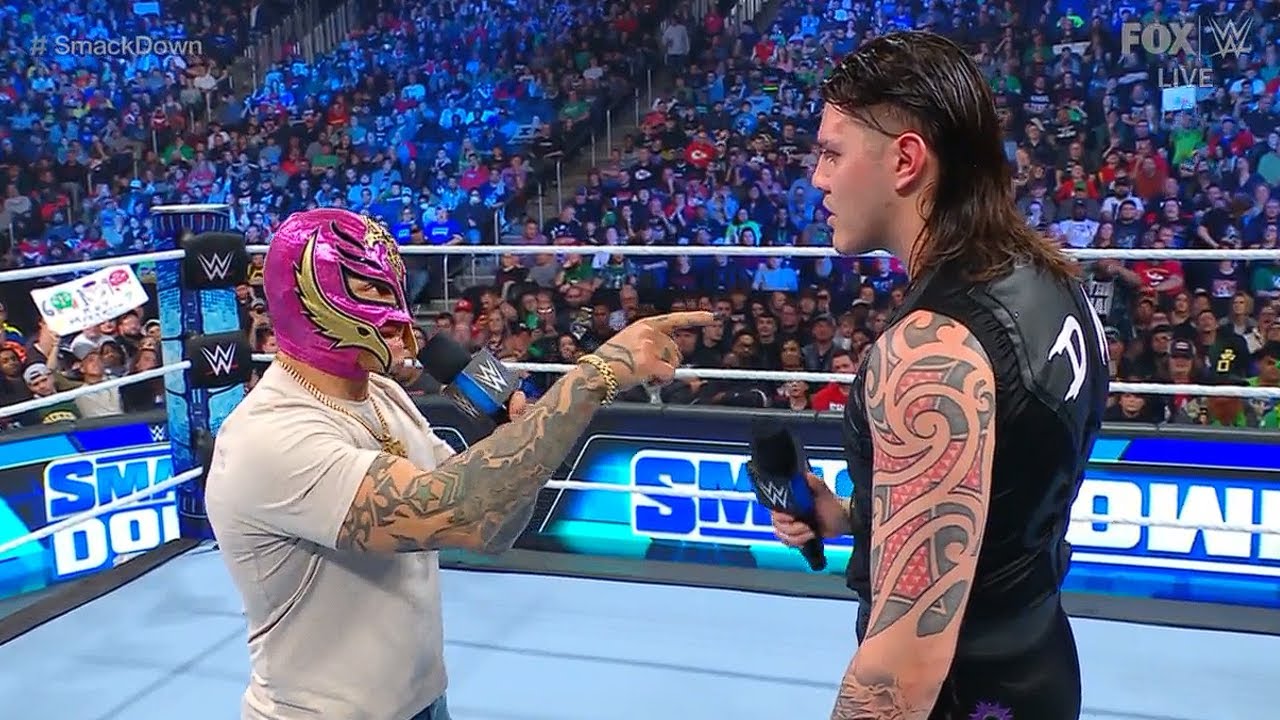 Chris King is here with what WWE should do with Dominik Mysterio at WrestleMania in his long-awaited match against his father Rey Mysterio Jr. 
On this week's episode of Friday Night SmackDown, Rey Mysterio finally snapped and beat some sense into his disrespectful punk-ass kid Dominik. The member of the Judgement Day came out to push his father again for a match on the Grandest Stage of Them All, this time with his mother and sister at ringside. The ungrateful punk told his mom to "Shut Up," as a father even I wanted to jump through the screen and whoop his ass.
Back in October of last year, Mysterio made the emotional decision to possibly quit the company but, instead, Triple H persuaded the Lucha libre superstar to move over to SmackDown to avoid his son. This came after Dominik shockingly turned on his father at Clash at the Castle. Mysterio did everything he could to refuse his despicable son's challenge for Mania but, a man can only be pushed so far. Mysterio will be inducted into the 2023 WWE Hall of Fame and I expect Dominik to embarrass his father during his speech to further this personal feud.
Yes, the WWE Universe hates Dominik and wants to see him get the ever-loving crap kicked out of him but, this feud is missing a special ingredient to capitalize on the biggest heat possible. Throughout this feud, Dominik has made mention of the legendary Eddie Guerrero on several occasions going back to the "iconic" 2005 feud.
I know WWE might not want to go this route but, Dominik MUST come out to Eddie Guerrero's theme at Mania. The disrespectful punk needs to come out in a lowrider to garner nuclear heat. It doesn't matter if The Judgement Day comes out and causes interference for Dominik to get the win, all that matters is that both superstars get the biggest payoff of this nearly year-long feud. Just imagine the Roman Reigns heat after he defeated The Undertaker and multiply that by ten. Dominik portrays the perfect heel and he truly is the missing ingredient that The Judgement Day needed to grow and evolve into a top faction.