News From Cook's Corner 8.31.20: Bask In His Glory
Steve Cook is in with thoughts on Keith Lee winning at Payback, Jon Moxley atop the PWI 500, and more in this News From Cook's Corner!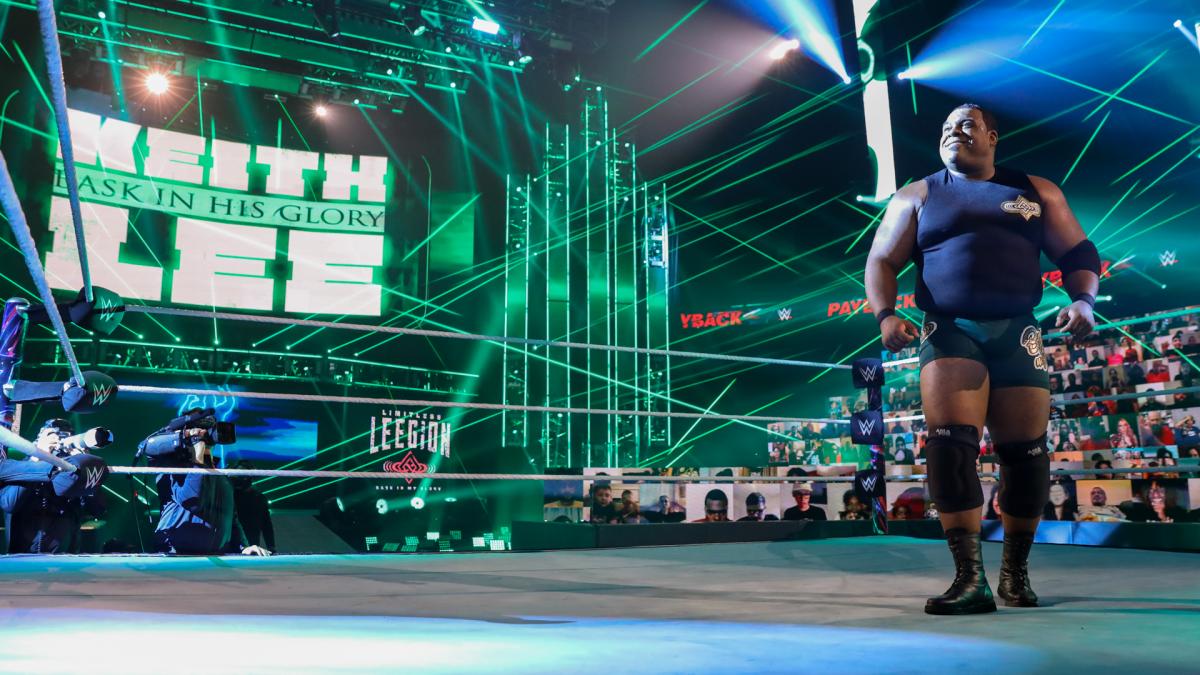 Steve Cook is in with thoughts on Keith Lee winning at Payback, Jon Moxley atop the PWI 500, and more in this News From Cook's Corner!
Hi, hello & welcome to News From Cook's Corner! The big news last week pertained to continued problems with systemic racism in America. From what I can tell, Americans fall into three groups on the matter:
1. People who are really tired of systemic racism and want changes to fix it.
2. People who deny that systemic racism exists since it doesn't affect them or anybody else they associate with.
3. People that would like for systemic racism to keep existing due to not liking those with different skin colors.
I am a 1, know some 2s and probably know some 3s that know not to tell too many people about it. I don't pretend to have the answers here, but I bring it up since there was a wrestling component to last week's discussion.
NBA players sitting out of games Wednesday meant that TNT had to make other plans for their evening programming. The first thing that popped in my mind?
Any change @AEWrestling can put #AEWAllOut2019 on TNT tonight or nah?

— Steve Cook (@stevecook84) August 26, 2020
Guessing that was AutoCorrect or fat fingers that changed "chance" to "change", but you get the point. I thought it made sense. Did I think it would happen? No. I'm sure the last thing that popped into AEW management's mind last Wednesday was calling up TNT and offering to fill the open timeslot. Wrestling fans would have been happy, but it would have been a really bad look for AEW. TNT didn't want to do that to them either. Better to show random old movies, people can't get mad about that.
Especially when people are busy being mad about other things. Like, as an example, Dave Meltzer suggesting that AEW should have called TNT and asked to re-air their Saturday show in the time slot. Of course, these days we get mad about anything Meltzer says and don't need much of an excuse to tell at him. Dave eventually deleted the tweet, but not before arguing with people for the next hour that he was right and they misunderstood what he said. I don't want to dump on Dave like everybody else does to get heat, but I do find it curious that somebody that's written about wrestling longer than I've been alive still can't articulate his points clearly. Which is a shame, because I was really hoping to be able to articulate my points clearly one of these years. Guess that's not a sure thing.
Ah, social media. We'll get back to that a little later on.
Fun in the ThunderDome
You knew it was going to happen. The moment WWE announced this ThunderDome thing that would allow fans to interact with the show in ways they never had before, we all knew there were going to be issues. Not so much on the technical end, because if there's one thing WWE can do, it's design something that looks pretty. No, the issues were going to come in the form of the people WWE allowed into the ThunderDome. People sitting at home in front of a camera watching the show.
If you're reading this column, you've surely interacted with a large number of wrestling fans via the Internet. Many of us are genuine folk, salt of the Earth. However, there's a pretty high percentage of us that get a great deal of enjoyment out of creating mischief. Not to be confused with the former SHIMMER Champion. There's just something about doing something silly, especially on a live WWE show watched by millions of people, that seems like a lot of fun.
So you knew some of those ThunderDome fans were going to have fun. Most of it was harmless, like putting images of Pikachu or Mario on their screen. Some of it, like putting a "Fire Velveteen Dream" sign on-screen, was greatly appreciated. Then we had the contribution of KKK member images, an ISIS execution, and we even saw Chris Benoit make an appearance.
Nobody should have been surprised by any of those things. People gonna troll. If you've spent any amount of time on a wrestling-based forum, you've run into trolls. It's their nature. When given a chance to put something on a screen visible on WWE television, they're going to find the most offensive thing they can think of. Honestly, I'm surprised we haven't seen worse, like televised trips to the bathroom, or sexually aroused teenagers during women's matches. Not that I want to give anybody any ideas, I'm just saying.
Friday night saw Kenny Omega enter the ThunderDome, making his WWE debut! In the audience. He later tweeted that he was just trying to have a good time and didn't think anybody would notice him. Makes sense, as SmackDown's theme song tells us every week to be ready for a good time. Some people lost their minds in the comments since they didn't read my column last week telling them to get over this whole WWE/AEW war thing. A shame.
AEW has fans now too!
AEW has managed to bring fans back to their Dynamite shows. 10% of Daily's Place was full this past Thursday night, and as long as we don't find out about an outbreak among AEW attendees they hope to bump it up to 15% soon. Masks are mandatory, temperatures are checked, and if you've come into contact with somebody suffering from the illness recently you have to leave. That last one drives me nuts every time they ask it at work. Most of us would have no idea! At this point I'd be shocked if I've never come into contact with somebody with the virus, especially considering how terrible most people are at social distancing.
Anywho, things went well. Except for one little thing, which shouldn't have even been a thing, but Internet wrestling expert Ryan Satin decided it needed to be a thing since WWE got criticized for telling people how to act in the ThunderDome. See, Tony Khan had the temerity & the unmitigated gall to ask the audience not to curse during the show. How dare he! The fans must be allowed to yell every obscenity they can think of!
Tony actually wasted his time responding to this foolishness, which goes to show that he still has a lot to learn about this stuff. There's no reason for an owner to respond to Satin, or any of us really. Plenty of other people can handle such matters…even people that don't like you!
THIS fucking wannabe garbage TV host actually blisters @TonyKhan for asking fans NOT TO CUSS at a TV taping!! I got ya on this one, Tony. Hey dipshit, that's not "censorship", that's doing an acceptable all-ages show & not pissing off the network. Fucking moron. #RightIsRight https://t.co/qwv4bcy3Rr

— Jim Cornette (@TheJimCornette) August 29, 2020
Jim Cornette defending AEW wasn't something I expected to see last week, but the man's absolutely right. Most TV networks aren't too crazy about an excessive amount of profanity during prime time. Maybe one or two words here & there (I believe AEW is allowed two utterances of "shit" per show), but that needs to be controlled by the talent and certainly not by the fans. Satin responded by talking about how AEW was TV 14, which didn't really help his argument but he sure thought it did! This led to talk about Cornette's sex life & Satin's alleged lack of one, and culminated in Satin's girlfriend volunteering a little too much information for most of our liking.
Hey Jim! I, Ryan's hot girlfriend, thought I'd pop in real quick to let you know he's had sex with me, his hot girlfriend, 5 times this week 😘 https://t.co/Q9jcJLImK8

— Erica Steiner (@sendaravenplz) August 29, 2020
My surprise at the quality of the physical appearance of a girlfriend an internet wrestling writer was able to get reminds me of something. For awhile I've been annoyed by this next generation of wrestling writer. I've never been 100% sure why all of these people get under my skin, but this whole Satin/Cornette thing and his girlfriend chiming in makes me realize what it is…
Since when did wrestling writers need to be attractive?
When did this happen? Back in the day we had guys like Bob Ryder, Scott Keith, Mark Madden and other folks that you understood why they were writers instead of wrestlers. Not to single those three out, because the great majority of us weren't cosmetically pleasing. 411 has always been a couple of 4s surrounded by a bunch of 1s. (Except for Ashish, a very handsome man by any standard.) That was the way things were. We had to put our words on websites because nobody wanted to see us saying them. We had to talk because we had faces for radio.
Now, we got all these youngsters on these video podcasts, and it pisses me off! Why? Because they look good! The cast on Fightful podcasts looks like the cast of a CW drama! It's insane! We've all seen Satin, and he didn't exactly look like Mark Madden on TV. Little bit of an upgrade there. We even got Meltzer juicing, and Bryan Alvarez is always showing off his guns.
I haven't even mentioned the women, and my legal team has advised me not to mention too much about the women. All I'm saying: big upgrade from the message board days. Back then, you never read female opinions on wrestling websites, except on the message boards. And whenever one broke through, it was a big deal! Now, if a site doesn't have at least one female writer, they're behind the times. This is a good thing from all rational perspectives. Oh, and from what I can tell, every single woman writing for a website or appearing on a video podcast? Cute!
Cute girls & guys talking the wrestling.
Overall, a great thing for wrestling media. There have never been more platforns with a wider variety of perspectives to give you the news and views. There's only one problem with all of this, and it's a selfish problem to have but what the heck…
Where does this all leave me?
Listen, the reason I got into this Internet wrestling writing thing because it was the only way a guy like me could get heard. A fat, balding guy that doesn't have any real experience in pro wrestling only has one chance of getting his voice heard: writing. Its the one place people like me can contribute. If we get lucky, we end up doing some podcasting and don't have to write quite as much. Now that we have to look good in order to write and podcast, what the heck do I do?
Maybe I'm worrying about nothing. But if I'm right and guys like me are becoming a thing of the past in this genre, I had a good run. Had a lot of fun along the way. Things will probably work out for the best. I just wonder what a fat, ugly guy can do now that the pretty people have taken over wrestling media.
Run for public office?
PWI 500
As somebody that used to make a list of 100, I will never knock somebody that tries to make a list of 500. Sorry, I know that the cool thing to do would be to rip the hell out of Pro Wrestling Illustrated's most recent listing of the 500 best wrestlers in the world, but that's not how I operate. Especially since I don't have a copy of the magazine in my hot big hand. I can only operate off of what I know via the Internet, which is the first 100 plus random tweets that get re-tweeted my way because people I know apparently are bought & paid for. Wish I was! Anywho, here are some random takes on PWI's list based off of what I've seen:
Jon Moxley as #1 is fine with me.
Mox had a heck of a year. His AEW experience culminated in winning the AEW Championship just before the coronavirus hit, which has certainly put a dent in his title run. He had to take some time away, but when he's been around he's been good. Not part of the voting period, but he came off well last week in the contract signing segment. His New Japan run was part of the voting period, and he had a darn good showing in the G1 and some fun US title matches. I don't see any reason to hate on that year.
I hear the argument for Adam Cole, who was ranked #2. Honestly, I'd say #2 is pretty high for the WWE C Brand Champion. I compare Adam Cole to Central Florida. Great record, but who the heck did he beat? One win over Daniel Bryan on television doesn't bring his strength of schedule up high enough to put him on top of the list. And since PWI likes to include some kayfabe from time to time, I will point out that Cole won almost all of his matches with help from his Undisputed Era buddies. That long title reign of his would have lasted about as long as Keith Lee's did if he didn't have those fellas by his side.
Le Champion Chris Jericho had a great year too, and one could make an argument for Cody having a better overall year than anybody. Tough to argue against Moxley though. I don't think this will be one we look back at wondering what they were thinking.
Kylie Rae as the highest ranked woman of all time.
Listen, I have nothing against Kylie Rae. From what I've seen of her on Impact, she's a solid competitor. But as a top 100 worker over the past year? What have I missed? What has she done to be a top 100 worker that Becky Lynch didn't do, but apparently couldn't be ranked because WWE doesn't like to book men against women? I don't get it, and I wish I did because she seems nice and all her fans will get mad at me for not getting it. We got Tessa Blanchard five spots below her, and at least Tessa won a singles championship from a man that's defended on satellite television.
Give me something to explain this, other than we feel bad for Kylie Rae for whatever got her out of AEW. Anything. Especially when we're discounting every woman employed by WWE because they didn't wrestle men. Actually, Rhea Ripley did beat up Robert Stone, did she make the list? Shotzi Blackheart ran over Robert Stone with her tank a couple of times, did she make the list? I'm just asking!
Honestly, that's all I got. The rest is just random picking at nits. Like I said, ranking large numbers of people is difficult. Although I would argue that anybody that ranks Baron Corbin among the top 50 wrestlers in the world needs their license revoked. And above Rey Mysterio? Y'all need a reality check. I won't even bother trying to look at the bottom 400 because I'd just lose my damn mind.
I'm trying to be a good Steve Cook.
There was some Payback.
This sentence is real: @RealKeithLee has DEFEATED @RandyOrton at #WWEPayback! pic.twitter.com/wY98QGKV11

— WWE (@WWE) August 31, 2020
I haven't watched it yet because I was writing this. I had my social media running though, so I can tell you that Keith Lee beat the poop out of Randy Orton and all three championships that were on the line changed hands. Bobby Lashley is once again US Champion, Shayna Baszler stretched Bayley & Sasha Banks to win Nia Jax & her the Women's Tag Team Championship, and THE BIG DOG ROMAN REIGNS is your new Universal Champion.
I remember reading a couple weeks ago about how WWE was planning on pushing the reset button. No better way to do that than by changing as many championships as possible, and debuting some new talent in impressive fashion. Dominick Mysterio continued to impress in a win with his father over Seth Rollins & Murphy. Matt Riddle's win over Baron Corbin shows WWE's interest in pushing him. And of course we have Keith Lee, whose glory deserves to be basked in whether you like his music or wardrobe or not.
Add in Roman Reigns' acquisition of Paul Heyman as an advocate, and WWE definitely seems headed in a different direction. We'll see where it takes them.
Bullet Bob
It didn't get much more "Southern rasslin'" than "Bullet" Bob Armstrong. I'm not sure the man ever traveled north of the Mason-Dixon Line. Take a look at the territories he wrestled in. Georgia. Florida. Gulf Coast. Continental. Memphis. Smoky Mountain. The TNA appearances in his late 60s where he still looked like he could whoop almost anybody on the roster. Apparently he went to Japan & Korea when he got some of that New Japan money, but never worked in Yankee territory as far as I can tell.
He didn't have to. Through his work in the aforementioned territories, Bob became a hero to wrestling fans across his home region. Whether it was as regular ol' Bob Armstrong or as the masked Bullet during periods where he was banned due to getting cheated out of a match, Armstrong never failed to entertain an audience and achieve the desired reaction. Usually, it was as the hero. Occasionally it was as the villain, which made for an interesting situation for fans. It could be tough to boo somebody you'd supported for years, but Armstrong did his best to make it happen.
To be honest, most of Bullet Bob's in-ring career highlights came before I was born. People of my generation in my area of the country likely remember him as the Commissioner of Smoky Mountain Wrestling. With apologies to SmackDown General Manager Teddy Long, Bob Armstrong was the best babyface authority figure of all time. (I think I just tripped over a future column topic) He actually made it cool to support the promotion instead of the people rebelling against it. Armstrong was the perfect foil for Jim Cornette and his army of vagabonds, malcontents & ne'er-do-wells. It was a tried & true formula: Cornette and his goons would keep pushing Bob's buttons until Bob couldn't take it anymore, and had to get into the ring. They did it a number of times, and it worked for quite awhile.
Bob had his allies in his war with Cornette. Along with Tracy Smothers, the Rock 'N' Roll Express and other good guys that would come & go, Bob also had family backing him up. He had four sons, all of who would follow in their father's footsteps. For my money, Brad was the best in-ring worker of the bunch. Steve was a solid tag team wrestler that found some success with Smothers & his brother Scott, who might be best known these days as a referee for WWE but was a good wrestler in his own right. Then there was the youngest, Brian, who followed in his father's footsteps by joining the Marine Corps, and continued in those footsteps as the Road Dogg Jesse James.
Brian's success broke the long-standing Armstrong Curse, which Larry Zbyszko was fond of talking about while commentating on matches featuring Bob's sons in WCW. Apparently Brad liked to joke about he & his brothers' lack of push as being the Armstrong Curse, so Larry used it on commentary. I think I heard Larry explain it one time as Bullet Bob angering a New Orleans voodoo woman. Brian definitely looked like he was headed to that same level his brothers found in WCW, but he found Badd Ass Billy Gunn for a partner, he got some promo time & the rest was history. The curse was broken. Brian (called B.G. by his mom so it was good enough for him) even got his dad into TNA storylines, which was awesome because Bullet Bob & Konnan cutting promos against each other couldn't help but rule.
Bob Armstrong was the ultimate family man in wrestling. He brought four sons into the business and stayed married until her dying day, which didn't come too far before his. He didn't run a promotion and put his sons on top, they had to earn everything on their own merits. That was the Armstrong Way. Bullet Bob lived a full life and set an example for the people he left behind. May we all be that lucky.
Thanks for reading! Until next time, keep your stick on the ice.