NJPW Strong Episode 1 Results & Match Ratings 8.7.2020
NJPW Strong Episode 1 – New Japan Cup USA. Who gets one step closer to an IWGP US Title shot?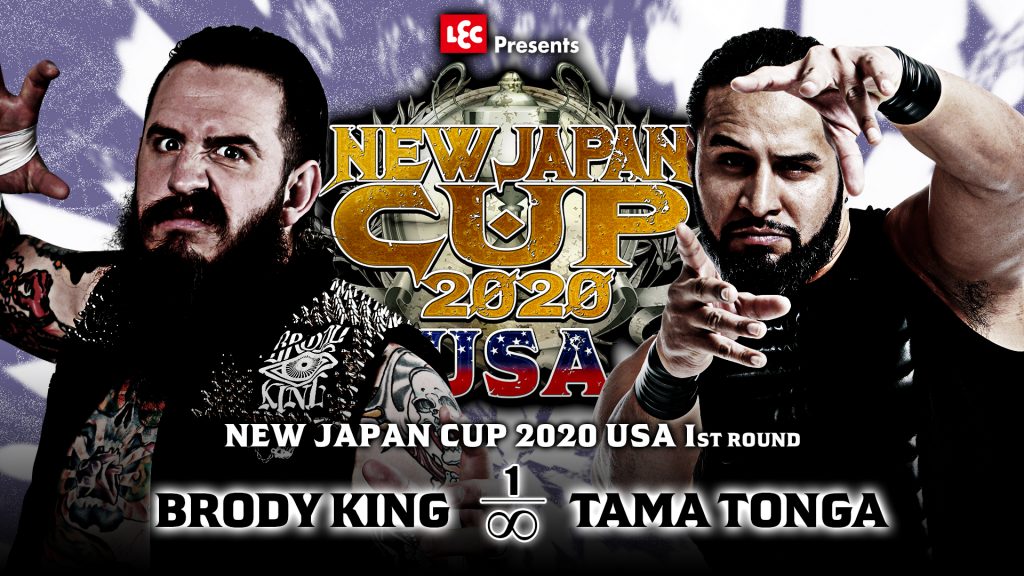 New Japan kicks off a new weekly show, which seems like it will be for the North American talent who can't come over to Japan right now. This New Japan Cup USA tournament being targeted at deciding a number one contender for the IWGP US Title is interesting.
I say interesting since I think we all remember that AEW doesn't really allow Moxley to do stateside shows for other companies, so I don't know if this is to buy some time for travel bans to lift…or what it is. Hopefully it's just a way to give some midcard guys more exposure and at least build some intrigue for a title that has had a weird year or so with vacancies due to weather and now quarantine questions.
With all that said, I guess I'll throw out that I expect KENTA and David Finlay to make it to the Finals. Now let's see how round 1 shakes out!
Ratings:
Karl Fredericks vs KENTA : KENTA wins via Go 2 Sleep @9:59 – ** ¾
Tanga Loa vs Jeff Cobb: Cobb wins via Tour of the Islands @8:45 – *** ¼
David Finlay vs Chase Owens: Finlay wins via Prima Nocta @9:46 – ** ½
Brody King vs Tama Tonga: Tama wins via Gun Stun @7:14 – ***
Results:
Karl Fredericks vs KENTA
Apparently KENTA would like to hear your opinions on his new hair style:
Listen… that's the sound of @KENTAG2S ready to take over this tournament! #njpwstrong #NJoA #njcupUSA

➡️ https://t.co/YYjNDKALAx pic.twitter.com/si0MLE3JfU

— TDE Wrestling (@tde_gif) August 8, 2020
A match we were supposed to see in the first round actually happened without the human malware issue. Fredericks is officially no longer a Young Lion, now going by Chief Alpha, or something along those lines. But even if he's not a young boy, he still wants to avenge Shibata for KENTA's betrayal last year.
This was a really decent match. KENTA hit a nice cocky stride, which gave Karl a few more hope spots than we might expect. I really enjoyed the Spinebuster spot, because KENTA jumped into it like he was going to do the Busaiku Knee, but it looked like a real interception. We also saw Karl slap on the Single Legged Liontamer, but KENTA managed to roll the shoulder and upkick his way out of it.
While not a surprising finish with KENTA hitting the Go 2 Sleep, it was nice to see Karl get in some solid licks and look like a real up and coming contender, and no longer just a fall guy.
Tanga Loa vs Jeff Cobb
Since there are no fans in attendance, this match was a little more fun. Tanga's facials and just generally over the top personality, helped the low point of this match. Where normally they might feel a bit hokey, this came off as almost necessary.
Cobb ate a good bit of offense, until some of Loa's smarmy antics got the best of him. A nice Wrist Capture Fall Away Slam helped to really swing things, and then it was basically all over but the crying. Loa tried a cheeky Sunset Flip, but he still took a Tour of the Islands. Not a technical showcase, but definitely fun.
David Finlay vs Chase Owens
Now even though commentary tried to make it seem like anything could happen since Chase had a shocking win over Juice last year, it was a hard sell. Finlay is still on the comeback tour from a shoulder injury, even with the six month hiatus. So I doubt they'd have him lose in round 1.
For what it's worth, it was a decent match with solid action. But neither is overly interesting in the ring and doesn't really set the world afire. Decent match, mostly predictable finish…but you know, at least it reminded us what Finlay's finishing move is. So that's something at least.
Brody King vs Tama Tonga
This was the closest match up honestly. Brody King tends to get nice treatment as a killer wherever he goes, but is still relatively unproven compared to Tama. Tama has to be considered a strong candidate for this tournament, but he isn't really proven in singles competition. So that helps to give this match a bigger question mark. Will Bullet Club reach the 50% win rate, or is KENTA their lone hope?
We saw both men wrestle their game pretty damn well. Tama showed off his defensive wrestling prowess and his fandom of Sting, with great opportunity attacks, that three quarters of the ring Splash and even busted out the ole Tongan Twist. Brody however had great near falls with a devastating clothesline and flinging Tama into the corner after catching a Splash attempt.
The clean shave helped our favorite Good Bad Guy, in a close shave, since the desperation Gun Stun put Brody King to sleep for the pinfall. Bullet Club represents on both sides of the bracket. Gotta figure one gets through.
Overall Score: 6/10
Now let me preface this with it's great to see G.o.D. and KENTA, as well as Jeff Cobb, but this was a little…meh. We all know the lack of crowd hurts professional wrestling, so this was no different. Plus, NJPW has a tendency to fall flat when the majority of shows are gaijins (look at the debacle that was the New Beginning tour).
While not outright bad, the bigger names won, and some of the names felt like pure place holder and nothing more than a story telling plot device. So if you are just happy to see a good portion of the USA Bullet Club crew, give it a look. Otherwise, I don't think you miss anything by skipping episode 1.
AND YES, I picked up on Alex Koslov's Talk N'Shop A-Mania reference, but him and Kevin Kelly need to work on their chemistry. English commentary was a little rough. But getting the LA Dojo Lions to do a Japanese style commercial for sponges was…pretty cool.