Steve Cook's Fave Five: August 2020
Steve Cook updates his Fave Five, with talent spread across Impact Wrestling, AEW, and WWE!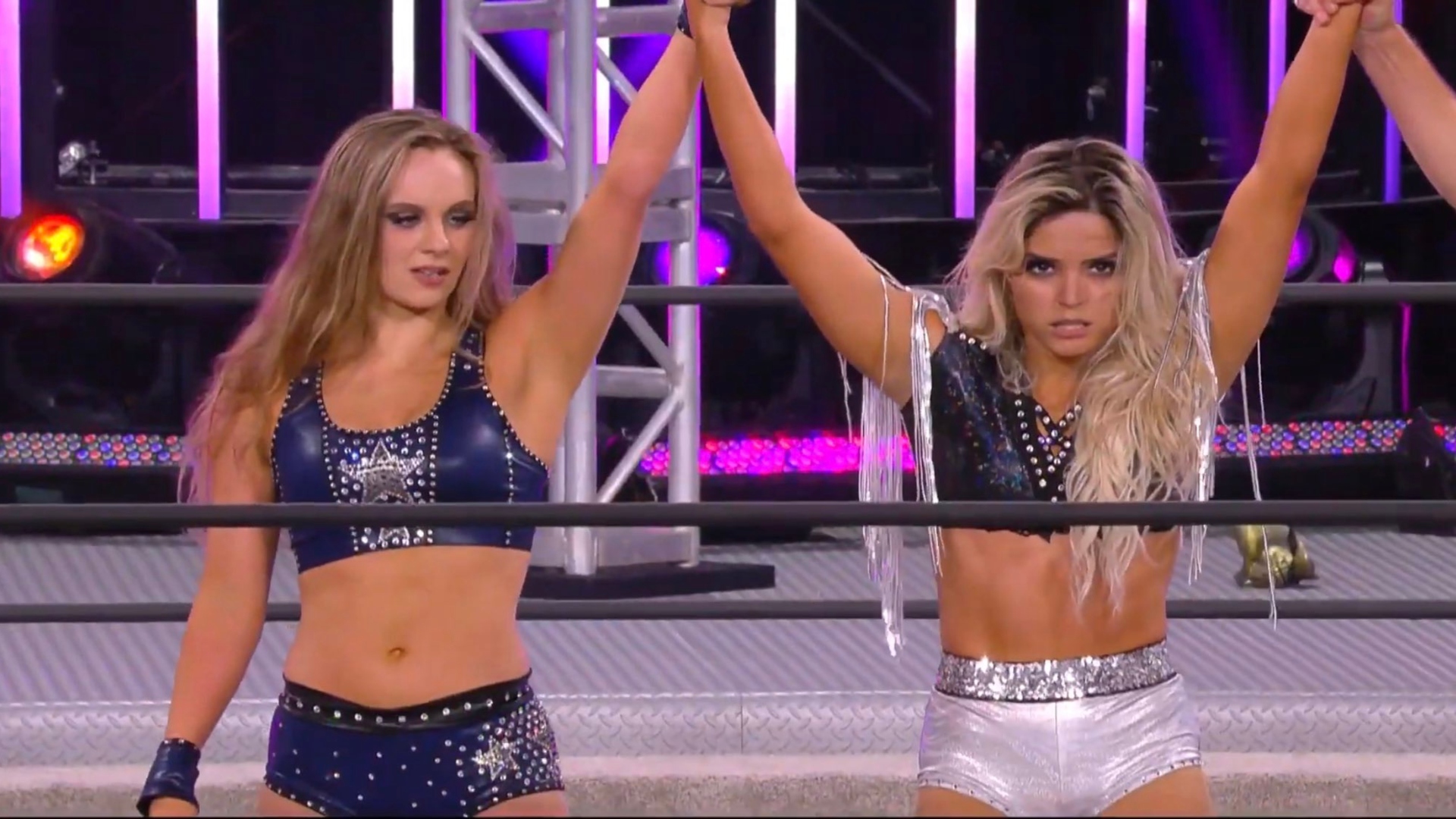 Steve Cook updates his Fave Five, with talent spread across Impact Wrestling, AEW, and WWE!
Back in the day, Booker T had his Fave Five. Now, I'm not sure he likes anything unless he's told to. The poor guy keeps trying to tell us that WWE has pushed POC correctly, and it's like he missed the part where Triple H pinned him after a 30 count at WrestleMania. I'm not going to try to judge that here, since this a column where I'm trying to put over stuff that is awesome.
This is my Fave Five. There are seven people in my Fave Five. That isn't a problem for me.
5. Tay Conti & Anna Jay
🌟🔥🧨

— Anna Jay (@annajay___) August 4, 2020
One of my favorite events back in the day was BattleBowl. I loved tag team wrestling, and I loved the idea of random teams being thrown together for random matches. Of course, as a young fan I didn't realize the flaw in the system: people that don't usually work together can have a tough time putting on a good match. Even though the Lethal Lottery was rigged, it typically resulted in some rough stuff. Like, you'd find out why Bill Kazmier & Jushin Liger wouldn't make a good team, even if it sounded fun on paper.
AEW's Deadly Draw has resulted in a couple of those types of teams. Nyla Rose & Ariane Andrew was meant to be a bad fit. Don't mind Penelope Ford or Mel individually, don't see them as a team either. However, I think AEW might have struck gold with the other "random pairing" from the first night of the tournament. Sometimes you just see two people together and know they would have great chemistry. Something about the way they look, the way their personalities mesh.
Tay Conti & Anna Jay? Yeah, I see that working. We're talking about two ambitious young women here. Tay grew tired of sitting on the Performance Center shelf, thinking that somebody with her athletic background & natural charisma deserved better. Getting released was fine with her. Anna got a spot on an AEW show during an early portion of the pandemic and hit it out of the park, just a few matches into her career. She calls herself the Star of the Show, but has shown a willingness to learn from her seniors. So what if the Dark Order is probably a cult, it's a good way to learn from Mr. Brodie Lee, Colt Cabana & other people that know the business well. It also might get you on the show more often than by just sitting quietly backstage and waiting their turn.
That's why Tay & Anna entered the Deadly Draw. Doesn't matter if it's on YouTube or TNT or whatever, it's an opportunity to be seen. Critics of TayJay might want them to sit & wait their turn for the bosses to notice them. I've seen that sentiment all over the place from fans and it's 100% wrong. You gotta take a chance. Sure, it might blow up in your face. Or, you might end up discovering your future tag team partner.
4. Big E
Big E has been in a strange place for quite sometime. On one hand, forming the New Day was taking a big chance in the first place. It got bigger than anybody thought it would, and it would be easy to coast off of that success for years to come. Not that I would say that E has been coasting, but he certainly has been reluctant to get out of that comfort zone in a tag team with Kofi Kingston or Xavier Woods.
We all thought E would be the breakout star. E said it needed to be Kofi that would be the New Day member to win the WWE Championship. Kofi was the senior of the group, and E & Xavier wanted him to have the glory. An admirable trait, but fans still wonder if E could have done more in that spot at the time.
They would have kept wondering if Xavier didn't get hurt & Kofi didn't decide to take some time off too. Now, it's Big E's time. Will he take advantage? I'm interested to find out, and am rooting for him.
3. Deonna Purrazzo
How CLASSY! How SOPHISTICATED! How CULTURED, REVERED, ELEGANT…. picture perfect. #Virtuosa 👁 @IMPACTWRESTLING https://t.co/NFuRN4OMK6

— The Virtuosa (@DeonnaPurrazzo) August 1, 2020
We've already discussed women that refuse to sit on the shelf and wait for people to notice them. Deonna might be the #1 example of why one shouldn't wait for the big bosses to let them be famous. We were excited when she got signed by WWE, then she got placed on that shelf in the Performance Center next to Tay Conti, only to be seen again one time on Raw when Nia Jax needed somebody to beat.
Deonna was done waiting. It was time for the Virtuosa to emerge, so she took her talents to Nashville. Impact has quietly put together a strong Knockouts division over the last several months, and Purrazzo immediately went to the top of it. Deservedly so. Now that she isn't on a shelf, we get to see her shine as a champion. It's really good stuff, pal.
2. Motor City Machine Guns
Chris Sabin was on a different type of shelf. He tore his ACL for the third time back in January 2019, an injury a lot of people thought would be career-ending. Not Chris Sabin. He rehabbed & worked his way back into in-ring competition, while serving as an agent for Impact Wrestling on the side. Helping him train for his return was his previous tag team partner, Alex Shelley.
Shelley had his own ups & downs with wrestling, retiring from the sport for a year while he went through some personal issues. He kicked out of those issues and returned to wrestling, working as a free agent. He returned to Ring of Honor and spent the last few months of 2019 working there. He was still scheduled to work there when the pandemic hit, but also made an appearance on NXT in early 2020 to team with his Time Splitters partner, KUSHIDA.
As it turned out, that wasn't the only tag team Shelley would re-form in 2020. Sabin & Shelley saw that they still had that in-ring chemistry while training, and Impact Wrestling (TNA back in the day) was where they found the lion's share of their success, so their return at Slammiversary made perfect sense. In a perfect world, their chase of The North would played out longer and in front of a live crowd, but we do not live in a perfect world, and to be honest, somebody needed to take those straps off of Ethan Page & Josh Alexander after over a year. Sabin & Shelley were one of the best tag teams throughout their original run together, no matter where they were competing. It's awesome to see them back as the MCMG.
1. Eddie Kingston
Eddie Kingston didn't want to wait all this time to get a national audience. If we're being fair to other promotions he's worked for, it's not the first time he's been on cable television. He had a couple of runs with Impact Wrestling. One was part of the Death Crew Council with James Storm & Bram. The other was part of a new LAX where "King" was trying to run things and led to all sorts of good promos with Eddie & Konnan. Also, some good tag matches with Santana & Ortiz taking on Homicide & Hernandez.
If you give Eddie Kingston a microphone, he'll make magic. That's the #1 reason why he would never work in WWE. They'd try to give him a script. I'm sure he would read it as best he could, but it would lack the heart of a typical Eddie Kingston promo. The way you treat somebody like Eddie is to give him bullet points, and he'll give you what you want without failure. The man can talk people into a building, which is especially more important nowadays, whenever people will be allowed to attend shows.
Eddie's worst enemy has always been Eddie. He would admit that. He grew up around addicts and became one himself. It happens. The biggest pawn against Edidie Kingston has always been himself. It was just a matter of him getting to the right time at the right place, and fortunately we have Cody issuing random TNT title shots. Some guys get that spot and fail. Some guys don't, like Eddie Kingston.
AEW shouldn't sign everybody that wrestles Cody. I think some people thought that was the case when they pimped WarHorse for a match. There's a difference between Warhorse and Eddie Kingston. Eddie has more than paid his dues, and AEW recognizes it. WarHorse still needs some work, and if you watched that match and don't think so, I'm not sure what to tell you. This is the Mad King's
From what I can tell Twitter wants every female wrestler to wrestle for twenty years before Vince McMahon notices them. It's a gross take. Some Fabulous Moolah shit to be honest. These guys just want these girls to work and work and work. I can't pretend to be amused. These clowns want to keep women on the shelf, and maybe they would let Eddie speak his piece whenever things become less controversial. Which is never. Let King talk. Your favorites have had their time. Let my guy speak his piece.