Tiffany's AEW Take: Politics Maybe? Mox vs MJF – YES! Cassidy vs Jericho
Tiffany explores two of the bigger storylines in AEW. The great debate seemed successful, but the politics, maybe not. How do you feel about the political spoof angle?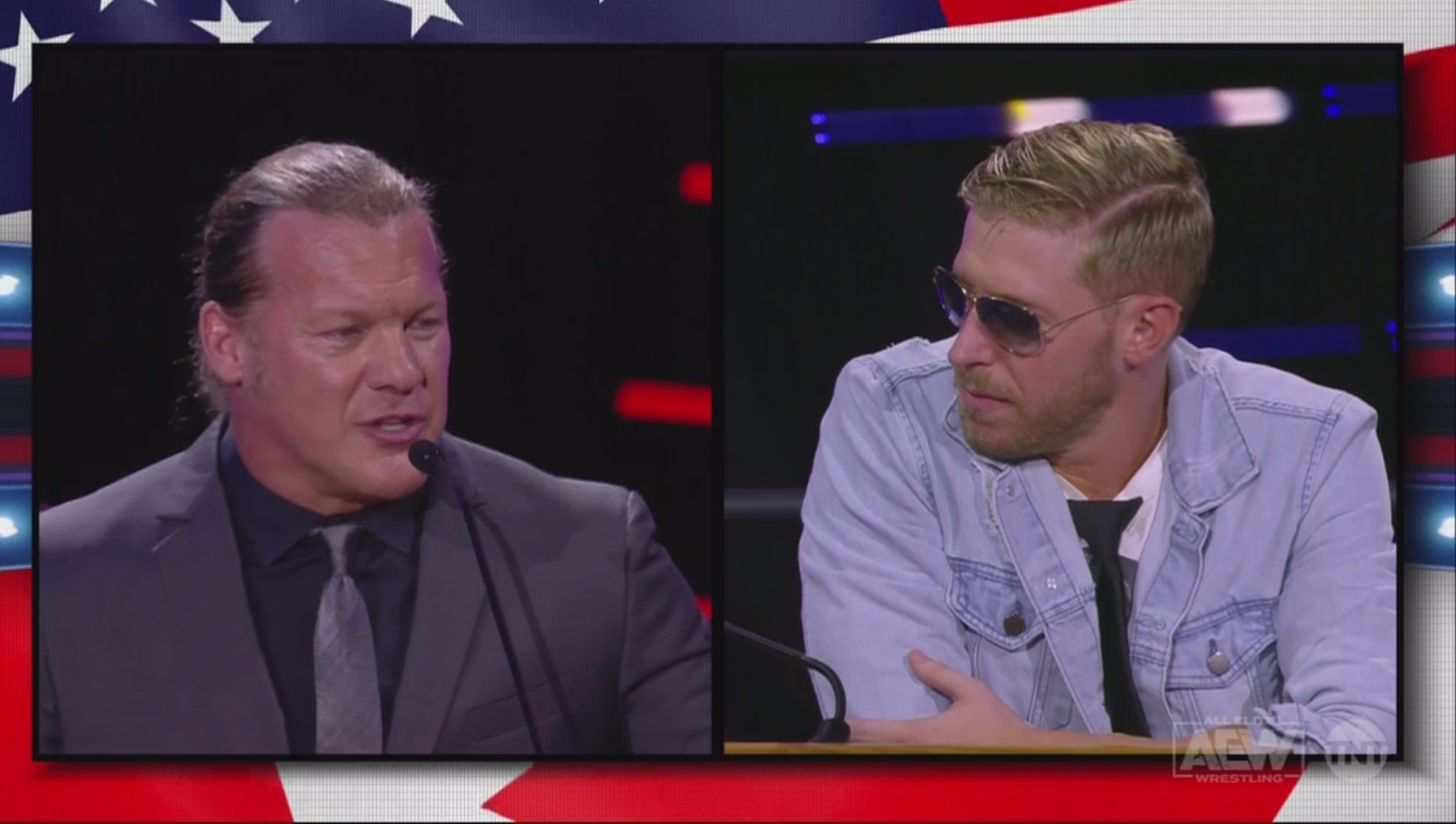 So, on the 7-29 edition of Dynamite, MJF cut a promo on AEW Champion, Jon Moxley that was blatantly political. He referred of Moxley as 'Dictator Jon' and talked about how the fans of AEW deserved better and that Moxley was 'Not My Champion', all of which were blatantly political ripoffs, plus, Chris Jericho and Orange Cassidy had a debate, for whatever reason,  and with a contentious presidential election coming, it's not surprising that AEW did a political angle. What was surprising, was the reactions. A lot of fans were excited to see MJF take on Moxley, but a surprising number of people weren't thrilled with the idea of a political storyline, even with two top stars.
Current Events storylines are nothing new in professional wrestling. Promoters have mined what was going on in the news for angle ideas probably since the beginning with German/Nazi and Japanese heels (yes, I know not all Germans were Nazis, but people really didn't make distinctions back then). WWE did its fair share with Iron Sheik, Nikolai Volkoff, and the unforgettable Sergeant Slaughter/1st Iraq War storyline, and there were some not so great French and Middle Eastern heels in the 00s during the second Iraq War/War in Afghanistan. Plus, WWE spoofed the contentious Democratic Primary process in 2008 by having 'Barack Obama' and 'Hillary Clinton' tussle on RAW.
So, what's changed?
I think the biggest change between 2008, which is the last time I remember WWE doing a blatantly political thing, and now is the explosion of social media and with it, the saturation of politics into our culture. Before social media really got going, it was possible to not be hit with politics 24/7 unless you were into it. Now, it's EVERYWHERE! Everything is political now and no one can pretend otherwise. People you follow on social media probably talk politics, every thing done in the White House, Congress, and the states are all over social media. Add to that the ties between WWE and the man who is in the White House right now, politics has overtaken almost everything else in the lives of most people.
For a lot of people, like me, wrestling is an escape from reality. I watch wrestling to forget all the crazy bullshit going on in the world, I don't want to have to hear about more political stuff, I get enough of it during the rest of my day. I don't want more political stuff as I'm trying to watch wrestling.
I get what the promoters are/were going for with these storylines: Give fans a chance to relax and do a storyline with a clear finish where the good guys will triumph in the end, something that RARELY happens in real life. History has shown that sports are a great way to unite people who would otherwise not agree on the color of the sky. We see it during the Olympics, the World Cup, the SuperBowl, college football, we really saw it during the 2016 World Series between the Chicago Cubs and Cleveland Indian, when it can be argued that America NEEDED that World Series, whoever won. However, I think that, given how political everything has become, blatant political storylines are a staple that has expired. Surely, there are other ways to create and move a potentially hot feud without dragging politics into it.
That said, whatever your political affiliation: Please make sure you are registered to vote where you live, provided that you meet the requirements, and vote. This isn't a storyline, we can't just throw it out when it doesn't work. Make your voice heard, and VOTE!