Adam's Clash of Champions 2020 Results and Review
Adam gets to flex his review talents a little more on WWE PPVs! Clash of Champions! Was it good? Bad? Just there?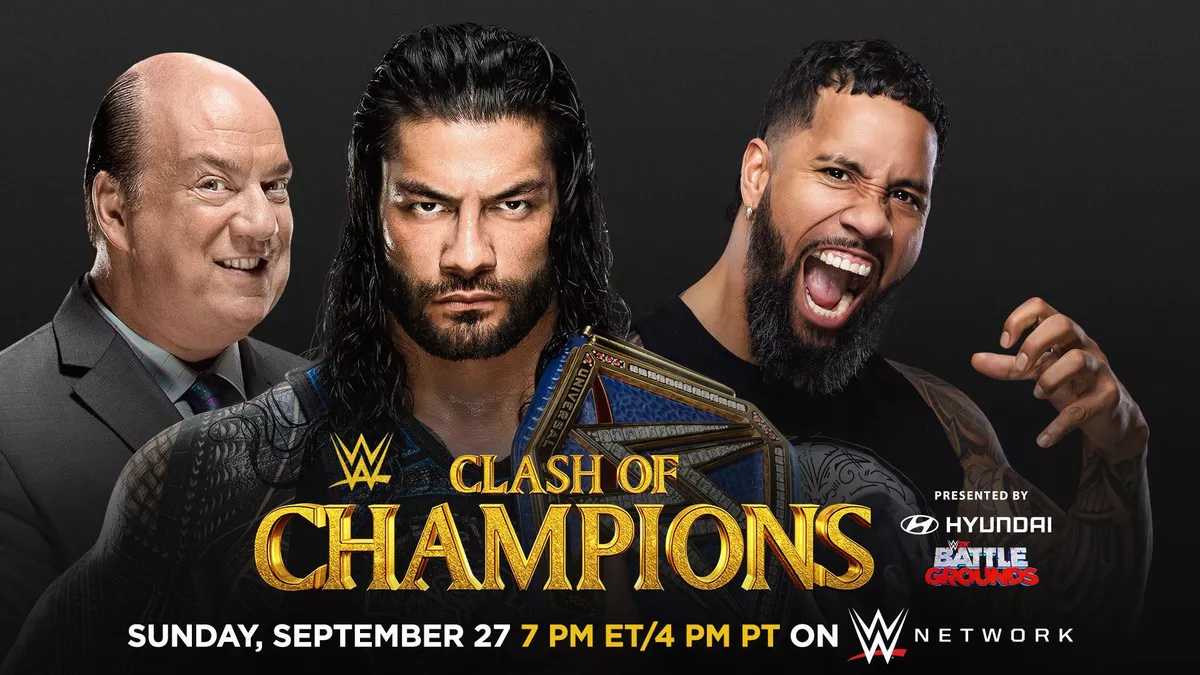 It's that time of the year again where all that glitters is gold and every championship on SmackDown and RAW is defended tonight. Can Uce get the win and lock the Big Dog in the penitentiary? Can Reigns prove it's just him, not his family helping? Will Drew send Orton to the Claymore Country Hospital or will the Viper get that fourteenth World Championship and tied Triple H in reigns?
Well, the Balaz pecking order came back to bite me… might need to call a lawyer if this… but, on with Clash of Champions!
Results:
Lucha House Party vs Shinsuke & Cesaro(c) for the SmackDown Tag Team Championships – Nakamura & Cesaro win via Giant Swing/ Knee Strike: ** ¼ – TITLE DEFENSE!!
Ladder Match: Sami Zayn vs AJ Styles vs Jeff Hardy (c) for the Intercontinental Championship(s?) – Sami Zayn wins : *** ¾ – TITLE Defense? Change? Sami has the Belts…
Zelina Vega vs Asuka (c) for the RAW Women's Championship – Asuka wins via Asuka Lock: * ¾  – TITLE DEFENSE!!
Apollo Crews vs Bobby Lashley (c) for the United States Championship – Lashley wins via Full Nelson: ** ½ – TITLE DEFENSE!!
Angel Garza & Andrade vs The Street Profits (c) for the RAW Tag Team Championships- Street Profits win via The Anointment (Spinebuster) – *** – TITLE DEFENSE!!
Bayley (c) vs ??? for the SmackDown Women's Championship- Bayley loses via DQ : N/A– BAYLEY RETAINS!!
Ambulance Match: Randy Orton vs Drew McIntyre (c) for the WWE Championship – Drew wins : *** ¼ – TITLE DEFENSE!!
Jey Uso vs Roman Reigns(c) for the Universal Championship- Roman Reigns wins:  *** ½ – TITLE DEFENSE!!

Review:
Lucha House Party vs Shinsuke & Cesaro(c)
Lucha House Party starts very quick taking it to the champions but it wasn't enough. Some impressive moves from LHP doing off like Cesaro catching Lince from a dive and Kalisto dives through the ropes after to complete the Tornado DDT to the outside. All flash and no bang however when you deal with Cesaro and Nakamura because they hit hard and quick and come on Kalisto… you aren't going to beat The King of Strong Style with a Shiranu—sorry… Solida del Sol.
One Giant Swing and an abrupt stop with a knee to the head to keep the SmackDown Tag Team Championships.
Sami Zayn vs AJ Styles vs Jeff Hardy
All three men have done things that were actually DIFFERENT for once in a ladder match. AJ throwing a shorter ladder to halt Sami's progress, Sami busting out Handcuffs and doing things like cuffing himself to Styles and cuffing Hardy's ear to a Ladder too but, some things never change because Jeff still throwing caution to the wind with a Swanton from a Ladder through another. Like everyone thought, Sami was going to use his cunning to win his Intercontinental Championship and he did. Tethering himself to Styles with the Cuffs and when Styles was fighting off Hardy when dragging Sami on his shoulder, Zayn unlocks himself from Styles and locks him to the ladder to capture… recapture… Sami won.
That's all we need to know. Sami is Intercontinental Champion.
Asuka vs Zelina Vega
So Tom Brady threw three touchdowns and no interceptions as a Buc for the fir—Oh right, match is on. Asuka took this match as a joke at first because Vega was too short for a lockup but Asuka was having too much fun with it. During the match, Zelina actually took it to Asuka, damaging her arm in the process with armbars and crucifix in the ropes to pull Asuka's arms back. In the end however, Tampa Bay is two and one and we were shown once again that nobody is ready for Asuka after an Asuka Lock.
Apollo Crews vs Bobby Lashley
This match had one person in each corner and surprisingly, neither man really did anything to distract the competitors. MVP trash talked Crews when he was getting beaten in the ropes in a four count but, nothing too distracting. Crews has a good amount of offense to have some flashes early on and late in the match but all fall into the business with Hurt Lock… or Full Lashley. I don't know. It's a Full Nelson Lock, won via Submission.
Garza & Andrade vs The Street Profits
Garza and Andrade actually are on the same page in the opening of the match. There are frequent tags between them, taking it to the Profits on both of them with tag offense and one on one offense. After a while the train was derailed slightly with Almas' Knees hitting the turnbuckles instead and Angel using desperation moves to break away from the Profits and after a blown call from the referee, Dawkins actually hits his Chokeslam Powerbomb which his finish and even though Almas kicked out, the ref didn't see it and the Profits retain… for now.
Bayley vs ???
Bayley is getting cocky and since Nikki Cross is unable to compete and said, "I will take an open challenge from anyone in the back." However, trying to backpedal out of it because nobody came out right away. Well if you have an open challenge, meaning you aren't ready for the competitor, who better to not being ready for than Asuka. That's right, SummerSlam rematch with no Sasha Banks in Bayley's corner this time. Trying to actually have a match, Bayley uses a chair to hit Asuka in a five minute brawl basically. After that however, Sasha comes out with the neck brace and cracks Bayley in the back with a hard chair shot and take it to her former friend for betraying her.
Randy Orton vs Drew McIntyre
Randal Keith Orton… you will be visited by three ghosts of the wronged. When the match bell rings you will be visited by them in some form. Good luck.
The match starts and both men want to kill each other but Orton gets an early advantage inside of the ring, measuring up for a Punt to take Drew out quickly until a Giant palm from out of nowhere grabs the leg of Orton. The Big Show comes back to choke slam Orton through the announce table for taking him out of competition for a little bit. Drew gets an opening and both men take it towards the ambulance, teasing an end until Orton slowly goes to the back, trying to get away and finally after stopping McIntyre near catering, it felt like Orton was in charge of the match like Captaining this ship… then speaking of Captains, Christian comes and takes it to Orton for punting him after the Edge match at Mania. Giving Drew another unknown advantage and going back to the ambulance, we take it to the top of the vehicle this time and after Randy does his best Mufasa and Scar impression and we hear the Sweet Music after the fact. We all know as wrestling fans what that means though.
It's not theme music, it's in the form of a Superkick and if you aren't down with Shawn Michaels superkicking Orton off of the ambulance, he'll give you a couple of words about it. McIntyre finally seals the deal by Claymore and the receipt in the form of a punt before slamming both doors for the victory.
Jey Uso vs Roman Reigns
Allow me to channel my inner Marty McFly when I say, "Wait a minute. I've seen this before!"
Roman basically made any small offense Jey had a joke. Try to trade punches in the face? Jey falls, Roman is unaffected. Jey does a chop across Roman's chest? Nah, five fingers to the face goes smack. We all kind of knew that there would be a dominating presence from Roman this whole match but it was honestly done phenomenally. Roman just telling him to not go after him and to calm down and take the small punishment instead of being dismantled like he was the whole match all the way to the point that when Charles Robinson checked on Jey, Roman legit says, "What are you doing? I've been doing this to him his whole life" and he Roman would have kept the title even if he kept pummeling Jey but Jimmy came limping down and threw in the towel. Roman wins in dominant fashion and as Heyman puts the Lei over Reigns, hailing him as the Chief of the family.
Overall Score: 5.5/10
Well as expected some of the matches fell insanely short or maybe went on a little longer than expected but, it was a good PPV. I know there might be a lot of backlash on a high rating of the Reigns match when he treated Jey like the runt but, that's what told the story. Jey always felt like the runt of the family and is scrappy, will fight even if it's a losing effort if it's going against what he believes. I know for a fact that most people who is a little brother is reading this, you know what I mean where big brother can be a little much and you want to take it to them because you want to prove you aren't a runt. Think about that, get back to me after losing against Andrew with that one. The ladder match was different with weapons used differently; Orton going through 'A Christmas Wrestling Story' was a different twist on losing.
All and all this is setting up pretty decently for a good Hell In A Cell PPV but the draft might throw a bar in possible plans or maybe enhance them.