Adam's United Wrestling Network PrimeTime LIVE Review 9.16.20
NWA is back at it again with the weekly PPV format! How does this work? Okay, beyond FITE being awful, I mean the show…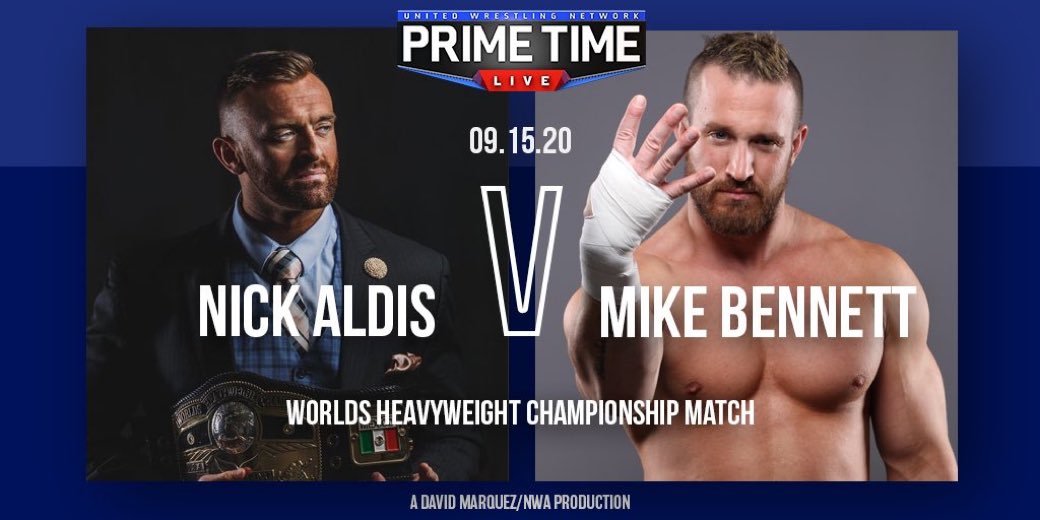 AJ's back writing some good old fashioned wrestling with the National Wrestling Alliance and some favorites of a lot of people for Chairshot. This would have been done the night before but, someone left the FITE network in the washing machine and it sounded like I needed to fix the antennae on my TV.
What? I'm the NWA guy. I can make an old and dated reference like that.
Ah everybody is a critic anymore… On with the show!
Results:
EJ Sparks vs Hammerstone for the West Coast Pro Championship- Hammerstone wins via Nightmare Pendulum – *** ¼
Jordan Clearwater vs Will Allday- Clearwater wins via Midas Touch- ** ½
Heather Monroe vs Camille- Camille wins via Spear- **
Wolf Zaddys vs The Tribe- Time Limit Draw- ** ¾
Chris Dickinson vs Jordan Cruz- Dickinson wins via Death Valley Driver- **
Dan Joseph vs Levi Shaprio for the UWN Television Championship- Dan Joseph wins via Basement Dropkick- *
Mike Bennett vs Nick Aldis for the NWA World Championship- Nick Aldis wins via King's Lynn Cloverleaf- ** ¾
Review:
David Marquez introduces the show for all the newcomers to UWN and lets us know that we will have weekly pay-per-view shows until "Dirty Daddy" Chris Dickinson cuts him off and doesn't care what Marquez has to say, he just wants to be recognized and win championships for UWN.
EJ Sparks vs Hammerstone
The match starts off with Hammerstone overpowering EJ in the early goings, breaking Hammer Lock attempts and good amounts of kicks to rock Hammerstone but, the strength of Hammer is too much. Backbreakers and pure power to stop any attempt Sparks has. Sparks finally gets a good amount of offense after taking Hammerstone off his feet, making him dazed and hitting Hammerstone with a flurry of intense offense with kicks to Hammer and finally taking the champion off his feet with a superkick/cutter combination. Sadly, when you poke the bear too much, you are living a nightmare in the form of a Nightmare Pendulum and the victory to stay West Coast Pro Champion.
.@alexhammerstone is truly a specimen.@unitedwrestling #PrimeTimeLive pic.twitter.com/cEprsASbCm

— FITE (@FiteTV) September 16, 2020
Jordan Clearwater vs Will Allday
A very fast pace and great action coming from both men, Allday using various rollups with Mistrals, Crucifixes and Cradles in the early going as Clearwater is trying to end it quickly with his finish, The Midas Touch. Allday knows as soon as that golden boot goes up, get out of dodge. Clearwater gets the faster Allday down with some corner chokes but, Allday breaks free, taking Clearwater to the outside and hitting a Suicide Dive. Clearwater is taken back in the ring and Allday looks like he is going to hit Hangman Page's Buckshot Lariat but Clearwater sees the golden opportunity and hits the Midas Touch for the three count.
Heather Monroe vs Camille
Camille takes it to Monroe very early, basically not caring about the offense that heather tries. Shoulder Tackle? Bounce off Camille. Collar and Elbow? Shoved off. It was one mess up from Camille, hitting her shoulder into the ring post on the outside and limiting her own power. Heather takes over for the time being and targeting the arm of Camille. The wit of Heather Monroe wasn't enough however; even countering Camille's first spear wasn't enough as Camille still hits it for the victory and staying undefeated.
Wolf Zaddys vs The Tribe
These two teams have no love loss, the bad blood is palpable and you can see it with the moves. Hawaiian Lion hitting hard Mongolian Chops on Che and getting frequent tags into The Navajo Warrior and both men of The Tribe hitting the Zaddys with basic fundamentals because hey, if it isn't broken, don't fix it. Galli even brings this up with saying the near thirty year experience of The Navajo Warrior, (wonder if there will be a special show for his 30th Anniversary in the near future…), both teams just taking it to each other all over the ring and ringside area. A lot of great offense and comebacks from both the Zaddys and The Tribe, The Tribe using a call back to the Faces of Fear with the back body drop and powerbomb combination. As all hell breaks loose, they forget there is a time limit and ends it in a draw.
Aftermath: Even with the bell ringing, the two teams still go on and beat each other down before taking it to a backstage interview. (Greg… maybe don't get the Zaddys because they still might be killing each other by the time of the show.)
Chris Dickinson vs Jordan Cruz
Before the bell even starts, Dickinson dismantles Cruz in the early goings, cuts a promo to belittle and taunts Jordan Cruz but the kid's got fight so the match finally starts and Dickinson just keeps taking it to Cruz. Corner foot choking, not caring about the referee's counts often, Cruz does get a level of offense in however, actually taking Dickinson down and goes for a pin. However, as we learned with Hammerman, you don't poke the bear too many times and Dickinson rocks Jordan Cruz with a Buzzsaw Kick and Death Valley Driver to finally clean up his light work for the night.
"This is it??!?!"@DirtyDickinson taking his frustrations out on @unitedwrestling and their roster.#PrimeTimeLive pic.twitter.com/fuqZnMx0Mm

— FITE (@FiteTV) September 16, 2020
Dan Joseph vs Levi Shaprio
The match starts off very traditional with a good showing of technical wrestling from both men. Of course with Howdy in Levi's corner, there was going to be some form of shenanigans as the champ goes to the ropes for a move. The match ends however with a well-placed missile dropkick on Shaprio and a very awkward pin. Naturally, Howdy and Levi think that something is amiss, they get angry and start taking it to Dan Joseph and take the UWN Television Championship from Dan Joseph in the end.
Mike Bennett vs Nick Aldis
Bennett the whole match told the amazing story of he needs this for his career, will do anything to make sure he can get a job. Bell rings and he absolutely takes it to Aldis and gets a little too crazed and speared the original referee, knocking him down for the rest of the match. Aldis attempts to walk it off to the outside but Bennett being the man possessed that he is, follows Aldis to the outside and tries to beat him down the outside ring area. Aldis takes matters into his own hands and does a Tombstone Piledriver to Bennett on the ramp. Aldis tells Camille to come out so Maria doesn't intervene with business and after Camille scares Maria away from the champion, Bennett hits a desperation crossbody from the ramp to take out Nick Aldis. As officials take care of the original referee, a new one is put into place and goes for the ten count.
The match gets back under way as both men get into the ring by the count of nine and go back and forth constantly, Aldis hitting the Mac Daddy Driver (Michinoku Driver II) and elbow, paying homage to the Dynamite Kid, Bennett kicking out and Bennett hitting the Hail Mary Piledriver only to come short because of a rope break. Bennett gets the crazed look in his eye as Maria hands him the NWA Championship to hit Nick with it for a last resort. Mike has a shred of common scene and by some miracle, drops the belt to Maria and tries to attack Aldis from the top rope. Nick Aldis reads this and catches Bennett's legs to put him in the King's Lynn Cloverleaf, Bennett tries reaching for the ropes quickly before Nick repositions himself the first time. Bennett shouts, "I need this!" over and over to himself to crawl to the ropes again only for Aldis to reposition himself one more time before Bennett passes out from the pressure.
Overall Score: 6/10
Ahhhh it is sooooo good to write for NWA again… well sort of NWA but still. You tell me the NWA Championship is defended, Eli Drake cuts a promo for his match next week and Alexander Hammerstone is on the card? It's like Corgan and Marquez knew I'd be watching UWN. All in all, it was a great card to watch, a nice opportunity to maybe not see certain people or find a new favorite that you never heard of before. Some matches fell short or just weren't up to par but hey, it's the first show we got to see with the United Wrestling Network combining the National Wrestling Alliance, Championship Wrestling from Hollywood and much more.
Just hopefully for next week… FITE gets their act together so I can do these on Tuesday again and not want to throw a brick through my computer because it sounded like someone on the phone going through a tunnel.