Adam's UWN PrimeTime LIVE Ep. 2 Review 9-22-20
The first episode was marred with FiTE problems and a short main event which left many upset. Does episode 2 of UWN Prime Time fair any better?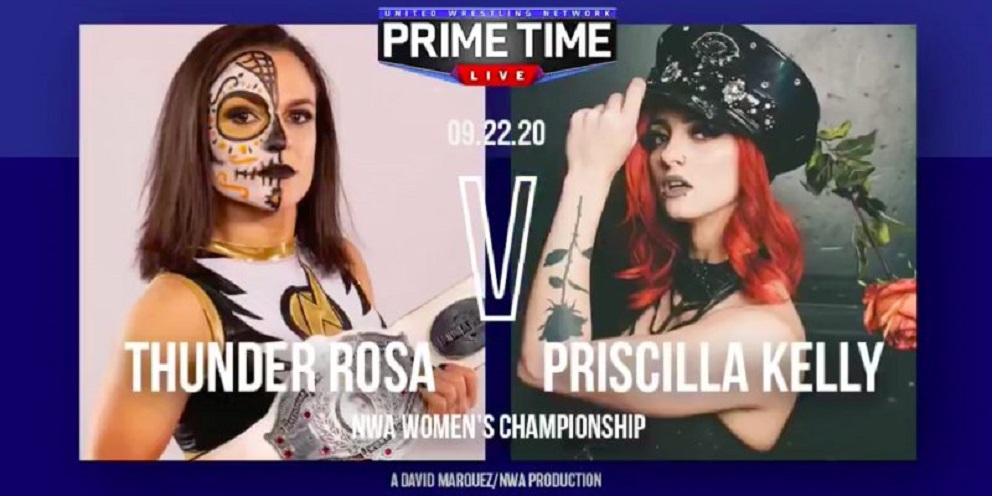 After a thrilling week one, we are going to get the second episode and it has another NWA Championship defense in the form of Thunder Rosa's NWA Women's Championship against Priscilla Kelly in the main event. Coming off of two defenses on Dynamite and her own promotion, can Thunder Rosa keep her championship or will we see the championship change hands to Priscilla?
Let's find out on PrimeTime Live!
Ratings:
Danny Limelight vs Kevin Martinson: Martinson wins via Brainbuster – ** ¼
Eli Drake vs Watts: Eli Drake wins via Gravy Train – ** 3/4
Real Money Brother$ vs Friendship Farm: RMB wins via Signing Bonus (Assisted Black Hole Slam) – **
Karl Fredericks vs Slice Boogie: Fredricks wins via Manifest Destiny – ***
Thunder Rosa(c) vs Priscilla Kelly for the NWA Women's Championship- Thunder Rosa wins via Thunder Driver- *** ½ –TITLE RETAINED!!!
Review:
Danny Limelight vs Kevin Martinson
Limelight takes it to Martinson in the opening bell, taking his high flying offense to the extreme with various maneuvers like head scissors, suicide dives and even moving out of the way of a corner attack by tight-roping across and doing a springboard lariat to Martinson but, the fast pace of Limelight soon became his undoing. Martinson catches on and takes his heavier offense to the outside and since it's UWN, there is no padding on the outside. Martinson shows off some of his agility with a Torpedo Spear and even going as far as doing Splashes on the hardwood ramp and spiking Limelight with a Brainbuster on the outside ramp, rolling him Danny Limelight in so he can look at the lights for another three seconds.
Eli Drake vs Watts
Usually you see the matches start with a back and forth, maybe a Collar and Elbow but Watts and Drake take it to each other with words and you know your resident NWA Guy knows that Eli wasn't going to take that lightly and get under the skin a little of Watts. After a cute little exchange of collar and elbows in the corner, Watts just gets pissed and takes it to Eli, pillar to post and goes for four trips with Fall Away Slams. Eli tries to go through his bag of tricks with head scissor take downs, quick roll-ups and using more of his agile side. Watts going for his Choke Force, Choke slam Powerbomb to take Eli down but there is a reason why Eli is the Defiant One and kicks out. Watts tries to pick him up multiple times for the Murder Bomb but, Eli is a sack of bricks on the ground. When Watts finally gets Drake up, he treated Watts like a dummy (Yeaaaaah!!) and hits Watts with a one way ticket on the Gravy Train for the pinfall.
Real Money Brother$ vs Friendship Farm
The match from start to finish was all Money Brother$. Friendship Farm had some flashes of light like maybe there is a window or an opening to win but each time, Suge and BMC took the wind out of their sails. Jarvis tried his Lullaby Slam, cut off right away. The two big men get in the ring, gets swept off by two on ones. I'm not saying that this was bad but, I don't think I've seen a squash tag match that had one team looked dominant from bell to bell in a while.
Karl Fredericks vs Slice Boogie
Not going to lie, for a split second I thought it was Eddie Kingston on Slim Fast but, Slice Boogie wasn't bad in any sense of the word. Talking a lot of crap early on about Fredericks in the Dojo and saying, "He's not a Young Lion, he's a man" Slice actually took it to Fredericks and looked to have him beat a handful of times. Some great fundamental offense with Snap Suplexes, grounded headlocks and really impressing me with his Corner Corkscrew Cutter that he calls the 21st Street Special and even attempting his Statue of Misery finish which looks like it's setting up an Emerald Flowsion (Oh God, the Balaz is coming out with the Japanese Move love…). All that is well and good but, Karl hit his elevated DDT, Manifest Destiny, and cleaned him up like sponge… and that's pretty cool.
Thunder Rosa Vs Priscilla Kelly
Much like Mike Bennett, Priscilla showed a lot of heart, determination and desperation throughout the entire match and this match was very technical based. We saw a lot of holds from both Rosa and Kelly from Arm Bars to Half Crabs and Full Crabs, headlocks and chokes, this match looked like a traditional mat wrestling match with very few flight spots. Priscilla went for a dive but Rosa braced for it and feinted it by stepping through the ropes and leaping to do a kick from the apron instead. The desperation from Priscilla actually made a lot of these near falls close, kicking out of Death Valley Drivers, a variant of Finlay's Celtic Cross and even nearly beating Thunder Rosa with her Crippling Depression Suplex. After all of that though, much like Mike Bennett, the champion was too much and Thunder rolled Priscilla Kelly up for the victory after a Thunder Driver.
Overall Score: 6.5/10
In all honesty, not bad for a second week. The Women's match showed a lot of promise in the end and if you want to see someone with dyed hair face Thunder Rosa and actually wrestle in a real wrestling match, go watch Priscilla Kelly take her on. The opening between Limelight and Martinson was a pretty good match to start since this was a rematch between the two from Championship Wrestling from Hollywood. Eli and Watts put on a great big man match and Slice got a little bit of a fan in me from his performance against Karl Fredricks with some of his offense.
Let's see if the third episode can live up to the previous two days.