Andrew's AEW All Out Results & Match Ratings 9.5.2020
So, All Out 2. With NWA Women's Champ facing the AEW Champ, that adds a fun layer of intrigue. Who goes over? Will MJF unseat the PWI 500 #1 wrestler in the world?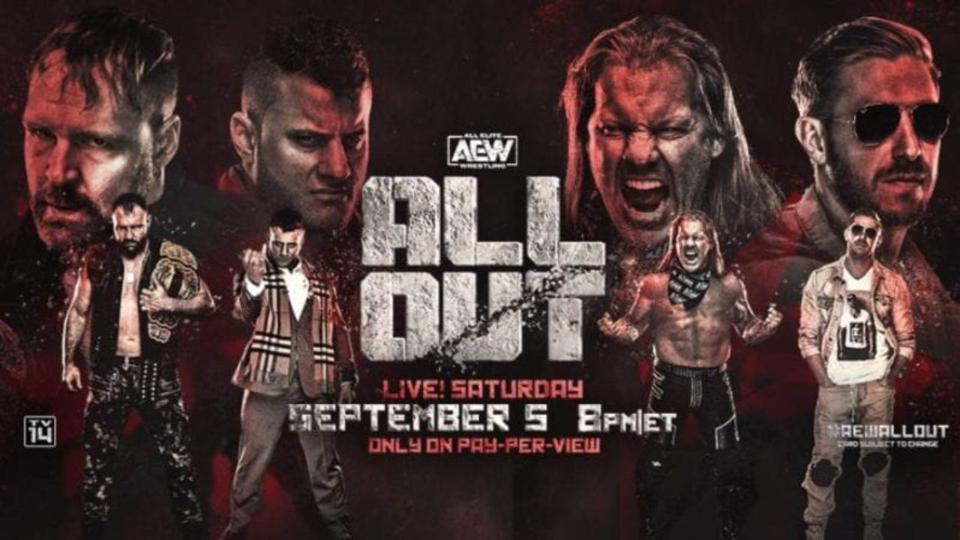 So here's the part of the article where I frame things in a cute way, maybe talk about the show…but come now. If you listen to Pod is WAR, then you know I could care less about AEW more often than not. Now that's not to say they don't put on good PPVs from time to time, but the way they tell stories; or what they call a story, turns me off completely.
I have only 2 reasons I'm watching this. First, I want to see an actual tag team hold the tag team titles in a company that claims to have "the best tag team division". Secondly, Thunder Rosa. Her alone added legitimacy to the title match even without the Serena Deeb match. I'm curious what an AEW women's match will look like with two great wrestlers.
Now here's to hoping this show is good like Revolution and not a waste of time like Double or Nothing.
Ratings:
Serpentico w/Luther vs Joey Janela w/Sonny Kiss: Janela wins via Elbow Drop @7:35 – *
Dark Order 3 & 4 (Alex Reynolds & John Silver) vs Private Party (Isaiah Kassidy & Marq Quen): Private Party wins via Gin & Juice @10:25 – **
Tooth and Nail Match: Britt Baker DMD vs Big Swole: Swole wins via…Putting Britt to sleep with Nitrus – N/A
A Boy and His Dinosaur vs The Young Bucks: Bucks win via BTE Trigger @14:50 – ** ¾
21 Man Casino Battle Royale: Lance Archer wins @22:15 – **
Broken Rules: Matt Hardy vs Sammy Guevara: Hardy wins…I suppose @9:00 – ZERO
AEW Women's World Championship: Hikaru Shida (c) vs Thunder Rosa: Shida retains via Tamashi @17:00 – *** ½
Dark Order (Stu Greyson, Evil Uno, Brodie Lee & Colt Cabana) vs Dustin Rhodes, Matt Cardona, Scorpio Sky & QT Marshall: Dustin wins via Roll Up @15:10 – ***
AEW Tag Team Championship: Hangman Page & Kenny Omega (c) vs FTR: FTR wins via Mind Breaker @29:40 – **** – TITLE CHANGE!!
Mimosa Mayhem: Chris Jericho vs Orange Cassidy: Orange Cassidy wins via Orange Punch into the Mimosa @15:15 – **
AEW World Championship: MJF vs Jon Moxley (c): Moxley retains via Paradigm Shift @23:40 – ***
Results:
God the promos leading up to this Casino Battle Royale have been terrible. Rock Hard Jake Hager? Really? FTW is a way of life? This stuff is cringetastic.
Serpentico w/Luther vs Joey Janela w/Sonny Kiss
This match was terrible on multiple angles. Throws into barricades looked weak, Serpentico slowed down obviously when things were supposed to get countered and he took FOREVER to go to the corner. He'd hit a move, take 20 seconds then start climbing. Janela stared directly at him a few times, and it was just a rough watch. Then Luther's sloppy ass can't even pick an ankle without looking awful.
So yeah, it's a good thing this was on YouTube for free, because it's a "you get what you pay for" kind of match.
Dark Order 3 & 4 (Alex Reynolds & John Silver) vs Private Party (Isaiah Kassidy & Marq Quen)
Nearly a decent match, just filled with a ton of moments that probably sounded better on paper than execution. Most notably, Silver is perched on the top turnbuckle for a good 30 seconds, and no one tries to knock him down. They just try to hit Reynolds, Reynolds moves, Silly String attempt and Silver hits a Double Footstomp. It was so slow and obvious, that was a major blemish and that dovetailed into a bad sequence. Since Silver tags out after the Release Torture Rack Bomb doesn't pick up the win, and Reynolds goes out to bring in Kassidy (WHY). Perch them both on the corners, Silver slips a little on the way up so the bump timing was off, which made the sequence start weird. Sure, Dark Order had a great sequence of moves, but so many slow telegraphed spots, or nonsensical spots, it took a pretty okay match down to just shy of mediocre.
Tooth and Nail Match: Britt Baker DMD vs Big Swole
This was pre-taped, but it was god awful. Reba overacted, and a lot of the early shots were soft, lame and this was not good. See, when Impact does corny stuff, it's with characters that have been established as corny or a little goofy. Not delusional a roll model and her assistant.
I hated every second of this except Rebel walking back into the situation with a banana on her head since she was thrown in the dumpster. This was terrible, but it wasn't really a match, so I won't rate it beyond personal hatred.
A Boy and His Dinosaur vs The Young Bucks
What the hell…this was insanely clumsy. Matt doesn't go over the rope after a Luchasaurus boot, the Locomotion Northern Lights into the inside out suplex didn't work well. The corner camera is a bad idea when someone misses the Forearm but it gets sold anyway. Luchasaurus was doubled over too damn long before the Slingshot Destroyer and WHY, WHY, do you have to walk forward just because someone drags the guardrail toward the ring.
A few moves were cool, but so much more sloppy. Trust me, I loved when Matt decided to murder Marko Stunt, but everything was just slow, clumsy or lacked actual logic. At least the finish made Jungle Boy look great. He's one of the few with real talent in this company.
Pretty bad start to a big show.
21 Man Casino Battle Royale
What the hell did I watch? They completely threw logic away by having faction members come out together 3 straight groups in a "random draw" style match. Then Matt Sydal nearly kills himself again when he slips trying to do a Shooting Star Press (yes it's okay to laugh since he's fine and it's not the first time it's happened). Darby agreed to being shoved in a body bag and then chucked? The lack of being able to protect himself made that idiotic. So great Darby is probably legit hurt after that moronic spot.
So because they insulted logic by having team members come out together, it was just a dog pile mess until bigger guys came out. Then we nearly have Eddie Kingston win because Butcher and Blade both try and grab at Lance to get him eliminated. Just a cluster of bad choices, bad spots and car crash ideas.
Broken Rules: Matt Hardy vs Sammy Guevara
Well this started off a little cute with the golf cart reversed roles, but then it went sideways really fast. Hardy took a bad bump off the lift and hit his head, obviously concussed and couldn't stand. So instead of just calling the match, Aubrey stalls, the doctor stalls, I'm pretty sure we hear a finishing bell, then a restart bell, commentary is confused…and they just rush the finish.
So I don't want to hear anyone defend AEW doing things right, when they didn't stop a legit injury and instead allowed him to finish, a finish which involved climbing a lighting truss and Sammy getting punched off. This was awful.
Stuff happens, yes, but be smarter. Terrible.
AEW Women's World Championship: Hikaru Shida (c) vs Thunder Rosa
Well this match lived up to the billing. Rosa came out proving she did her homework, which kept Hikaru on the back foot for a while. The spot where Hikaru brings out the chair on the outside to launch off of it, Rosa had it scouted and instead used it to launch herself into a surprised Hikaru.
Rosa countered the Stretch Muffler once by turning it into a Triangle Headscissors, and Rosa was generally a step ahead. She turned a Flacon Arrow attempt into a roll up and even kicked out at 1 after a Falcon Arrow just to mess with Hikaru. This was a great match to show everyone what Rosa can do, since Hikaru didn't really put anything together until the very end.
The desperation strikes and the Tamashi helped Hikaru retain, but Rosa was in control for about 80% of the match. Definitely the high point of the show so far.
Kip Sabian promo, ugh another wrestling wedding in the future and the Twitch plug/WWE jab was unnecessary. Especially during an awful show so far.
Dark Order (Stu Greyson, Evil Uno, Brodie Lee & Colt Cabana) vs Dustin Rhodes, Matt Cardona, Scorpio Sky & QT Marshall
This match wasn't too bad. Early on Dark Order cut the ring in half and teed off on QT Marshall for a good bit of the match. But once Marshall tagged out, the story actually got moving. Cardona got a hot tag, hit Radio Silence on a few people, looked pretty good. Scorp didn't have a bunch of time, but he used it well. Hell even Brandi hit a great Pump Kick to clear out Anna Jay from interfering much. Also led to a few amusing comments from JR, and I do enjoy horny JR commentary.
Brodie and Dustin had a nice face off, which Brodie hit a hellacious Discus Lariat to lay out half Black Reign. Brodie tags in Colt and tells him to end it, but Colt wants to do a Moonsault. Dustin moves, rolls up Colt and the Dark Order lose.
Colt gets berated after the match for the first time and Dustin earns himself a TNT Title match on Wednesday.
AEW Tag Team Championship: Hangman Page & Kenny Omega (c) vs FTR
This told a nice growing story as the match went on. Page was trying to prove himself, so every time he was in, he expended a lot of energy fighting off everyone and then some. Omega and Page had their struggles trusting each other, but were making it work.
However you could see Page's exhaustion caught up to them at certain points, which kept Omega in there a little longer than he should've been. That did lead to a few awkward spots. Omega had a moment where he was just on the top turnbuckle too long, too slow and trying to fight off or move to the next spot, looked damn awkward.
I always appreciate FTR matches including spots and finishers from teams of the past. Power and Glory, Steinerizer, Double Diving Headbutts, and the Spike Piledriver; it's just always fun to see. This was a damn good match, but the way they told the story did lend to some parts that looked a little off or built too slow. Could that have been expanding time because of the shortened Matt Hardy match? Sure.
Even though it went too damn long and there were some hitches in the giddy up, it told a good story and I can't take too much away from it.
After the match, Omega nearly levels Page with a table, but just storms off. He gives the Young Bucks an ultimatum and leaves the building.
Mimosa Mayhem: Chris Jericho vs Orange Cassidy
This was…dumb. Spent too much time basically treating this like an Extreme Rules match, with a dumb caveat of needing to go all the way into the vat; as well as literally tip toe around it. Slow and awkward weapon usage, slow and awkward moves in the ring, since it was all blocks and trying to avoid falling into the vat. So selling was fairly worthless in this match.
Orange going over is the right call since you need to build lesser known wrestlers, but this was hard to watch and really damn slow at points.
AEW World Championship: MJF vs Jon Moxley (c)
I may have fallen asleep or zoned out during this match. This was literally every Moxley match ever, with MJF pulling out most of the heel tactics in the book. It was predictable, slow and I wanted the show to end before the Mimosa match.
I will say, I loved the finish, and the expression on Moxley's face when he took advantage of the situation, but still, that doesn't magically make the match fantastic. Oh, also the Minoru Suzuki nod with the Gotch Style Piledriver was cool. Plodding pace, color because…well I guess because Cody wasn't on the show. A bad Cross Roads, just nothing to really enjoy from this.
Overall Score: 4/10
Every match after the eight man tag felt way too long. Like I said in the meat of the review, maybe that was because the Hardy match went short and they paid for 4 hours, so they had to fill the time somehow. But that hurt the show, right when it started to pick up.
Thunder Rosa and Hikaru Shida had the type of match that was really good, and you'd love to see again. The eight man tag gave Dustin some momentum and added a layer to the Colt Cabana story, which is all upward rising interest.
THEN, we get the tag match which could've been amazing, but went too long at the cost of some spots looking bad, slow and awkward. Plus it doesn't help that Kenny's knees and mid-section were worked over to the point he could barely move; but once the match is over he's fine to storm off in a huff without so much as a limp.
Mimosa match was stupid, boring, but at least the right person went over. I really hope Jericho takes time off, because ever since Stadium Arcadium or whatever it was called, his character has become more of a cartoon villain and it's sad to watch what he thinks is good. Then the main event, which I had no real hopes for, was just a bland, white bread, cookie cutter, Moxley match.
This was easily the worst actual Pay-per-View that AEW has bamboozled people into buying. But at least the company is only like a year old, so best to get the trash out of the way early.