Andrew's Impact Wrestling Results & Match Ratings 9.1.2020
Can Eddie Edwards keep up the defenses over the World Class Maniac Eric Young? Wrestle House might be coming to an interesting peak. Is it as long as it takes?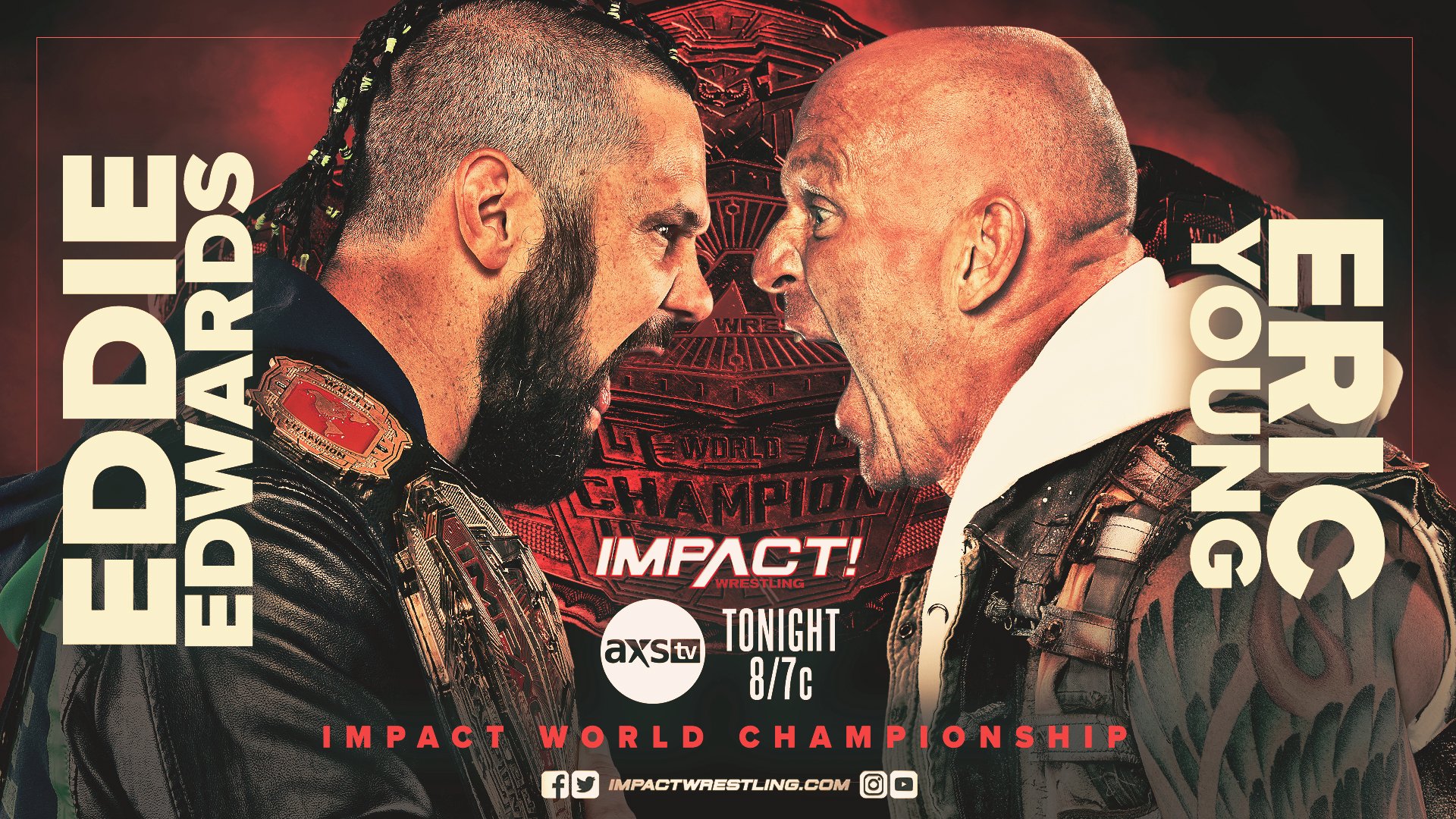 Eric Young has chosen his spot! After four successful defenses in less than 2 months, the World Class Maniac tries to take advantage of fatigue.
We also get to see if #Heath4IMPACT did the trick to get our favorite man with kids a new job. Deonna Purrazzo's black tie affair obviously has to be an angle for shenanigans. Sami calls out RVD, so hopefully we reach an end with the cringe that is Katie Forbes.
Now, since I love leading into the shows with a .gif from the show. Let's play a game…
"I know what it feels like to be helpless, I know what it feels like to have something stolen from you." @therealec3 is offering @TheMooseNation an opportunity to reclaim the TNA World Heavyweight Championship. #IMPACTonAXSTV pic.twitter.com/6ZWrfx6EPg

— IMPACT (@IMPACTWRESTLING) September 2, 2020
Ratings:
Sami Callihan vs RVD w/Katie Forbes: Callihan wins via Cradle – * ¾
Reno Scum vs Rhino: Rhino wins via Wake Up Call – ** ¼
Dez & Wentz vs Ace Austin & Fulton: Dez wins via Spiral Tap – ***
Impact World Championship: Eddie Edwards (c) vs Eric Young: Young wins via Piledriver – *** ¾ – TITLE CHANGE!!!
Results:
Sami Callihan vs RVD w/Katie Forbes
Okay, now this is starting to wear thin on me. I really did appreciate the RVD/Katie Forbes dynamic before Cancel Culture, and now since returning to the old gimmick…it's becoming stupid. Katie's constant interference, more often than not by twerking or making out with RVD, it's just too much now.
I feel like this gimmick should've been shorter lived and figure out if RVD wants to try or continue to live out his college dream.
As for the match, it was okay, but littered with Katie Forbes being annoying. So I'm over it.
Hernandez beats Fallah Bahh in arm wrestling, then Reno Scum says they want all of Hernandez' cash for taking out Rhino. So this is prolly going one of two ways. Reno Scum fails because Heath gets in the building, or Hernandez joins with Rhino to keep his money.
Introducing A Man Call Swing! #IMPACTonAXSTV @swinger_johnny @steveofcrazzy @realsuyung @IamKylieRae pic.twitter.com/QXtPITZPfU

— IMPACT (@IMPACTWRESTLING) September 2, 2020
I like the twist that Bravo is the referee for Taya versus Rosemary. It works towards the love triangle and the fact that Bravo hasn't been a ref since he turned to side with Johnny Impact.
Reno Scum vs Rhino
Reno Scum double teams Rhino nearly the entire time, but a quick commercial break kinda ruins the early momentum. Scum pull off some solid tandem moves, but Rhino ain't no slouch, so he fights back pretty well. Rhino takes out Luster with a Gore on the floor, leaving Thornstowe to his own devices in the ring.
It looks like Thornstowe is about to wrap his studded belt around his fist while the ref is checking on Luster, but then the camera gets set on its side on the apron. As they switch cameras, the cameraman is behind Thornstowe, hits Heath's finish the Wake Up Call, and Rhino slides in for the cover.
Heath pretended to be a cameraman, which prompts D'Amore and two security guards to come down to the ring and chase him off.
EC3 playing a little game of Saw with Moose and the TNA title. Interesting.
Everybody backstage LOVES The Good Brothers' stories but it's serious business for The Rascalz this week. #IMPACTonAXSTV @The_BigLG @MachineGunKA @DezmondXavier @zachary_wentz pic.twitter.com/2QZtAybnfI

— IMPACT (@IMPACTWRESTLING) September 2, 2020
B.i.T. – Brother in Training, not what I was expecting.
This Wrestle House spot with The Deaners and XXXL house brawl…is amazing. Decent campy fight action, a ping pong match, 4th wall break on selling for forever and…Susie wins. Don't understand what I said? Well grab some Ring Rust and a beer, then enjoy.
The truce is over and one of the most INCREDIBLE brawls in IMPACT history broke out as a result. #IMPACTonAXSTV @JakeSomething_ @CodyDeaner @THEACEYROMERO @legendoflarryd @realsuyung @THETOMMYDREAMER pic.twitter.com/doFut7TOJm

— IMPACT (@IMPACTWRESTLING) September 2, 2020
Dez & Wentz vs Ace Austin & Fulton
Fulton starts off against Dez, then we see a little bit of a size and styles clash. The Rascalz eventually pick up the pace and take the monster off his feet. Fulton and Ace show great flashes of chemistry, with some nice tandem moves and Ace picking spots to tag himself in.
Rascalz keep it movin like an escalator, double dive where Wentz hits the Moonsault towards Fulton on the outside and Dez hits the Spiral Tap for the pinfall victory.
Machine Guns come out after the match, and off Dez and Wentz a tag team title shot. Burnin one with the Guns.
TJP and Rohit have a decent promo in the back. TJP looks to take Chris Bey's rematch away next week.
Wrestle House Rosemary vs Taya match segment. Taya wins with the Road to Valhalla because Bravo calls it down the middle. But he proposes to Rosemary finally realizing his professional life and personal life don't need to hinder one another. Taya gives it her blessing, so now they can all go home.
By the way, Crazzy Steve drank the Deaners beer. He couldn't read the labels…he's blind ya know. FUJI!
Black Tie affair gets crashed a little from Jordynne, a returning Tenille Dashwood and Wrestle House appearing in the middle of the ring. So Kylie might finally get to cash in her number 1 contender opportunity. Anyone who follows Billie Kay's YouTube channel probably figured that Tenille would return soon since she's been in a few videos.
Impact World Championship: Eddie Edwards (c) vs Eric Young
We see a great back and forth this entire match. Young eats some offense and smiles through it, going at Eddie full tilt. Young does the smart thing by focusing the head and next with strikes, lariats, Slingblades; all in a way to soften Eddie up for the Piledriver.
As Eddie continues to show his resolve, he goes for a Plancha to the outside, but lands a little oddly, jamming his knee. This is a great sell from Eddie for the rest of the match. He hits a Tiger Driver, but can't get his legs all the way over since he's selling the knee. Teases the Boston Knee Party, but EY powders, causing Eddie to go for a desperation Tope. Hampered by the knee, Eddie is slow to get back in the ring.
EY goes for the World Title, the referee takes it from him. While the ref is distracted putting the belt away, EY uses his hockey mask to crack Eddie in the head. Piledriver afterward, and we have a new world champ.
Really good match, which solid character work and selling, all with a finish that doesn't hurt Eddie at all in the loss.
The show ends with Moose finding a room with his pictures and a map all about it. Classic Saw/Serial Killer style set up. Moose thinks he knows where to go, trashes the board and sees "You Have Been Warned" on a white board behind where everything was. Nice ending.
Overall Score: 8/10
Wrestle House proved to be one of the most consistent story telling angles as of late. This last episode brought so much full circle, including the "I got the runs" joke. I'm definitely a little sad it's over, but in the same respect, I'm curious where Taya goes from here since my speculation last week was that this could be her way off TV. But it's just Crazzy Steve speculation. Blind…blind is the joke here.
I do really enjoy EC3's Saw inspired situation with the belt, RVD's story could be coming to a head even though I'm sick of Katie Forbes, and the return of Tenille is fantastic. Also we all know we're getting a damn good match next week with The Guns and The Rascalz, unless Ace and Fulton screw it up.
Just a lot of fun stuff, lots of good stories and just a fun and entertaining show. Also as the long time TNA fan that I am, I can't be mad at EY getting a championship run.
The real Wrestle House was the friends made along the way. #IMPACTonAXSTV pic.twitter.com/apXmOKKbLv

— IMPACT (@IMPACTWRESTLING) September 2, 2020